This post may contain affiliate links. Read my disclosure policy.
Hi friends! I am very busy chilling poolside with a cocktail or lounging on the sand or frolicking in the waves in Virginia Beach. OK, truthfully I am probably carrying The Bug around the pool trying to teach him to swim, chasing him on the sand, trying to keep him from crying from the waves, or bathing him after he decides to use sand as shampoo for a "shower" on the beach. Oh, the joy of family vacations. But seriously, I am enjoying a little fun in the sun with the family, and taking a little blogging break. Though I am sure I will keep you updated via Facebook, Twitter, and Instagram on my inevitable excessive consumption of ice cream.
While I am away, I have some wonderful foodie friends keeping my kitchen cranking out some delicious eats & treats. Today is sweet Ann from The Fountain Avenue Kitchen. I love that her recipes showcase so many seasonal ingredients, and all sound simple and delicious. Also, her father has a gluten intolerance, and has been experimenting a lot, and developing lots of great recipes. I can't believe I haven't gotten to make her shortcakes yet, but I will! This frittata sounds so yummy, and a great base for using anything you have around or love. And anything with pancetta sounds good to my. I hope you'll check out her blog, and stop by to see her on Facebook.
Enjoy! And thanks again, Ann!
****************************************************
Hi everyone! The Fountain Avenue Kitchen was my grandmother's kitchen, the kitchen where I first pulled up a stool and watched the magic of turning basic, fresh ingredients into culinary wonders. The cooking style wasn't fussy, but it was wholesome, delicious and affordable. As I sat around her oil-cloth covered kitchen table, I began to understand that cooking was one of the many ways my grandmother showed her love of all those around her. The fabulous thing is that home cooking can be "fast food" and healthy can equal delicious. I hope to inspire people to try a new recipe, learn a new technique and eat more vegetables and wholesome grains….but still enjoy a little dessert now and then.
It is a delight to be cooking in Brianne's kitchen while she is enjoying some time away. I have long admired her style of cooking, putting clever spins on recipes and possessing a knack for gluten-free adaptations. Dinnertime can be a hectic time, whether it's the witching hour with young kids, carpools must be driven, or work keeps you late. This one reheats well, so I am going to leave one in Brianne's fridge for a ready-made meal when she returns! Do you think The Bug will like it?
Frittatas really are fast food. A quick sauté, five minutes in the oven, and you have a great meal. They are flexible, too. Don't have kale? Use broccoli, spinach or Swiss chard. No Parmesan? Add cheddar or Asiago in its place. Bacon or prosciutto could replace the pancetta, or eliminate it entirely for a vegetarian option.
A mere two ounces of pancetta and one-third a cup of Parmesan provide a sizable flavor punch, while the bulk of this meal is made up of protein-rich eggs and nutrient-dense vegetables. Serve with your favorite green salad or a sweet potato to round out the meal. Fruit makes a wonderful accompaniment for breakfast or brunch while leftovers are a delicious lunch the next day.
For a completely different spin, create an antipasto platter by cutting the frittata into bite-size pieces. Serve on a platter along with your favorite cured meats, cheeses, marinated artichokes, red peppers, mushrooms, and toasted crostini. This would be a crowd-pleaser at any party–colorful and most delicious!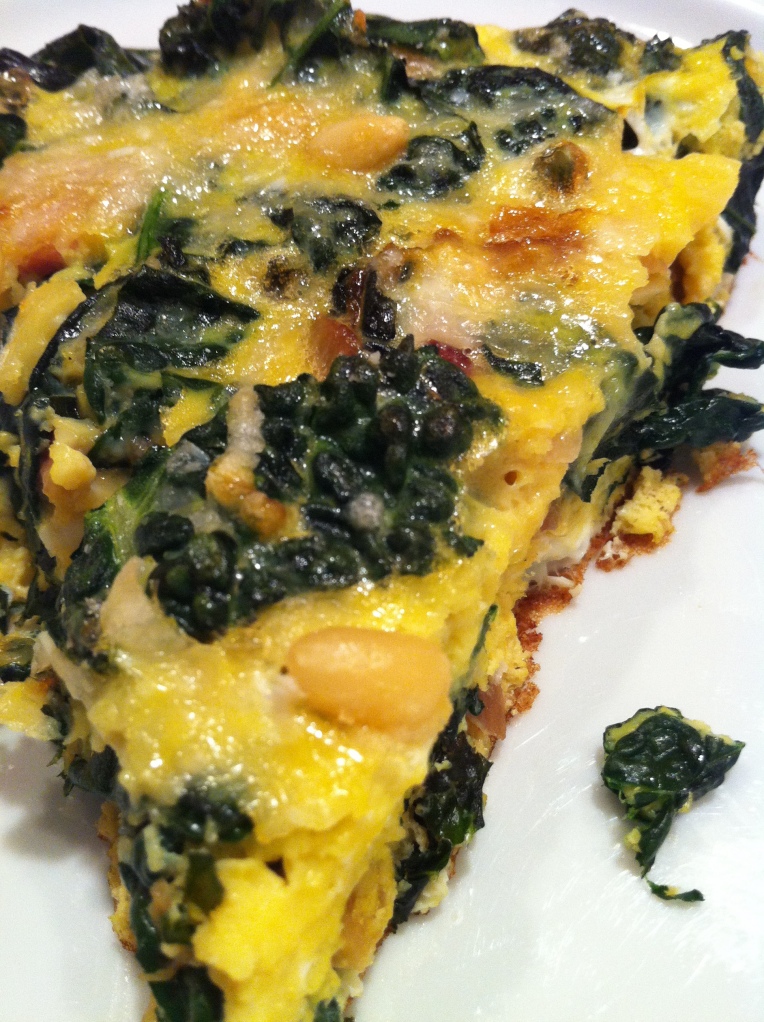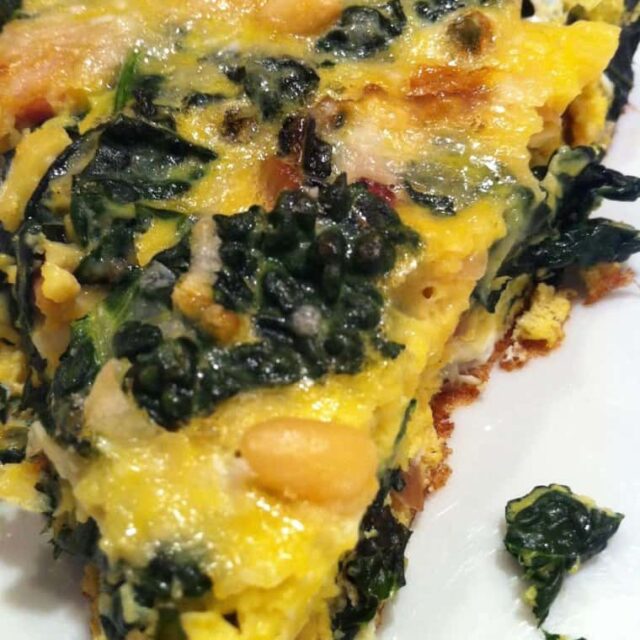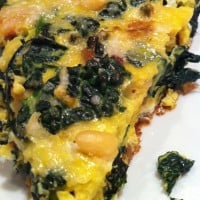 Pancetta, Kale, and Parmesan Frittata
Ingredients
8

eggs

1

tablespoon

milk

kosher salt and freshly ground pepper

2

ounces

diced pancetta

6

ounces

kale

stems finely diced and leaves chopped

1/3

cup

chopped onion

1

tablespoon

olive oil

2

tablespoons

pine nuts

1/3

cup

freshly grated Parmesan

more for garnish, if desired
Instructions
Preheat oven to 425 degrees.

In a medium bowl, whisk together the eggs, milk, and a pinch of salt and pepper. Set aside.

In a 10-inch non-stick frying pan, cook the pancetta over medium heat until it starts to brown, about 2-3 minutes.

Add the kale stems and onion and cook, stirring occasionally, until tender, 2-4 minutes more.

Add the kale leaves and a pinch of salt and pepper, cover, and cook until leaves begin to wilt, about 2 minutes.

Uncover the pan, reduce the heat to medium-low, and add olive oil.

Pour in egg mixture and pine nuts and cook, stirring gently, until the eggs begin to set but do not begin to scramble.

Stir in the Parmesan and cook 2-3 minutes more or until the eggs begin to set around the edges.

Transfer the pan to the oven and bake until the eggs are just set in the middle, about five minutes.

If desired, broil one minute, watching closely, to brown lightly on top.

Garnish with a few shavings of Parmesan and serve warm or at room temperature.
Categories: