This post may contain affiliate links. Read my disclosure policy.
Dinner salad has never tasted so good! Orange roasted chickpeas, creamy goat cheese, and spiced almonds are a delicious combination in this quick and easy-to-make dinner salad recipe. Topped with a tangy, delicious sherry citrus vinaigrette dressing, an easy gluten-free salad dressing.
Forget this highly lucrative (umm, yeah) blogging gig. If I want to earn some really money, I should get people to pay to come watch me dance…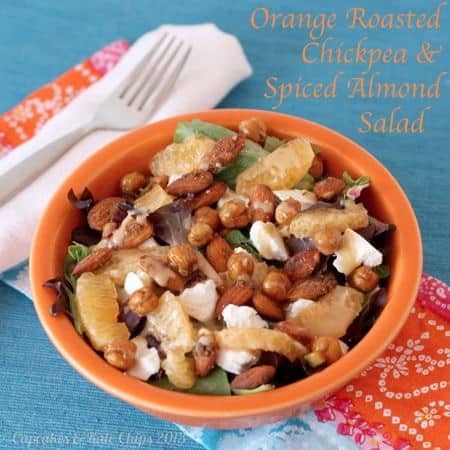 Get your mind out of the gutter! I am 31 weeks pregnant, so I am not going to get paid for people to see the sexiness just oozing out of me. This is actually a comedy show. You see, I am still going to my Wednesday night Zumba class. Such a joke. I mean, I am already a white girl with no rhythm. Now, I pretty much look like a penguin. Everyone else is swirling their hips and jumping from one leg to the other. I am slowly rolling around my entire, round body, and lifting my legs about 3 inches off the ground. The looks I get are priceless, and range from, "Aww, isn't she cute!" to "Why is she still here and not on her couch with a pint of Ben & Jerry's?" to "OMG!!"
But it is fun. And it gets my big ol' body moving. And it gets me out of the house, alone. So I go, and I laugh at myself on the inside the entire time. But I keep a totally serious face on the outside, like I am SOOOO into in, and convincing myself that I am moving my hips and wiggling around like I am one of the female pro dancers on Dancing With the Stars.
So why do I tell you all of this? Because that means, like I told you before, Wednesday night is still salad night for dinner.
This dinner salad is a compilation of a couple of recipes I have seen that I thought would taste awesome together. And guess what? I was right! Ever since I saw Orange Spiced Roasted Chickpeas from Brandie at Home Cooking Memories, I have wanted to make them. When I made Spiced Almonds as part of my preview for Emeril's New Year's Potluck (and I know you remember those Meatballs), I knew these two snacks would be perfect together as dinner salad toppers.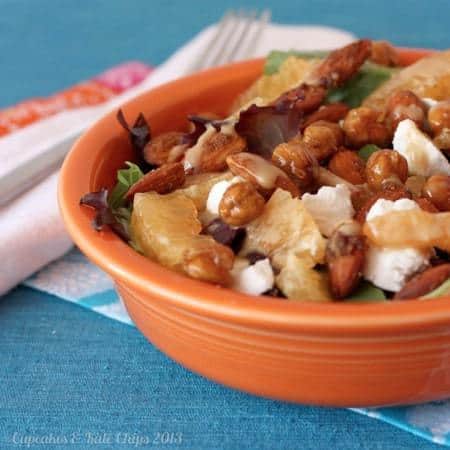 I probably should have baked the chickpeas a little longer, because mine were a little chewy, but I actually think that made for the perfect combination of textures in this dinner salad.
The chickpeas were chewy, the almonds crunchy, the goat cheese smooth and creamy, and the oranges were juicy. Get a little bit of each on your fork with some salad greens and the Sherry Citrus Vinaigrette, and you have the perfect bite.
And not only was it a carnival of textures in your mouth, it was also a party of flavors, with an amazing combination of nuttiness, sweet spices like cinnamon, sweet heat from the almonds, rich, tangy goat cheese, and brightness and sharpness from the oranges and dressing to round it all out and freshen it up.
I chopped up some leftover oven baked chicken fingers on The Hubby's dinner salad, and he absolutely loved it. Now, he indulges me and eats a salad for dinner every Wednesday, but he would certainly choose pizza or barbecue or a steak over a salad. But he even raved about the pop of flavor in this salad. And it has goat cheese – that is all I need to love it!
Next time, I may use some of the dressing as a marinade for some chicken or shrimp. I think that would make it an even more delicious, more filling meal. If you try it, let me know.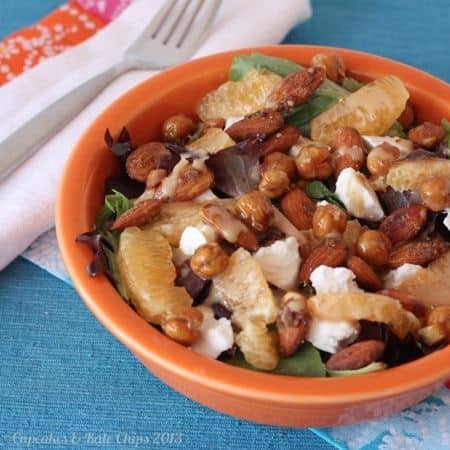 What are your secret talents that you think someone should pay you for? 😉
Let me know what your favorite part of this dinner salad is!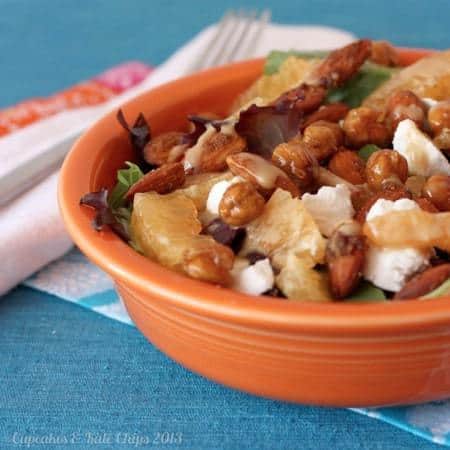 Orange Roasted Chickpea & Spiced Almond Salad with Sherry Citrus Vinaigrette
A salad full of flavor & texture with cinnamon-y roasted chickpeas, spicy sweet almonds, juicy oranges, creamy goat cheese, & a bright vinaigrette.
Ingredients
For the Sherry Citrus Vinaigrette:
1

T

orange marmalade

1

T

orange juice

you can squeeze this from the "remains" of the orange after you cut the segments

1/4

c

sherry vinegar

1/4

c

olive oil

salt and pepper
For each salad:
Mixed salad greens

1/4

c

Orange Spiced Roasted Chickpeas

Note: I cut the recipe in half to only make one can of chickpeas

1/4

c

Spiced Almonds

Note: this is the link to Emeril's original recipe. I used only almonds and cut the recipe in half

1-2

oz.

goat cheese

crumbled (feta would be delicious, too)

1/2

of an orange or one clementine or tangerine

cut into segments

Sherry Citrus Vinaigrette
Instructions
For the Sherry Citrus Vinaigrette:
Combine all ingredients in a jar, mini food processor, or blender (I use my Magic Bullet), and shake or blend until fully combined and emulsified.
For each salad:
Place the salad greens on a plate or in a bowl.

Top with the chickpeas, almonds, goat cheese, and orange segments.

Drizzle vinaigrette over the salad.
Categories:
Enjoy!