This post may contain affiliate links. Read my disclosure policy.
Satisfy your sweet tooth with a healthy snack that tastes just like cookies and make this Oatmeal Raisin Cookie Granola.
Oatmeal Raisin Cookie Granola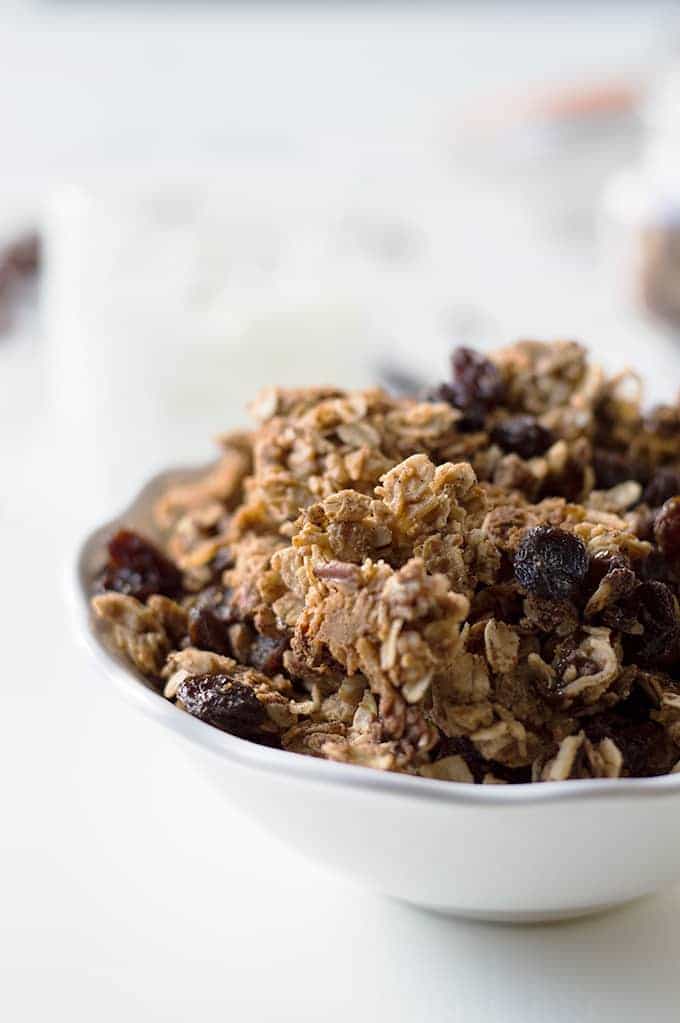 Welcome to #EatHealthy16 where over 30 bloggers are coming together to share recipes to help you with your start 2016 off on the right track with food that is nutritious and delicious. I'm so excited to welcome Serene from House of Yumm today. She shared amazing cupcakes like these Coconut Cupcakes and Peanut Butter and Jelly Cupcakes on my site in 2015, but today she is giving us a deliciously healthy way to satisfy our sweet tooth snack cravings! Then check out the recipes from the other hostesses –  Jamie of Love Bakes Good Cakes will have healthy meals, and Jenny of The Melrose Family will have healthy desserts. And make sure you follow the #EatHealthy16 hashtag throughout the month of January for tons of inspiration. 
Hey y'all Serene from House of Yumm here. Remember me? I'm the one who always shares cupcakes with you! And while I wish I had a fun cupcake today, I'm trying to take care of this cookie layer I put on over the holidays. Which is why I'm so excited for #EatHealthy16. Anyone else indulge a little?? I love the beginning of January when it feels like a time of renewal and freshness. Out with the cookies and cake and in with the healthy snacks!! Well. Almost. It's a possibility I'm still sneaking in some cookies. But it's healthy I promise. And I can't keep this goodness to myself, of course I'm here to share it with you! Oatmeal Raisin Cookie Granola.
[Tweet "Satisfy your sweet tooth with a healthy snack that tastes like Oatmeal Raisin Cookies!"]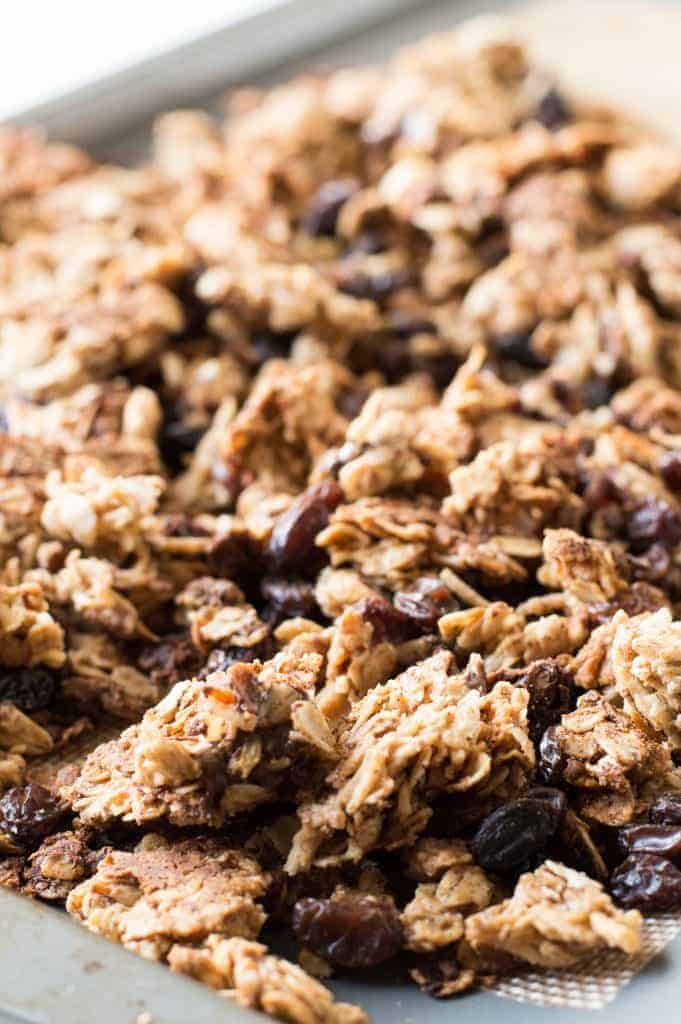 Addicting. Snackable. Loaded with cinnamon-y goodness. Plus raisins. Please tell me I'm not the only one who likes raisins?? I have my two year old convinced they're fruit snacks.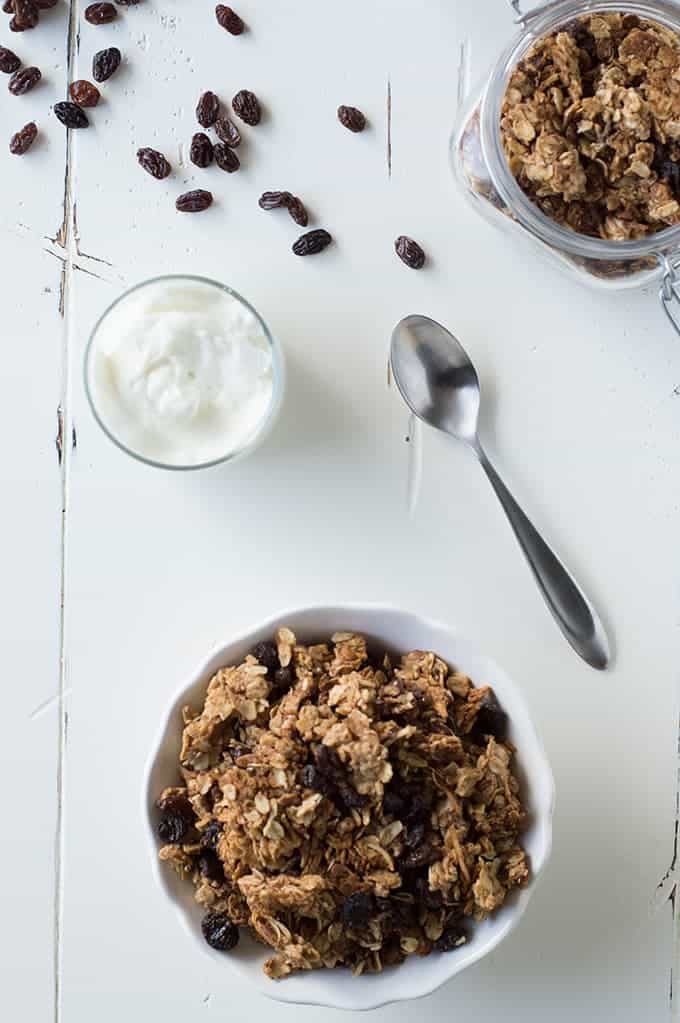 So what's the deal with this Oatmeal Raisin Cookie Granola your probably wondering. Well, let me tell you! This granola can absolutely be gluten free if you use gluten free oats. It can absolutely be vegan if you use agave. And it can absolutely be pretty much whatever you want it to be. Except maybe a cheesecake, I mean, granola can only do so much. Unless you have a rockin imagination.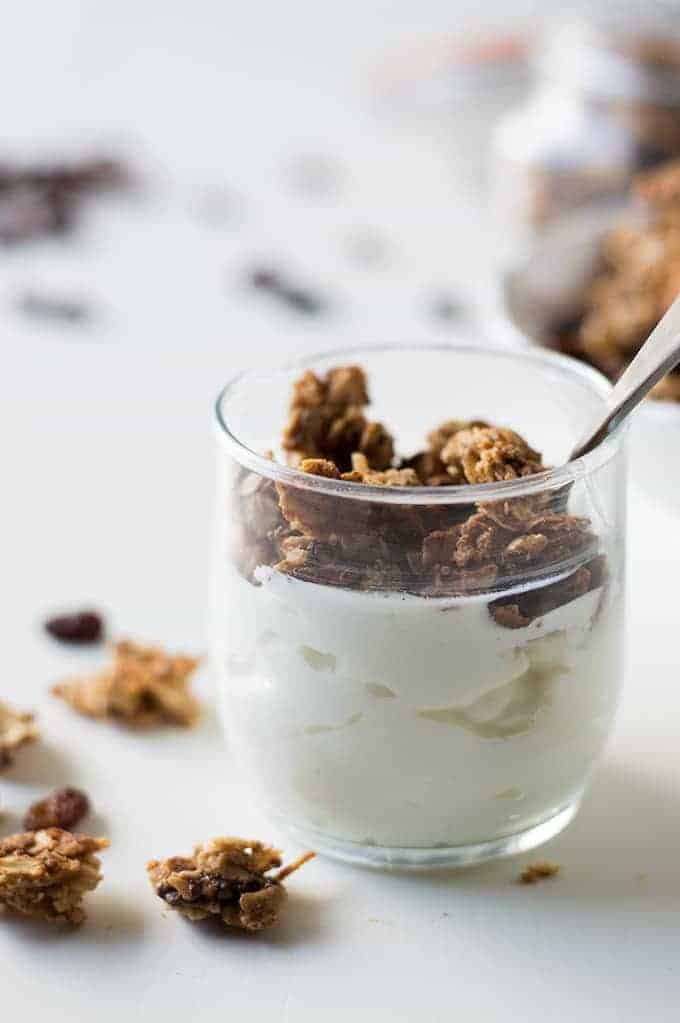 I used old fashioned rolled oats, honey (which can be swapped with agave), natural peanut butter (which can be swapped with your favorite nut butter), shredded coconut (for texture, and flavor, can be left out), chopped up pecan (for crunch, you can use any nuts you want, or leave them out completely), cinnamon, nutmeg, a pinch of salt, and of course the raisins. That's it! No oil, no butter, no sugar. I will admit I did put chocolate chips in mine while it was still warm and they got all melty and wonderful. But pretend you didn't hear that part.
I love how easy granola is to make, basically you can add, substitute, change it up. I mean basically you don't need me here giving you a recipe is what I think I'm getting at. You could switch this up completely: no coconut, add peanuts, use almond butter, use agave. The most important thing is that we get the oats completely coated with the wet ingredients, those being the honey and peanut butter. A quick 30 second trip in the microwave will melt them enough to stir them together and pour over the dry ingredients. Save the raisins to add in at the very end though! Smash the granola down onto the pan. You want it nice and packed together because that's what gives you those glorious clusters. Which is the best for snacking on. Also important is to keep an eye on it! I've made many batches of granola and I feel like every batch bakes a little different. I recommend baking at 325 degrees, and starting with 15 minutes. Check it out. You want the oats a golden brown color. And they won't be crispy yet while baking, that happens while they sit. So we want to watch the color. If they start turning black, which would happen around the edges, then it's been a bit too long. Whomp whomp whomp. So keep an eye on them, once the edges are turning a darker golden then it's time to take them out. I find that usually happens around 20 minutes. Then let them sit. They basically keep on baking while they sit. And they'll get crispy. So once they're cooled you'll be able to break the granola apart and have wonderful big clusters. Perfection!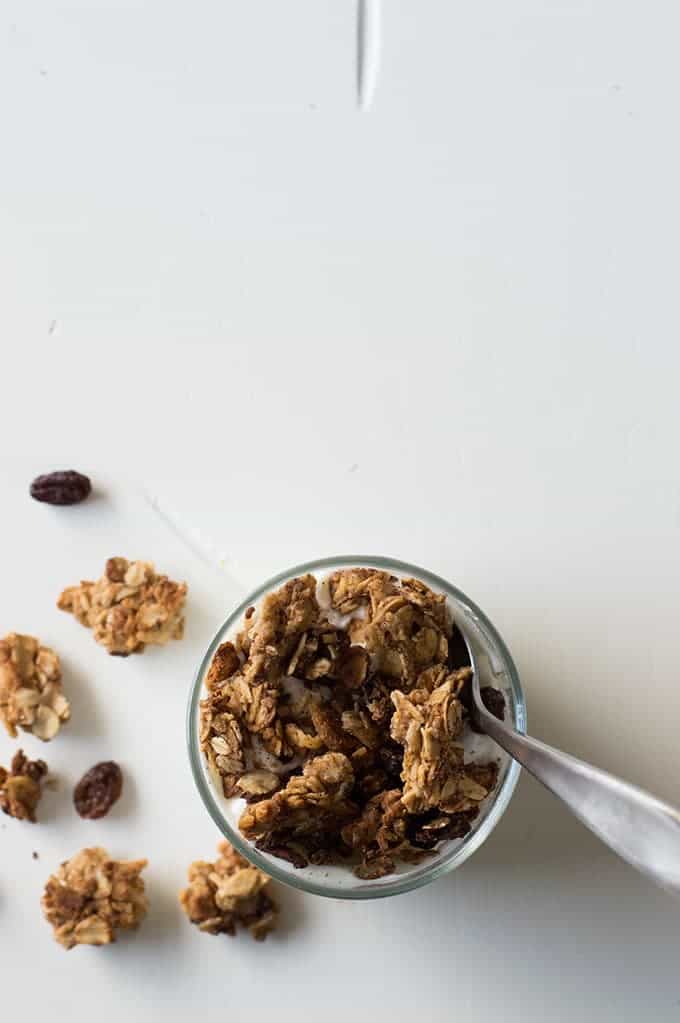 I hope you enjoy the recipe!! Make sure you check out my collection of healthy options at House of Yumm. Plus I'm thinking you'll love this Pecan Pie Granola too!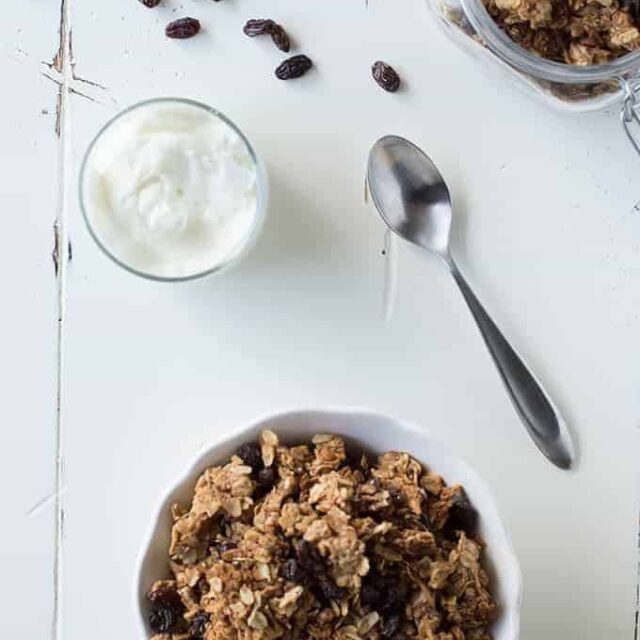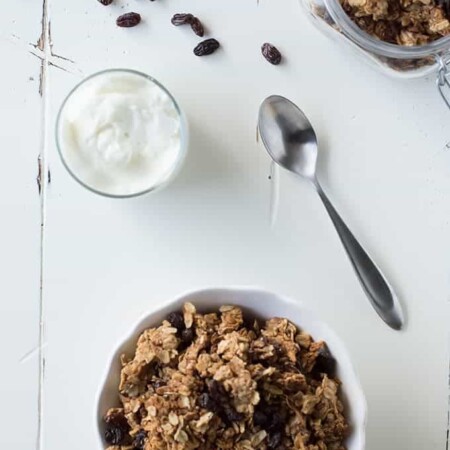 Oatmeal Raisin Cookie Granola
Oatmeal Raisin Cookie Granola. Satisfy your sweet tooth with this healthy gluten free snack that tastes just like cookies!
Servings:
16
servings (about 1/4 cup per serving)
Ingredients
2

cups

old fashioned rolled oats

1/2

cup

unsweetened shredded coconut

1/4

cup

chopped pecans

1

teaspoon

ground cinnamon

1/2

teaspoon

ground nutmeg

1/4

teaspoon

salt

1/2

cup

natural peanut butter

or nut butter of choice

1/2

cup

honey

or agave

1/4

cup

raisins
Instructions
Add the oats, coconut, pecans, cinnamon, nutmeg and salt to a medium sized bowl. Stir to combine.

In a small microwaveable bowl add the peanut butter and honey. Heat in microwave for about 30 seconds. Stir together, the peanut butter will be melted.

Pour the peanut butter honey mixture over the oats.

Stir to combine.

Pour the oat mixture onto a cookie sheet that is lined with parchment paper or a silicone baking mat. Press the oats together into one even layer. Press them down so that the oats are compact (this will create the larger clusters)

Bake at 325 degrees for about 15 minutes. Check, then continue baking to about 20 minutes. Oats will be golden brown.

Remove from the oven and allow to cool, once cooled break up the oats and stir in the raisins. Store in a sealed container.

Granola can be stored for about 2 weeks in sealed container at room temperature.
Nutrition Facts
Oatmeal Raisin Cookie Granola
Amount Per Serving (0.25 cup)
Calories 156
Calories from Fat 72
% Daily Value*
Fat 8g12%
Sodium 39mg2%
Potassium 142mg4%
Carbohydrates 19g6%
Protein 3g6%
Vitamin C 0.2mg0%
Calcium 37mg4%
Iron 1mg6%
* Percent Daily Values are based on a 2000 calorie diet.
Categories:
Follow along with Serene by signing up for her newsletter, Instagram, Pinterest, Facebook, and Snapchat @ houseofyumm
Thanks Serene! And here are some of my favorite granola recipes…