This post may contain affiliate links. Read my disclosure policy.
The Best Healthy Recipes from your favorite food blogs includes healthy recipes for dinner, lunch, breakfast, snacks, and even dessert. Whether your New Year's resolution is to resume or improve healthy eating habits, or you just want some of the top healthy recipes to keep you on track all year, his collection of recipes will give you plenty of inspiration. You'll find options for everything from low calorie to low carb, vegan to paleo, gluten free to dairy free.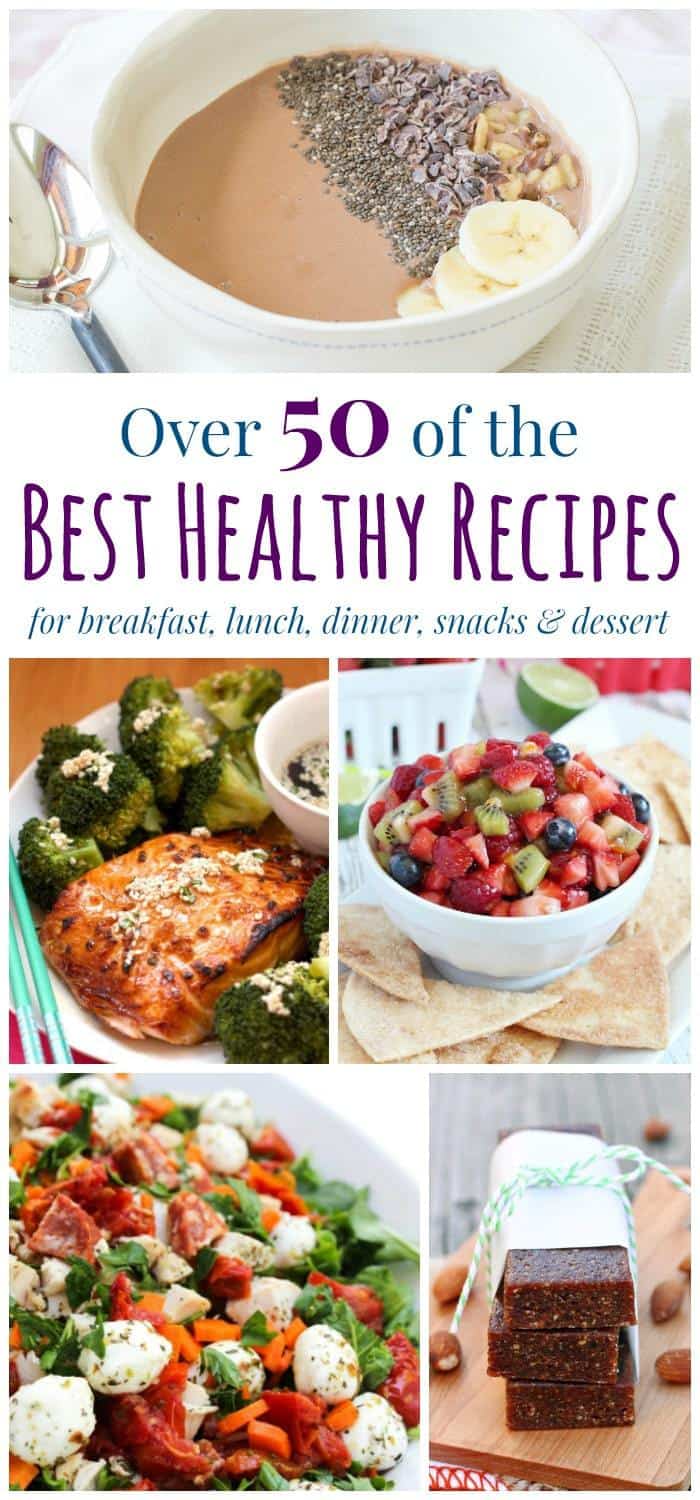 Over 50 of the Best Recipes for a Healthy New Year
While I think it's important to incorporate plenty of healthy recipes into our diet all year long (so that there's room for the occasional treat like No-Churn Funfetti Ice Cream Cake or Peanut Butter Cup Flourless Chocolate Cake Roll), when it's time to change the calendar, many people look to change their diets. Whether it's starting on a new healthy lifestyle or returning to normal after a holiday season of indulgence, it's time when we want more vegetables, lighter dishes, or possibly want to try something new, like paleo, gluten free, vegan, low carb, or something else. But to get started on that healthy track, you need ideas.
Here's a few of my favorites…
My Best Healthy Recipes for Breakfast
My Best Healthy Recipes for Lunch
My Best Healthy Recipes for Dinner
My Best Healthy Recipes for Snacks
My Best Healthy Recipes for Dessert
Now check out the best healthy recipes from some of the most amazing food bloggers!
Strawberry Vanilla Oatmeal Overnight Oatmeal
Jacked Up Monterey Chicken Salad
3-Ingredient No-Bake Energy Bars
Mini Salmon Asparagus Frittatas
Cinnamon Raisin Energy Bites
Tabbouleh
Skinny Bruschetta Chicken
Hearts of Palm Artichoke Avocado Butter Lettuce Salad
Red Potato, Kale, Mushroom and Feta Frittata
Quinoa Corn Chowder
Charred Kale Caesar Salad with Honey Chipotle Chicken
Butternut Spinach Multi-Grain Medley
Cauliflower and Quinoa White Chili
Cleansing Tri-Color Quinoa Salad
Lightened Up Chicken Fingers and Dipping Sauce
Avocado Chicken Salad
Shrimp & Garlic Rice Stuffed Peppers
One Pan Tuscan Pork Chops
Grilled Shrimp Recipe with Roasted Garlic Cilantro Sauce
Turkey Stuffed Peppers
Mexican Chicken Soup
Tropical Smoothie Bowl
Quinoa Taco Bowls