This post may contain affiliate links. Read my disclosure policy.
I love The Bug, but he has definitely hit The Terrible Twos. So this weekend away that The Hubby and I had planned was perfectly timed. My husband is a big Blues fan, and he had heard that a band he likes was headlining the Chesapeake Bay Blues Festival. So we thought this would be a nice little getaway. We left The Bug with Grandma, Grandpa, and Aunt Sam, and headed out early Saturday morning for Annapolis.
When we arrived, it was lunchtime. Usually when I go somewhere, I spend hours researching restaurants to pick out exactly where I want to eat. For some reason, I did not do that this time, and instead just consulted TV Food Maps. When I saw that Guy Fieri went to the Galway Bay Irish Pub on Diners, Drive-In & Dives, I figured we should take a look, since he always seems to go to places that look delicious and affordable. Then when I checked online and saw that they are Gluten-Free Friendly, I knew we had to go.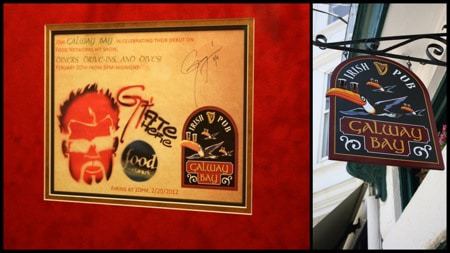 It was quiet when we got there, but it was a little early for lunch. Also, Galway Bay is just a little bit off the waterfront and State Circle, which is where all of the major foot traffic is. This was nice, actually, and a few other diners trickled in while we were there. Our food was quite tasty, and definitely hit the spot for lunch. The Hubby had the Grilled Chicken & Irish Bacon Sandwich with Irish chips (a.k.a. fries), and really enjoyed the thick slice of Irish bacon that toped a perfectly grilled chicken breast. I had a salad, but it isn't often that I can turn down salad with walnuts, craisins, and blue cheese, so the Chieftan Salad was perfect for me, especially with the awesome, range Cashel Blue Cheese. I really wanted a Twice Baked Blue Cheese Potato, but they only have them at dinner, so I opted for the Potato Leek Soup, which was creamy without being too heavy, and delicious. And our waitress remembered that I asked about the gluten-free menu, and didn't being crackers, so they didn't get wasted, which makes me happy. So if you are looking for a tasty lunch, stop by Galway Bay. I'd love to come back and try some of their Irish specialties, like Shepherd's Pie.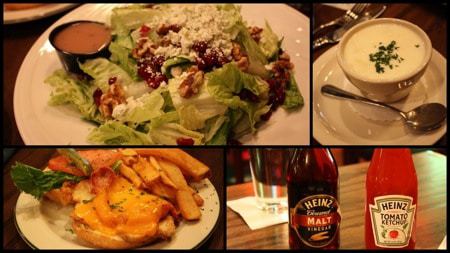 We had a little time to walk around before check-in time, so we went to check out the boats and search for a sweet treat. We window-shopped in Kilwin's. Look at the adorable chocolate covered Oreos all decorated for the Naval Academy graduation which was coming up the following week, and Chocolate-Covered Twinkies! Yikes! They have name flavors of fudge, and give samples at the door – the chocolate was creamy and delicious.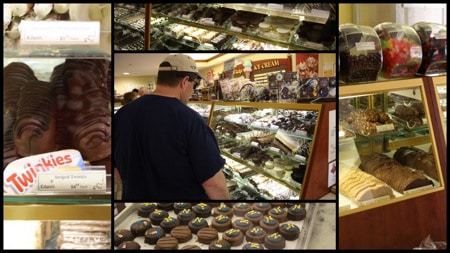 But for me, well, candy-schmandy. I want Ice cream. Storm Bros. is right near the waterfront, so you can pick up a scoop and go watch the boats. Their ice cream is not made in-house, but it is Turkey Hill, which really is one of the better packaged ice creams out there. The Hubby went with Raspberry Sherbet, and I opted for the classic Butter Pecan.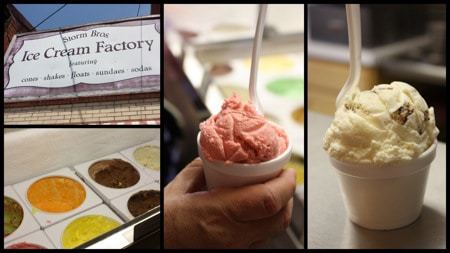 Then we headed over to Chez Amis Bed & Breakfast, an adorable, nearly triangle-shaped inn on a quiet corner. The Inn has a lovely nautical decor, which is perfect for this maritime town. Innkeeper Elly is very sweet, and they definitely have modern hospitality – by which I mean they have Wi-Fi, and an iPad and mini-laptop to borrow in case you want to look up restaurant, tours, weather, whatever.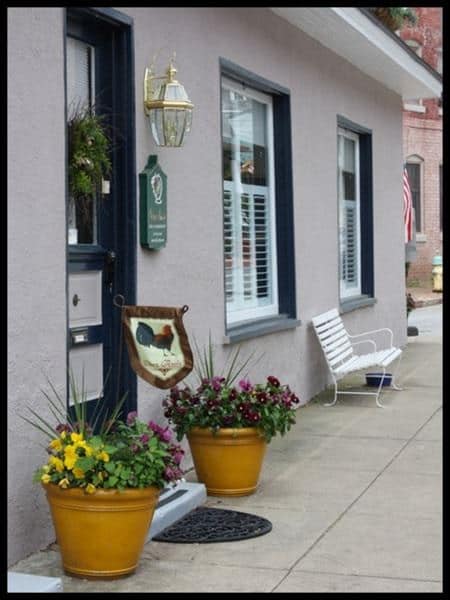 Then it was time to head over to the Blues Festival. We got to listen to a nice variety of Blues styles, but we were really there for Susan Tedeschi and the Grammy-winning Tedeschi Trucks Band.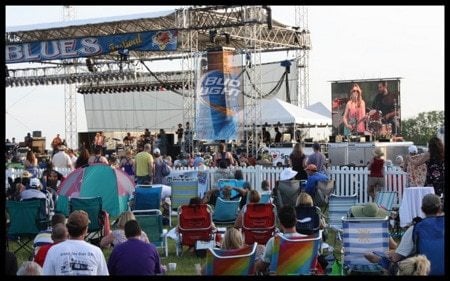 Of course we had to sample some of the festival food. Pit beef is a staple in Maryland, so we had to try a pit beef sandwich from Beefalo Bob's. After being in the smoker all day, the moisture level was definitely helped out by a little barbecue sauce, but it had a deep, wonderfully smoky flavor. It was a good contract to the brisket from Red Hot & Blue, which was moist and tasty, though not as smoky. The Hubby enjoyed the potato salad, and I thought the perfect bite was some brisket, some barbecue sauce, and a little cole slaw. Yum!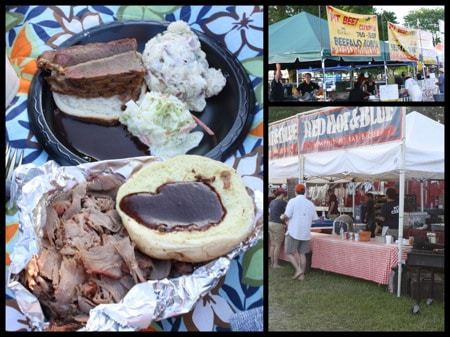 There was not a cloud in the sky, so it was pretty hot, which made this soft frozen lemon very refreshing. And The Hubby couldn't resist a little caramel kettle corn which was popped right on site, so it was warm when we got it, and was the perfect balance of sweet and salty. It was also a great comfort food after my little car accident on the drive home on Monday. Ugh!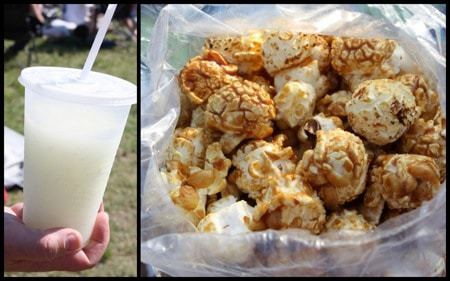 Since we behaved and only got a single scoop of ice cream earlier, we felt totally justified in ending the day with another single scoop from the Annapolis Ice Cream Company. Their ice cream is homemade, and I actually saw a batch of vanilla peanut butter being spun while I was in line. Coffee is always the go-to flavor for The Hubby, but I went with something I don't usually have – Vanilla Heath. Mmmm, so good!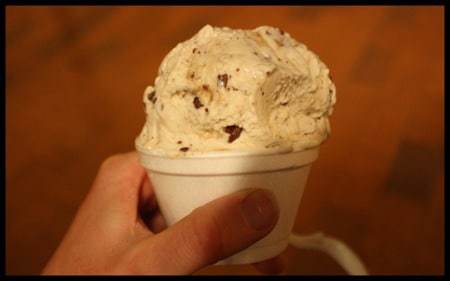 It was an fun day, but we were happy to shower and get in our comfy bed back at Chez Amis.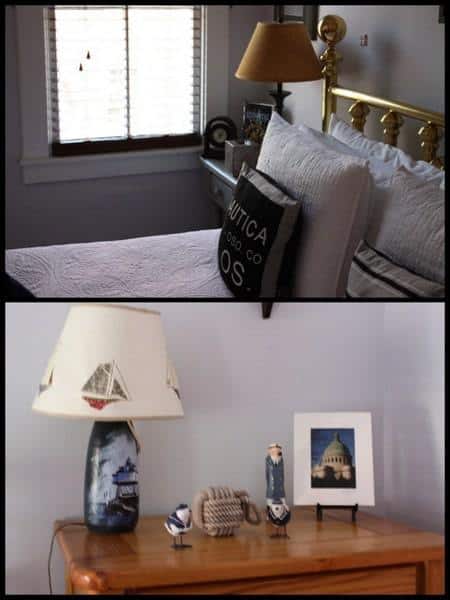 The next morning, we could smell delicious aromas as we awoke, and upon going downstairs, found this lively table set, with this cute little guy holding our menu describing the three-course breakfast that was to come. Elly greeted us, in her apron, busy in the kitchen, but happy to offer us coffee or tea and chat a little.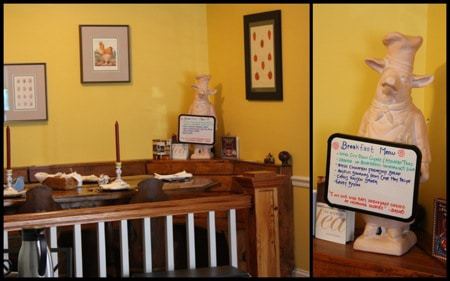 Breakfast was a perfect Sunday morning meal. I did read on the paper in the room that she had gluten-free pancakes available, but I couldn't resist the yummy stuff, so decided that I would not be going gluten-free that day. We started with a homemade Amish friendship bread, which was moist, sweet and cinnamon-y. Elly always has a bag of started, and bakes a new loaf every few days. This was followed by Angelic Bananas, a recipe from the Inn of Cape May (another wonderful hotel where I have stayed), which were warm and sweet, but not quite as sweet as, say, a Bananas Foster. Topped with whipped cream and a little toasted coconut, they were so good. Then our main course was a Citrus Raisin Strata, topped with a little yogurt and maple syrup, with some turkey sausage. I loved the strata, and even though Ely thought she may have bakes it a minute too long, I loved the contrast of the slightly crispy edges with the moist interior. With a cup of tea and a glass of blueberry pomegranate juice, I was completely satisfied (for the next 12 hours).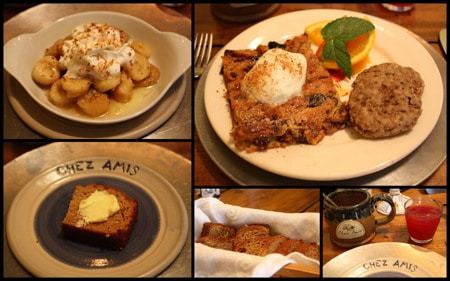 My only regret is that we did not have another night to stay at Chez Amis, and to explore Annapolis and try a few more yummy places to eat. So the next time you need a fun, relaxed getaway, try Annapolis and some of these great places.