This post may contain affiliate links. Read my disclosure policy.
As families around the country (and the world) prepare to celebrate Thanksgiving and Hanukkah, #SundaySupper is gathering to share recipes and stories of what we are thankful for. Tender sweet potatoes are topped with a buttery, nutty, crunchy corn flake crumble in these Maple Sweet Potatoes with Browned Butter Pecan Topping that I made especially for someone I am thankful for.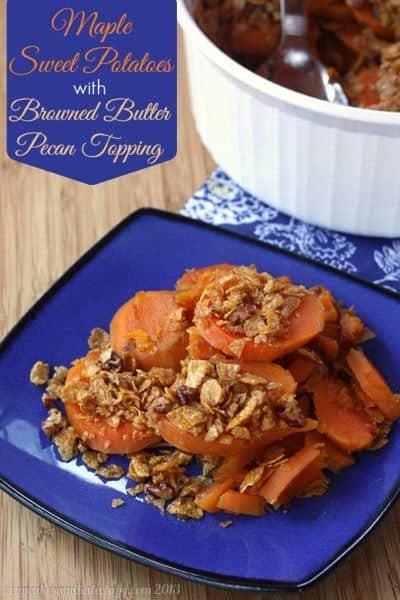 Nope, this week it's not about The Bug or Baby Smiles, though I am thankful everyday to have those guys, but I couldn't get through everyday without The Hubby. Of course he has been supportive through the tough times, and though I haven't elaborated a lot here, those early newborn days (umm, err, three months) are tough for me. But he was my rock through days and nights without sleep (and helping me to get a little sleep when I could), supporting me as I was in a state of delirium and panic when we were worried actually about both boys gaining enough weight when they were born.
But luckily the hard times end, and we just have the day-to-day. And it is all the little things during that day-to-day – getting random odd jobs done when he finds five minutes here or ten minutes there; jumping in to change a diaper even just as he walks through the door and I am in the middle of finishing up dinner; taking The Bug to pre-school a couple times a week, just so I don't have to lug Baby Smiles and the stupid infant car seat in and out, taking on the bedtime routine with The Bug most nights, since I am putting down Baby Smiles and then ready to just sit on the couch (and sometimes I kinda like to "spy" on the video monitor to listen to their stories and chats and prayers); understanding that sometimes I have to photograph dinner first or be writing or editing, or, let's be honest, Facebooking at night after the kids are in bed if I am going to make the transition from this little ol' blogging gig being just a hobby to something more serious.
It is for all of these things that I am most grateful. It is for all of these things that I look past the little annoyances and disagreements that naturally crop up when you have been together for over ten years and have stressful jobs and two kids (one of whom is currently three years old and is as nutty as would be expected, and the other who is eight months old and still isn't sleeping through the night), and the house and the in-laws and the….
Because at the end of the day, I have always said that I truly think that we are the only two people in the world who could put up with each other, so it's a pretty darn good thing we met!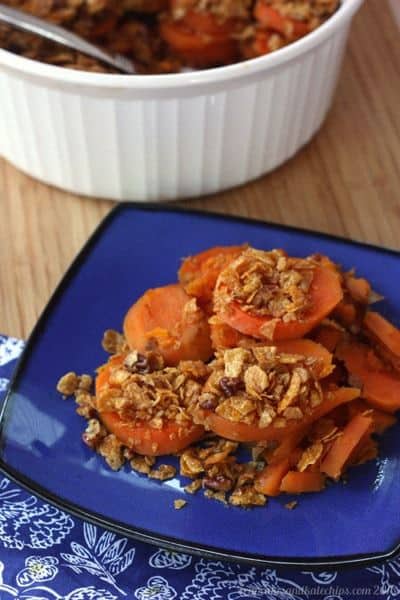 When I asked him what his favorite Thanksgiving dish is, he said that it was sweet potatoes, but the sugary, buttery, oozy gooey candied sweet potatoes that his aunt used to make. I've been on a quest to find just the right sweet potato recipe for Thanksgiving, and in recent years have leaned towards mashed or whipped versions. Not what he was looking for. Plus all of the recipes out there seem to take perfectly sweet sweet potatoes and then top them with more sweet – marshmallows, candied pecans, brown sugar crumble. Not what I was looking for. Personally, I like to add a little salty to my sweet potatoes. And crunch. So this recipe was born.
Sliced, not mashed potatoes that are just a little syrupy, topped with a crumbly mixture of browned butter, pecans and corn flakes. Part Hubby. Part me. A perfect pairing 🙂
These Maple Sweet Potatoes with Browned Butter Pecan Topping actually kind of remind me on him – rough on the surface, a little nutty, but once you get through all of that, sweet underneath.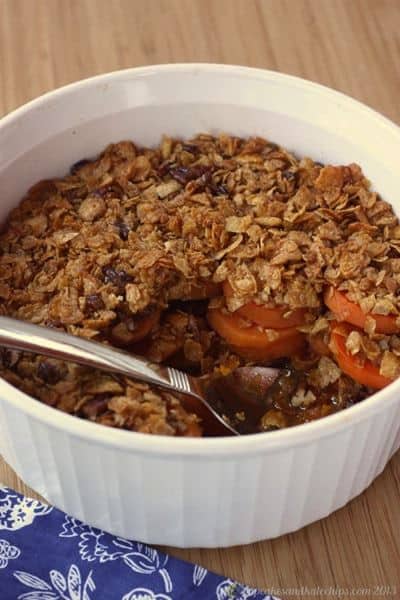 Join the #SundaySupper conversation on twitter each Sunday. We tweet throughout the day and share recipes from all over the world. Our weekly chat starts at 7:00 pm EST. Follow the #SundaySupper hashtag and remember to include it in your tweets to join in the chat. Check out our #SundaySupper Pinterest board for more fabulous recipes and food photos.
And make sure you check out the entire Thanksgiving and Hanukkah menu at the bottom of this post!
Who or what are you most thankful for this Thanksgiving?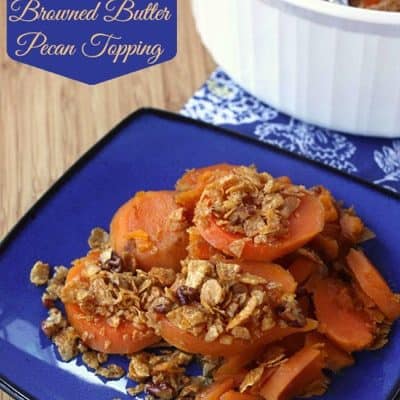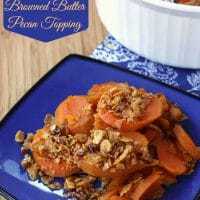 Maple Sweet Potatoes with Browned Butter Pecan Topping
Tender sliced sweet potatoes are topped with a buttery, nutty, crunchy corn flake crumble - the perfect balance of flavors and textures.
Ingredients
For the sweet potatoes:
2 1/2

lbs

sweet potatoes

peeled and sliced about 1/2 inch thick

1/2

c

maple syrup

use the good stuff

2

T

unsalted butter

1

t

kosher salt
For the topping:
2

T

unsalted butter

1/4

c

chopped pecans

1/2

t

kosher salt

2

c

corn flakes

slight crushed
Instructions
For the sweet potatoes:
Place the potatoes in a steamer basket over boiling water and steam for 10-15 minutes, or until just fork tender.

In the meantime, combine the maple syrup, 2 T unsalted butter and 1 t kosher salt in a microwave safe bowl or small saucepan, and heat until the butter just melts.

Preheat your oven to 350°F and spray a glass or ceramic baking dish with oil or cooking spray (see Note).

Gently layer the potatoes in the baking dish, overlapping slightly, then pour the syrup mixture over the top of the potatoes.

Cover and bake for 40 minutes, basting with the syrup mixture every 15-20 minutes.

While the potatoes are baking, prepare the topping (see below).

Remove from the oven, sprinkle the topping evenly over the potatoes, then return to the oven, uncovered, for another 20 minutes, or until browned.
For the topping:
in a small pan, brown the 2 T butter by melting over medium low heat until melted, then cook slowly until the butter begins to turn brown, stirring or whisking occasionally. Be careful not to burn the butter.

Add the pecans and 1/2 t kosher salt and cook for another 30 seconds to one minute, again being careful to not burn the butter.

Remove from heat and let cool slightly.

Place the corn flake crumbs in a bowl, pout the butter pecan mixture over the crumbs, and toss together. Set aside until needed.
Notes
I baked these in a 2 quart circular baking dish. The potatoes on the bottom were definitely sweeter and more syrupy than the ones at the top, even though I basted them a couple of times. If you want more of the potatoes in the syrup so that they are all sweeter, use a larger, shallower baking dish, like a 13x9 inch glass pan. There is plenty of topping.
Categories:
 Enjoy!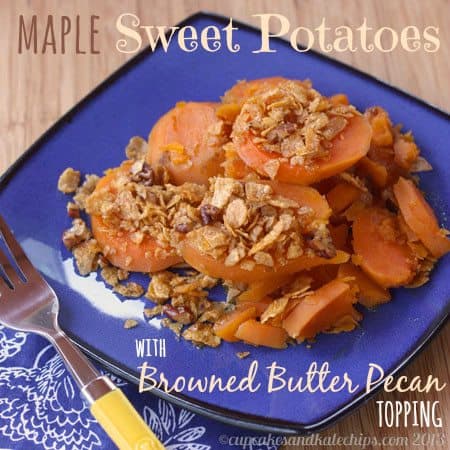 A few more recipes for people I am thankful for…
And be sure to check out this holiday menu full of delicious food and heartfelt stories from the #SundaySupper team:
FIRST COURSE / APPETIZERS
SAVORY BREADS + STUFFING
DESSERTS + SWEET BREADS
Salted Caramel Apple Pie from Laura at Pies and Plots
Sweet Potato Gingersnap Pie from Paula at Vintage Kitchen Notes
All American Wine Pairing Guide for Being Thankful #SundaySupper from Martin at ENOFYLZ Wine Blog