This post may contain affiliate links. Read my disclosure policy.
This creamy Hot Bacon Dressing makes any salad irresistible, whether you choose to pour it over lettuce or toss it with a spinach salad. It's warm, smoky, and tangy. But this version of the classic Amish recipe gets a sweet maple twist to make it even more delicious. And it is also gluten free and dairy free!
Maple Hot Bacon Dressing Recipe
Dress up your salads for a special occasion with this warm, creamy dressing. The thick texture gives a sweet and tangy coating to the leafy greens, and the bacon adds just the right amount of smoky, salty flavor.
Creamy Greek Yogurt Maple Dijon Salad Dressing might be my daily go-to, but this hot bacon dressing makes even the simplest salads a truly gourmet addition to any meal. It's perfect on a basic iceberg wedge, tossed with romaine, used to lightly wilt spinach, and so much more.
What is Hot Bacon Dressing?
Not to be mistaken for warm bacon dressing recipes to use on German potato salads, that are more of a vinaigrette, this is intended for spinach salads or to toss with any of your favorite salad greens.
Based on a traditional Amish recipe that I got from my mother-in-law, it is usually sweetened with sugar and thickened with flour. But I replaced the sugar with maple syrup because the sweet, earthy flavor perfectly accents the smoky bacon. And I've added a little more apple cider vinegar because we love that extra bit of tang.
It is a delicious combination of flavors that, once heated, is thickened with cornstarch and egg. This makes is rich and luxurious.
Is Hot Bacon Dressing Gluten Free?
My mother-in-law's hot bacon dressing recipe calls for flour, but I've replaced that with cornstarch. So while not all hot bacon dressing recipes are gluten-free, this one is. Tapioca starch is another alternative for thickening if you want a grain free or paleo option.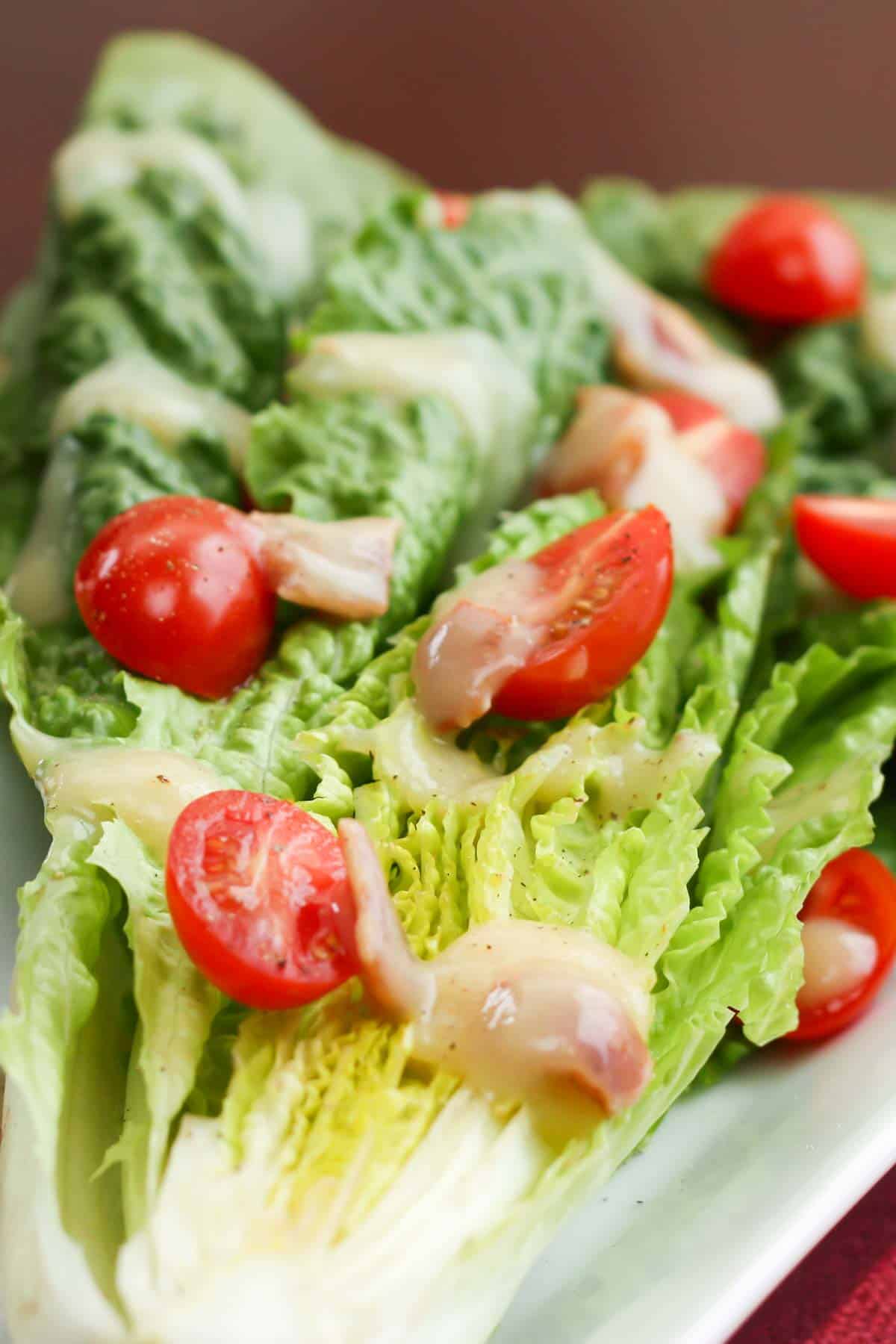 Recipe Ingredients
Bacon – Cooked and crumbled. If you cook it in a skillet on the stove, you can make the dressing right in the same pan – the bacon grease will just add a bit more flavor. Also, turkey bacon works too, if that's your preference.
Water
Maple syrup – Instead of sugar like in traditional bacon dressing, this recipe is sweetened with maple syrup. Bacon and maple are such a natural flavor pairing as each has a different but complementary smoky undertone.
Cornstarch – As mentioned, to make this a gluten free salad dressing recipe, I use cornstarch for thickening instead of flour. You still get the thick, creamy consistency but without adding wheat. You can substitute tapioca starch.
Egg
Salt
Apple cider vinegar
How to Make Hot Bacon Dressing
Cook the Bacon. You can use any method, and in my resource for how to cook bacon, I provide instructions for five different cooking methods. After it is cooked, drain it on paper towels and crumble it.
Thicken the Dressing. Whisk maple syrup, water, cornstarch, and an egg together in a saucepan. Slowly bring it to a boil over low heat. Be sure to whisk almost constantly to avoid scrambling the egg or having it get cooked to the bottom of the pan.
Add the Bacon. Once the dressing is thick enough to coat a spoon, remove it from the heat and let it cool a bit before. Then stir in the apple cider vinegar and crumbled bacon.
Serve with Salad. Pour the dressing over or toss with your favorite salad. Keep reading for some serving ideas.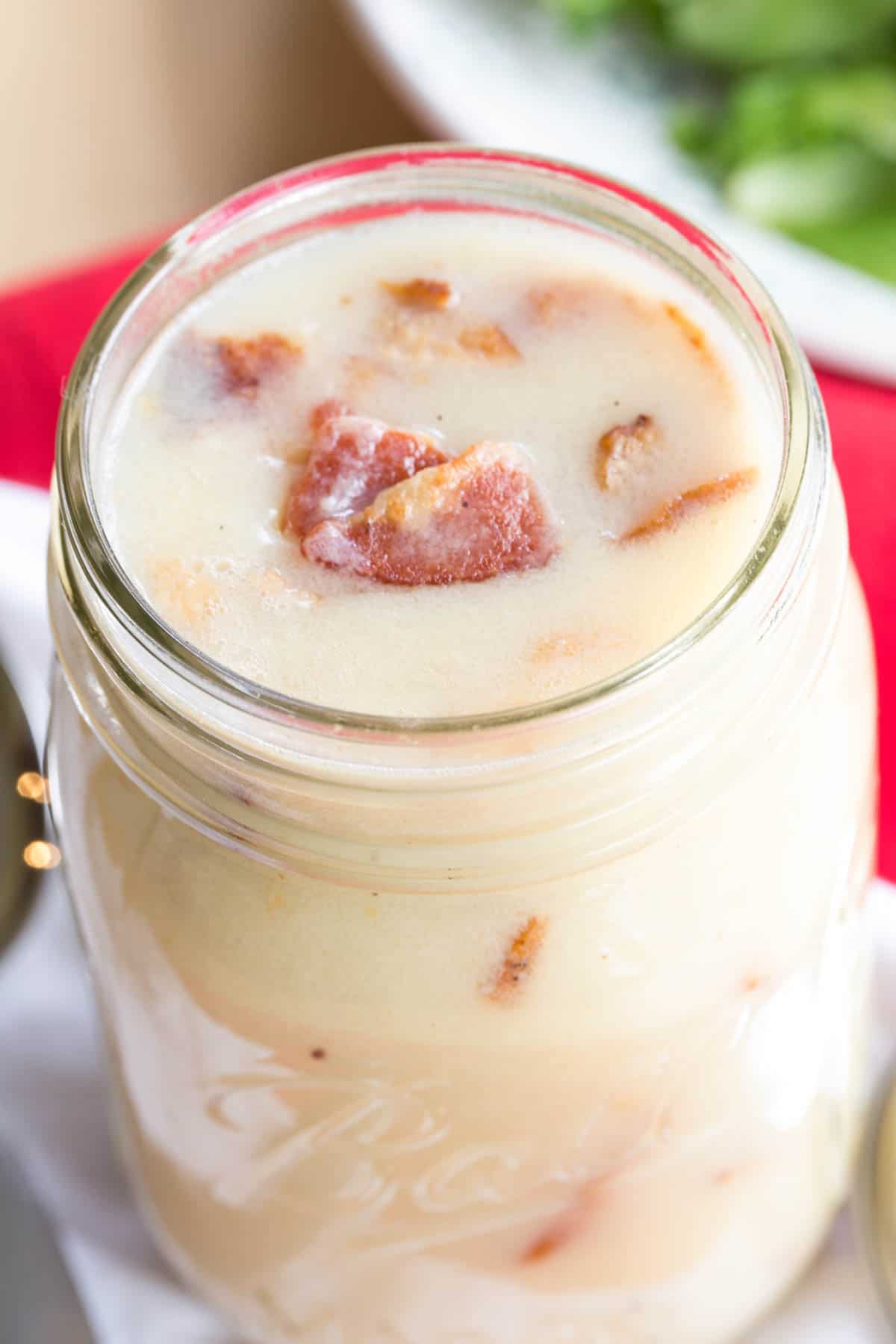 Storing and Reheating Warm Bacon Dressing.
This recipe makes a big batch of salad dressing, so you might not use it all right away. You can transfer the extra dressing to a jar or another container that you can seal tightly. Store it in the refrigerator for up to 3 or 4 days.
You can then reheat it as you need it. Transfer for some to a small microwave-safe bowl and microwave until warm. Or place it back into a saucepan and gently warm it over low heat, being careful not to boil it and curdle the egg. It doesn't have to be very hot. Just warm it enough so that it is a pourable consistency and gives that temperature contrast to the cold salad.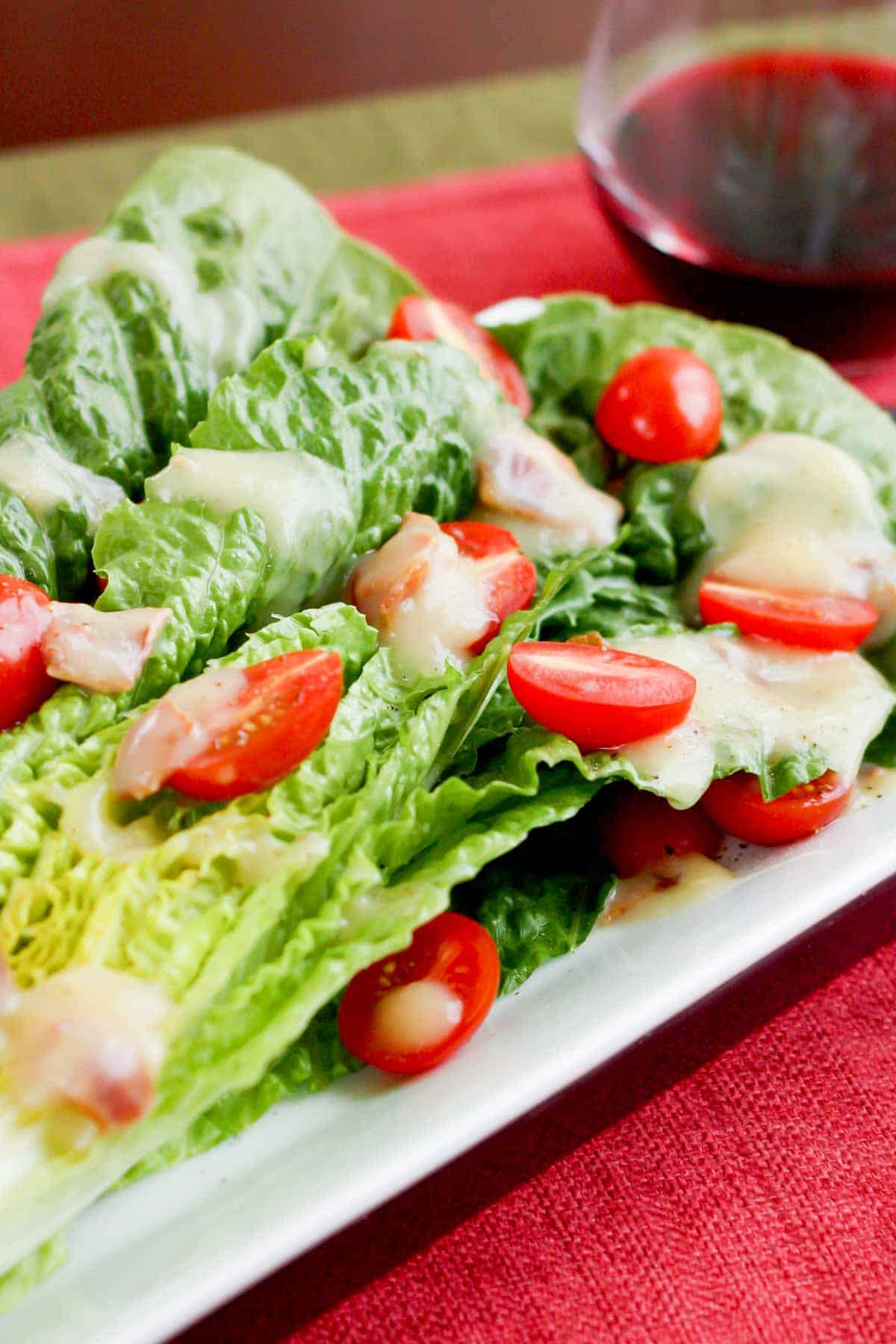 What do you put bacon dressing on?
The most classic way to enjoy hot bacon dressing is on a spinach salad. It'll slightly wilt baby spinach and adds amazing flavor. This is nice with some Rotisserie Chicken and Gluten Free Breadsticks.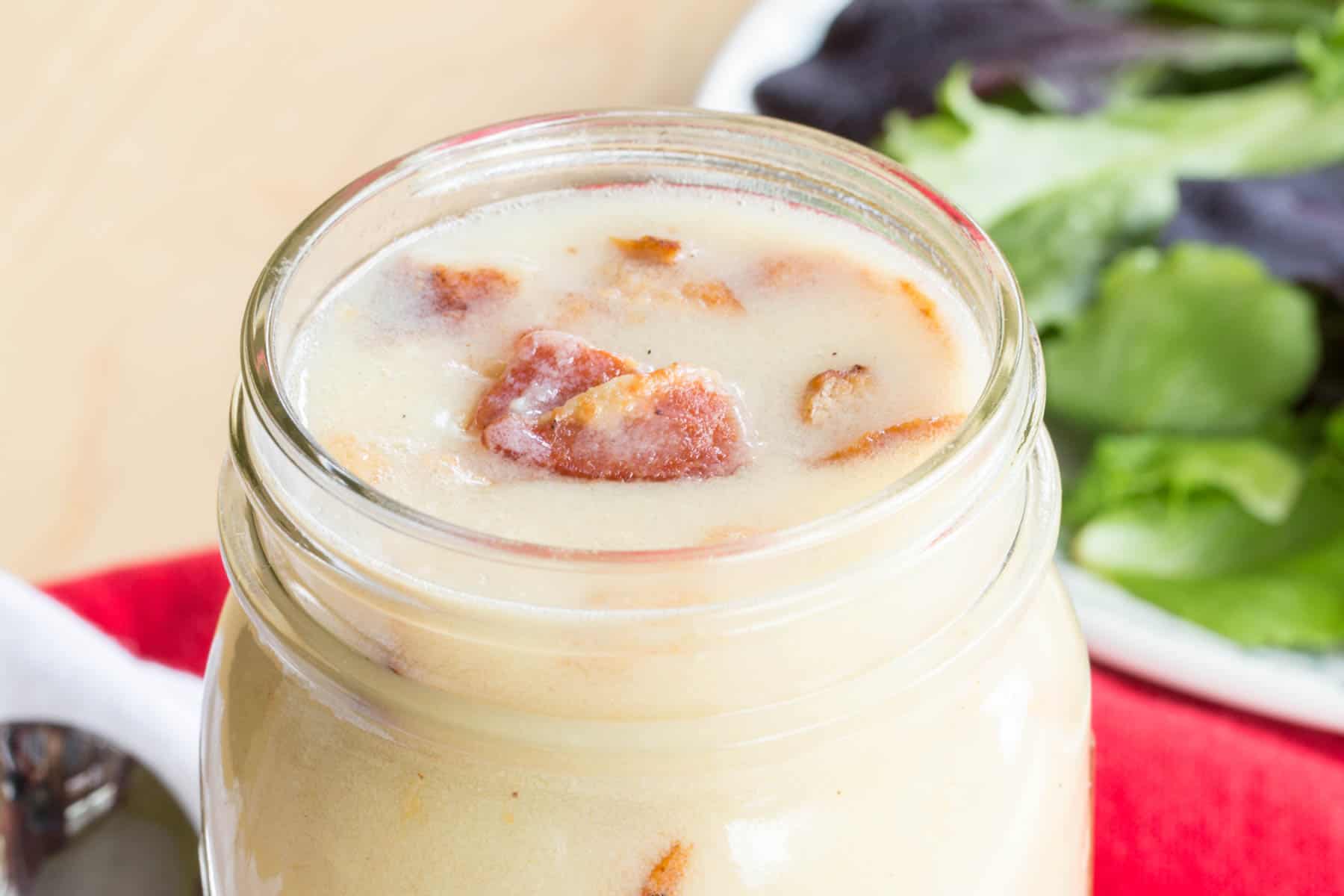 More homemade salad dressing recipes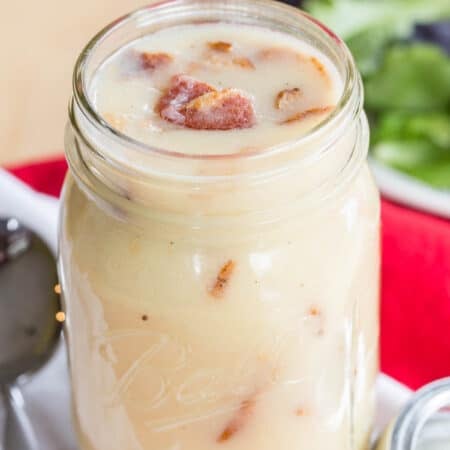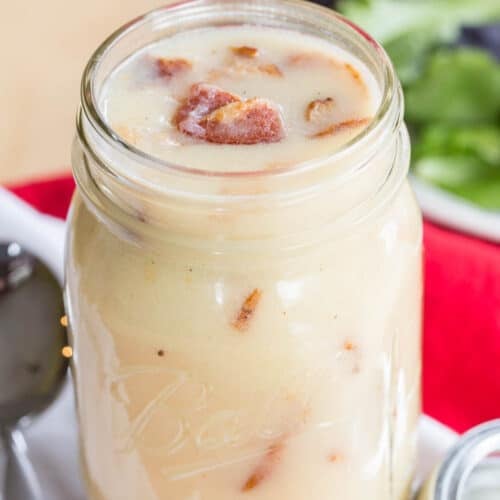 Maple Hot Bacon Dressing
This creamy Hot Bacon Dressing makes any salad irresistible, whether you choose to slather it on lettuce or a spinach salad. It's smoky and tangy, but the classic Amish recipe gets a sweet maple twist to make it even more delicious. It's also gluten free and dairy free!
Ingredients
2

cups

water

1/4

cup

real maple syrup

2

Tablespoons

cornstarch

or tapioca starch

1

large

egg

1/2

teaspoon

kosher salt

1/4

cup

apple cider vinegar

(use up to 1/3 cup if desired)

6

slices

bacon,

well-cooked, drained, and crumbled bacon (regular pork or turkey bacon)
Instructions
In a small saucepan, whisk together the water, syrup, cornstarch, egg, and salt.

Heat over medium low heat to a simmer, then cook, whisking frequently, until it is hot and starts to thicken.

Increase the heat and allow to boil slightly to thicken completely.

Remove from the heat and stir in the vinegar and crumbled bacon.

Serve while still warm, or reheat on the stove or in the microwave.
Nutrition Facts
Maple Hot Bacon Dressing
Amount Per Serving (2 Tablespoons)
Calories 50
Calories from Fat 27
% Daily Value*
Fat 3g5%
Cholesterol 15mg5%
Sodium 119mg5%
Potassium 30mg1%
Carbohydrates 3g1%
Protein 1g2%
Vitamin A 15IU0%
Calcium 7mg1%
Iron 0.1mg1%
* Percent Daily Values are based on a 2000 calorie diet.
Categories: