This post may contain affiliate links. Read my disclosure policy.
Quinoa is the super trendy super food that is all the rage these days…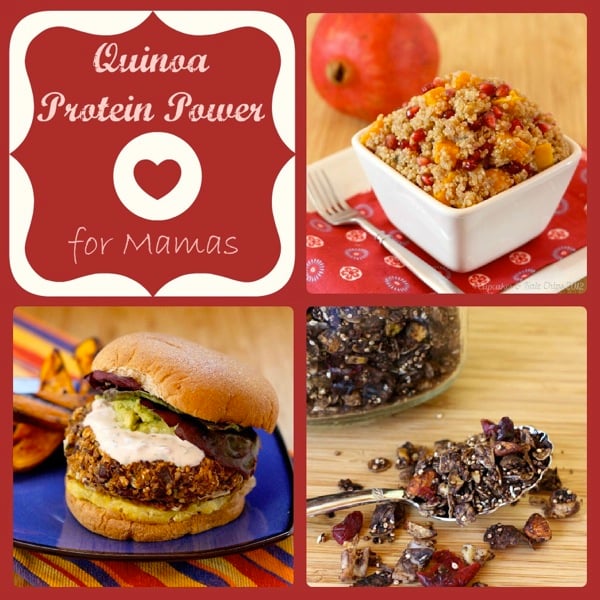 And with good reason. Even though quinoa has only become popular and commonplace in the United States in recent years, it is actually an ancient grain grown in the Andes Mountains. And why the rise in popularity? Well, a focus on whole grains, gluten free diets and vegetarianism/veganism are definitely on the upswing, and quinoa is the perfect food to meet al of these needs. It is a gluten free whole grain packed with calcium, fiber, magnesium, and lysine. And why are we talking about it here, in my Protein Power series (remember last week's Greek yogurt roundup and smoothie and pancake recipes)? Well, it is also a great source of protein, and one of highest sources and only plant-based complete sources of protein. So, awesome for celiacs, vegans, and all of us Mamas, especially those of us that are pregnant! (Sources: Wikipedia and Quinoa Corporation)
Of course, besides all of the health and nutritional benefits, it is also quick cooking and delicious, but also neutral-flavored, which makes it quite versatile, and it can be flavored up in so many different ways:
Have quinoa for breakfast:
Have Mexican-inspired quinoa:
Have Italian- and Mediterranean-inspired quinoa:
Have sweet & savory quinoa:
Have meaty quinoa:
Have cheesy quinoa:
Looking for more great Quinoa recipes? I have an entire Pinterest board to help, and I am always adding to it. So check it out, and while you are there, I'd love for you to Follow me. I am always pinning all kinds of tasty goodness!
Enjoy!