This post may contain affiliate links. Read my disclosure policy.
We've covered Greek yogurt, quinoa, eggs, and meat & seafood, so we've got one final installment of Protein Power for you before I take a little blogging "maternity leave" starting next week…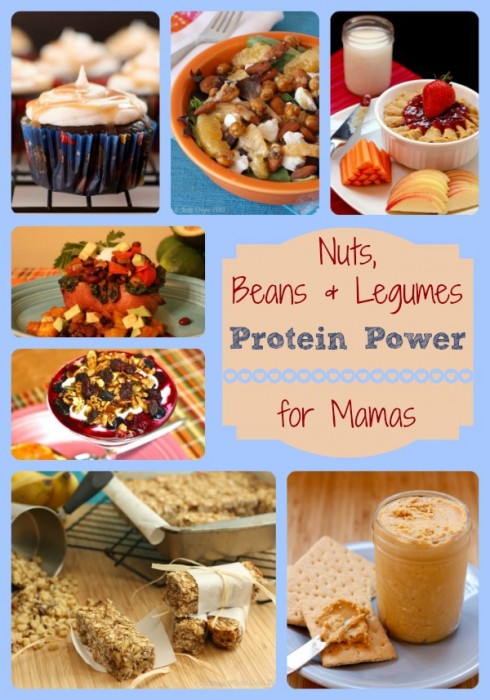 Nuts, Beans & Legumes! Definitely one of my favorite sources of protein. I mean, I have totally mentioned my peanut butter love, like, eleventy-billion times. So nuts, beans & legumes have been a major staple in getting me through these months of gestational diabetes, because not only do they provide protein, but they also have lots of other nutritional benefits. There are so many different types of nuts, and each one seems to be a nutritional star in one area or another, but they all contain fiber, healthy fats, B Vitamins, Vitamin E, Magnesium and Copper. You can find more details at Planters nutrition page. Like nuts, the different types of beans and other legumes bring different nutritional benefits, but they all are a good source of B vitamins, iron, zinc, calcium, magnesium, and phytonutrients (Source: Grains & Legumes Nutrition Council).
I've got a great roundup for you here, but you can also find some more recipes with nuts, beans & legumes on, well, pretty much all of my boards on Pinterest, but especially check out Meatless Inspiration, Salad Inspiration, Snacky Inspiration, and Gluten Free Baking Inspiration where you will find all kinds of yumminess.
Nuts, Beans & Legumes for Breakfast? Yep!
Nuts, Beans & Legumes for a Mid-Morning Pick-Me-Up? Sure!
Banana Nut Granola Bars from Cupcakes & Kale Chips
Orange Chipotle-Spiced Pecan Mix from Eat Yourself Skinny
Chocolate Energy Bars from Knead to Cook
Nuts, Beans & Legumes on a Lunch Salad? Naturally!
Orange Roasted Chickpea & Spiced Almond Salad from Cupcakes & Kale Chips
Skillet Corn & Edamame with Spinach & Bacon from The Lovely Pantry
Kale Salad with Pomegranates, Apples & Walnuts from The Girl in the Little Red Kitchen
Nuts, Beans & Legumes for an Afternoon Snack? You got it!
Nuts, Beans & Legumes for Dinner? Of course!
Nuts, Beans & Legumes for Dessert? Seriously!
Nuts, Beans & Legumes to Eat with a Spoon for a Midnight Snack? Duh!

Want to see lots more yummy food from me and my friends, and cute pictures of my kid?
Follow me!