Mama Mondays – #Eggs Protein Power for Mamas
Disclosure: This post may contain affiliate links. Cupcakes & Kale Chips is a participant in the Amazon Services LLC Associates Program, an affiliate advertising program designed to provide a means for us to earn fees by linking to Amazon.com and affiliated sites.
Breakfast, lunch or dinner…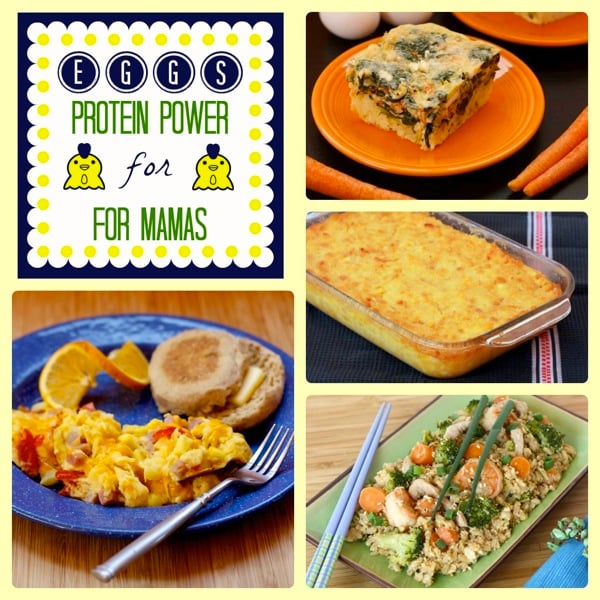 Eggs are another great protein source for everyone, especially for we mamas. So eggs are the focus of this week's installment of Protein Power, following up on Greek yogurt, and Quinoa.
For all of 70 calories, you get 6 grams of the highest quality protein, and 10% of the Recommended Daily Allowance of Vitamin D. This protein helps muscle repair and weight management, and Vitamin D aids in calcium absorption, among other health benefits. And for mamas with little ones on the way, eggs are an excellent source of choline, which aids in fetal brain development and helps prevent birth defects. And you get all of this amazing nutrition in one of the most affordable packages!! Who says eating healthy has to be expensive?! (Source: Incredible Edible Egg)
With all of the great ways to prepare eggs, they make a delicious and nutritious meal any time of the day:
Omelets & Scrambles
Quiches
Casseroles & Baked Dishes
Boiled & Baked Eggs
Other Dishes
Looking for more great Egg recipes? Well first, stay tuned this week for a couple of new recipes. And also, I have an entire Pinterest board to help, and I am always adding to it. So check it out, and while you are there, I'd love for you to Follow me. I am always pinning all kinds of tasty goodness!
Enjoy!