This post may contain affiliate links. Read my disclosure policy.
If any of you follow me on Instagram, or even just keep tabs on my Facebook page or Twitter feed, you've been seeing tons of Chobani Greek yogurt popping up lately…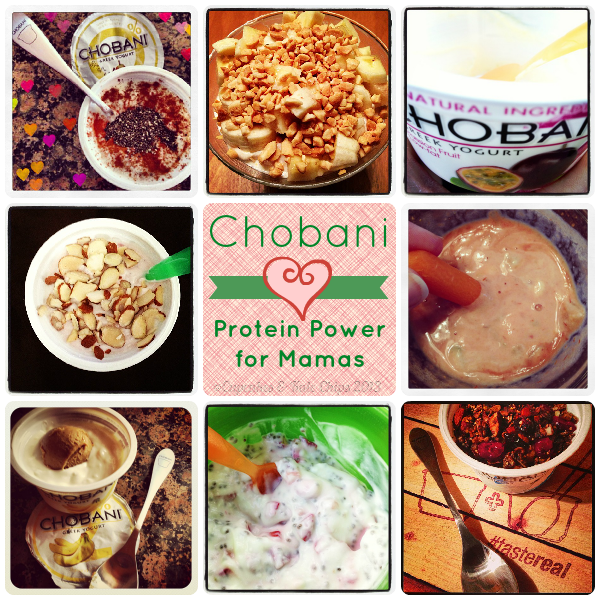 You also probably know I am pregnant (35 weeks – yay!) and that I was diagnosed with gestational diabetes (boo!). So right now, it is super-important for me to get my protein in order to keep my blood sugar in check and keep baby boy growing as he needs to. So I am hoping to spend the next few Mama Mondays doing a few roundups of different ways to get protein. I mean, I like meat, but some people don't and even those that do, well, how many big hunks of chicken and steak can you eat in a day? If I didn't get it from some other sources, I'd be in trouble. And lately, I swear I am eating my weight in Chobani Greek yogurt!
So what variations have you seen from me? Well, from the top left, going clockwise:
I didn't show it here, but I also add Greek yogurt to my favorite Blue Cheese Dressing (I make this several time a week), and it makes a seriously delicious Buffalo Bacon Blue Dip (which you can make all fancy-like, too). We also use 0% Plain in place of sour cream for Mexican dishes or to dollop on top of soup. Heck, I've even been combining a half cup of vanilla ice cream with a half cup of 0% Plain so that I can get my ice cream fix without having too much sugar.
Recently, the awesome folks at Chobani sent me some of their newest flavors – 2% Banana and 0% Pear. Sometimes I am happy to just peel off the lid and simply insert my spoon, and both of these flavors are delicious enough to do just that. The banana is pretty sweet, so I love balancing that out with some salty peanut butter. And I always love cinnamon with pears, so love to sprinkle some on top. Like all the Chobani flavors, they have chunks of real fruit, and are definitely satisfying. I am such a fan!
But I also wanted to play around with a few recipes. So I have a couple of things coming for you this week. And guess what – that means TWO posts today! Coming up – a super tasty, protein-packed Chobani Banana Funky Monkey Smoothie!
What are your favorite Chobani flavors? Do you eat it as-is, or do you like toppings or mix-ins?
Disclaimer: The author received samples of Cobani 2% Banana and 0% Pear Greek Yogurt for recipe development and review purposes. All opinions are my own.