This post may contain affiliate links. Read my disclosure policy.
Disclaimer: I was provided with a set of T-fal cookware to use and review, a set to give away, as well as the full version of the Cooking Planit iPad app to use and review. As always, all opinions are my own.
Yesterday I announced my Cooking Planit & T-fal Giveaway, and today I am so excited to tell you more about this awesome 12-piece Stainless Steel Cookware set that you could win. Now I get to tell you all about exactly WHY you want to WIN these pots and pans. Because trust me – you totally do!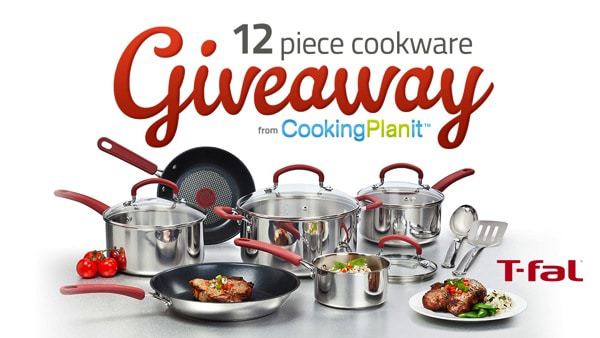 The first thing I noticed when I opened the box was how gorgeous these pots and pans were. Aesthetically, these would be a stylish addition to any kitchen. But certainly looks aren't enough.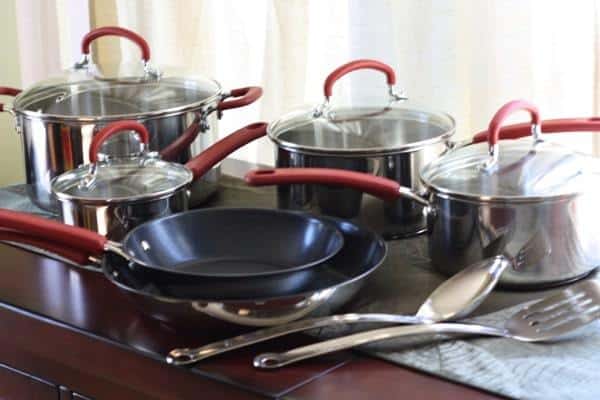 There were a few other features that also caught my eye before even using them. I loved the rubberized handles. I have a few of those fancy-schmancy expensive, high-end pans. Yeah, the nice stainless steel ones…  that also have stainless steel handles. And I am not good about remembering to grab a pot holder or towel, so this was a great feature. I have not tried these pots and pans in the oven yet (though they can go in up to 450°F), so I can't vouch for the temperature of the handles after baking, but on the stovetop, they definitely stay cool-to-touch. Also, on the inside of the saucepans are volume markings, which is the first time I have seen this feature. I expect this to come in very handy in the future.
I also love the clear glass lids with vents, since I am usually being distracted by The Bug and Baby Smiles, so it is nice to be able to just peek in to see if water is boiling or the dish is simmering, and not worry so much about boilover because of the vent. Speaking of boilover, I swear at least half the time that I make my Mexican Chocolate Pudding Oatmeal (which is almost daily), I do tend to boil it over or cook it too long. No vent could prevent this, but the pot that I cook it in still looks practically new, since even the cooked on chocolaty oatmeal cleans off easily.
I have to say, I have mainly used non-stick cookware, since I don't like to cook with tons of oil, so I was a bit hesitant about the stainless steel pots for anything other than boiling pasta or steaming veggies. But I decided to put the T-fal stainless steel to the test with some cheesy quinoa, and take a look at this. I definitely expected to be scraping a mess out of the pot, but, even just using a rubber spatula to serve the quinoa, it left just a little residue in the pan. This too cleaned up easily with a sponge and some dish soap, and though I have not yet tried putting any of the pieces in the dishwasher, I am sure this would make cleanup even easier.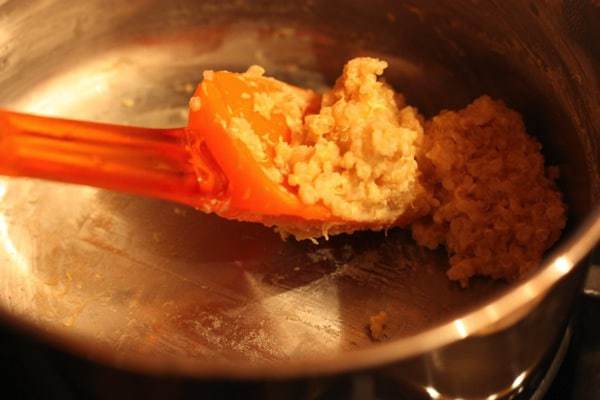 My last big test was eggs. I have had issues with omelets and my recipe for Salsa Egg Tacos sticking even in my old non-stick pans. It usually required one of those plastic scrubby sponges and some elbow grease to get out the cooked-on salsa and eggs. But after making this dish in my new T-fal, I probably could have just wiped it out with a paper towel and gotten it completely clean. Also, as I cooked the eggs, I could see that the pan heat evenly and gently cooked the eggs, and when making two grilled cheese sandwiches in one pan, I found the bread to be evenly and nicely browned.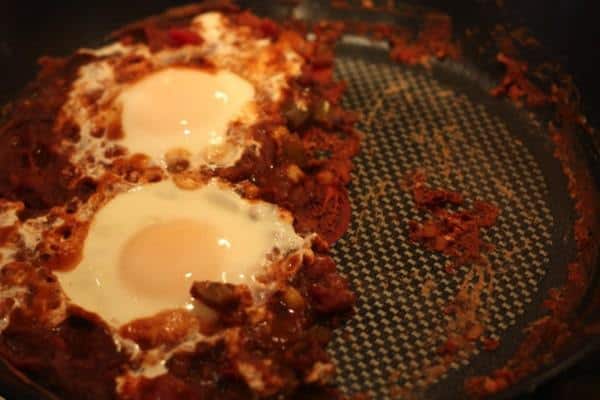 Overall, I am thrilled that this 12-piece set of T-fal Stainless Steel & Non-Stick Cookware is now a permanent resident of my kitchen. The Hubby had actually been encouraging me to start looking for a new set of cookware, but I had grown so accustomed to my old pots and pans that once these arrived, I was still hesitant to get rid of the old stuff until I was sure I loved this set. Well, those old pots and pans are now in the trash, and have been replaced with T-fal!
So of course I really, really want you to ENTER to win this cookware from me or from any of the 49 other bloggers listed below. But if you don't win, if you are in the market for a new set of cookware, check out the T-fal Stainless Steel & Non-Stick Cookware. These pots and pans will become workhorses in your kitchen, but you'll never know it by how clean and shiny they are.
Later this week, when I tell you some more about my experience with Cooking Planit, you'll see me put more of the pots and pans to use to make a fabulous seasonal pasta dish, and some simple and delicious tacos. But remember to head on over to Cooking Planit to sign up for your free account so that you are eligible to enter the Giveaway.