This post may contain affiliate links. Read my disclosure policy.
Disclaimer: Yoplait provided travel accommodations and samples of the Yoplait Greek yogurt. As always, all opinions are my own.
Back in June, I got an email that just, well, knocked my socks off. Yoplait (YOPLAIT!!) found out about my love of Greek yogurt wanted me (ME?!?!) to come out to the General Mills Headquarters to  met the Yoplait Greek team, learn about and sample their new line Yoplait Greek Blended Yogurt, tour the site, and cook in the Betty Crocker Test Kitchen. SQUEEEEE!

But wait, I have an infant. An infant that I am breastfeeding. The one who was struggling to gain weight for the first two months of his life as I struggled with milk supply. I've spent the past few months dealing with a complete and utter lack of sleep, a super-active three-year-old and a husband who is super-busy at work. And I'm going to attempt to do a whirlwind trip to Minneapolis without several months of planning and complete control over all of the details?! But luckily also a hubby who is super-supportive of this little ol' blogging gig (and basically EVERYTHING I do). He convinced me that we would make this work. After a million iterations – I go alone and pump for two days while away and he stay with the boys, we get one of our moms to help him, we bring both boys, we decided to leave The Bug with Grandma (thanks mom!!), and The Hubby and Smiles would travel with me.
And from the airplane to the lush digs and even all the girlfriends he made at the General Mills daycare, I think Smiles had a blast. (Gotta insert another million thank yous to everyone for being so accommodating to my little guy. You were all awesome and helpful, and that is what truly made this trip possible for me).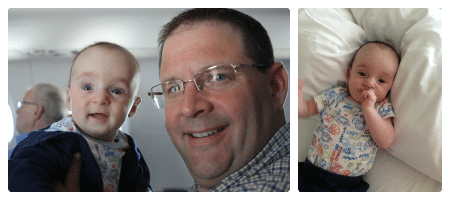 So did I. For many, many reasons.
1 – I had the opportunity to meet two other bloggers, Heather from Kiss My Broccoli and Kate from Greatist and Season Simply. This was there first time I got to meet fellow bloggers in person, and it was awesome. Being around other women who are passionate about food, got giddy looking at rooms full of dishes and cloth napkins, break out DSLR cameras in restaurants, could talk for hours about the subtleties of the tastes and texture of Greek yogurt, and Instagram everything was a total blast. It made me feel a little less crazy, since I swear sometimes my husband, family and friends think I am nuts because I have to snap a photo before I can take a bite of my food. Plus they were super sweet!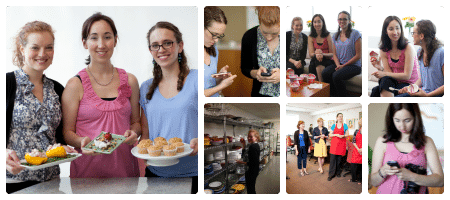 2 – A fancy meal. No kids. First time in ages, last time for awhile. And everything (umm, EVERYTHING since we practically ate the entire menu) that came out of the kitchen at the lovely 112 Eatery in Minneapolis was unbelievable. Not to mention the fun company – Heather, Kate, and the Yoplait team, including our wonderful hosts Seth and Tanya – who were so much fun to chit chat with about food and blogging and everything that we could barely focus on the menu long enough to order. Adult conversation, no cup throwing and hand wiping. PURE. BLISS.
But seriously, check out this food. Beef tartare, which I have always wanted to try, luscious scallops over butter mushrooms, a lovely unbaked chardonnay, nori encrusted sirloin (think sushi meets steak), the most incredible carrots ever, and a luscious spread of desserts, including the amazing tres leeches cake, and my favorite, the hazelnut torte. Oh, and yeah, what I said previously about cameras and Instagram…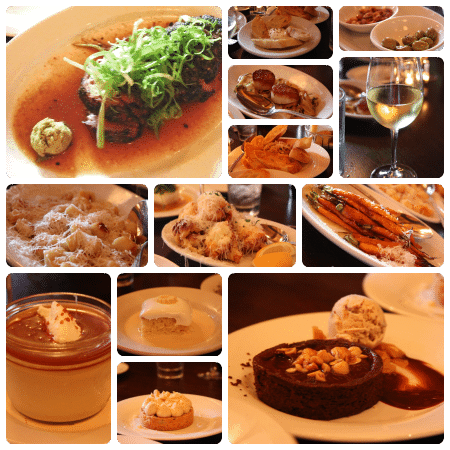 3 – I totally got treated like a movie star – and hopefully by next week, you'll see the outcome of that when I can share the video with you. Besides the car rides to and from the airport and the lush digs, there was the omnipresent makeup artist and paparazzi. But as fun as that was, I think the most awesome part was how surprisingly at ease I felt on camera. I always considered myself a shy person, but I feel like I opened up, despite totally not expecting or being prepared to be interviewed, filmed, and photographed for a day and a half. Hmm, maybe one day I will try out the The Next Food Network Star. I'll let you weigh in after you see the video. But you know what? Spending day in and day out in sweats and ponytail, no makeup on, dealing with diapers and spit up and dirt and other kiddie messes, it felt pretty amazing to be doted on and made to look all pretty, even if it just from good make-up and photo editing (note:  While Smiles is all smiles, he is also no-sleep, so I had about 4 hours of sleep – makeup and Photoshop were my friends).

4 – Getting to visit the General Mills Headquarters and meet the team Yoplait Greek team was also totally fun and interesting. As some of you know, I worked in pharmaceutical for nearly 10 years before leaving to be a stay-at-home-mom. While I don't know that I see myself returning to that world, it was fun to be in a corporate setting again, but one that was so completely different – in a great way – from the one I left. Plus, I know a lot about what it takes to bring a drug to the market, so it was fascinating to see the parallels and differences for bringing a new food product to the market. Becky, the President of Yoplait, told us all about the history of the company. Liza and Mark from marketing, Bru from consumer insights, and Sara from Yoplait social gave us the background on how they reached out to people like you and me to see what we liked and didn't like about the Greek yogurts on the market in order to determine what they wanted out of this new product, and, once it was developed, how they were going to get not only the product out to the market, but also the word out on why this is a different product from what is already on the shelves. Then what was exciting for me, the former Chemical Engineer, was talking with Alec from R&D about how they develop and manufacture the product. But more on that tomorrow when I tell you about sampling the new Yoplait Greek.

5 – Oh yeah, that was definitely another highlight – sampling the product and giving honest feedback on it before it even his store shelves. I'll tell you more about the flavors tomorrow, but rest assured, the stuff is good. I've already seen it on store shelves and picked up some myself. Let's just say, "Hellooooo Coconut!!"

6 – Cooking in the…  yes THE…  BETTY.CROCKER.TEST.KITCHEN!! #dreamcometrue!! But again, you'll have to wait for the details on that…  Thursday you'll find out more about this pan of awesomeness!!

So the trip caused me panic attacks before we left. It was a whirlwind. I was utterly exhausted. It took several days to recover. And I had to check my text messages, show off photos of my boys, and, while the other girls got to eat lunch and chat some more, I had take baby-related breaks away from the group…

I wouldn't have traded it for the world. Yoplait is broadening their horizons and moving in new directions with this new line of Greek yogurt. Through this trip, they have encouraged me to break out of my maternity leave blogging slump. I am reinvigorated in the kitchen, excited to become a better photographer, and I want to reach out to more people – readers, companies, bloggers – anyone who may want to hear my voice and whose voice I want to hear. Of course I have even less time than I used to, with two crazy boys to keep up with, but I'll do my best.
I love my boys. I am so happy to be their mama, and to be blessed to be able to make the choice that works best for our family, which is to be home with them. But I am also an independent woman, with passions and interests beyond the four walls of my home. And much of that revolves around what I have created here – my blog, my recipes, my photographs, my stories, silly and trivial as they may be, that I share, my friendships and connections. So moving forward I hope you'll see lots of new and exciting things here on Cupcakes & Kale Chips. And I want to thank Yoplait for an amazing trip, an awesome experience, the privilege of getting to taste the new Yoplait Greek Blended flavors before they hit the store shelves. But more than that, thanks for Reigniting the Spark.
What have you done that has ignited or reginited a spark and a passion in your life?