This post may contain affiliate links. Read my disclosure policy.
Disclaimer: I was provided with a Cuisinart Baby Food Maker & Bottle Warmer to review, and one to give away to a reader. As always, all opinions are my own.
Things are about to get crazy around these parts (seriously, when is it not crazy?), but luckily I have the simple and convenient Baby Food Maker & Bottle Warmer from Cuisinart in my kitchen to help me out. And guess what?! YOU have the chance to WIN one of your own!!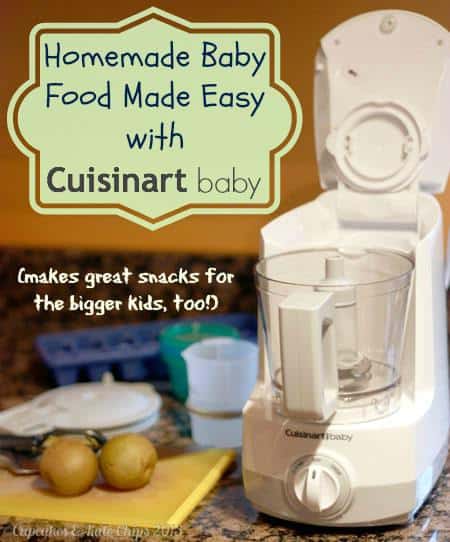 I always say, half-jokingly, that if I did one thing right with The Bug, it was introducing foods to him, and helping him along the path of being a good eater, both in variety and quantity 🙂 Other than a container of applesauce or yogurt here or there, mainly for convenience during travel, I made all of his baby food. I don't say that to be all hoity toity. It's just, well, that's what I do. I make food. If I am going to make delicious, nutritious food for my friends and family, why wouldn't I do that for my baby?!
Well guess what, it's about that time for this little guy…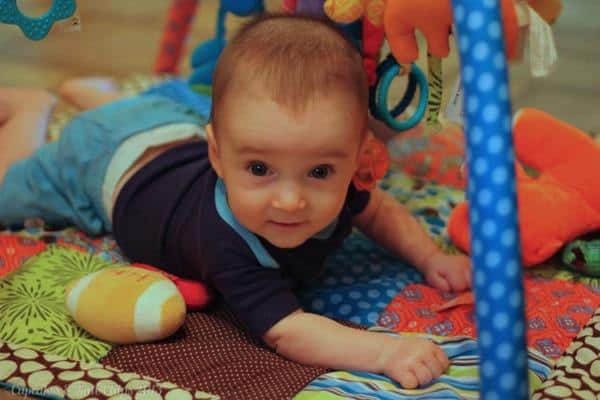 Yep, in just a couple weeks he will be six months old (!!!) and it will be time to start introducing solid foods. So that means for the next couple weeks, I will be steaming and boiling and pureeing and freezing all kinds of fruits and veggies.
And since life is perpetually complicated around these parts, The Bug is going to be having his tonsils and adenoids removed, and possible ear tubes put in.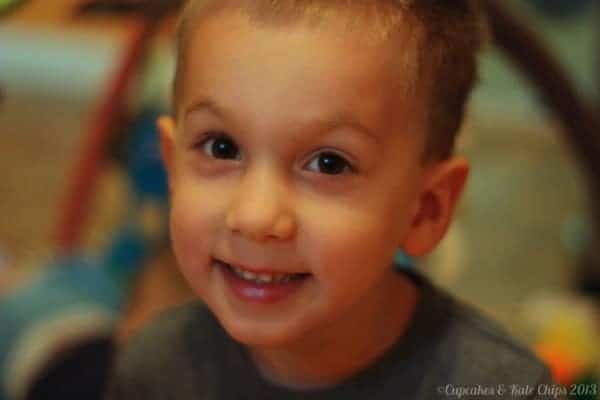 I am so incredibly anxious about this, but I know it will be for his benefit, to get rid of his chronic congestion, and maybe help us avoid winters of ear infection after ear infection. However, he will be on a soft foods diet for a bit. Now I know the "joke" when someone has their tonsils out is about eating ice cream for days, and I am sure The Bug will get his share, but he also needs hydration and nutrition, so some fruit and veggie purees will be in order.
So as you can imagine, anything to make these next few weeks a little easier is going to be a huge help, and the Cuisinart Baby Food Maker & Bottle Warmer is going to be so helpful, since it is so quick and easy.
All you do is get your fruit or veggies (The Bug and I picked these pears)…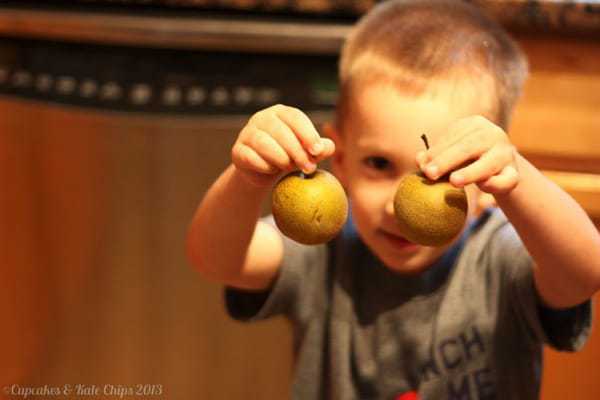 Cut into chunks and toss them in the bowl…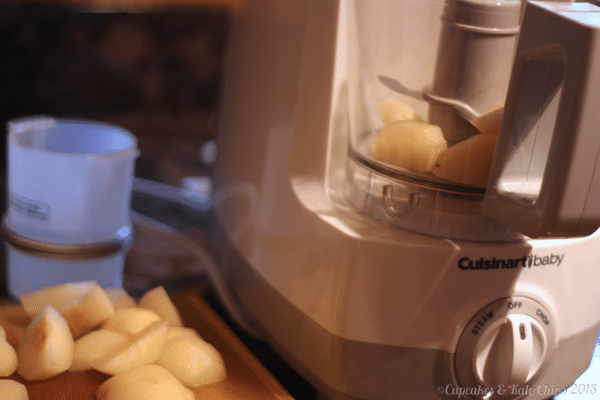 Add a little water using the included measuring cup…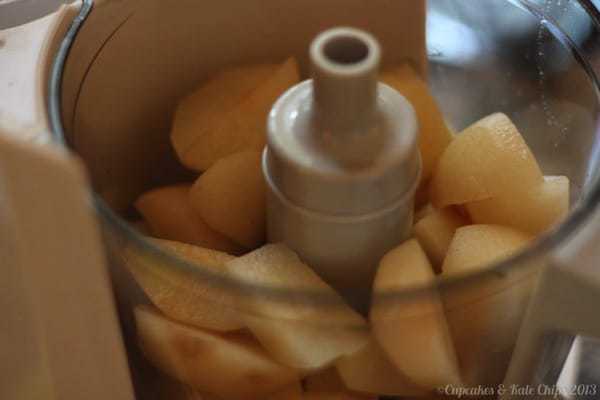 Set it to STEAM…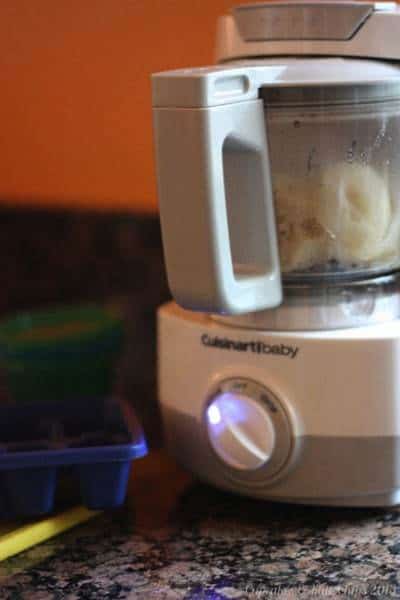 Oh, and super-cool – it magically shuts off when it is done. The chemical engineer in me wants to know how that works. I'm guessing a detection of a change in density. But I'm also guessing you don't care.
Then just turn the knob to CHOP and puree to your desired consistency…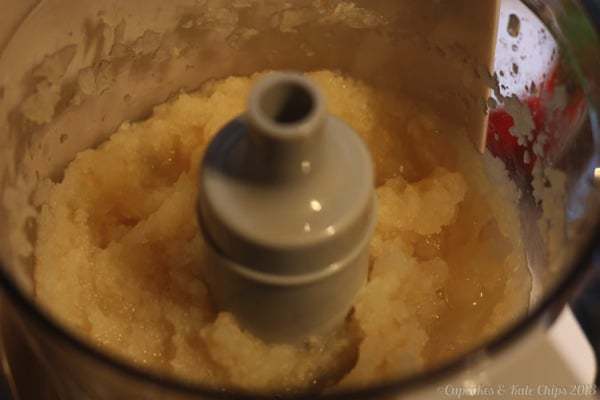 I made it thicker for The Bug, then pureed it a little more to make it smoother for Smiles. Then just popped it into little bowls and an ice cube tray to freeze for when I need it. The Bug got a little cinnamon in his, too.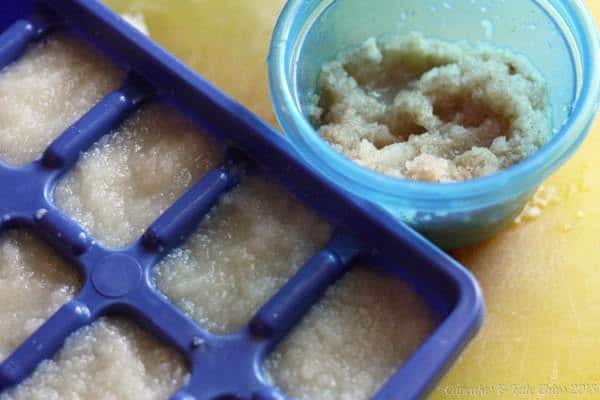 I do have a couple of hints based on my experience. First is to make sure your food is cooked as much as you would like it. The first time I tried it, our pears weren't too ripe and were kind of hard, so I don't think they pureed as nicely as I would have liked. The Bug devoured it, but not sure it would have been smooth enough for baby food. Also, you may want to pour off some of the excess cooking liquid if you think you may want a thicker puree, then add it back in to thin it out as desired.
Also, the capacity won't allow for big bulk baby food making, which I will probably want to do as the little guy starts eating more. But this is perfect for the early days. One tip for baby food making – until you know if your baby likes something (or has an allergy to it) you only want to make a little at a time. It'll also be helpful as he transitions to more table foods, and I want to quickly cook and puree what we are having for dinner, so that he can start to eat the same foods as the rest of the family (another one of my baby food tips).
Besides baby food, like the ones I use from Weelicious and Super Baby Food, I can also see myself using it to make fruit sauces for school snacks for The Bug, and even purees for fruit leather, like this Sneaky Green Apple one that I am dying to try.
I am so excited that this appliance is now in my kitchen, and even more excited to have the chance to share it with you. So ENTER the Rafflecopter giveaway from now through Sunday, September 15th.
Want to keep updated on new and exciting products from Cuisinart, like this one? Then head over to their website, or follow them on Facebook or Twitter.
Contest is open to US citizens only. All entries for the winner will be checked and verified, so please make sure you are doing what you are claiming in the Rafflecopter or all your entries will be voided. Number of entries received determines the odds of winning. One winner will be selected. Any & all social media outlets used in the Rafflecopter are not sponsors of the giveaway nor are responsible for this giveaway in any way. Protected tweets do not count as an entry method for tweeting. Tweets must come from a public account. No purchase necessary. Void where prohibited by law. If you are contacted as the winner, you have 48 hours from the time the email is sent to respond to the email and claim your prize. If no response is received, a new winner will be picked without further notice to you.