This post may contain affiliate links. Read my disclosure policy.
The Bug is back in pre-school, so I'm back to packing his lunchbox, only this year, it's five days a week. I like to try to keep giving him the same variety as I would give him at home, when most days I repurpose leftovers into something different. The one challenge I have is that the pre-school he goes to is actually housed in a Jewish Temple, so one of the mandates is that all meals consumed on the premises adhere to Kosher rules (laws? Sorry if my terminology is bad. I am not Jewish.). Since kosher meals cannot have meat or dairy together, for simplicity, rather than worrying about if one kid's meal conflicts with another kid's, the rule is that all meals must be meatless. This is a challenge since we are decidedly NOT vegetarian. But I am totally in favor of some meals being vegetarian, so I actually love this. Luckily, we do not have to be nut-free, though I do try to minimize sending in nut-based items, simply for safety. So this has led to me getting quite creative.
Since packing lunches is something that many of us parents have to do, I thought I would start sharing with you what I pack for The Bug. I'll give you links and recipes when they are available, and let you know what went over well, and what he was not a fan of. I'd love for you to share ideas, photos, and links in the comments, on Facebook, or Twitter every Wednesday. I think we could all help each other give our kids a variety of nutritious lunches! I know I am always looking for new items to pack. Plus, it is fun to be a little bit of a voyeur, right?! I will tell you, the photos aren't up to the same quality as my recipe photos – I just take a quick shot with my iPhone while I am assembling lunch.
So here goes:
Monday 9/30

What I sent: Avocado Rollups, Cheese, Grapes, Greek Yogurt Pumpkin Cheesecake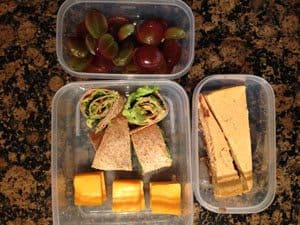 What came home: Nothing
Tuesday 10/1

What I sent: Yoplait Greek Blueberry, Mini Muffins, Raisins, Avocado and Orange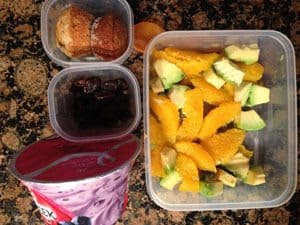 What came home: Nothing
Wednesday 10/2

What I sent: Broccoli and Laughing Cow Cheese Rollup, Peach, Greek Yogurt Pumpkin Cheesecake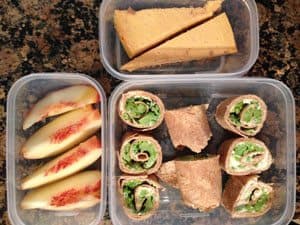 What came home: Nothing
Thursday 10/3

What I sent: Broccoli, Carrots and Cheese, Greek Yogurt Monster Cereal Parfait, Walnuts and Raisins

What came home: A few bites of veggies
Friday 10/4

What I sent: Scrambled Eggs, Cauli-Tots and Homemade Ketchup, Orange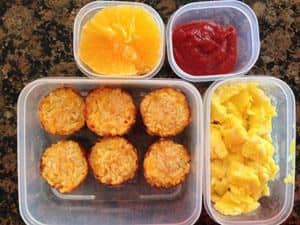 What came home: A little bit of ketchup
Share your ideas, recipes, links photos here, or on Facebook or Twitter. I know lots of mamas (and dads, too) who would love some lunchbox inspiration!!