This post may contain affiliate links. Read my disclosure policy.
As I write this, I'm looking just a short day or so ahead to achieving a goal I've had for a long time – participating and completing my first race, in this case the Beach 2 Beacon 10K in Cape Elizabeth, Maine. I'll be among 6000 people, from former Olympians and elite athletes to those recovering from injuries and being greeted at the finish line by their grandchildren, plus everyone in between, united in a common goal of crossing the finish line. I'm likely to be slow, but I'm going to do it even though for many years before I started this journey, I Never Thought I'd Be a Runner Until…
Plus read on to enter a Giveaway to win a FitKit to help kickstart or support your fitness goals.
I Never Thought I'd Be a Runner Until…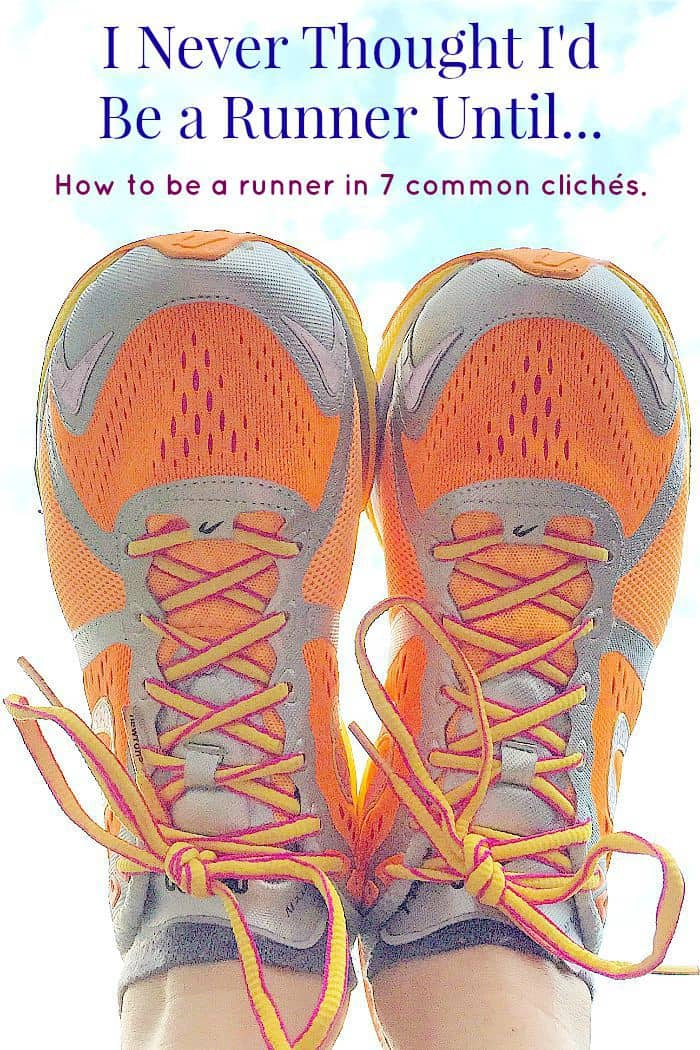 Disclosure: Cabot Creamery Cooperative selected me to be on the Cabot Fit Team and has paid for all travel and accommodations to participate in the TD Bank Beach to Beacon 10K race, and provided race gear, including the FitKit and Cabot cheese coupons for this giveaway.
For a long time I have wanted to call myself a runner. I've tried. I've hurt. I've gotten bored. I've gotten busy. Somehow with every attempt, I've always found a good reason to stop. In every other area of my life, that's not me. So when the opportunity came up to be part of the Cabot Fit Team and run the Beach to Beacon 10K, I knew it was the kick in the pants I needed to do things the right way. I just had to figure out what the "right way" was.
I'm not an expert or someone with a degree or special training in this area. This is just what your average former non-runner found out about running.
"Start with the end in mind"
In my previous attempts at running, I just ran. I'd hop on the treadmill and get in my thirty minutes of cardio because that's all it was to me – one of my three or four thirty minute cardio workouts of the week. But without a goal to work towards, I didn't feel like I had any reason to run longer or faster or harder. I just slogged away for thirty minutes and was done. So if you want to run, sign up for a race. It doesn't matter whether it's a 5K, 10K, or if you are going to go all out and run a marathon. And if you aren't ready to commit to a race, make sure you have goals – one mile without stopping, two miles in less than twenty minutes. It doesn't matter what your goal is, just having something to work towards will keep you getting out of bed and lacing up those sneakers.
"If the shoe fits."
Speaking of sneakers, make sure you get the right gear. Seriously. I used to try to run in whatever gym shoes I was currently using, in whatever state they were in. I'd pull on whatever pair of shorts I had in my drawer, an old stretched out tank top, held my iPhone in my hand, and set off. This didn't make me very comfortable. And if you aren't comfortable, you aren't going to want to keep running. So first, go to a good running store and have them check your size and your stride. I found out that I should be buying a full size larger in a running shoe than I expected, and I needed inserts for overpronation. Ah, so that's why I often dealt with shin splints and other foot and leg pain. Then I got the right shorts and running tank tops, I got a FItBand to hold my iPhone, a Garmin Forerunner watch to help track my runs. A lot of people say that running is a great workout because you don't have to spend any money, and while you don't have to spend a fortune, investing in the right gear to be safe and comfortable will make a world of difference.
"You are what you eat."
What else makes a world of different is paying attention not only to what you put on your body, but also what you put in your body. I'm not saying you need to become vegan or paleo or whatever if that's not your thing (if it is, that's cool too). I'm not going to tell you to never have another glass of wine or stop eating sugar. But just know that whatever you put in your body is going to affect how you perform. I can't have a big steak dinner and two glasses of red wine and then get up and run five miles at five in the morning. Same goes for a giant hot fudge sundae. Now don't get me wrong, I still have those things, I just try to keep it in moderation, or know that the next day might be a rest day, or that I would sleep in and get in some light cross training or strength work later in the day. I also know that with running that early, I run better on an empty stomach, or, if I am really starving, I'll just grab a half a banana. But then after I run, I need my oatmeal and smoothie. And for the next day and half to two days after a long run, I am starrrrrrrrving. So I eat. I eat more than I usually do. I eat more than I am used to eating, But my body needs it. I can feel it. So listen to your body.
"Know when to hold 'em, know when to fold 'em."
Besides food, you also need to listen to your body when it comes to how you feel. If you were planning on running but are just exhausted or don't get a good night's sleep, don't run. If you are sick, don't run. You'll probably end up feeling worse and your overall training will suffer. It's okay to take a rest when your body needs a rest. Just give it the break it needs, then get back into it.
"Slow and steady wins the race"
But don't get back into it too fast. And don't start too fast. Those were two of my biggest mistakes. My last attempt at running, I tried to go out and run three and a half miles twice a week (in the aforementioned crappy shoes). Well my achilles flared up and that was the end of it. Build your distance slowly. Build your speed slowly. Even with the right shoes, I still has some shin pain, but by building my distance gradually and making sure I stretched and built my strength, I worked past it and now no longer have those problems. And if you get sick or hurt and have to take a break, don't try to make your first run afterwards as long as your last longest run. A few weeks prior to my race, I got a stomach virus. Part of me wanted to just get right out there and run six or seven miles, but I reached out to my Cabot Fit Teammates and they encouraged me to take a leisurely run and just enjoy it until lI felt like I got my legs back under me again.
"It takes a village."
And yes, sometimes you will need to reach out to others for advice or support, so make sure you find your village. Somedays you may need information, others you may simply need cheerleaders, but you need people. Besides the Cabot Fit Team, one of the best communities I found was on Instagram where I'd post my sweaty selfies and quick snaps of my Garmin watch with a little update, for better or for worse, of the day's run. Seeing the same people "like" my posts, getting words of encouragement and commiseration and support and understanding kept me going even when I didn't want to anymore. Some of the people don't even know what it meant to me, but it helped me each and every day.
"Put one foot in front of the other."
You know how you know that you are a runner? You run. Whether it's a mile or a marathon, just running makes you a runner. I never believed this before, but now I recognize the truth in this statement because it takes work and commitment to run, and every step you run is one step towards a healthier you. The days I slogged through two miles, I was a runner. The days I had an amazing seven miles, I was a runner. If you go for a walk around the block and decide to sprint the last ten feet home, and then next time you decide to run twenty feet, you are a runner. Everyday that you put in the miles, you are a runner, as long as you keep running. Injuries and illness aside, you are a runner until you just stop running. Don't give up. Just run.
Soooo…
Will I keep running after this race? I think so. I guess I can't really answer that until after the race. I don't know that I'm the kind of person to run just for the sake of running, even though I've never felt better both physically and psychologically. I am strong, I feel strong, and I am proud of my body and what it can do. That's been a long time coming after my chubby childhood, some ups and downs as an adult, and let's not forget those two pregnancies. So I'd like to continue. Will I try to improve my speed and stay at the 10K distance or will I shoot for a half marathon? I don't know yet, but I do know that this journey has reemphasized how important fitness is to me in my overall lifestyle. It is part of who I am.
I hope that if you've followed along at all that maybe I have inspired you to move your body – whether it is running, popping in an exercise DVD, or just taking your kids for a walk for bike ride around the block. Anytime we do that, we are doing something good for ourselves and our families. Or maybe you've been inspired to reach a non-fitness related goal. That's awesome too! Growing and going outside your comfort zone is amazing for your physical well-being. Go for it!
And now of the giveaway! Cabot provided each member of the Cabot Fit Team with a super awesome FitKit. This kit allows you to take your workouts anywhere by packing some simple and light equipment plus exercise cards and a sample workout program into one portable package that will fit in any bag. I have mine with me in Maine so that I can loosen up my muscles before and after the race. You'll also get four coupons for free Cabot products!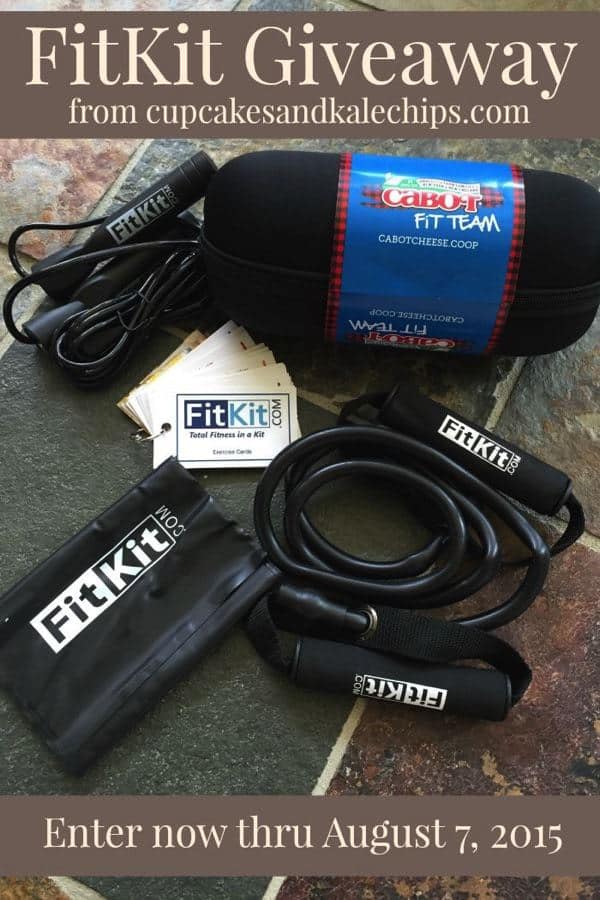 Giveaway is open to U.S. residents 18 and older. You have until 11:59 pm on August 7, 2015 to enter.
To enter, just tell me – what is your current fitness goal?
Good luck!