This post may contain affiliate links. Read my disclosure policy.
Do you have some foodies on your holiday shopping list? Or are you looking for some ideas of what to put on your own wish list? Make sure you check out The Cupcakes & Kale Chips Holiday Gift Guide for Foodies.
The 2015 Cupcakes & Kale Chips Holiday Gift Guide for Foodies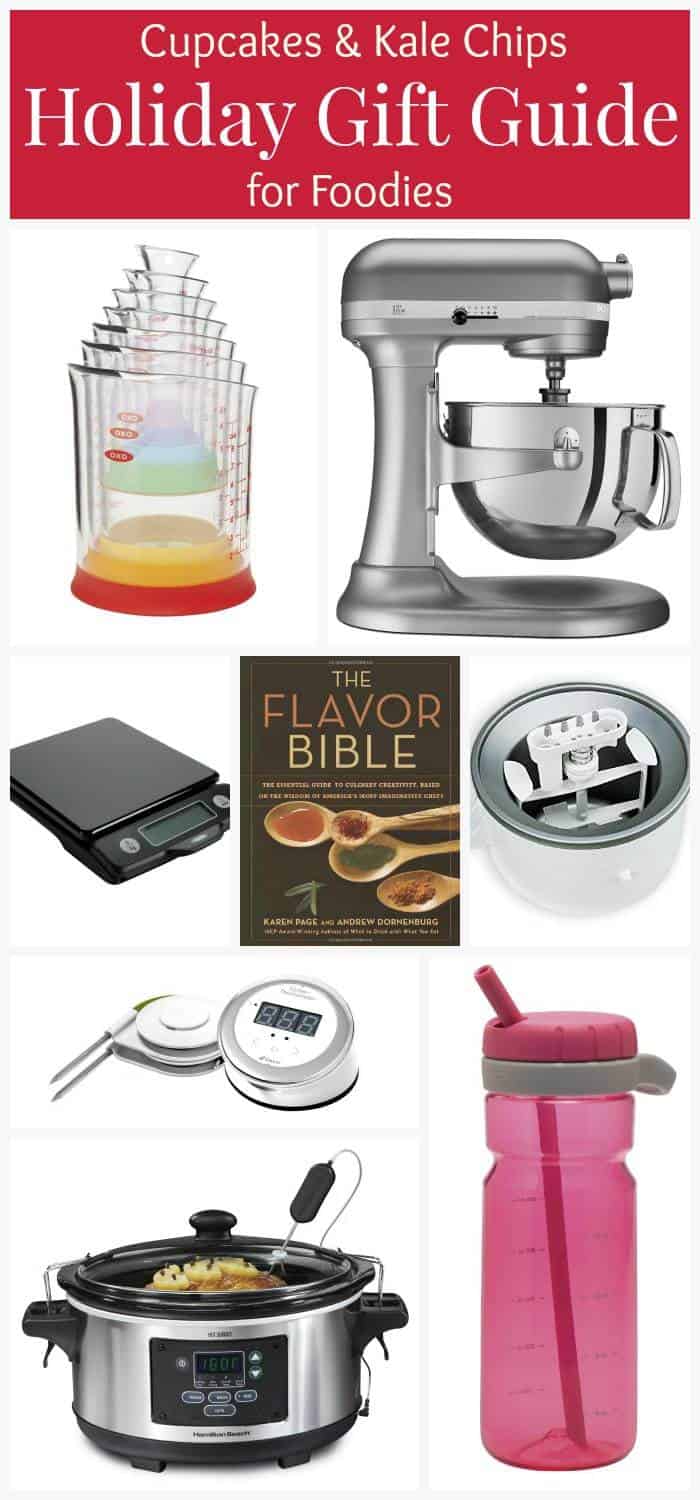 Kitchen Workhorses
Every foodie needs a KitchenAid Stand Mixer. Cookies, cakes, whipped cream, doughs, batters – this appliance can do everything, especially when you start adding the attachments! The Hubby bought mine for me for my birthday over ten years ago now, and it is still going strong. I'm partial to the silver one though there are lots of great colors.
I love my Hamilton Beach 6 Quart Set 'n Forget Programmable Slow Cooker. I told you all about it awhile ago, but I'm still using it all the time. The thermometer is such a great feature to ensure you don't overcook your meat.
I've had my Blendtec Designer 725 with WildSide Jar for a while now and I'm over 4000 blends on it. I make at least one smoothie a day, I've done hummus, nut butters, muffins, pancakes, and more. I don't know how I lived without it!
Gadgets and Gizmos
I don't actually own the iDevices Kitchen Thermometer, but it's on my list after the Certified Angus Beef brand chefs showed it to us when we visited their headquarters. You stick it in your bird or roast, plug it into the transmitter, and you can monitor the progress of your food from your smartphone!
Whether you are trying to be precise with your gluten free baking, need to weigh out fruits or veggies or nuts, or even are working on portion control, the OXO Good Grips 5-Pound Food Scale is a great little gadget. It's small, easy to use, and the digital display is so much easier to read than a needle.
The Hubby has threatened to kick me out if I get another kitchen appliance. So instead of an ice cream maker, I have the KitchenAid 2 Quart Ice Cream Maker Attachment. I just keep it in the freezer and pop it on to my stand mixer any time I want to make ice cream.
Stocking Stuffers
I use my Microplane Zester/Grater all the time. Of course I use it for lemon, lime, or orange zest, but I love to grate fresh parmesan and it helps make desserts look pretty when you grate some chocolate over them.
The science geek in me can't get over these OXO Good Grips 7-Piece Nesting Measuring Beaker Set. Way too cute and super convenient when you need to measure small amounts of liquids.
Mini Spatulas are perfect for scraping out the last little bits of peanut butter or mustard or even yogurt from the container. I also use it to make sure I don't leave any delicious smoothie stuck to the side of my Blendtec Twister jar.
Cookbooks You Need
I love The Weeknight Dinner Cookbook for easy meals you can make any night of the week. The recipes are broken down by how long they take to make, and there's even slow cooker recipes and desserts. It has been super helpful many times.
The Cabot Creamery Cookbook holds a special place in my heart because it has one of my recipes in it. But it is also truly a beautiful book with cheesy good recipes, beautiful photos, and great stores of many of the Cabot farm families.
Though it isn't exactly a cookbook, if you love to create recipes and come up with new combinations of ingredients, The Flavor Bible is for you. When I am developing recipes and feel like it needs a little extra something, I consult this book. I look up the main ingredients I am working with to find other flavors that pair well with that ingredient. It's a fun and fascinating book and has opened my eyes to unexpectedly amazing flavor pairings.
Work Off Those Calories
When I run, I keep my keys, ID, and iPhone in my FlipBelt. I love that it is tight to my body, so I don't feel anything flopping around or hitting me, and I know everything is safe and secure.
I'm not a Beachbody coach, but they have some awesome workout DVDs. The first set I purchased was Focus T25 by Shaun T, and I still use it. At first I followed the program exactly, but now I just mix in certain DVDs with my runs and other wotkouts. It's great for maximizing results without spending a lot of time (each workout is only 25 minutes) or needing much equipment or space.
Hydration is so important, so I always have my OXO Strive Propel Water Bottle whether I'm working out or just on the go. It's light, sturdy, BPA-free, and comes in fun colors. I like the pink one!