This post may contain affiliate links. Read my disclosure policy.
So after my Lucky Charms Cupcakes for St. Patrick's Day, I felt I had to redeem myself. Those are so far from the type of eating habits that I like to advocate. I'm not saying I always follow the good, wholesome, nutritious, real type of eating habits that I advocate. Especially on nights like tonight, when I thought for some reason it would be a good idea to eat the frosting that I scraped off of the cupcakes because while it tasted good, I kind of screwed up making it, and could never recreate what I did if I tried. But in general, I do try to have a healthy lifestyle.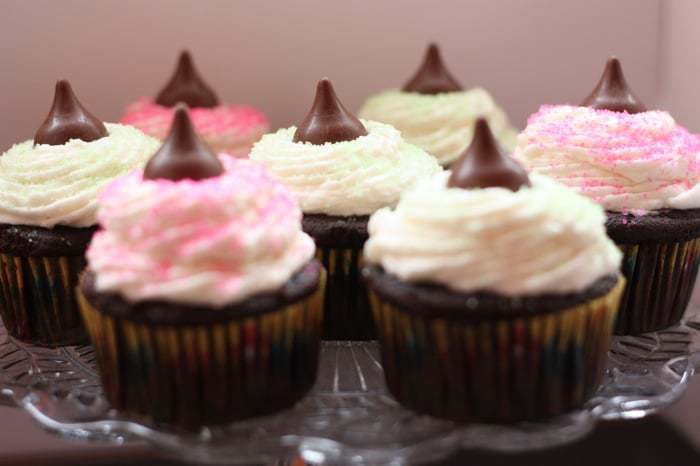 So I give you cupcakes made with black beans and eggs and coconut oil. See, wholesome! Fiber! Protein! Good fats!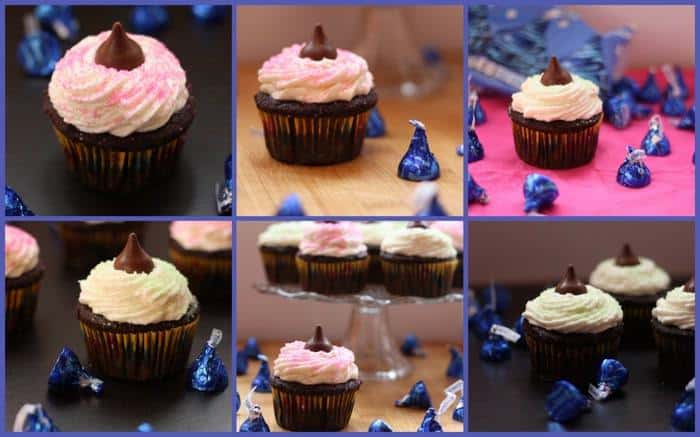 Not gonna mention the brown sugar….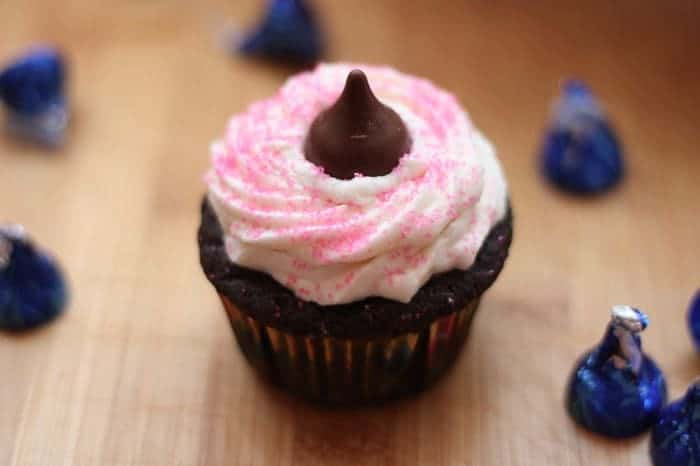 And the Coconut Creme Hershey's Kisses…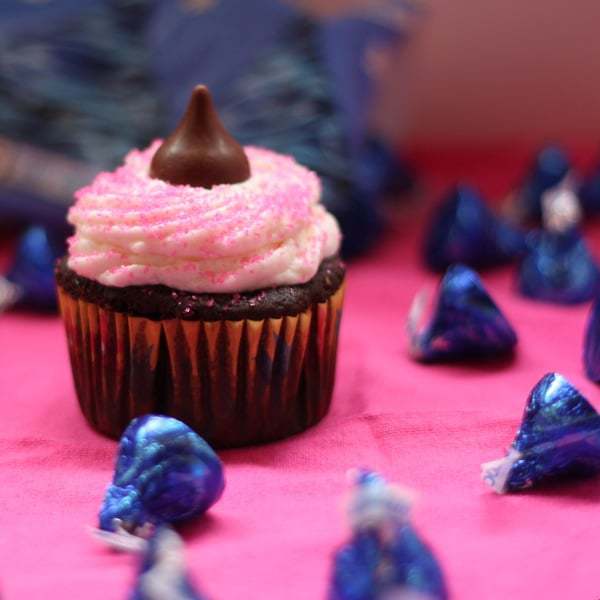 And the frosting full of confectioners sugar and butter…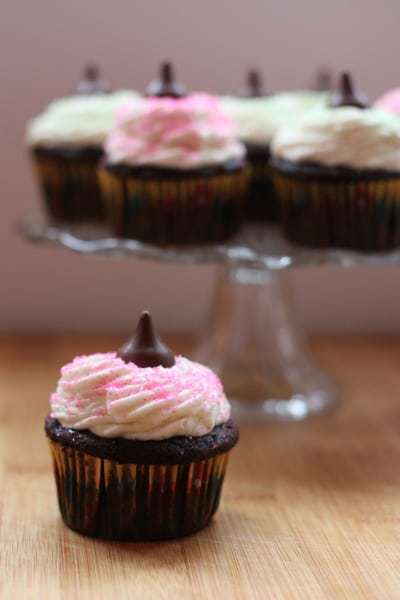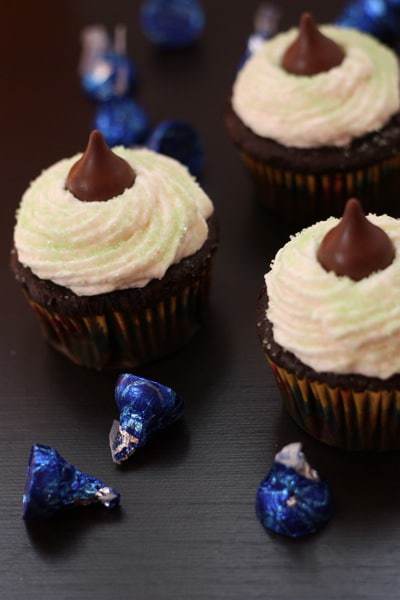 And another Coconut Creme Hershey's Kiss on top.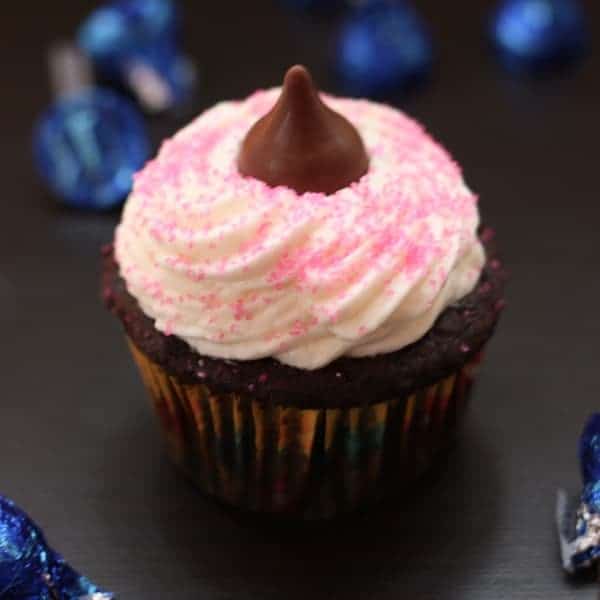 Nope, there's none of that stuff in there. Just nutrition. You know, black beans. And they're gluten-free. And anyway, it's Easter. Just eat a little less ham. And save room for dessert!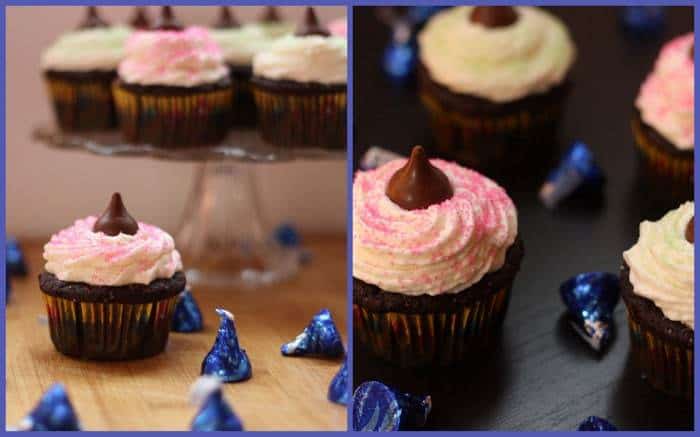 I saw the recipe for Cadbury Creme Cupcakes on Chocolate & Carrots', and I wanted to try it. And I thought the coconut oil in the chocolate cupcakes would lend itself very nicely to sticking one of the little Kiss bodies in the middle. Vanilla frosting with just a hint of coconut on top was the perfect contrast to the chocolate.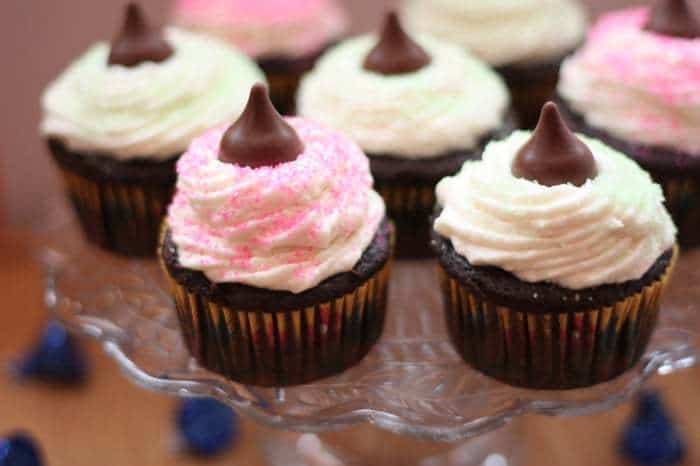 I totally agree with what Caroline said about her version. It's "a cupcake that you can eat and not feel guilty about, well, except for the icing. That's full on buttery deliciousness!"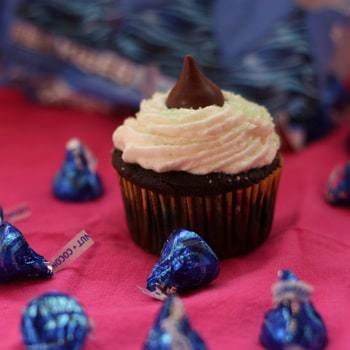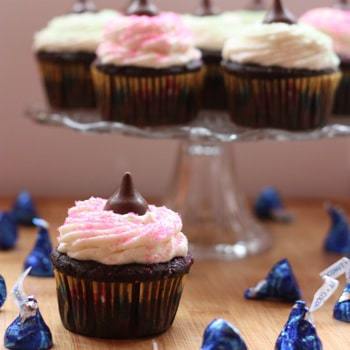 And as you would expect, these are Bug (and Hubby) Approved!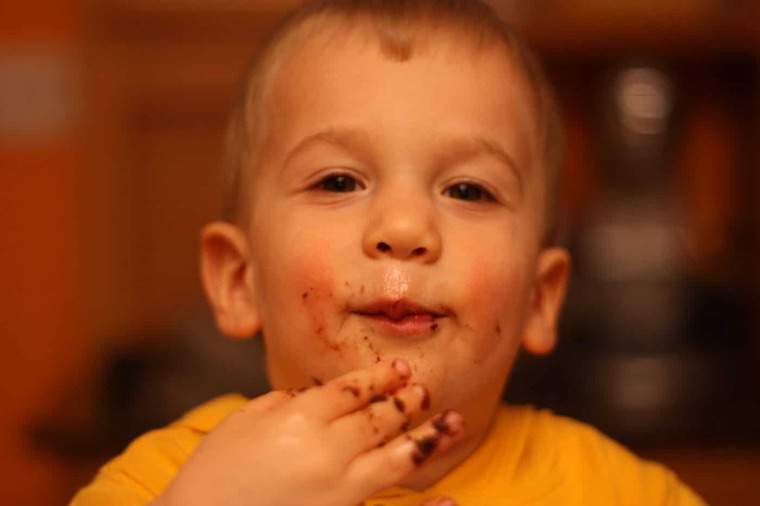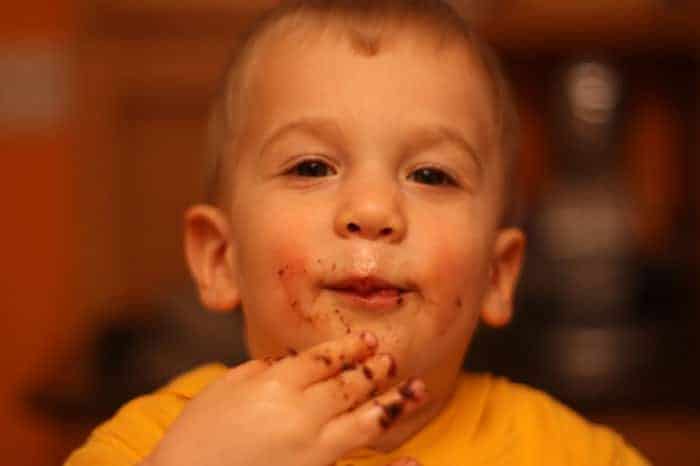 Just a quick note – I made 12, as per the original recipe, but they did rise quite a bit. They all fit, but if you wanted to break out another pan, you could probably make 14-16.
Do you like the holiday Kisses, like these coconut creme ones, or the candy cane ones for Christmas? Or do you just stick with the classics?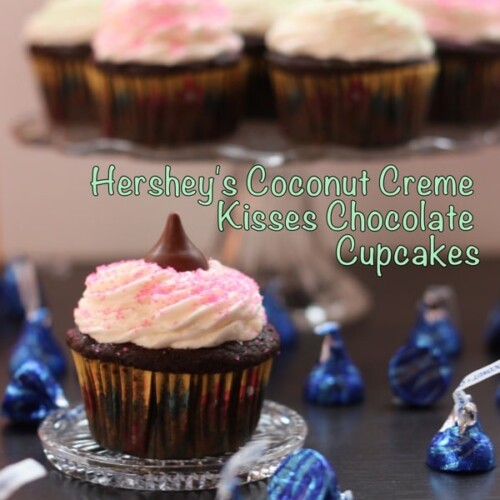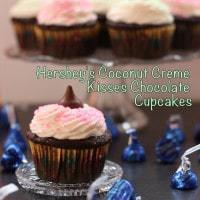 Hershey's Coconut Creme Kisses & Chocolate Cupcakes with Vanilla Coconut Frosting
Ingredients
For cupcakes:
1

15.5 oz can of reduced sodium black beans, drained and rinsed

4

eggs

1

T

vanilla extract

5

T

coconut oil

or unsalted butter (softened)

3/4

c

brown sugar

5

T

cocoa powder

I used Hershey's

1

t

baking powder

1/2

t

baking soda

24

Hershey's Coconut Creme Kisses

unwrapped
For frosting:
1/2

c

1 stick unsalted butter, at room temperature

1/4

c

coconut oil

or additional butter

2

c

confectioners sugar

sifted

1

t

vanilla extract

3

T

coconut milk

or regular milk or heavy cream
Instructions
Line muffin tins with cupcake liners, and preheat your oven to 350°F.

Combine the first five ingredients (through brown sugar) in your blender, and blend until smooth.

Add the cocoa powder, baking powder, and baking soda, and blend until combined.

Divide batter between the muffin cups, and place one Kiss in each, pressing down slightly.

Bake for 20-25 minutes, or until cake tester comes out clean.

Cool in pan for a few minutes, then remove and cool completely on a rack.

Frost with Vanilla Coconut Frosting and place another Kiss on top.

To make the frosting, using an electric mixer on medium to high speed, beat the butter and coconut oil until creamy.

Reduce the speed to low, add the confectioners, and beat until combined.

Add the vanilla and coconut milk, increase speed to high, and beat until creamy and fluffy.
Notes
I made 12 cupcakes, as per the original recipe. However, they did rise quite a bit, so you could probably make them a little smaller and get 14-16, if you want to take out another cupcake pan.
Recipe adapted from Cadbury Creme Cupcakes from Chocolate & Carrots.
Enjoy!