This post may contain affiliate links. Read my disclosure policy.
What happens when you've put in the time, put in the miles, and the unthinkable happens before the big day? You end up Just Short of the Finish Line – The Five (plus one) Stages of Grief for an Injured Runner.
Just Short of the Finish Line – The Five (plus one) Stages of Grief for an Injured Runner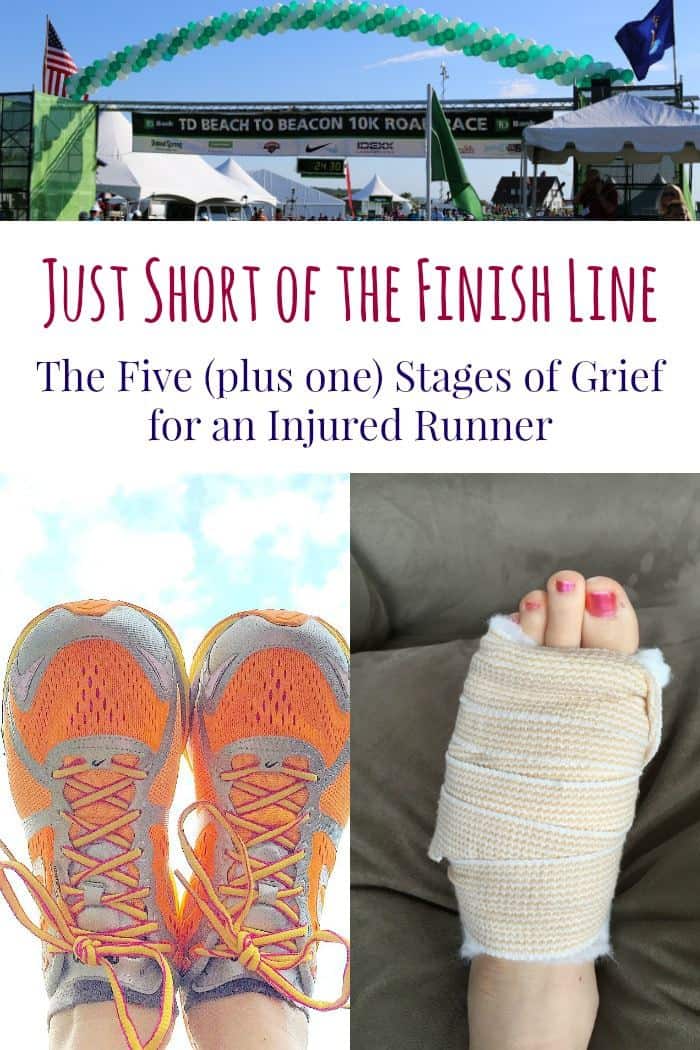 As you may know, a little over a year ago I started running and in August ran my first race, the Beach to Beacon 10K with Cabot Fit Team. After that race I took a short break, but then started hitting the pavement again, building up my mileage, knowing that I wanted to do more. So I was honored to be selected for the 2016 Cabot Fit Team, and to join them in running the Middlebury Maple Run. Through a brutal winter that left our sidewalks covered in snow and ice for weeks, I hit the treadmill as often as I could to keep up my strength and stamina. As soon as the weather broke, I was back outside running longer and longer distances. On a cold and windy day, I ran the Cherry Blossom 10 Miler in Washington, DC. Two weeks after that I ran my longest training run ever of 14 miles. It was time to taper and get ready for race day. One afternoon, about a week and a half before the race, I was bringing something to the basement, walking too quickly in a dark room, and stepped on something I had accidentally left on the floor. My foot rolled, and the pain was was immediate and intense.
Now, not to make light of losing someone close to you, there are many things in life that can cause you to grieve – losing a job, family moving away, heck even losing your favorite earrings. And in all those cases, there is definitely a series reactions and emotions you go through in order to deal with the blow you've been dealt. This is how I experienced The Five (plus one) Stages of Grief for an Injured Runner.
Denial
Did I immediately get myself to the ER for X-rays? Nope. I grabbed an ice pack, sat on the couch, and crowd-sourced on Facebook the best way to recover quickly from twisting your foot. I was running that race the following weekend, even if I had to skip or postpone my last 8 mile training run. Even when I got to the ER and the doctor suspected it was broken, I didn't believe him. In fact, when he said, "Do you want to come see the X-rays of your broken foot?" I replied, "It's not broken."
It was. It totally was.
Luckily I didn't do what some people do and deny it for days, but as much as you want to run that race or tackle that next trail, get it checked out. Hobbling around on an injury without getting it treated will only keep you on the sidelines longer and maybe warrant treatments or surgeries you might have otherwise avoided.
Anger
My Facebook status upon returning from the ER with a post-surgical supportive shoe and crutches:
I broke my foot. I broke my freaking foot. On a stupid thing on the stupid floor that stupid me should have picked up and stupid me should also have been looking where I was walking and not rushing while walking on a slippery floor in a dark room in my socks.
You guys, accidents happen. The bad attitude isn't going to make your injury heal any faster. It's not going to make any one want to help you. Get your anger out quickly and get on with it.
Bargaining
A few days later I saw the orthopedist to get my prognosis. He wants me to rest it, stay off it as much as possible, keep wearing the surgical boot, and come back in two weeks. Soooooo, doc, if I reallllly rest it for the next few days, can I travel to Vermont in a few days to be with my race team? Well I won the bargaining with him because he said there was no reason I couldn't if I felt up to it. But then I had to bargain with my own body. I lost. I stayed home and cheered on the ladies of Cabot Fit from afar. I knew it would be physically taxing, would impact the entire agenda because I would have a harder time getting around and participating in the planned activities, and I'd be relying on people who had to focus on their own preparation for and participation in the race. I know they would have helped me out, but it wouldn't really be fair to them. And I also didn't want to risk worsening the injury with another freak accident.
My advice here is to listen to your body. Don't push yourself too hard. I know you hate sitting still. I know resting is not your cup of tea. I know the kids want to play and dinner needs to be cooked and laundry needs to be folded. But you need to heal. You don't need to hurt yourself again or not heal properly. My mom broke her foot when she was younger, and to this day she still has pain because she pushed too hard too fast.
Depression
I had a few days where I was totally unproductive and, I'll admit it, basically just wallowing in self-pity. But that's part of the process, and by letting yourself feel what you need to feel, you'll get through this stage faster. You know what isn't part of the process, but what I really wanted to do? Drown my sorrows in a vat of ice cream. That would have accomplished nothing other than making me feel sluggish and even more depressed because I knew I couldn't balance out that indulgence with a good sweat session.
So the other part of paying attention to your body is listening to what it needs as far as food. In the late stages of my training, I was eating a lot. I was always hungry. And my body was used to consuming that much food. So I had to make sure I was eating out of hunger, not out of habit, because I didn't want to pack on the pounds during my time of decreased activity. While your body may need some extra calories to heal, it probably doesn't need as many calories as it did while you were training.
Acceptance
Once I was through my funk, things started looking up. I knew my kindergartener enjoyed our walk to and from the bus stop everyday. So instead of driving him, I did it on my crutches and came to realize that was a pretty good ab workout, plus my kiddo still got his mommy time. Some friends gave me advice for exercises I could do while still staying off of my foot. I wore fun socks. I realized how willing my kids were to help, well, at least sometimes. I gave in and let The Hubby cook or we ordered takeout or we just had hot dogs, and you know what, we all survived. After a few days of sleeping in, I realized that my body was pretty wiped out from all of those early mornings, and I was feeling pretty energetic.
Things happen for a reason. I'm not sure all of the reasons just yet, but slowing down a bit gave me some clarity and made me realize that I needed a bit of a break, mentally and physically. And it certainly doesn't need a few pints of Ben & Jerry's.
And my extra one – Planning
If you are a runner, chances are you live a fairly active, healthy, fit lifestyle. So this injury is not the end of the road, but you have to decide your next steps. My first thought was to sign up for a half marathon in the fall, which would give me time to recover and build up my mileage again. But as I started doing some toning and strength exercises again, I realized I missed doing that. I also realized I was starting to dread the early morning alarms. Sure I enjoyed the runs once I got going, but I wasn't all that excited about getting going. Plus, I tend to carry a little extra weight when I am running. As I mentioned, I was always hungry. I'm finding that doing more weights and slowly ramping up my cardio is making me leaner. I'll be honest, I'm not disappointed about this with bikini season (and a cruise for our tenth anniversary) coming up. So I think for awhile I want to focus on getting toned and strong, and when I'm ready, I will run, but because I enjoy the feeling of the fresh air in my lungs, not because I need to keep up with my training schedule. And you know what? That's OK. In fact, it's better than OK because I am excited about exercise and doing it because it makes me feel good, which makes it easier and more enjoyable to stick with.
So think about your next steps, whether it's your first step towards your next marathon, or stepping up to a weight machine, or stepping into the pool. You will get back to that active and healthy lifestyle you love!
Since I couldn't be there and share my experience with you, I hope you'll check out the race recaps from the rest of the Cabot Fit Team. Looks like it was an amazing weekend!