Greek Yogurt Blue Cheese Dip or Salad Dressing
Disclosure: This post may contain affiliate links. Cupcakes & Kale Chips is a participant in the Amazon Services LLC Associates Program, an affiliate advertising program designed to provide a means for us to earn fees by linking to Amazon.com and affiliated sites.
Greek Yogurt Blue Cheese Dip is a delicious, easy appetizer recipe. Because I love easy gluten-free salad dressing recipes, this easy dip recipe easily converts into a salad dressing!
Originally published on April 16, 2012. Post and photos updated on February 6, 2016.
I LOVE blue cheese. LOVE LOVE LOVE!! There aren't many things that aren't made better by adding blue cheese. Salads, steaks, pizza, sandwiches. I could go on and on. Heck, it even makes raw celery edible.
One of the worst things about being pregnant is not eating blue cheese. I know, I know, there are a lot of folks who are now going to tell me that you can eat any cheese as long as it is pasteurized, without worrying about listeria and other nasty bugs that can wreak havoc on a pregnant woman and her baby. Of course there are also those who say "NO SOFT CHEESES AT ALL." I was not from that camp. Brie, feta, goat cheese – no problem. But for some reason, blue cheese freaked me out. I was literally counting the days till I could have it again.
So for my first dinner out after The Bug was born, we went to Outback, where I had the Blue Cheese Chopped Salad, a rare filet, and a glass of cabernet. It was like heaven, and not just because he slept the entire time (though that certainly made the experience that much more wonderful – and much quieter and cleaner than meals with him now).
But blue cheese dressing, well, yes, in concept, I love it. But the stuff from a bottle has these little, tiny granules of blue cheese which are totally not satisfying. Nor do they even taste like blue cheese. The stuff you get from restaurants or most other homemade recipes I've seen are not the healthiest thing in the world. OK to have on occasion, but not something I want to eat regularly.
Especially since, with most other dressings, I can dip my fork in a little, the stab a bite of salad and be happy, but with blue cheese, I need to spoon it over to make sure I get the large chunks of cheese. So I knew I had to come up with my own version – chunkier than the bottled stuff, but healthier than restaurant/homemade stuff. A-ha!
Greek yogurt blue cheese dressing!
Now, The Hubby and I do like things that are very tangy, so that is why I give you a range for the added cider vinegar. We like more, but you may want to tone it down a bit, depending on your preference.

[Tweet "Greek Yogurt Blue Cheese Dip or Dressing is an easy, healthy version of a creamy fave!"]
This is thick enough to be a great dip for veggies…
But it is equally yummy as a salad dressing, which I totally do all the time.
What is one food that you would hate to have to give up, even for just a short time? And for the mamas, were there any foods that you stayed away from when you were pregnant?
For more yumminess from me and my foodie friends, keep up with me on…
Or sign up to have Cupcakes & Kale Chips delivered straight to your Inbox!
I hope you love this Greek yogurt blue cheese dip or dressing recipe!
Print Recipe
Greek Yogurt Blue Cheese Dip or Salad Dressing
An easy and healthy way to make that favorite creamy salad dressing or dip for wings, veggies, or chips. Vegetarian, gluten free, and low carb.
Instructions
Combine all of the ingredients except the blue cheese in a bowl, and stir until well-mixed.

Gently stir in the blue cheese, so that you don't completely break up the nice, large chunks.

Use for dipping veggies or put on top of a salad, on a sandwich, in a wrap...
Nutrition
Serving:
0.125
cup
|
Calories:
115
kcal
|
Carbohydrates:
1
g
|
Protein:
6
g
|
Fat:
9
g
|
Saturated Fat:
4
g
|
Cholesterol:
14
mg
|
Sodium:
392
mg
|
Potassium:
43
mg
|
Sugar:
1
g
|
Vitamin A:
170
IU
|
Calcium:
122
mg
|
Iron:
0.1
mg
Enjoy!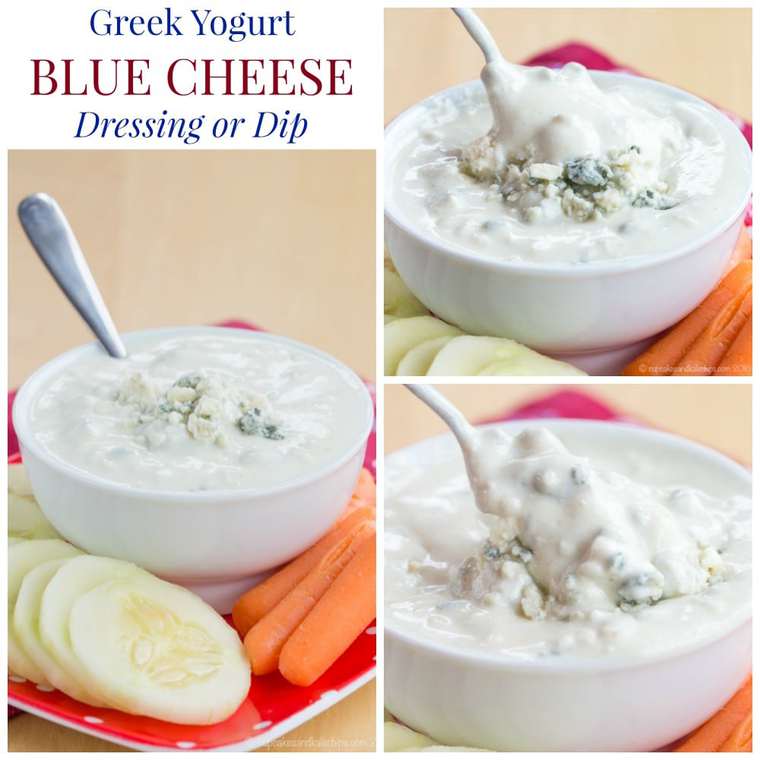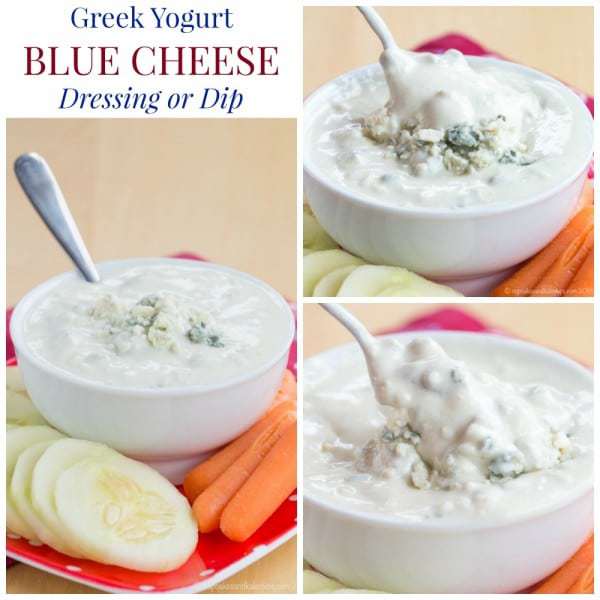 What have I slathered this dressing on?
And here are some recipes from my friends that would be perfect with this…