This post may contain affiliate links. Read my disclosure policy.
Has a cruise vacation been on your mind, but being limited to the menu aboard a ship has you concerned because you have celiac disease, a gluten allergy, or another wheat intolerance? The Royal Caribbean kitchen staff will ensure that you have a fun, safe, and delicious vacation. I can't wait to tell you about the variety of food that completes the overall cruise experience in this edition of Cupcakes & Kale Chips Gluten Free Travel: Royal Caribbean Cruise on the Freedom of the Seas.
Cupcakes & Kale Chips Gluten Free Travel: Royal Caribbean Cruise on the Freedom of the Seas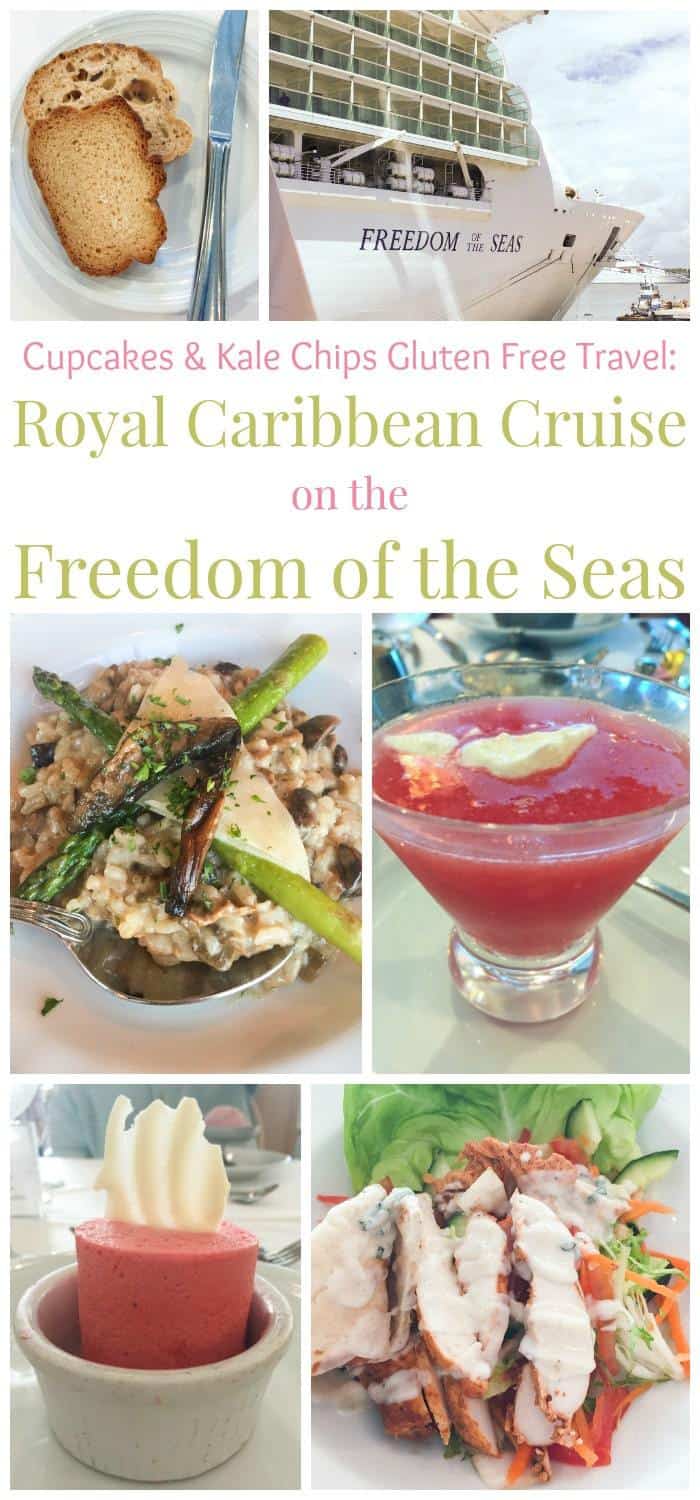 Disclaimer: Royal Caribbean provided me with WiFi access and onboard credit while on the Freedom of the Seas. No other compensation was received, and, as always, all opinions are my own.
The Hubby and I celebrated our tenth anniversary last month. I have wanted to go on a cruise forever, but let's just say it wasn't exactly on his bucket list. But I finally convinced him that a cruise was the way to kick back, relax, have fun, and not have to think about a whole lot since my mom was going to be watching our kiddos for the week. However, given my gluten allergy, even I now had some hesitations. I was going to be doing most of my dining onboard a ship where I wouldn't have the option to research different restaurants, go around the block if I didn't find somewhere that had a decent gluten free selection on this block, or have a microwave in my room. Part of what so many people enjoy about cruising is the dining experience, but would I feel limited? I mean, I am a foodie, and even if I weren't, I need to eat to fuel our fun-packed days.
But after checking out reviews on some message boards to see what others have said about their gluten free experiences while on a cruise, The Hubby and I decided on booking our vacation with Royal Caribbean. We chose the 7-night Western Caribbean cruise to Labadee, Haiti; Falmouth, Jamaica; George Town, Grand Cayman; and Cozumel, Mexico. We had one sea day at the beginning of our itinerary and another at the end. And let me tell you, from our time on board the ship, the excursions, the cocktails, the entertainment, and yes, THE FOOD, it was an experience we won't forget and one that I am sure we will plan to do again. In fact, I got to enjoy so many amazing things that I had to balance it out by creating a light and healthy smoothie based on my favorite frozen drink that we enjoyed on the ship.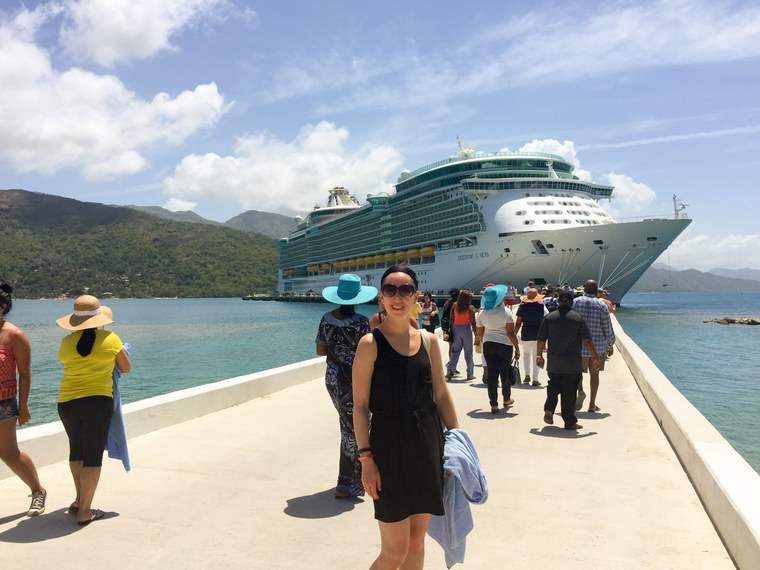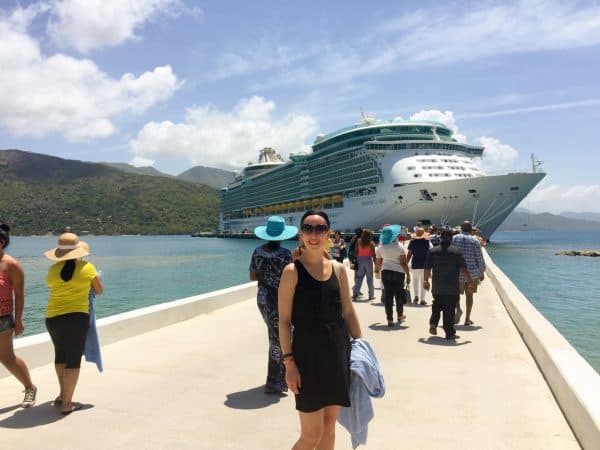 Before we get into the food, let me just tell you, overall the cruise was incredible. We enjoyed our time sitting by the pool, and the nightly shows were fun and entertaining. We felt that getting on and off the ship at each port was a smooth process. On the formal nights, it was a blast just hanging out in the Promenade and people-watching, and the casual dance parties got us off our feet and burning some of those calories we ate, and we even took advantage of the incredible gym. With this being our first cruise, we decided to book all of our excursions through Royal Caribbean. On Grand Cayman, since we only did a short boat ride, I probably would have booked that on my own (or skipped it altogether because the beach was so amazing), but for our daylong excursions seeing the Mayan ruins in Mexico and tubing and climbing the falls in Jamaica, it was worth it to have that assurance that we would not be left behind.
The Hubby, who has been the biggest cruise skeptic for all ten years of our marriage, is now a convert. While we personally want to wait until our boys are a bit older, we will be taking them on a Royal Caribbean cruise. The Freedom of the Seas was a gorgeous boat, but I also can't wait to check out one of the larger ships, which I think would be even more fun to explore with the kiddos.
Now, on to the main topic – Cupcakes & Kale Chips Gluten Free Travel: Royal Caribbean Cruise on the Freedom of the Seas!
On three of the nights, as well as one day for breakfast and another for lunch, we opted for the Main Dining Room…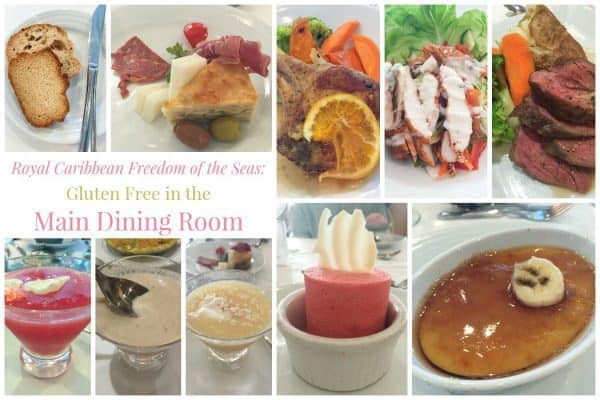 For breakfast and lunch, the lower level of the dining room was available, with options for both With the My Time dining option, we could choose the time that we wanted to have dinner (after confirming availability), and we were lucky to be at the same table all three nights. On the first night, I informed our server, Milan, and assistant server, George, about my wheat allergy. Though the gluten free options were marked on the menu, they made sure to pass this information along to the kitchen to ensure that my food was handled properly. For subsequent nights, they gave me the menu in advance so that I could place my order and allow the chef to make any modifications to the menu items, if needed. However, even on the fly one night when the scallop appetizer sounded delicious, the kitchen staff was able to whip one up without the bread crumbs so that I could sample it.
The first thing to arrive at the table was gluten free bread that is actually made on the ship. I tend to just skip gluten free bread since it usually isn't amazing, and I'd rather save the calories for other things. The bread on the Freedom of the Seas, while not the best gluten free bread I've had, was good and and a nice option to have available, though I didn't eat it every night. Knowing that I had an entree coming, I opted for the cold fruit soups most nights. From watermelon to coconut, pineapple to banana rum, these soups were light and fresh, and just the thing to whet your appetite for the meal to come. That being said, every night there was shrimp cocktail available, as well as salads, and the lovely Spanish tapas plate we sampled on the final evening.
There were a few entrees available each night, and others that were different each night of the cruise. I sampled a tasty pork chop and a perfectly cooked filet mignon on the first formal night (just a note that in the main dining room, mashed potatoes are not gluten free, so you will be given a baked potato as an alternative), but the surprising winner was the tandoori chicken salad with gluten free roti bread that had so many amazing flavors while still being light and crisp.
And if you think you will be missing out on sweet treats, don't worry! The incredible Bailey's Banana Creme Brulee is available each night, and let me tell you, I was tempted to get it each night. But then when I saw a chocolate souffle and a frozen strawberry souffle on the menu, I decided I should try some other things. And I enjoyed each and every bite. And there's always vanilla and chocolate ice cream, as well as another daily ice cream and sorbet selection.
When you are looking for quick and casual, you'll be heading to the buffet at Windjammer Café…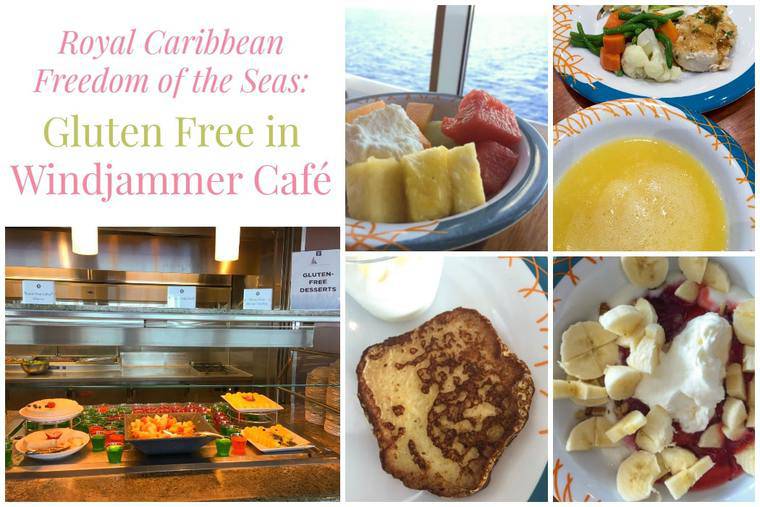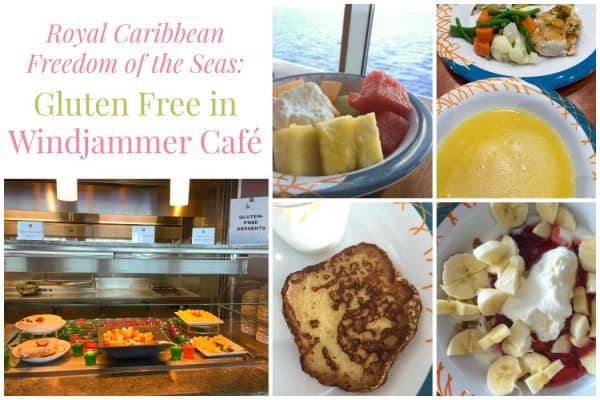 Admittedly we only ended up in Windjammer a few times, primarily to grab breakfast before getting off the ship. I typically stuck to yogurt and fruit as something lighter after enjoying dinner the night before. Bananas, apples, pineapple, melon, and more were available daily, though by the last day the flavor selection on the yogurt had dwindled. But everyday there was a gluten free section at breakfast which always had gluten free French toast made from the gluten free bread baked onboard the ship, as well as pancakes. I am so disappointed I waited till the last day to try the pancakes because they were light, fluffy, and totally enjoyable for a breakfast indulgence I don't get very often. One work of caution, though, is that Windjammer is crazy busy in the morning, so see my comments later on about the room service option.
Besides breakfast, gluten free stations were available at lunch and dinner, as well, including a gluten free dessert station (the one evening I had dessert there, I opted for the ice cream and toppings though). The fruit soups that I loved so much in the main dining room were also served in Windjammer. And have a separate station labeled as "gluten free" gave me the confidence that I could serve myself without having to ask what was in the sauces or rubs.
Then for a real treat, you can chose to pay an additional fee to dine in the specialty restaurants, and I personally thing this is an experience you should not miss, even if it is only one night of your cruise. We had dinner in Giovanni's Table, Sabor Modern Mexican, and Chops Grille, and besides incredible food, we were treated like royalty…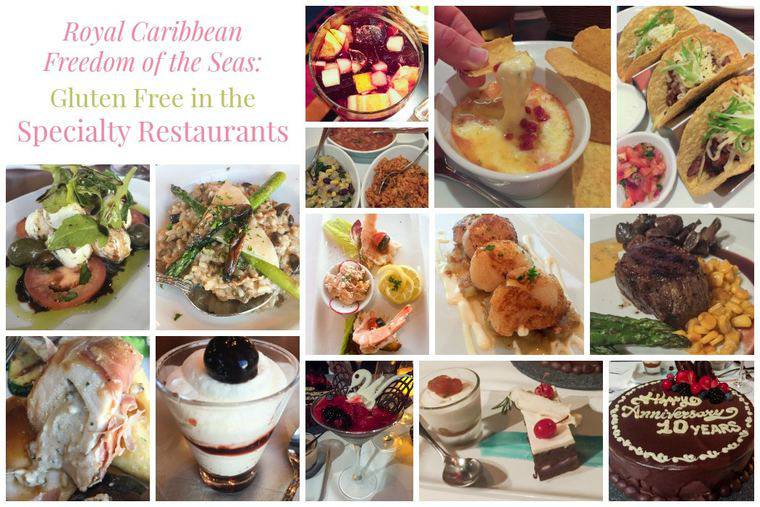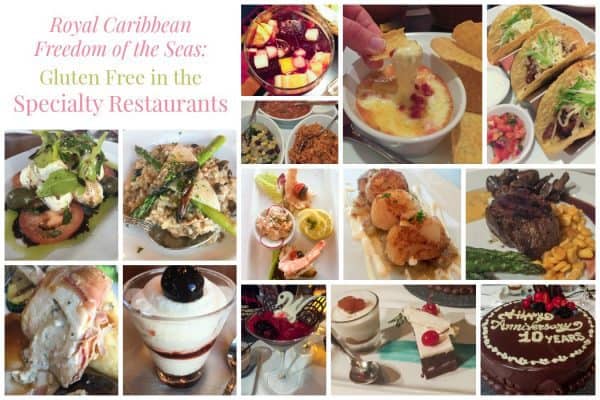 First of all, when I made my first reservation, I told them I would be eating gluten free, and from that point on, everyone in all of the restaurants knew and was prepared to take care of my needs. While the servers in the Main Dining Room were wonderful, the overall service in the specialty restaurants took it to another level, ensuring an enjoyable and safe dining experience. I'll tell you about the food itself in a minute, but at out anniversary dinner at Chops, Chef Samuel came out to chat with me a bit. He said that he and his staff have all had training on how to handle all food allergies, and it is something they take very seriously. They know that they are responsible for the health and safety of any guest with any type of food allergy, as well as a major part of the overall cruise enjoyment for anyone with any type of dietary preference or restriction. Between the kitchen staff and the wait staff, they are going to coordinate to do all the can to give you as many options for delicious food as possible.
Let's start with Giovanni's Table, an Italian trattoria with the option to enjoy a meal family-style. We started with Insalata Caprese per Due, and the classic Caprese salad, while a simple option, can sometimes be boring. However, the good quality ingredients and addition of a little bit of arugula made this a perfect started where the individual components worked together and shined. The Risotto ai Fungi Trifolati or risotto with forest mushrooms topped with asparagus and a thin sheet of parmesan may be the best single bite of food on the entire cruise. Even The Hubby, who isn't the biggest fan of mushrooms, agreed with this. It was creamy and al dente, with a ton of hearty, earthy flavor. And my chicken breast stuffed with ricotta and mushrooms was moist and oozing with a mild but creamy cheese that was balanced by the salty, smokiness of the prosciutto wrapped around it. After this feast were were nearly stuffed, but had just enough room for a small parfait of dark cherry compote that was sweet but just tart enough to balance the sweet whipped cream.
After a day in Mexico when our excursion kept us so busy we didn't get to enjoy the local cuisine, we decided to get our fix at Sabor Modern Mexican. You must start with Homemade Guacamole that's made tableside. Be sure to let them know you are gluten free because they will give you warmed taco shells instead of the chips, which are not fried in a dedicated fryer. You'll also want these to dunk in the Queso Fundido, because that little bowl of hot and gooey cheese with poblanos and chorizo is the ultimate of cheesy dips. Though a couple of the entrees are gluten free, I stuck with tacos, and when they are filled with barbacoa made from sort ribs, you can't go wrong. The smoky, sumptuous meat was utterly mouthwatering. A selection of sides including rice, beans, and a mixture of zucchini, corn, poblanos and black beans completed the fiesta.
And finally, to celebrate our tenth anniversary, we visited Chops Grille, the signature steakhouse of Royal Caribbean. After touching base with the staff prior to our reservation, well, let's just say we felt like celebrities for whom they rolled out the red carpet and royal treatment. Yes, it was a special occasion, but you can tell that their attention to detail and high level of service is for every guest on any night. After sampling a special appetizer from the chef of shrimp with a lobster salad, I had to try the Pan-Roasted Jumbo Scallops appetizer, and those large, succulent scallops were cooked perfectly and were accompanied by a bacon, apple, onion, and hot mustard jus, the likes of which I have never tasted before. I then selected filet mignon, which was cooked to perfection and enhanced by the Bearnaise and Bordelaise sauces I selected, both of which are prepared without flour. Sometimes gluten free sauces are had to come by in restaurants, so this was a nice treat. Another treat was the roasted mushrooms I enjoyed with my steak, as well as the Truffled Corn and Roasted Asparagus.
But dessert was the true highlight. The pastry team pulled out all of the stops, giving us a selection of gluten free cakes and parfaits which, even though I had almost no room left, I could not stop eating. However, we had absolutely no room for the special anniversary cake they made for us after the amazing meal we had, but we took it back to our room and kept taking nibbles over the next day or two. It was rich, intensely chocolate with creamy frosting and a smooth ganache. I truly cannot thank the chefs enough for the opportunity to experience the magic they can make and to enjoy desserts, including cake, which is rarely an option for me at most restaurants.
And let's not forget the amazing drinks, late night snacks, dining on shore, and our look at the back of the house…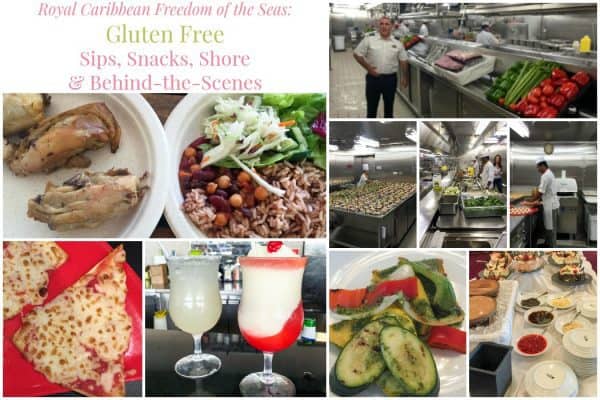 If you need a between meal or late night snack, Sorrento's has gluten free pizza which was actually quite good for quick service pizza, and both the pizzeria and Cafe Promenade have gluten free cookies available. Cafe Promenade also has Starbucks coffee and specialty drinks available which are included if you purchase the drink package. We chose to purchase a drink package because we didn't want to have to think about how much we were spending, and just wanted to kick back and relax. This is totally a person to person decision about whether it makes financial sense or is a convenience you want to pay for. Other than beer, obviously the wine and cocktails are gluten free. We found our favorite bar and out favorite bartender to order our margaritas, pina coladas, and lava flows.
Our first stop was at the port owned by Royal Caribbean in Labadee, Haiti. Here, the food is provided by Royal Caribbean, and is staffed by the team from the ship. They took great care of me, making sure to get some chicken from the kitchen for me that did not have the jerk rub that contains gluten, and they also filled my plate with all of the gluten free sides form the buffet, including rice and beans, and salad. In other ports, you do need to take care to ensure you are getting a gluten free meal. If you go on your own, be sure to check with any restaurants you visit. If you book a shore excursion that includes a bag lunch, be prepared to pack your own. But if it includes a sit-down lunch, you may be in luck, as I was in Jamaica. Although the options were somewhat limited, I was able to enjoy the chicken without the sauce, and some salads.
Another fascinating experience was the kitchen tour we took on our final sea day. To see the kitchens where hundreds of employees prepare the meals for thousands of people was amazing. I definitely recommend this if you are looking for something fun and different to do. The tour also ended with brunch, and after a selection of antipasti at our table, I enjoyed a mixture of vegetables with pesto over polenta. The cakes on the dessert table were impressive, but since I didn't have Chef Samuel's pastry team making me special gluten free desserts, I stuck to the ice cream sundae bar.
One thing we did not take full advantage of was room service. Most hours of the day, there is no additional charge, and in hindsight we should have ordered breakfast on the days we had early excursions. But we've learned for next time. I am not sure that there is a huge gluten free selection, but if you just want something light like fruit and yogurt, or need a late night pizza fix, they've got you covered.
Overall, I cannot say enough about my Royal Caribbean cruise experience, especially the dining aspect. I had plenty of delicious options available and, especially after speaking to the chef and wait staff, had no concerns about a lack of awareness or poor practices to prevent cross contamination. I would highly recommend a Royal Caribbean cruise to anyone, and feel confident that if you are gluten free or have any other allergies or dietary preferences, you will be well taken care of.
If you would like to ask me any specific questions, leave a comment or feel free to email me at cupcakesandkalechips@gmail.com.
Happy gluten free cruising!