Gluten-free Cinco de Mayo food and menu ideas are in high demand for anyone with an allergy or intolerance to gluten. You may not be able to have the traditional burritos and flautas, but you can still enjoy gluten free Mexican recipes on this festive holiday or on any Taco Tuesday. Celebrate effortlessly and with as much fun as possible, with these gluten-free Cinco de Mayo food and drink ideas!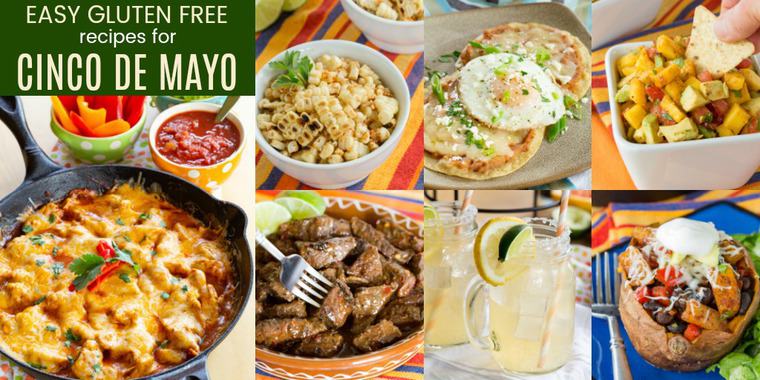 Those burritos and fajitas in flour tortillas might be off the table. You can't pop open a Corona or other Mexican beer and need to watch out for recipes that use it in the marinade or sauce. Chile Rellenos and fried ice cream are out of the picture. And wheat flour sometimes even sneaks into things like chipotles in adobo sauce and even those packets of taco seasoning. And let's not forget about the cross-contamination risk at restaurants.
But that doesn't mean you can't enjoy an epic Cinco de Mayo fiesta. Just make it at home! That way you can watch out for foods that contain gluten and still enjoy the dishes you love!
What to use to make gluten free Cinco de Mayo recipes:
Gluten Free Disclaimer: I am not a medical professional. This information is solely based on my research and personal experience, and I provide it as a courtesy to my readers. Please consult your doctor or medical professional for any questions as it relates to your needs, particularly if you have celiac disease or a severe gluten allergy or intolerance. Products, manufacturing facilities, and ingredients change frequently, so you should always contact the manufacturer for the latest information.
For tacos, you can use corn tortillas.
Nachos are usually a great option to make at home as many bags of tortilla chips are gluten free. Be sure to read the labels though. While most are made from corn tortillas, there are multi-grain varieties and some made from flour tortillas.
Once you find those gluten free chips, enjoy all the chips and salsa or guac you like.
Ground beef, chicken, shrimp, fish, and other meats you put in tacos and enchiladas are naturally gluten free, so as long as you choose seasonings and sauce that are gluten free, you can make an epic taco bar. Just put out bowls of cheese, chopped tomatoes, shredded lettuce, sour cream, or other favorite toppings.
Rice bowls are also a favorite, and you can even keep them low carb by using cauliflower rice.
And yes, most of the traditional sides like rice and beans are gluten free.
Of course, we can't forget tequila. Since it is made from the agave plant, in most cases it is gluten free. You can easily make margaritas by choosing a brand like Don Julio, Cabo Wabo, Jose Cuervo, Patron, and Suaza. Be sure to double check, as this information is subject to change.
Gluten Free Mexican Food ideas for your fiesta…
Easy Gluten-Free Mexican Food and Cinco de Mayo Menu Ideas
Whether you are hearing up for Taco Tuesday or a Cinco de Mayo Fiesta, these recipes will inspire you with kicked up dishes from morning to night with recipes for:
Breakfast and Brunch
Appetizers and Snacks
Main DIshes
Side Dishes
Drinks and Desserts
And you can also check out 21 Healthy Recipes for Your Favorite Mexican Food!