Girls' Night at The Chocolate Lovers' Club
Disclosure: This post may contain affiliate links. Cupcakes & Kale Chips is a participant in the Amazon Services LLC Associates Program, an affiliate advertising program designed to provide a means for us to earn fees by linking to Amazon.com and affiliated sites.
I have three close girlfriends that I have been friends with since I met them when I came to their school in 5th grade. The three of them have know each other even longer. They are the best! We don't see each other or talk as often as we would like, but every time we are together, we pick up right where we left off, nobody gets upset if you have dropped off the earth for a month or four two. The conversation flows, often along with the adult beverages 😉  It is too much fun.
One day I got an email from Amy that she saw a Groupon for a four-course dinner and chocolate tasting at The Chocolate Lovers' Club in Princeton, NJ. We knew we had to go, and hoped we could get Tracy and Bethie on board. And the hubbies/grandmas to watch the little ones. I mean, what could be better than a Girls' Night… with food… and wine… and CHOCOLATE!
Unfortunately Tracy couldn't make it, but Amy's future sister-in-law, Megan, was happy to join us.
The Chocolate Lovers' Club is a cute little shop in the Princeton Forrestal Village. They sell their handmade, gourmet chocolates, offer chocolate classes, have dinners and tastings, host parties and showers, and more.
We had such a great time! Truthfully, I think there are all couples there, other than us, so it definitely would be a unique date night with your significant other, too. But definitely consider it for a night with the girls, too. As we learned, it has been proven that women derive significantly more pleasure from chocolate than men do. It really was a lot of fun! The food was tasty, the chocolate was divine, and we even learned a lot of interesting chocolate trivia. Plus, for my own benefit, I got some ideas for some new recipe creations. So I had to tell you about the evening. I will apologize in advance that these pictures are not the best display of my lack of photography skills. But I was too busy trying to catch up with the girls to take stunning photos. I'm just not good enough yet to get it perfect on the first or second try.
The theme when we attended was A Taste of Hawaii, so we were greeted with leis and a Pineapple Ginger Ale punch, which was so light and refreshing.
We started with a salad, where we had our first taste of chocolate in the form of cacao nibs crushed and sprinkled over a salad of mixed greens, pineapple, red onion and grated cheddar. This is definitely a great idea for a summery salad, and, as we learned, cacao nibs are a superfood, high in antioxidants.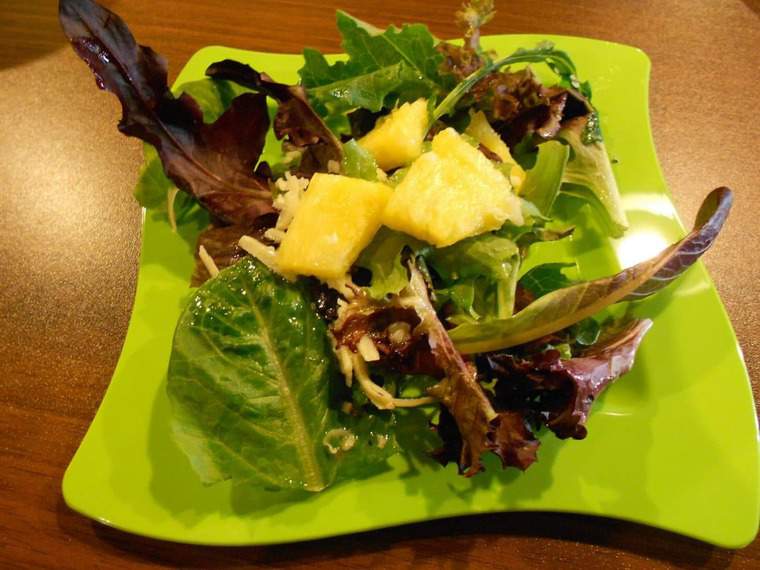 This was followed by a little appetizer of cream cheese on crackers with some mango jelly. I love the combination of sweet and salty, so this would definitely be a yummy, quick party snack.
Next was the main course, which was served small plates style. We were free to take a few samples, and then return to the buffet as often as we liked. I defintely had seconds of the creamy coconut shrimp rice, the savory pork patties, and the sweet and tasty sweet potato and banana casserole. A pineapple chicken kabob and some steamed green beans rounded out the meal.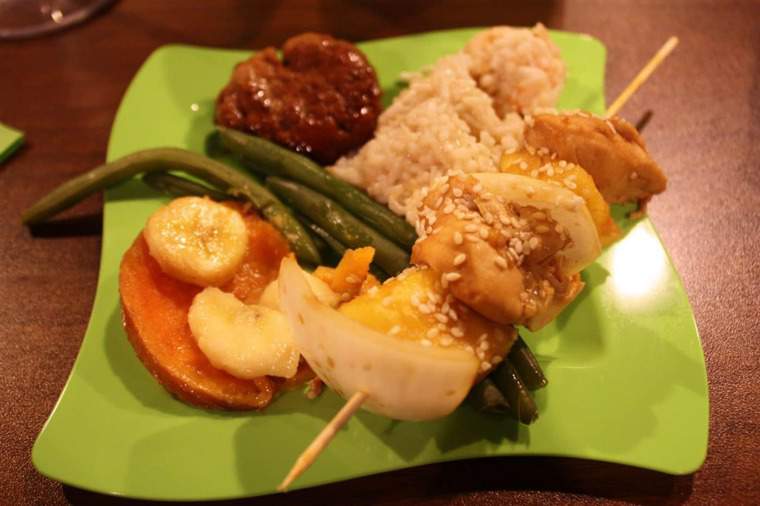 Then we had the pleasure of tasting some wonderful chocolates from craft producers in Hawaii who make their chocolate in small batches. The dark chocolate was 60% cocoa, not milk or other added ingredients – just pure chocolate and sugar. The slight bitterness to the chocolate was such a wonderful contrast to the Pineapple Ginger Ale punch. The white chocolate was not the artificial tasting white chocolate that you see lining the aisles right now in the form of "chocolate" bunnies. This was real cocoa butter with sugar, and it was so smooth and creamy, and provided just the right amount of sweetness to some mango iced black tea.
And of course you can't go to a chocolate dinner without finishing up with dessert. And we had two – both of which were delicious and simple enough to do at home. In fact, I am thinking of turning both of these ideas into layer cakes. I bet they would be fabulous!
The first was a Chocolate Kona Coffee Cake, which consisted of a simple sponge cake, drizzled with chocolate ganache made from the amazing Hawaiian chocolate and coconut milk instead of cream. This was then sprinkled with crushed Kona coffee beans, lemon zest, and sea salt. I don't even really like coffee, but this was such an incredible contrast of flavors that somehow all worked together beautifully.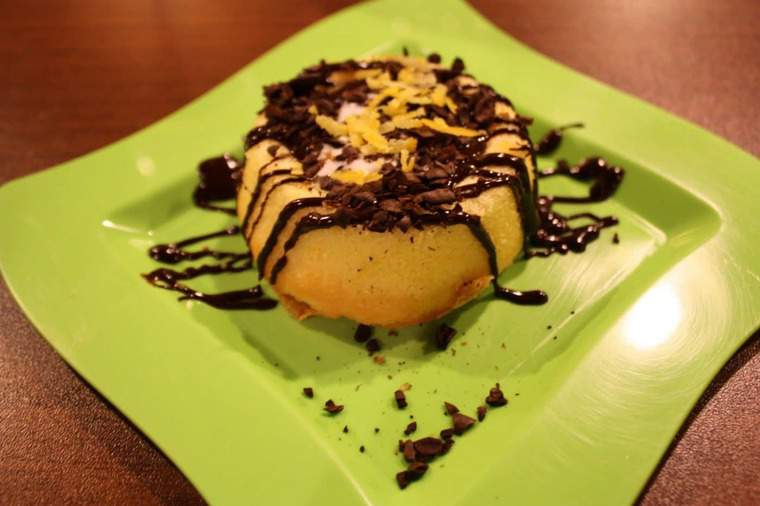 Then we finished simply with pineapple chunks drizzled with a white chocolate ganache, also made with coconut milk, macadamia nuts, and sea salt. Delicious!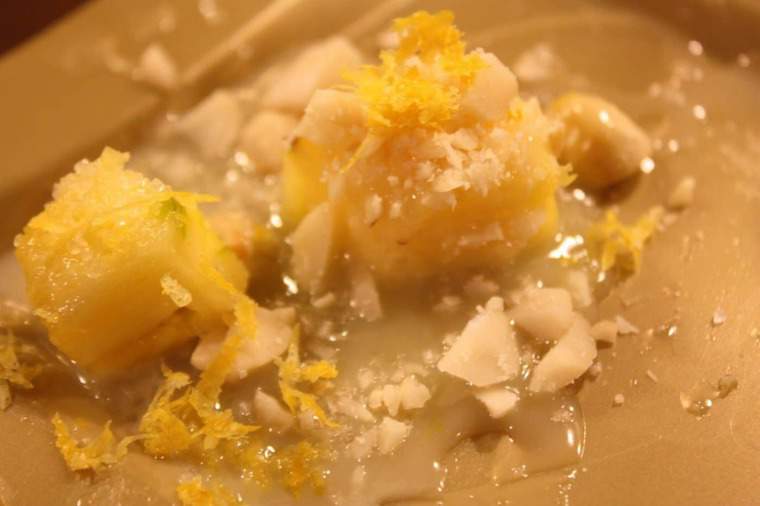 Well, since The Hubby spent the night at home with The Bug, I thought he deserved a few treats, too. And I got The Bug a white chocolate bunny for his Easter basket. I might have also bought some for myself.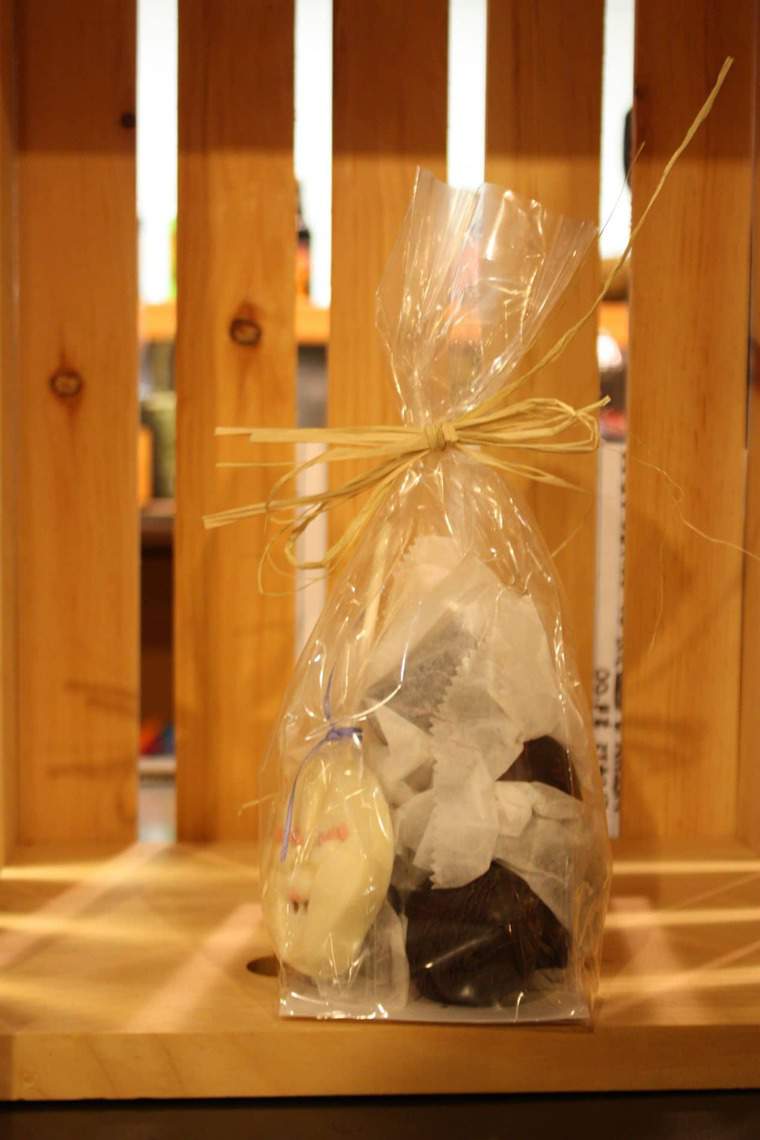 We sampled the caramel truffles and sangria truffles, which were smooth and creamy. The sangria truffle was so unique, with that delicious combination of chocolate and orange. And we tried the dark chocolate bark with cacao nibs, and this was so well-balanced – bitter and sweet, creamy and crunchy.
Oh, and by the way, my choice of Cupcake Red Velvet wine was a perfect selection!
By being an email follower, I was also lucky enough to win a free ticket to a chocolate tasting. So I will be heading back to sample some more of their wonderful treats at the end of April. I am bringing The Hubby this time, though. I love Girls' Nights, but I also love Date Nights, too, and I think he will love it as much as I did.
So if you are in the area, stop in and check out their chocolates, try some drinks or desserts, or sign up for one of their fun Supper Club Nights!
Enjoy!