This post may contain affiliate links. Read my disclosure policy.
Hi friends! I am very busy chilling poolside with a cocktail or lounging on the sand or frolicking in the waves in Virginia Beach. OK, truthfully I am probably carrying The Bug around the pool trying to teach him to swim, chasing him on the sand, trying to keep him from crying from the waves, or bathing him after he decides to use sand as shampoo for a "shower" on the beach. Oh, the joy of family vacations. But seriously, I am enjoying a little fun in the sun with the family, and taking a little blogging break. Though I am sure I will keep you updated via Facebook, Twitter, and Instagram on my inevitable excessive consumption of ice cream.
While I am away, I have some wonderful foodie friends keeping my kitchen cranking out some delicious eats & treats. Today is my sweet friend, Alyssa from Cooking from a SAHM. Alyssa is a wonderful mom to two adorable little girls. She has established wonderful traditions for celebrating special occasions at an early age, and even in a small space, has set up a little garden to show her girls where food comes from, and provide some of their veggies in an affordable way. Though we connected through food, I have enjoyed getting to know her. Today she is bringing us a great seasonal pasta recipe that would be a perfect way to use up some of the inevitable overabundance of zucchini and summer squash this time of year. Check out her blog, or stop by and say Hi on Facebook.
Enjoy! And thanks again, Alyssa!
***********************************************************
Hello Everyone, I thought I'd do a little introduction about myself 🙂 I always hate these…could be the fact I hate talking about myself. My name is Alyssa and I am the owner/blogger of Cooking from a SAHM (https://www.facebook.com/CookingFromASAHM) 🙂 I am 27 years old and the mom of two girls. Meghan age 4 and Karina age 2. I am a stay at home mom who loves to spend time in the kitchen…I love cooking for my dearest, and kids. They are great guinea pigs 🙂 When trying to decide what recipe I wanted to do on this guest post for Brianne, I decided since it was so hot this would be a great recipe. I made this one night completely from my head. Its a nice light and healthy dish 🙂 Only thing that I do recommend is that if you love garlic, you add more 🙂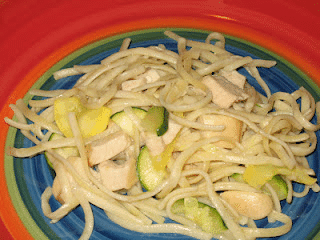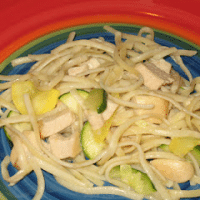 Garlic Olive Oil Linguine with Chicken, Summer Squash and Zucchini
Ingredients
2

Cooked Boneless Skinless chicken

or you can use whatever chicken you have

1

Cup

of Olive Oil

7

Sections of Garlic

1

Box of Linguine

1

Zucchini

1

Summer Squash

Garlic Salt to taste
Instructions
We used grilled chicken, but you can really use whatever you'd like 🙂 I cubed it up and set it aside.

Then sliced and diced zucchini and summer squash and then chop 3 sections of garlic.

Then take a cookie sheet and put the rest of the sections of garlic on it.

Put it in the oven at 400 for about 5-6 minutes.

While those are roasting, get a pot boiling for water.

Once its boiling put in your pasta. Cook till how you like it.

While that's boiling, take out your roasted garlic. It should be soft inside.

Take it out of its shell. Put it in a bowl for mixing.

Put 1/2 Cup of olive oil in with the garlic. Beat with your mixer for a few minutes. Then put the garlic oil mixture into a pan.

Take your chicken and toss it in there, cooking just to heat up.

When your pasta is done, take it and set it aside after draining it.

Throw in your diced summer squash, zucchini and chopped garlic. Don't cook it to death. Just do it for about 5-6 minutes.

Turn the heat down and add your linguine.

I drizzled a bit more olive oil when it was done.

Mix it all up, and add salt, or garlic salt to taste.