This post may contain affiliate links. Read my disclosure policy.
Wow, what a week! I think I spent more time on the computer this week than I have in ages, and it wasn't on Facebook (I do miss you fans and foodie friends. I will be more present next week).
I hope you like the new look of Cupcakes & Kale Chips. I had to make the change to self-hosting, versus the free WordPress platform, in order to have some more freedom in design, content, and maybe even making a couple of buck in ad revenue to help offset the grocery bill, since I now have a bad habit of buying things I don't need because I think they could be fun to use in recipes (Hello Birthday Cake Oreos. I think I'd like to see you mixed into some ice cream).
I'm actually writing this in the morning instead of during lunch, while The Bug is napping. I'm hoping to go to the park later this morning, have lunch there, and maybe do something productive around the house during his naptime today. Oh, who am I kidding. I'll probably be on Pinterest.
But I thought I would share breakfast with you, because it was super yummy. Of course, I thought about sharing it after my bowl was nearly finished, so this is probably not the most appetizing shot, but it sure was yummy, and The Bug totally agreed. I made the soon-to-be-famous BananaOats Peanut Butter and Banana Oatmeal. I did use a little coconut almond milk, instead of just water, and The Bug had chopped mixed nuts in his, since I made him a PB & strawberry sandwich to take to the park. So yummy and filling and healthy!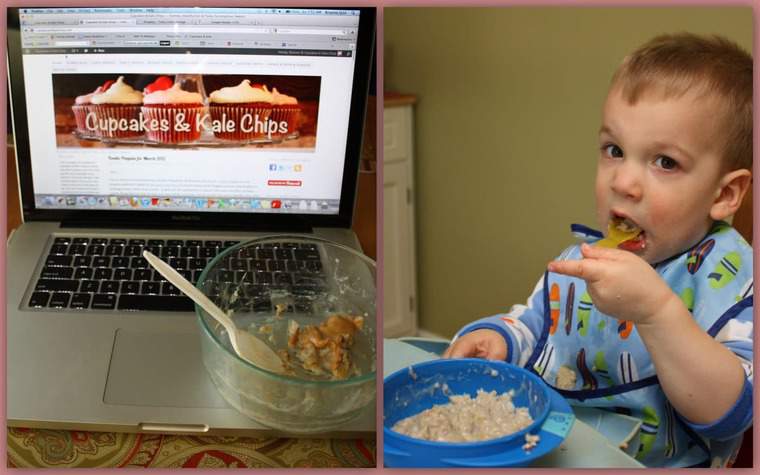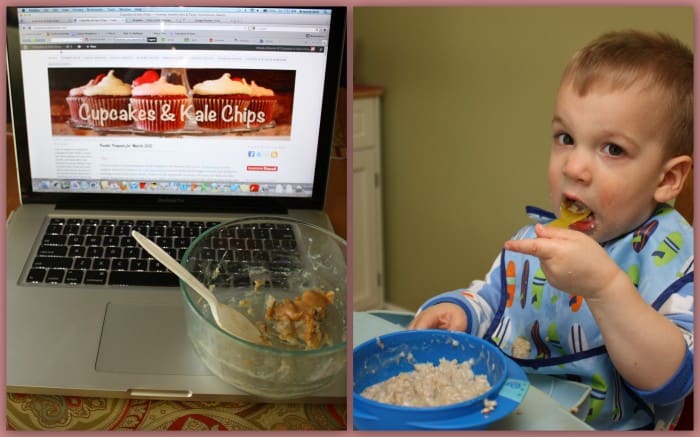 If you saw my post early this morning, today was Foodie Penpal Reveal Day. This was really a fun thing to participate it, and I can't wait till next month. But now I need to come up with some new ideas of what to send, since Jessica revealed what I sent to her. I wouldn't want to bore people.
Another awesome find this week, especially for all of you new foodie bloggers who, like me, are not professional photographers and food stylists, was the Tasty Food Photography eBook from Pinch of Yum. I just downloaded it this morning, and I already have gotten some great ideas. Lindsay also has some super-helpful posts on starting a food blog and a list of great resources. The information has been so valuable to me, especially this week, when I decided to upgrade the site.
With all of the focus on site design and photography, and getting my posts ready for Foodie Penpals and First on the First, I am way behind on keeping up with blogs in my reader, but a couple of things that caught my eye:
This weekend I am hoping to catch up on the things I've been neglecting around the house. I also want to rearrange my office area and dig around for props in order to help improve my photos. Then Sunday I will be going to lunch for Palm Sunday with my family. We are going to The Barge in Perth Amboy, NJ. I've heard about it for years, but have never been. I'll let you know how it is next week.
Watch out on Sunday for my post about Easter cookies I made for the Royal Icing assignment for First on the First. A little preview:  they are infused with a couple of great twists.
Remember, if you like what you see here, I'd love for you to subscribe to updates by email, "Like" me on Facebook, or follow me on Twitter. And tell your friends…
And let's get the conversation  going! I'd love to hear from all of you, so we ca learn more about each other.
What do you think of the new website design? Any suqqestions, recommendations, or things you like to see?
What are your plans for the weekend? Cooking up anything special?
Enjoy!