This post may contain affiliate links. Read my disclosure policy.
Happy Friday again everyone! I'm back for another edition of Friday Fun. I'll tell you what's not so fun is that I am starting to write this at 2:50am. Why, you ask? Well, for some reason I m having a bout of insomnia tonight, and just as I was starting to wind down, The Bug decided to have a bit of a crying fit. Well, he settled down, sort of, but now I can't wind myself back down. I'm sure staring at the glow of the computer screen is going to do wonders for helping to get me off to dreamland, but c'est la vie. Gotta use the time somehow, especially since I'll probably crash when The Bug goes down for his nap tomorrow, umm, I mean later today. I'm sure I won't finish this before I try to go to sleep, but at least I'll get a start.
Last weekend, The Hubby and I got a date night, which was wonderful. I'm actually hoping to do a little post about it, because we had yet another fabulous meal at The Frog & The Peach, in New Brunswick, NJ. Every one in a while, we like to go out to somewhere REALLY good. A lot of the time we try new places, but when we want a good meal with good service and a good atmosphere, without the wildcard aspect of trying a new place, we go to The Frog.
This weekend I am so excited for a Girls' Night on Saturday with two good friends, Amy and Bethie, and Amy's future sister-in-law, Megan. Of course this has nothing to do with St. Patrick's Day, but we bought a Groupon for a Four-Course Chocolate Supper Club dinner at the Chocolate Lovers Club in Princeton, "celebrating cuisine from chocolate-producing countries," and supposedly includes virgin choctails, three appetizers, four tasting-size entrees, dessert, a cooking demo, and a chocolate tasting. We will be experiencing A Taste of Hawaii. OMG!!!! I also think I will be picking up a bottle of Cupcake Red Velvet to bring along, because it sounds like the perfect pairing to me.
And Sunday I'll be heading to a birthday party for The Half-Baked Housewife's little guy. She has a huge family and tons of friends, so parties at her house are always such happy chaos.
OK, I think I can go to sleep now.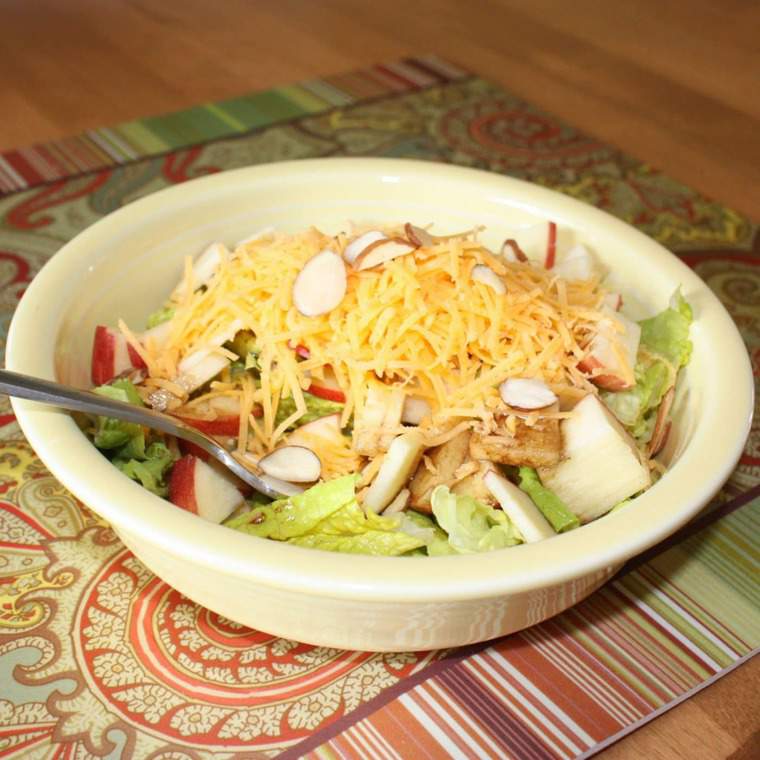 So I am back, and having a salad for lunch inspired The Fountain Avenue Kitchen's Apple Pecan Spring Greens with Maple Dijon Vinaigrette. I only had romaine and cheddar, though I would much prefer spring greens and blue cheese. Also, I used almonds instead of pecans, and left out the raw onion (yuck!). Plus I fudged the dressing a little because I was only making a little for myself, and I used balsamic instead of apple cider vinegar, because I LOVE balsamic. I also realized I forgot the dried cranberries. Bummer! But it was so tasty!
This week I also received several blogger awards from some of my new bloggie friends. I am so honored, but it has been a busy week with attempting, unsuccessfully, to potty train The Bug, getting my Improv Cooking Challenge post completed, and pulling together my package for my Foodie Penpal, Jessica, that I haven't had a chance to share the love. So since the Oscars, Grammys, and Emmys are always on Sundays, I am thinking I will be doing a Sunday Awards Show post, so that I can highlight the lovely ladies who nominated me, and tell you all about some other awesome bloggers.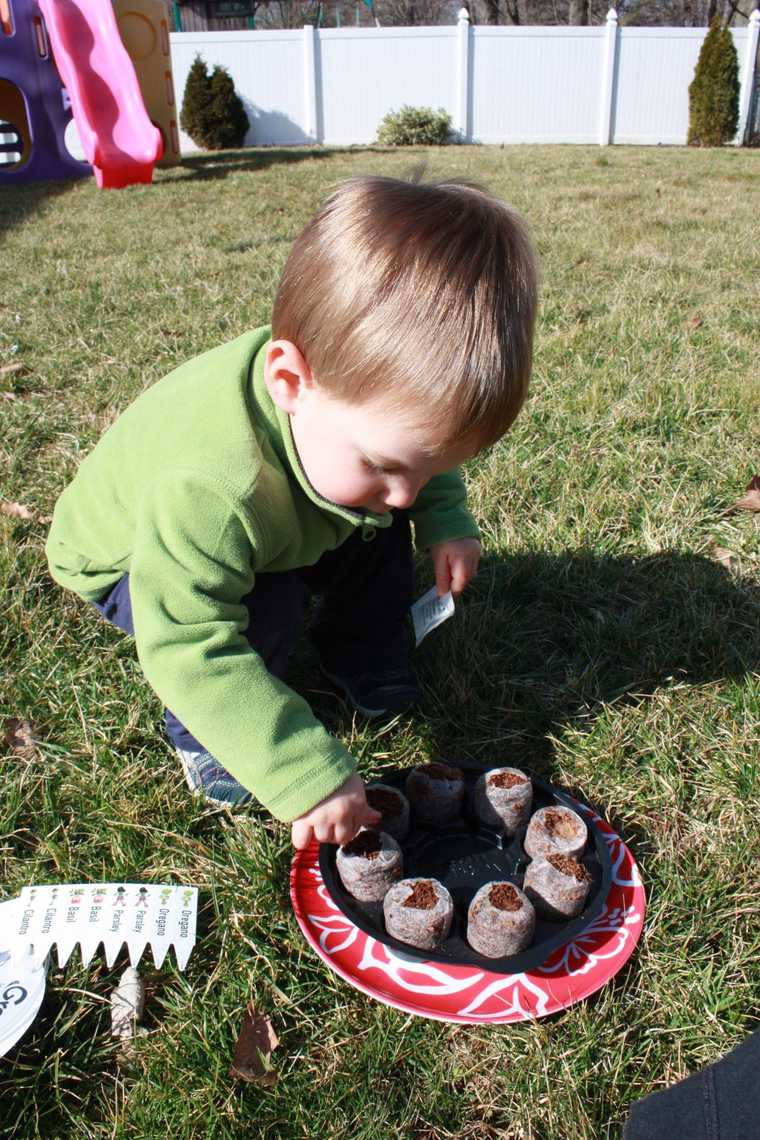 The Bug and I planted herbs this week from Growums. Let's see if my Black Thumb of Death rears its ugly head again. Oh, and my random adorable Bug tidbit of the week is that when you ask him where something is, he points, and says "Right right there." Oh, and on the way home from pre-school the other day, he fell asleep in the car. Usually he asks to read The Very Hungry Caterpillar when we get home, but since he was out cold, I just carried him up to his bed. As I was laying down, he goes, "Hungry Caterpilaaaaa..zzzzzzzzzz" as he fell back to sleep. So cute! And one more thing – apparently at pre-school he is counting EVERYTHING. He has no interest in letters, but he is all over the numbers. Clearly the offspring of two engineers.
At Shop Rite I picked up a 5 lb box of Whole Wheat Matzoh. I'm not Jewish and I have a wheat allergy, so don't eat too many things like that. But I thought I might be able to come up with some creative recipes. And it was free. And bonus, the only ingredients are whole wheat flour and water, so it'll make a great whole grain, sugar/salt/preservative-free snack for The Bug. Any other ideas what I can do with it?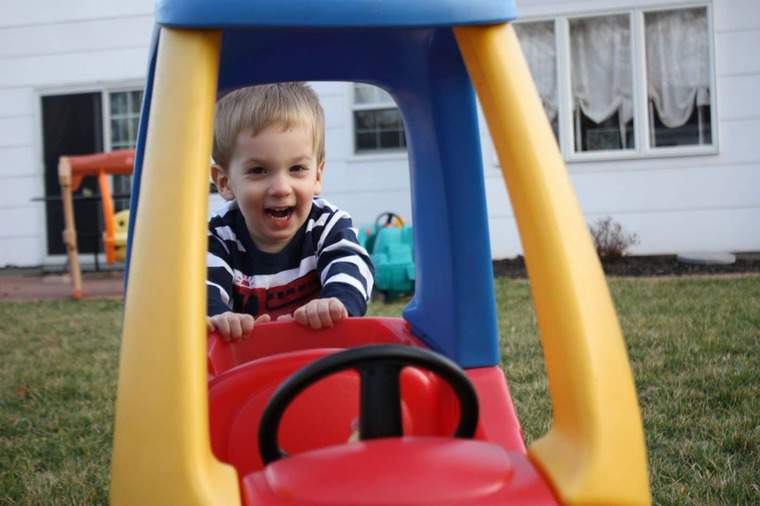 Some things I came across this week:
I could go on, but I have towels to fold. Ugh!
Remember, f you like what you see here, I'd love for you to subscribe to updates by email, "Like" me on Facebook, or follow me on Twitter. And tell your friends…
And here is the weekly question:
What are your plans for the weekend? Cooking up anything special?
Enjoy!