This post may contain affiliate links. Read my disclosure policy.
The Bug just absolutely passed out. I guess three hours at the park will do that to you. So I just finished up an odds and ends lunch of a salad with the leftover half of a chicken breast from a dinner I made the other night that I stupidly did not photograph, and it turned out so good, and some more of the Avocado Ranch Dressing from Sumptuous Spoonfuls. Can't wait to share with you the couple of adaptations I made to it, and the awesome salad we had for dinner on Wednesday. And I polished off the PB&J Hummus with some strawberries. I'm stuffed. For now…
So for Friday Fun this week, I am going to share a little Saturday Fun. Last Saturday, actually, because I thought it would be nice to share with you one of our favorite places for a day or half day trip. Now I know many of you like to see my weekly foodie finds. Those are down at the bottom, so if you aren't interested in cute kid pictures, just scroll on down.
As you may have been able to tell from my posts last week, I was a bit down. So to help restore my Balance, we thought that a trip down the shore for the day would be just the right thing. So we left for Point Pleasant at around nap time, and unfortunately The Bug didn't want to nap until we were an hour into our hour and forty-five minute drive. So The Hubby went into a store to check out some fishing kayaks while I sat in the car with the sleeping Bug.
Then we headed over to walk the boardwalk and the beach…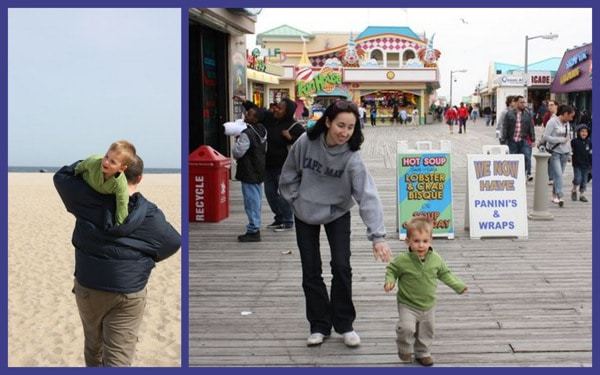 And look at the boats…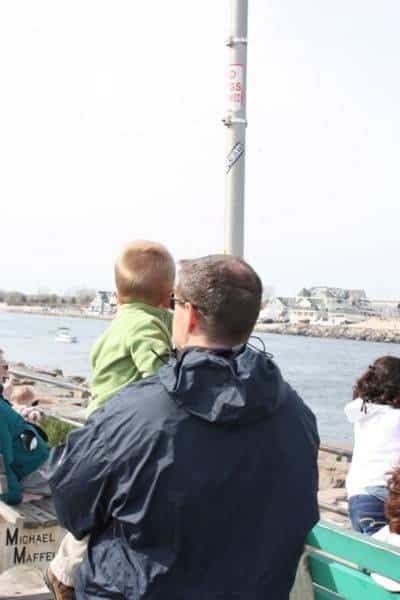 But The Bug wanted to run away…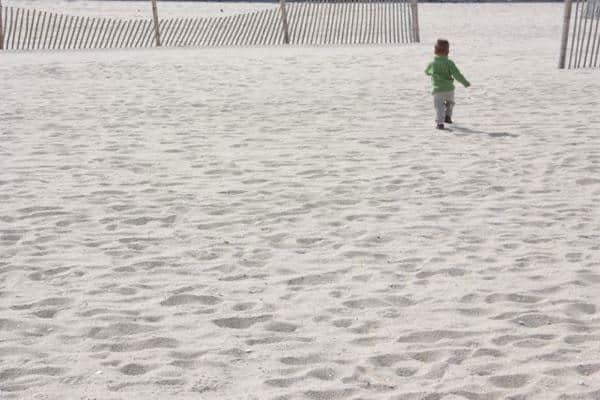 To climb under benches and count rocks.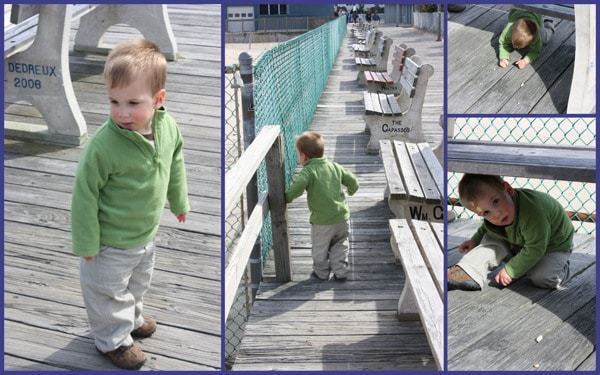 Yeah, that's what he calls fun.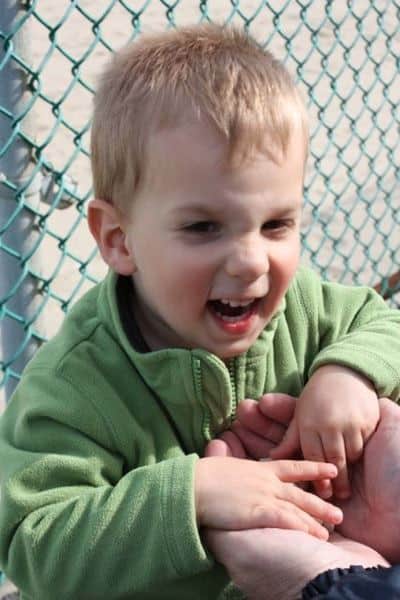 Clearly Mommy and Daddy needed some drinks.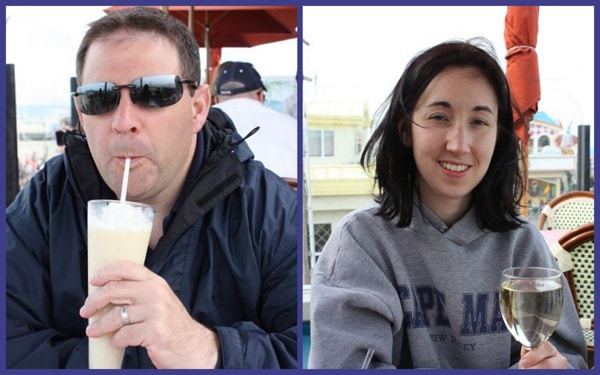 We enjoyed a lovely rooftop dinner at Jenkinson's Boardwalk Bar & Grill. Nice view overlooking the Atlantic Ocean!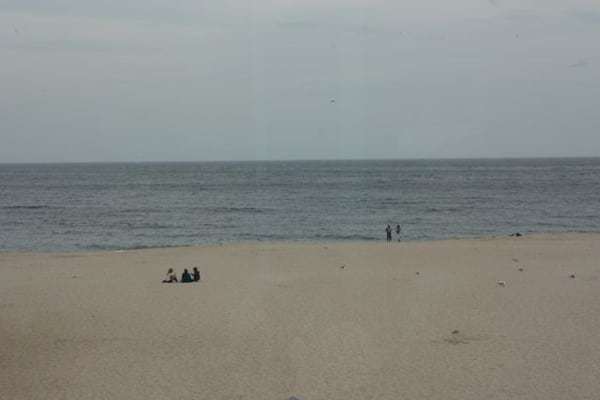 The Hubby's ribs were surprisingly delicious considering we weren't at a BBQ joint, and I enjoyed my chicken cobb salad (no hard boiled egg, but mmm, bacon!)  The Bug had noodles…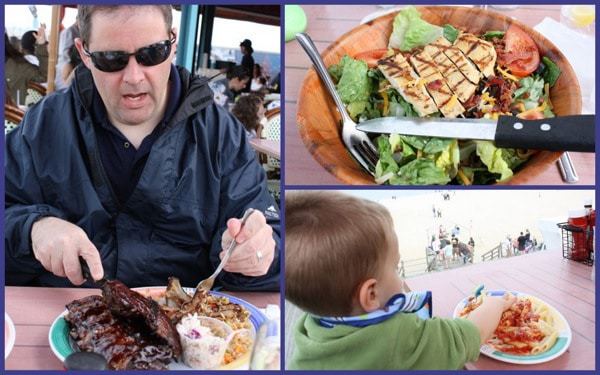 And as I have told you, he is yet to meet a noodle he doesn't like.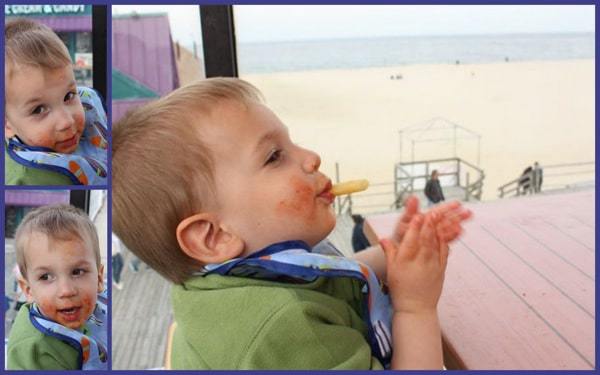 By this time, The Bug was getting a bit overtired. We tried to put him on some rides at Jenkinson's, but other than this little firetruck, he wasn't having it.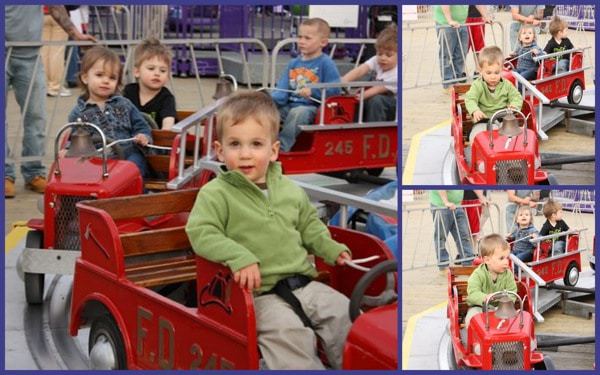 But he was having some ice cream! From my favorite place, Kohr Bros. Frozen Custard. I usually get a cone from here every time I am at the Jersey Shore or the Delaware Beaches. This is peanut butter and chocolate swirl – naturally my favorite flavor.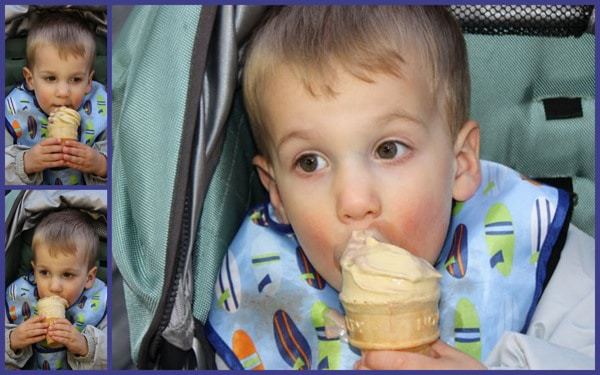 But shocker, I didn't have ice cream because I had my eye on this beauty – an Everything Apple.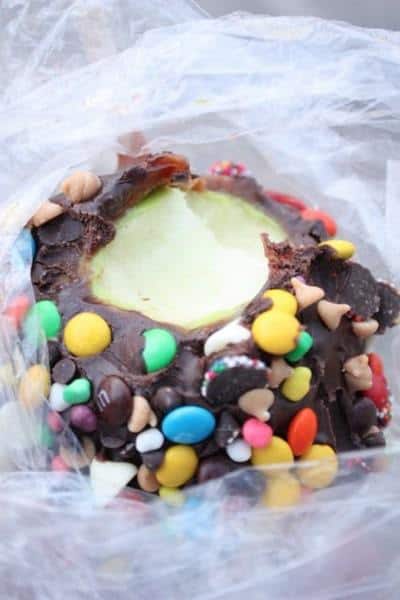 But it's an apple, so it is healthy, right?
Then I had to satisfy my craving for ice cream when I got home. Ugh! So much for Mindfulness. Temporary lapse in judgment – I am now back on track.
I hope you enjoyed that little peek into our lives. Now for some of the things I was checking out this week:
I just got a tub of Kelapo Coconut Oil that I ordered using the discount code from A Healthy Jalapeno, and I want to make these cookies from The Cooking Actress. I am trying to stay away for the gluten for awhile, so I may have to see what I can do to sub in some other flours. But they look so nice a chewy.
Speaking of chocolate chips, I think I would like to add some to this crazy-good looking Orange Chipotle Spiced Pecan Mix from Eat Yourself Skinny. Because as awesome of a combo as this already is, what isn't better with a little chocolate?
Or maybe, to get my chocolate fix, I should try these Mini Chocolate Chip Love Bites from Chocolate Covered Katie. Cookies for breakfast! And they are already gluten-free!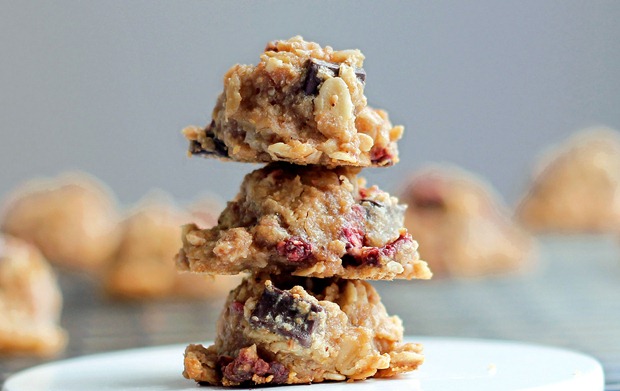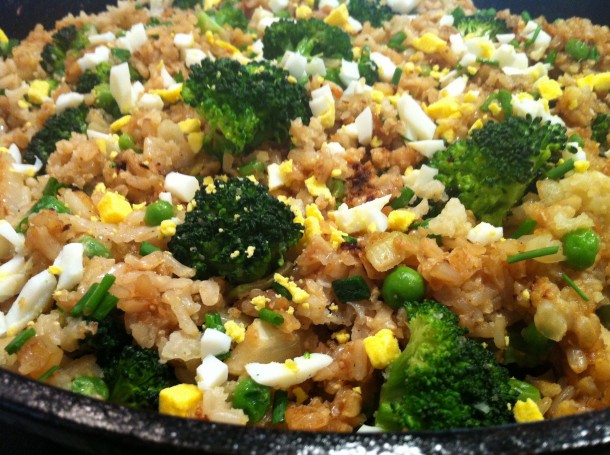 The Hubby won't be into this, but I have to make this soup from My Favorite Things (The Breakfast Club-Ordinary People Who Love Extraordinary Food) for me and Mom. Mushrooms and blue cheese – two of my favorite things ever!
I am bringing dinner to a friend from the Mom's Group at my church in the next week or so since she just had a baby (her third girl!!), and I think these Salted Caramel Chocolate Chip Cookie Bars from Pink Parsley will be perfect for dessert.
Look out tomorrow for my very first Recipe Redux entry! Then the salad I mentioned earlier and a couple of other things are in the works for next week.
This should be a low key weekend for us. I am making lots of good food inspired by some of my favorite blogs – I'll keep you updated on Facebook with the recipes I am trying. The Hubby is going fishing on Saturday, and I'll be having my four generations of boys over for dinner on Sunday.
Have an awesome weekend!
Remember, if you like what you see here, I'd love for you to subscribe to updates by email, "Like" me on Facebook, or follow me on Twitter. And tell your friends…
And here is the weekly question:
What are your plans for the weekend? Cooking up anything special?
Enjoy!