This post may contain affiliate links. Read my disclosure policy.
Hi! It's The Bug, and it's time for some Friday Fun! I had some big jobs this week…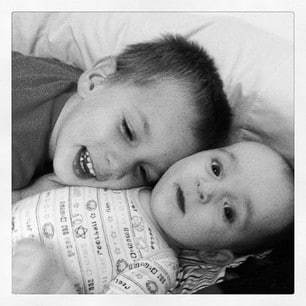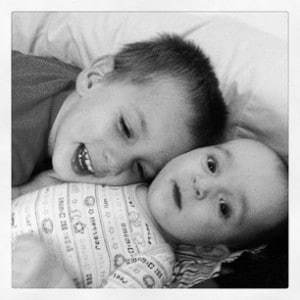 Taste Tester…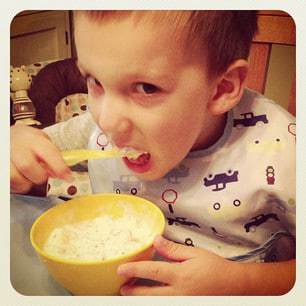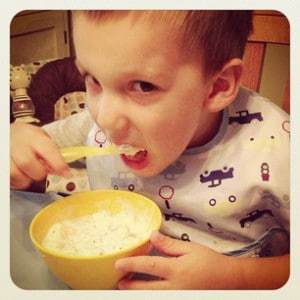 Strip Mall Architect…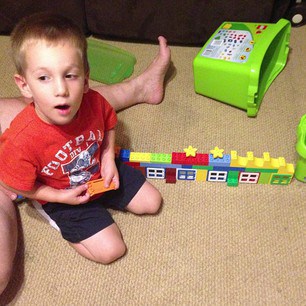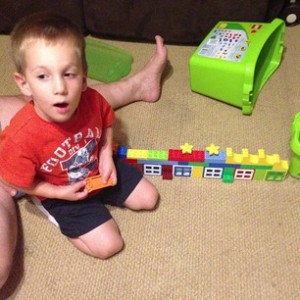 Rock Star…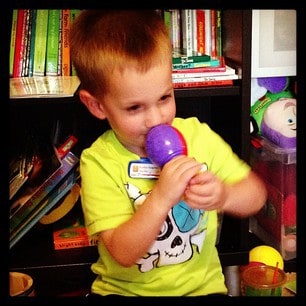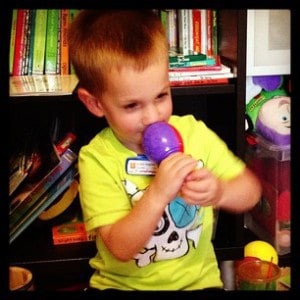 Jumping Instructor…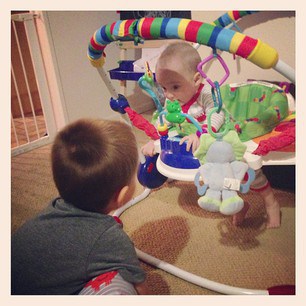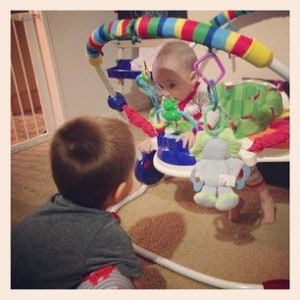 (not a good student – he'd rather just suck on his fingers and toes)…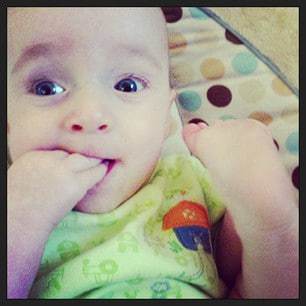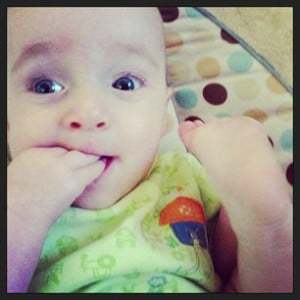 And Chaperone as Mommy & Daddy celebrated 10 years since their first date…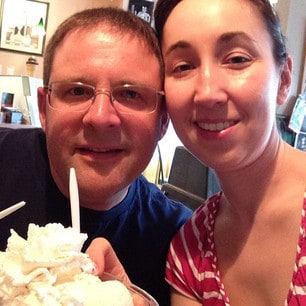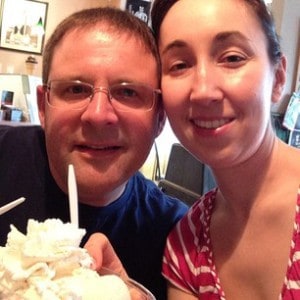 At least I got ice cream out of the deal…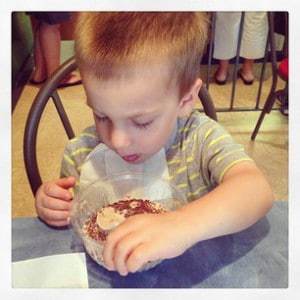 Wouldn't have been as much fun for me if their first date were at a bar!
Anyways, Mommy asked me to remind you to follow her on bloglovin', or enter your email address in that box on the right, so that you never miss any photos of me new recipes, reviews, and giveaways that are coming up.
OK, Mommy's turn…
Something I love and made this week – Peanut Butter & Jelly Cookie Dough Dip – but minus the jelly, and with some other fun stuff added in. You'll see why on Thursday. (on my Yummy Eats from Cupcakes & Kale Chips Board)
Something I love and will probably never make – Rainbow Cake Roll from Wine & Glue – love love love this, but don't think my boys will appreciate the girly awesomeness. (from my OMG Food Board)
Something I love and want to eat – Easy Pizza Zucchini Bites from Mom's Test Kitchen – just awesome. (on my Veggie Inspiration Board)
Something I love and want to drink – Almond Joy Smoothie from Edible Perspective – oh forget it, I want the milkshake version. (on my Drinks & Smoothies Inspiration Board)

Something I love and want someone to make for me – Monster Cookie Dough Ice Cream from A Kitchen Addiction – oh man, there are no words, but I'd rather have someone else figure out how to make it gluten free. (on my Ice Cream Obsession Board)
Something I love and want to put my own spin on – Skinny Peaches & Cream Greek Yogurt Cheesecake from Call Me PMc – because there are so many possibilities. (on my Greek Yogurt Obsession Board)
What are your "Somethings"? Leave me some links in the comments!
And if you want to see more of my "Somethings", follow me on Pinterest.
Last week, the five most popular recipes were:
#5 – Banana Chobani Funky Monkey Smoothie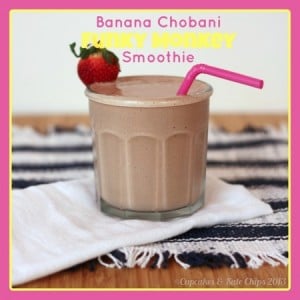 #4 – Browned Butter Summer Vegetable Saute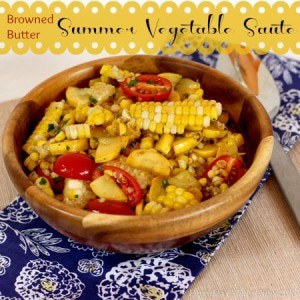 #3 – Zucchini Tater Tots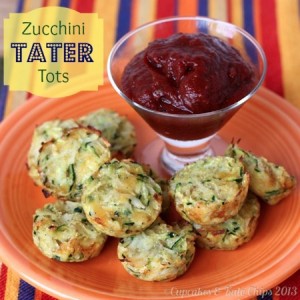 #2 – Salted Ripple Chip (No Machine) Ice Cream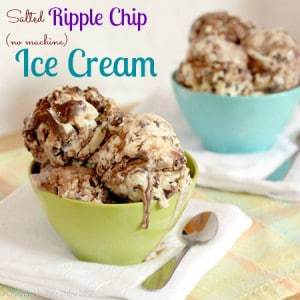 #1 – World's Best Lasagna (aka the "Blurred Lines" of Cupcakes & Kale Chips)
This week, well…
I complained about my mom (I'm sure she is glad to know that this post is ALL OVER PINTEREST)…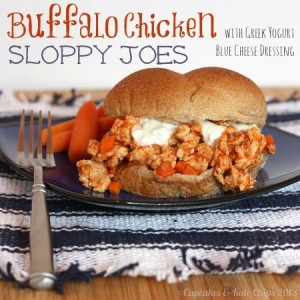 I told you what my foodie friends and I will be up to the next few weeks…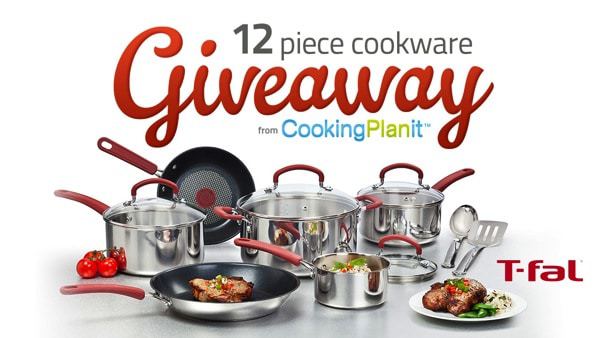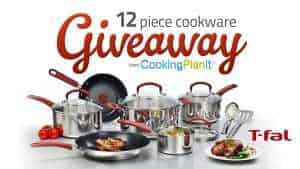 I complained about my kid complaining…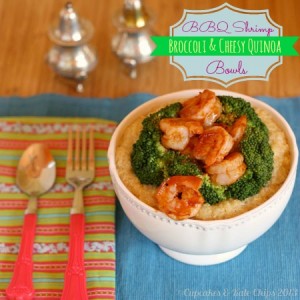 I made lunch for camp…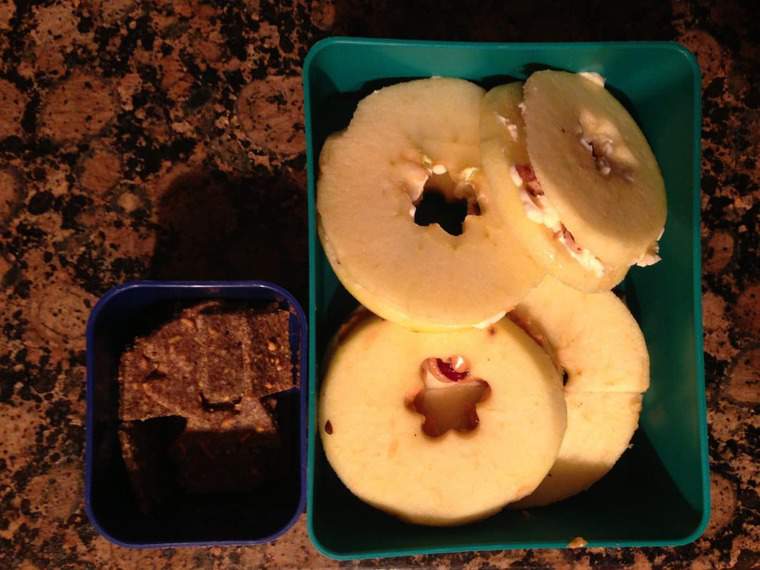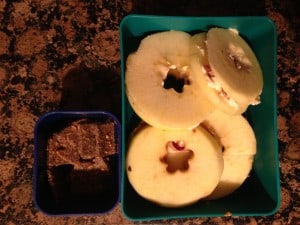 And I made something that doesn't have too many more calories than what The Bug has been "cooking"…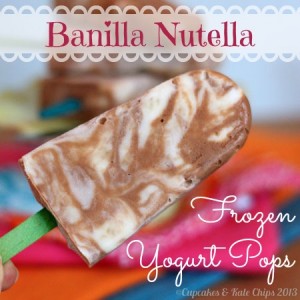 Next week is all about Back to School:
Sunday – We are packing a #SundaySupper Lunchbox, and I have a little fakeout for you. Plus I'll be telling you all about the fun Back to School Week that I am part of. Follow the #backtoschoolweek hashtag all week on Facebook, Twitter, Pinterest, and Google+ for great recipes, crafts, and prizes.
Monday – Mama Monday, and as part of Back to School Week, I am sharing one of my fave 30 Minute Meals.
Tuesday – How about a quick and easy breakfast you can prepare the night before ?!
Wednesday – What's in the Lunchbox Wednesday – Back to School Week Edition with some easy (flourless!! – don't get scared) cheddar crackers.
Thursday – I'm Guest Posting at Southern Mom Cooks for her Tailgate Party, but bringing something that also makes a yummy after school snack.
Friday – Friday Fun!
Have an awesome weekend! As I said earlier, I'd love to see links to your "Somethings", so leave 'em in the comments!