This post may contain affiliate links. Read my disclosure policy.
Hi, it's The Bug, and it's time for some Friday Fun! And after having my tonsils out, I finally get to have some fun, like helping Mommy in the kitchen…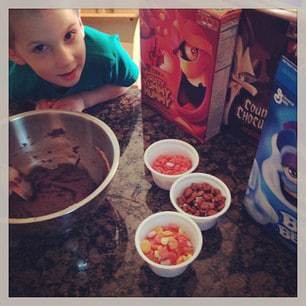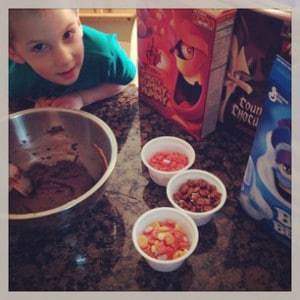 And going on rides…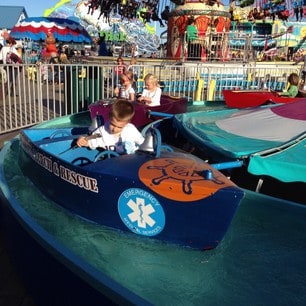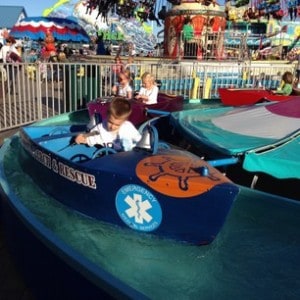 But I still sucker them into letting me lay around and watch TV…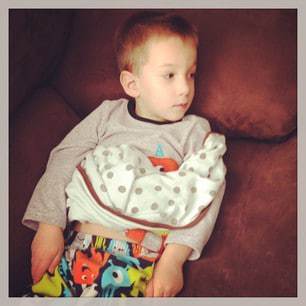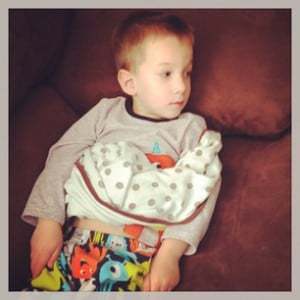 Eat ice cream…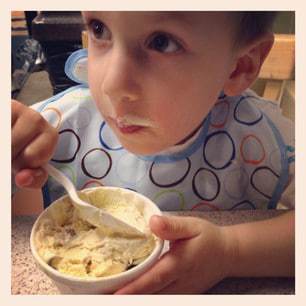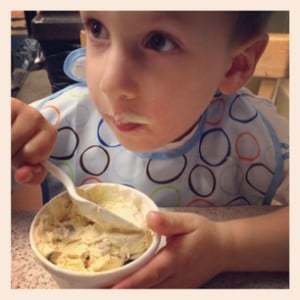 And drink smoothies…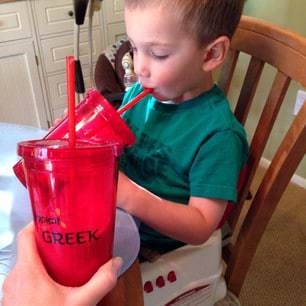 But at least I can eat solid food, unlike this guy…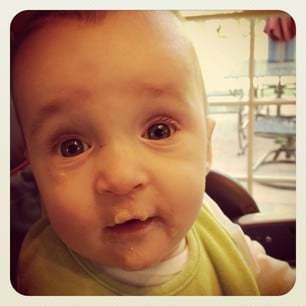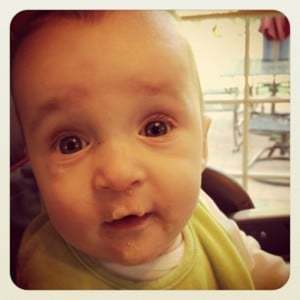 Look at him eyeing up my chicken corn chowder…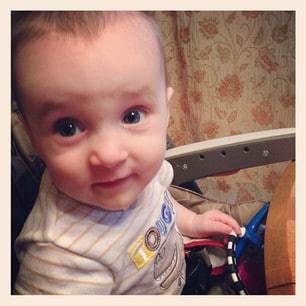 I think he'd rather chew on Doughboy than eat mushy bananas…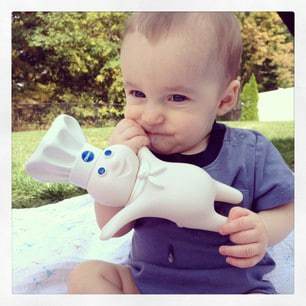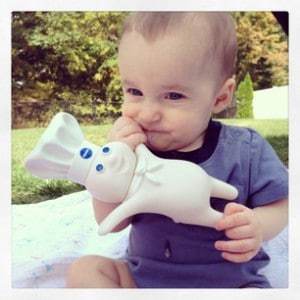 Too bad for him!
If you want to see more photos of me behind-the-scenes of life in the Cupcakes & Kale Chips house and kitchen, follow Mommy on Instagram.
Also, make sure you follow her on bloglovin', or enter your email address in that box on the right, so that you never miss any photos of me new recipes, reviews, and giveaways that are coming up.
OK, Mommy's turn…
Something I love and made this week – Crockpot Cheesestak Pulled Chicken from How Sweet It Is. Only I made it nothing like this, but Jessica's recipe was totally my inspiration. I'll be blogging it soon. (on my Slow Cooker Obsession Board)
Something I love and will probably never make – Chocolate Vanilla Tuxedo Cake with Raspberry White Chocolate Buttercream from Pineapple & Coconut. OK, I would make this, but it will never turn out so perfectly gorgeous as Shanna's (on my OMG Food Board)
Something I love and want to bake – Gluten Free Pumpkin Chocolate Chip Cake from Family Fresh Cooking – pumpkin, chocolate, and gluten free without eleventy billion flours and gums and stuff. I'm in! (on my Pumpkin Obsession Board)
Something I love and want to cook – Pistachio Crusted Salmon – The Bug loves salmon, I love nuts, The Hubby just loves food. Win Win Win. (on my Seafood Inspiration Board)
Something I love that one of my readers told me about – Slow Cooker Tomato Basil Soup from Mel's Kitchen Cafe – Thanks Sandra!! (from my Soup & Stew Inspiration Board)
Something I love and want someone to make for me – Gluten-Free Ombre Cake from Eat The Love – there are no words! (from my OMG Food Board)
Something I love and want to put my own spin on – Pumpkin Nutella Cheesecake Danish from Inside Bru Crew Life – but the only thing I want to change is to try to make them with some Pillsbury GLuten-Free Pie Crust Dough that I have (on my Nutella Obsession Board)
What are your "Somethings"? Leave me some links in the comments!
And if you want to see more of my "Somethings", follow me on Pinterest.
Last week, the five most popular recipes were:
#5 – Soul Warming Butternut Squash Soup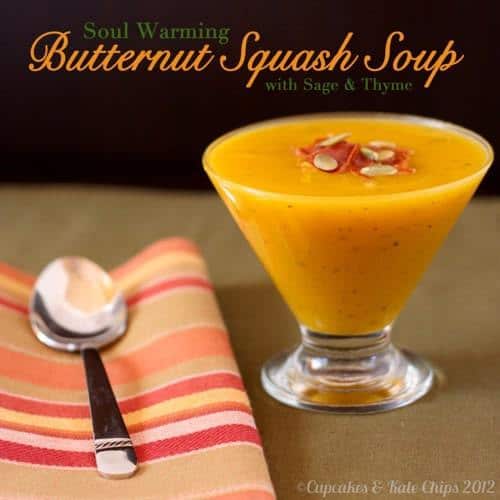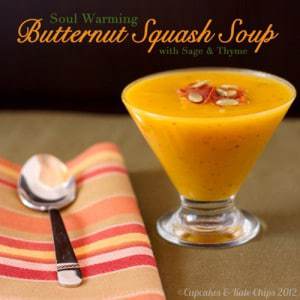 #4 – Chocolate Peanut Butter Cookie Dough Ball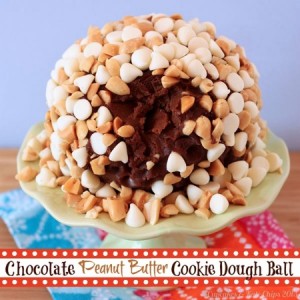 #3 – Gluten-Free Pumpkin Swirl Pecan Crumb Cake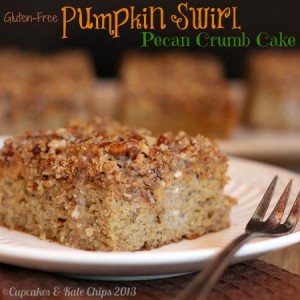 #2 – Sesame Glazed Cauliflower "Wings"
.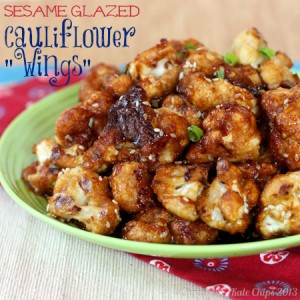 #1 – World's Best Lasagna
This week, well…
I decided I was tired of all the pureed food going on in our house…

I shared our favorite side dish…

I went waaayyyyy back…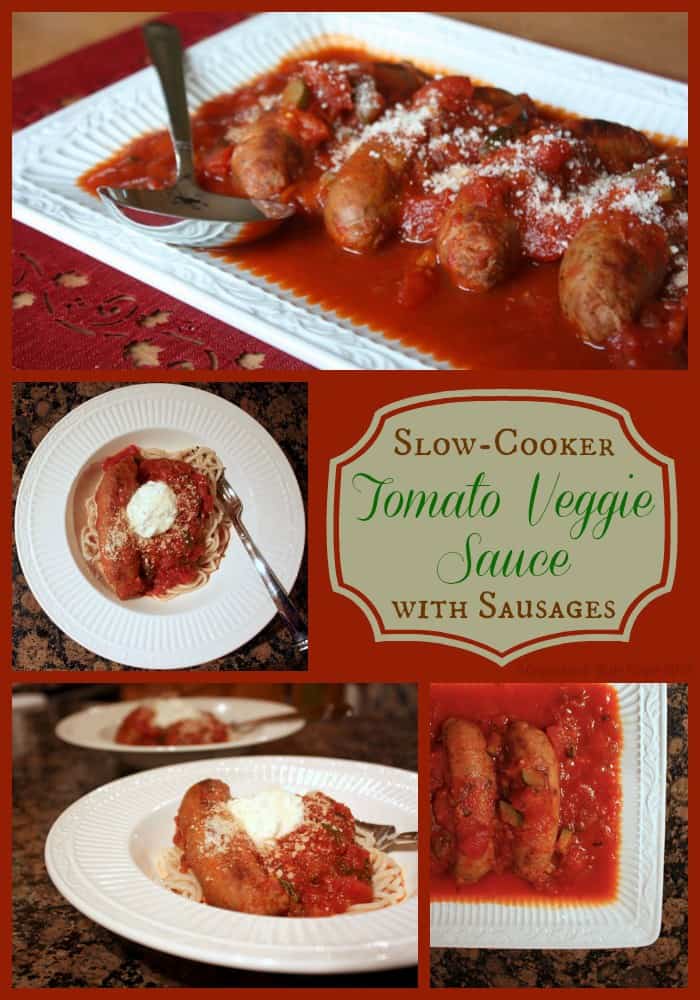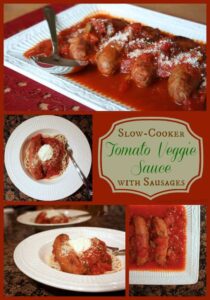 And I was really, really boring…

Next week, it's a week of fall fun:
Saturday – Giveaway time again!!
Sunday – #SundaySupper is making one pot wonders, and I am sharing a family favorite.
Monday – Mama Monday – hoping to get some easy Halloween treats out to you.
Tuesday – It's Pumpkinninny!!
Wednesday – What's in the Lunchbox Wednesday
Thursday – Maple-y goodness to get geared up for #SundaySupper Cook Once, Eat Twice.
Friday – Friday Fun!
Have an awesome weekend! As I said earlier, I'd love to see links to your "Somethings", so leave 'em in the comments!