This post may contain affiliate links. Read my disclosure policy.
I am so excited to be participating in Foodie Penpals for the first time this month. Foodie Penpals is a fun program started by Lindsay at The Lean Green Bean to connect foodies (both bloggers and just plain foodies) to exchange yummy treats once a month. It gives you the opportunity to connect with some new folks, try some yummy things that you may not have ever seen before, and share a bit of yourself with others (besides some other goodies, I shared some of my homemade Nutty Maple Granola, with my Foodie Penpal, Jessica, at What Would Jessica Eat? If you want to learn more about the program and possibly join, see the information at the bottom of this post.
I was so excited when I got my package in the mail from Jill. She had a few delays with getting it out to me, so I was anxiously awaiting my mail delivery, hoping I would get it in time. And I did! And I really can't wait to try some of the great stuff she sent along, which she wrote about in this card, explaining that the items she sent made up "A Day in the Life of Jill".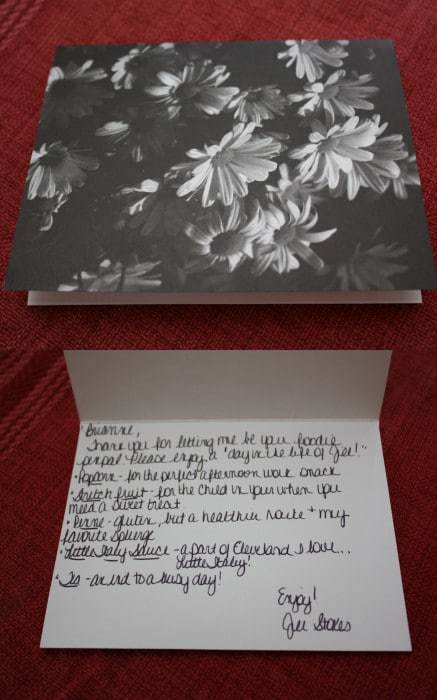 First up is some Sunshine Acres Organic Popcorn, which she says if perfect for an afternoon work snack. I love popcorn, especially since it is a gluten-free snack, and I do try to avoid wheat a lot of the time. So this will be a good snack that I won't have to share with The Bug, since technically he is to young for popcorn because of it being a choking hazard. But I will probably have to share the fruit strips from Stretch Island Fruit Co. with him. Jill says that it is "for the child in you when you need a sweet treat." I think my actual child will love them, since it is some of his favorite fruits – mango and apple. And I like that it is just pure fruit with no other added junk, so it is a snack I can feel good about both of us eating.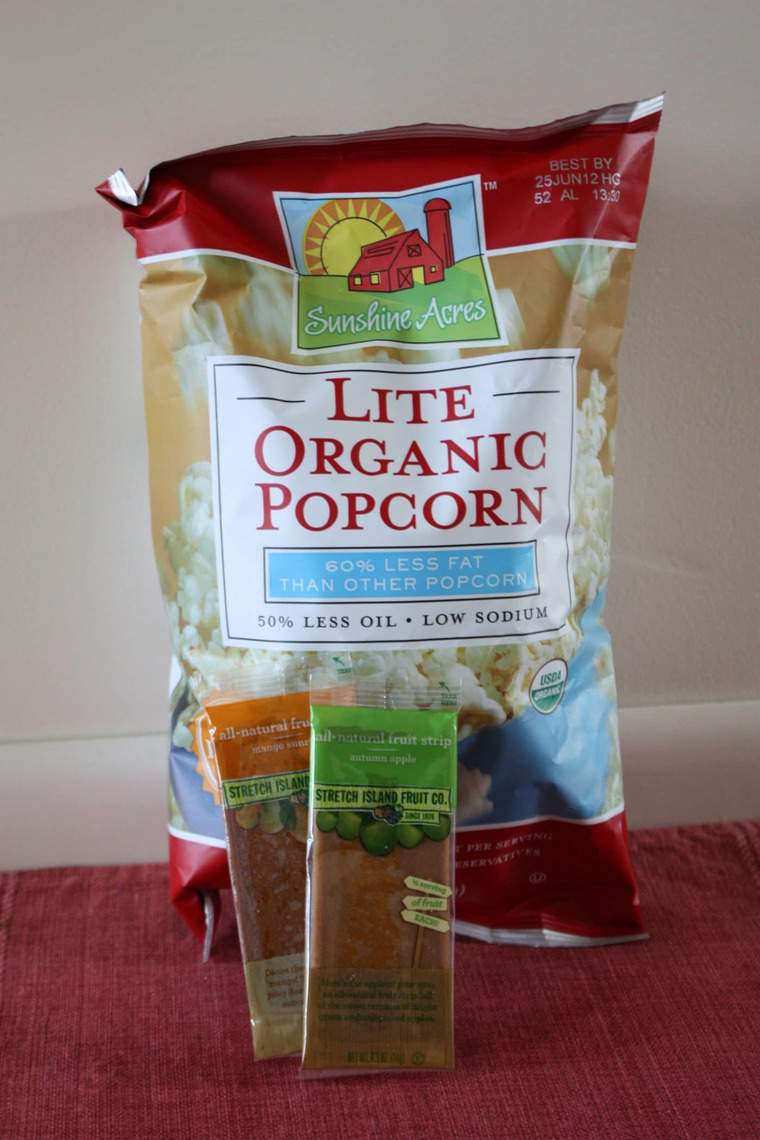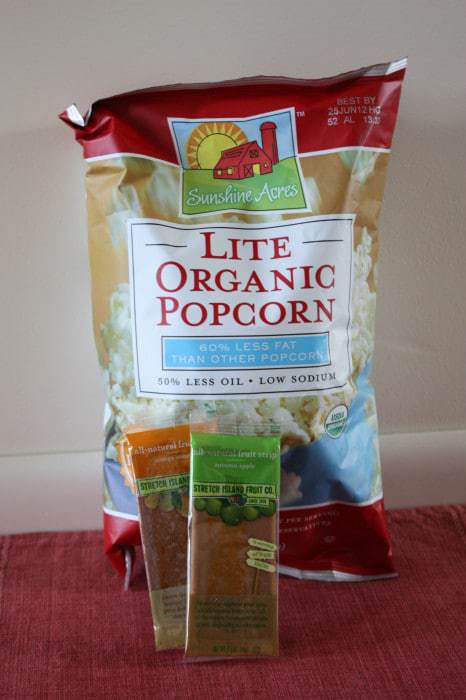 The Hubby is a big fan of pasta, so he will love the Jovial Einkorn Wheat Penne, which Jill says is her favorite splurge, topped with Cleveland's Own Pasta Sauce, from her favorite part of Cleveland, Little Italy.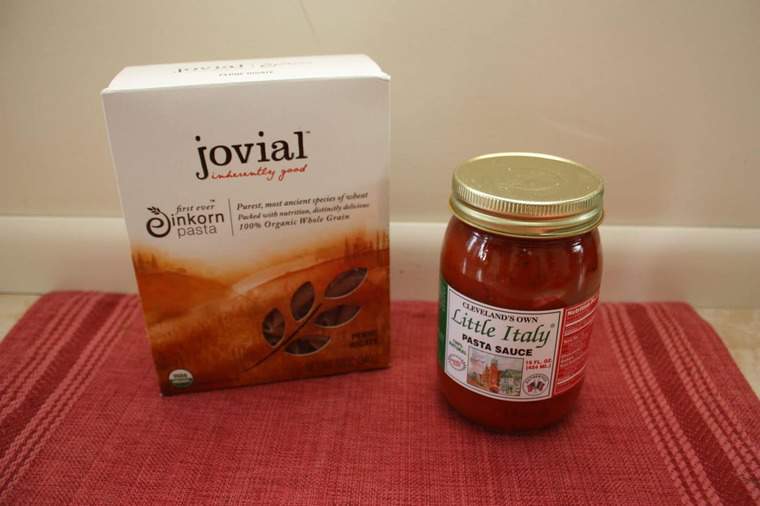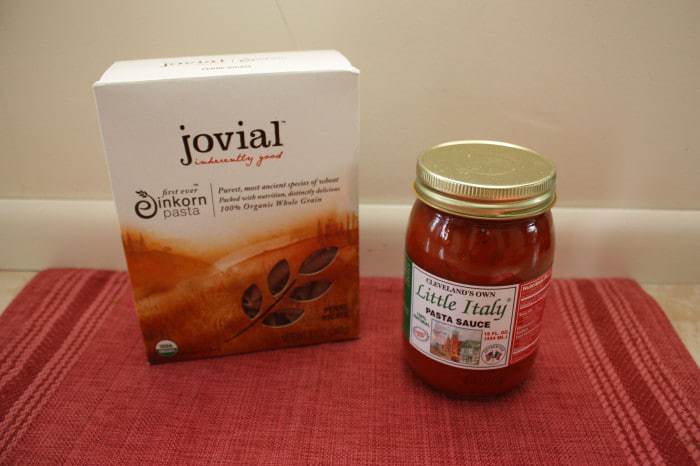 I love that Jill asked me if I like coffee or tea, since she works for a coffee and tea company, Crimson Cup. I am a tea drinker, so I can't wait to try the Organic Mao Jian Green Tea, Ohio Peppermint Herbal Infusion, and Sensory Safari Rooibos Infusion, as "an end to a busy day."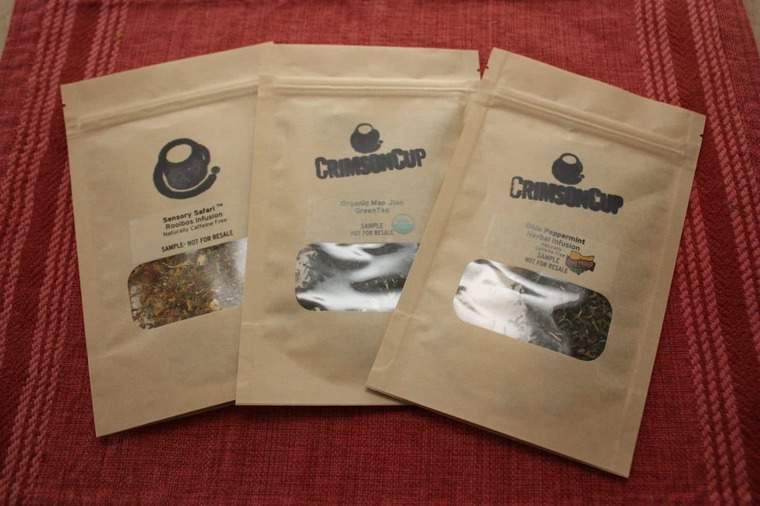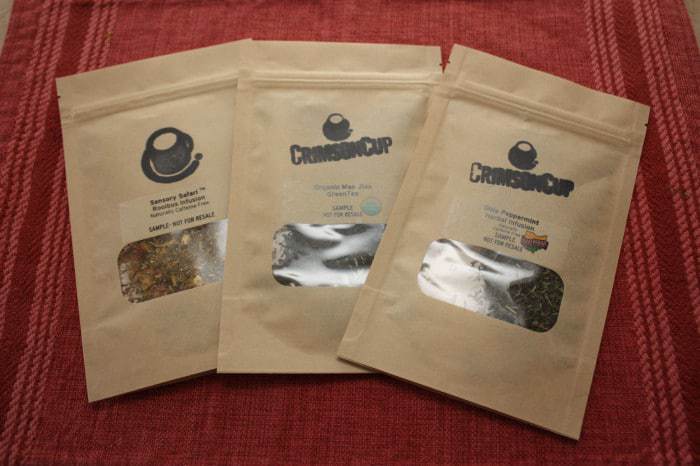 Thank you, Jill!!
And now it's time for some details about Foodie Penpals. In case you're a new reader, here's a reminder of what the program is all about:
-On the 5th of every month, you will receive your penpal pairing via email. It will be your responsibility to contact your penpal and get their mailing address and any other information you might need like allergies or dietary restrictions.
-You will have until the 15th of the month to put your box of goodies in the mail. On the last day of the month, you will post about the goodies you received from your penpal!
-The boxes are to be filled with fun foodie things, local food items or even homemade treats! The spending limit is $15. The box must also include something written. This can be anything from a note explaining what's in the box, to a fun recipe…use your imagination!
-You are responsible for figuring out the best way to ship your items depending on their size and how fragile they are. (Don't forget about flat rate boxes!)
-Foodie Penpals is open to blog readers as well as bloggers. If you're a reader and you get paired with a blogger, you are to write a short guest post for your penpal to post on their blog about what you received. If two readers are paired together, neither needs to worry about writing a post for that month.
-Foodie Penplas is open to US & Canadian residents. Please note, Canadian Residents will be paired with other Canadians only. We've determined things might get too slow and backed up if we're trying to send foods through customs across the border from US to Canada and vice versa. So, I'm going to keep two separate lists and match US w/ US and Canada w/ Canada!
If you're interested in participating for April, please CLICK HERE to fill out the participation form and read the terms and conditions.
You must submit your information by April 4th as pairings will be emailed on April 5th!