This post may contain affiliate links. Read my disclosure policy.
As food bloggers, we spend a lot of time in front of our computers. Facebook becomes our water cooler, Twitter the break room, and Pinterest stands in for white boards and flip charts. Meetings are held via Google+ hangout, and we learn through YouTube videos and written tutorials. It's pretty amazing how such a community can be built between people spread across the world, connected only by the tapping of our fingertips. But there is nothing better than meeting in person to learn, share, connect, and of course, to enjoy fabulous meals, snacks and sweets together. And one of the best events to do that is the Food and Wine Conference! Whether you want to relive the fun or just want to find out what you missed so I can convince you to come next year, read on for my Food and Wine Conference 2015 Recap.
Food and Wine Conference 2015 Recap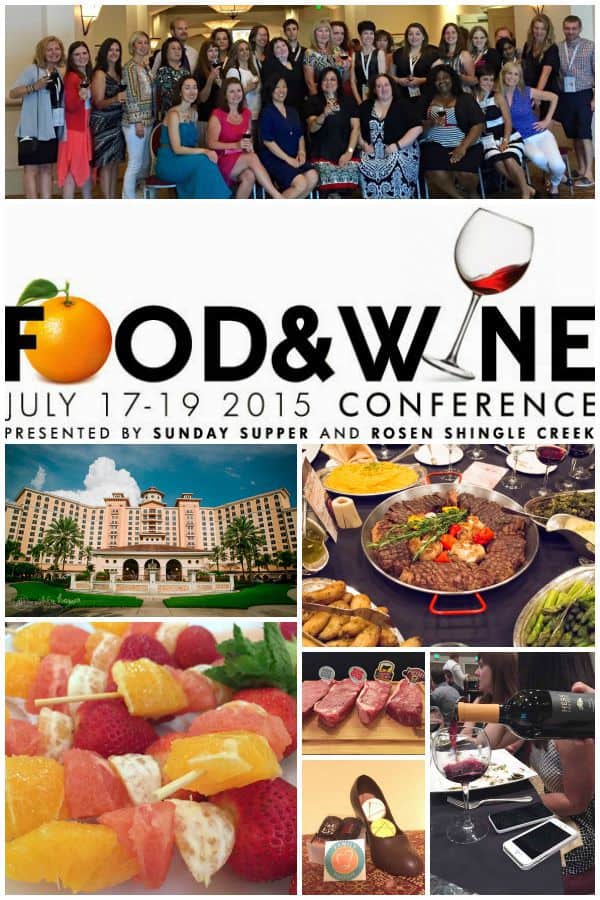 There are plenty of food blogger conferences out there, and even more conferences geared towards bloggers in general. At all of them you are going to meet other bloggers, hear amazing sessions on the different social media platforms, how to improve your SEO, tips and tricks for better writing and photography, ways to grow in order to have more opportunities to earn income, and so much more. We certainly had all that on the 2015 Food & Wine Conference agenda. Monica Bhide and Andrew Wilder kicked it off by reminding us that Everything is Subject to Change, and it's up to us to embrace those changes and use them as springboards to grow and explore avenues that we never knew were open for us to travel on. Dan Cristo once again blew our minds with his SEO knowledge, and Liz Latham and Stephanie Parker shared their experiences in working with brands, as well as some useful financial and tax tips. We also got the perspective of brands working with bloggers from representatives of several of the conference sponsors. Then we spent the afternoon learning how to rock social media and build our businesses from experts like Ann Tran, Kathleen Decosmo, Rick Griffin, Sandi McKenna, Rachelle Lucas, and Wendy Wofford-Garcia.
Sunday was filled with panels on everything from Facebook to Twitter, photography to video, cookbooks to products, and my personal favorite, a writing workshop from Monica Bhide. With all of the amazing sessions, I wanted to clone myself, and everyone made plans to divide and conquer so that we could all compare notes.
I also want to take moment to give a special shout out to my panel, The Balancing Act, who shared their experience, approach, and strategies for balancing blog, business, and life. Jenny of The Melrose Family encourages us to dream big, but set realistic goals. Brenda of Sugar-Free Mom is the queen of delegating so that she can focus on the most value-added parts of her business. Danielle of Food Confidence reminds us to keep our eyes on our own plate in order to stay focused on what's important. And TR Crumbley of Gluten-Free Crumbley encourages us to embrace the crazy.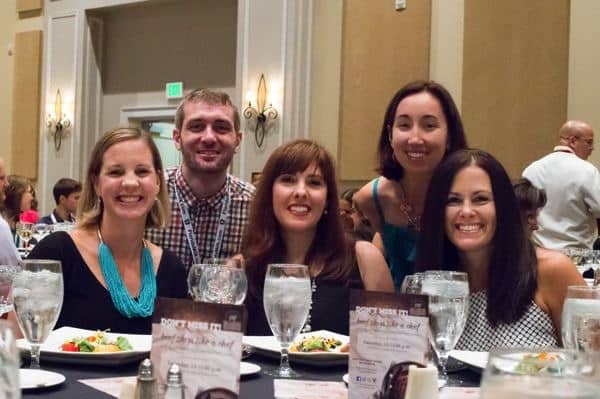 A food blogger conference must also have good food, especially one that calls itself the Food and Wine Conference, so of course we had that, as well. Signature strawberry cocktails made with berries from the Florida Strawberry Growers Association and St. Augustine Distillery vodka welcomed us with their inviting bright hue on Friday night, along with a broad selection of noshes from the restaurants at Rosen Shingle Creek Resort. Everything from salad to sushi to short rib sandwiches to stunning sweets were being handed out around the room in a setting that allowed and encouraged all of the attendees to mix and mingle and meet new people. Poutine with plenty of Idaho potatoes and Wisconsin cheese filled our bellies at lunch on Saturday, and snacks of Georgia peach smoothies, Cabot cheese, and Pacari chocolate kept us going between meals. My midnight munchies were satisfied with Gigi's cupcakes, since there were some that were gluten free and fabulous. And while I love the Rosen Shingle Creek breakfast (especially the fruit and yogurt bars, which I Instagrammed two years in a row), we also had an amazing treat for Sunday Brunch featuring the amazing produce of Duda Farm Fresh Foods (and a few Mimosas and Bloody Marys and selfie sticks!). And my boys are kinda partial to the strawberry cookies from Parkesdale Farm Market, since it's the one snack that I can bring home with me. As The Bug says, they don't just taste like strawberries, "they taste like awesome strawberries!"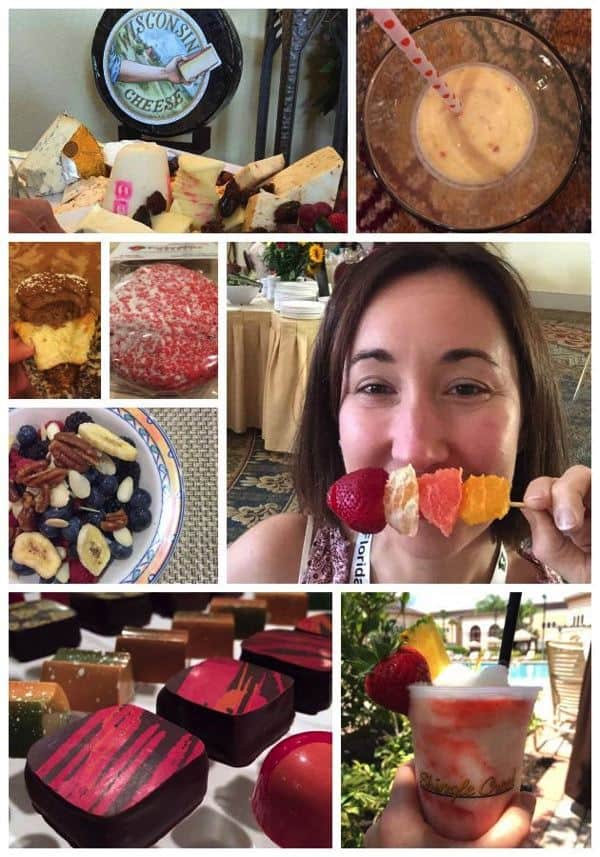 But when you ask the attendees what meal most stood out to them, it was Saturday night's "Sunday Supper" sponsored by Certified Angus Beef® brand and The Hess Collection Wines. Chef Michael spoiled us with a lovely summery salad with watermelon, heirloom tomatoes, and blue cheese, paired with Hess Select Sauvignon Blanc This was followed by a meal of Certified Angus Beef® brand grilled New York Strip Steak, roasted potatoes, tender asparagus, mashed sweet potatoes, and braised greens served family-style, drawing upon the original intent of Food and Wine Conference founder Isabel Laessig to bring families back around the dinner table one meal at a time through her blog, Family Foodie, and the Sunday Supper Movement. Succulent, flavorful, perfectly seasoned, and tender were just some of the words used to describe the meal. Paired with Hess Select Treo and Pinot Noir, this was the Sunday Supper of my dreams.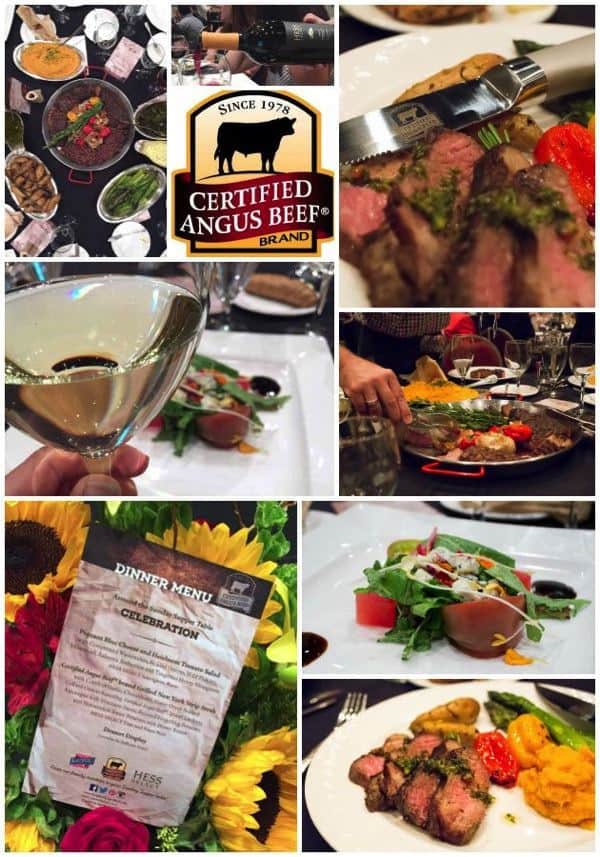 During my time at the Food & Wine Conference, I also had the privilege to serve as the brand ambassador for Certified Angus Beef® brand, along with Liz of That Skinny Chick Can Bake. Clearly we take our assignment seriously…
All joking aside, Certified Angus Beef® brand truly is the most flavorful beef you can buy. On Sunday we got an education on what it takes to meet the requirements of the Certified Angus Beef® brand. Angus is a type of cattle, and only the best cattle meet the exacting standards to be Certified Angus Beef® brand. It's basically the Honor Roll of beef, and I encourage you to seek it out in stores and restaurants in your area.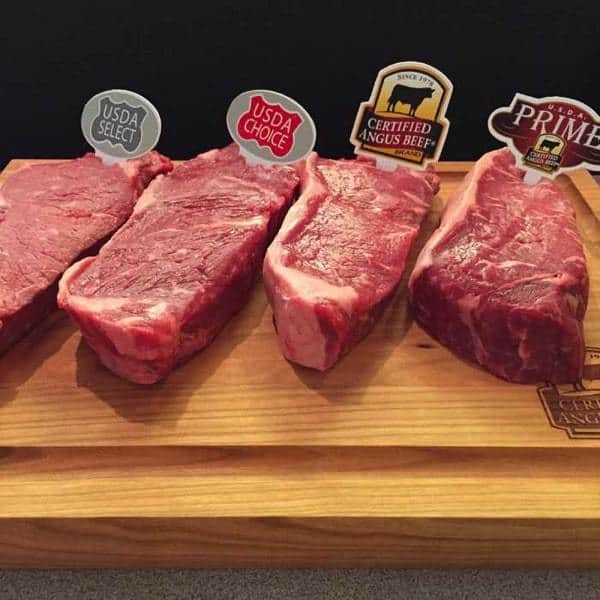 But what sets the Food and Wine Conference apart, in my mind, is what I spoke to in the beginning – a virtual community coming together in person. I was chatting with a couple of first-time attendees who were a bit nervous, and what I told them was that Isabel wants to hug everyone that is there. She may actually hug you, or she may not have the opportunity, but regardless, this conference is her virtual hug of everyone, and that is what you feel while you are here. We come together as a family to learn and share and grow – we grow our knowledge, our selves, and our relationships. You will feel that in every session, every meal, and every detail. I was thrilled to see some people whom I have met before. I was elated to meet others in person for the first time. But most of all, I was privileged to be surrounded by people who understand and encourage each other. There are very few jobs where the best way to be successful is to support and promote and genuinely care about your "competition".
I'm going to share what I posted in the Food and Wine Conference Facebook Group. I could rewrite it more eloquently, but I want to convey the raw emotion I felt as I was sitting in the airport waiting for my flight home…
I don't need to reiterate what everyone else has said about how informative and inspiring the conference was. But what I do need to tell you is how much it meant to me in another way. I lived in the same place for 35 years then moved in the dead of winter when nobody emerged from their houses or cars for months. Knowing that I could turn to the "friends who live in my computer" when I needed "company" was such a help at times. But to spend a weekend surrounded by people I love and admire, to feel like I was among friends and family who "get" me and what I do (because let's be real, sometimes the friends and family who have known us don't always "get" us) meant more to me than words can express. I truly go home with mixed emotions because I wish I could pack you all in my suitcase. Darn extra baggage fees!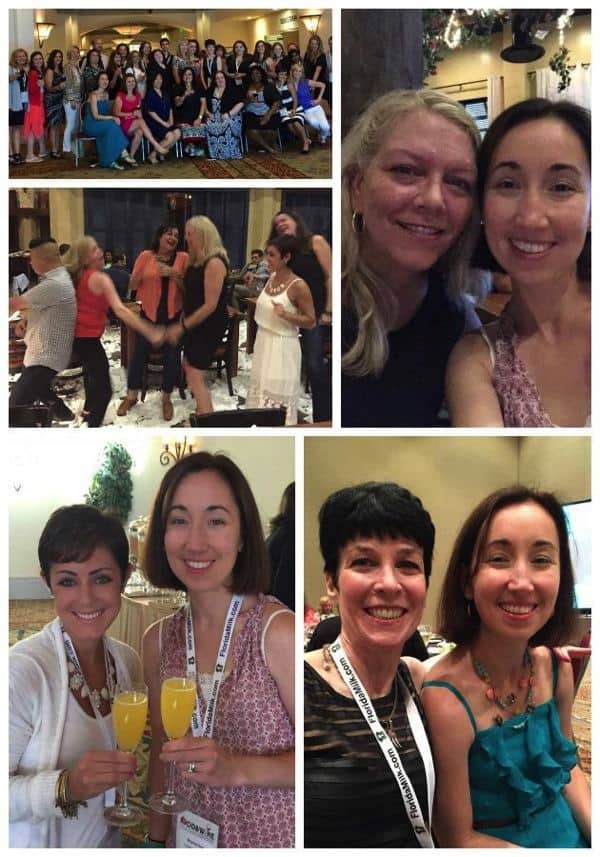 If you weren't there this year, then make sure you plan on joining us next year! Keep an eye on the Food and Wine Conference Website for all the details!