This post may contain affiliate links. Read my disclosure policy.
Flourless Peanut Butter Nutella S'Mores Sandwich Cookies are ridiculously fun, ridiculously good, ridiculously large (if we are being perfectly honest), and it would be ridiculously silly if you didn't make them! Nutella and marshmallow buttercream, sandwiched between two super peanut-buttery cookies.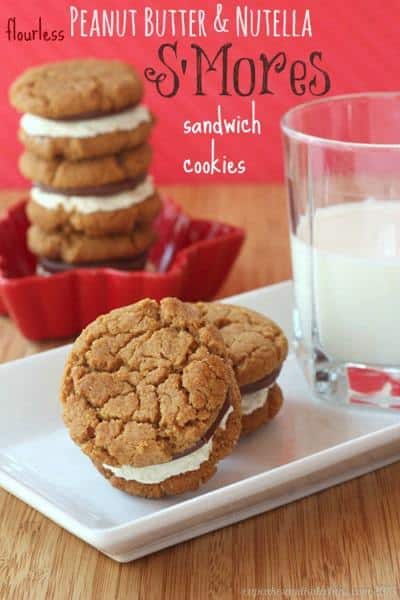 Food blogger secret – make one basic recipe, split it up and make several variations. Then, spread the posts out just enough, or use one as a guest post on someone else's blog, and WHAM – holiday time saver! Sorry, it's that time of year, we all have to cut corners. And I'll tell you, you can probably cut corners with this recipe and use a jar of marshmallow fluff, but the marshmallow buttercream is just one of the most unique and fun recipes I've tried, so give it a shot.
And then get ready to have your mind blown. Flourless peanut butter cookies just have the most intense peanut butter flavor, and since they are tender and not too sweet, they are perfect for sandwiching gooey, chocolaty Nutella and a fluffy marshmallow buttercream. This is seriously like a bite (a very large bite – these aren't dainty cookies) of heaven, because I don't know about you, but my version of heaven has marshmallow clouds, and flowing rivers of peanut butter and chocolate. Basically, you know, Willy Wonka.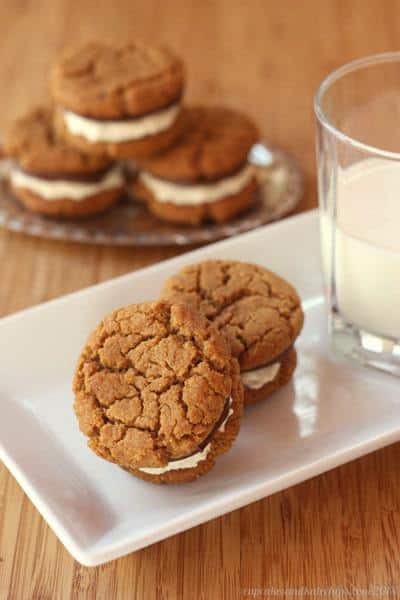 Another holiday time saver – make up a batch of Flourless Peanut Butter Nutella S'Mores Sandwich Cookies, wrap them up individually with some pretty cellophane and ribbon, and freeze them.
If you receive an unexpected gift or overnight guest, wrap a couple up with a cute holiday mug and some hot cocoa mix. They are actually pretty easy to make, and once you get the assembly line going, don't take very long, either. But they look impressive and taste, well, as I said… ridiculous!!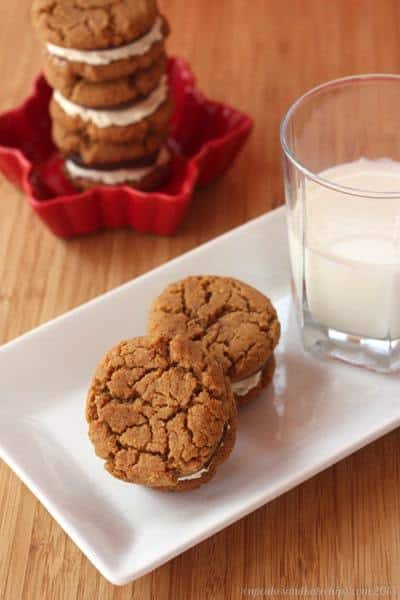 Do you have a good basic cookie dough recipe that you use to make several different varieties?
Enjoy the Flourless Peanut Butter Nutella S'Mores Sandwich Cookies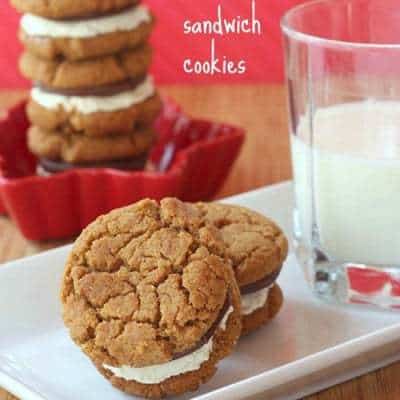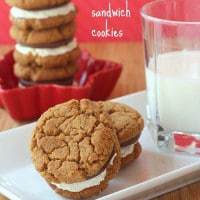 Flourless Peanut Butter Nutella S'Mores Sandwich Cookies
Take S'Mores to a new level with Nutella and marshmallow buttercream sandwiched between two flourless peanut butter cookies. These Peanut Butter Nutella S'Mores Sandwich Cookies are irresistible!
Ingredients
For the Flourless Peanut Butter Cookies:
1

cup

sugar

1

cup

dark brown sugar

2

teaspoons

baking soda

2

cups

natural peanut butter

2

eggs

2

teaspoons

vanilla
For the Marshmallow Buttercream:
1

cup

milk

2

cups

mini marshmallows

1

cup

unsalted butter

at room temperature

2

teaspoons

vanilla extract

1/2

cup

powdered sugar
For assembling the S'Mores sandwiches:
1 1/2-2

cups

Nutella

(about)

2

cups

Marshmallow Buttercream

or 2 cups marshmallow fluff (about)
Instructions
For the Flourless Peanut Butter Cookies:
Preheat your oven to 350°F. Line cookie sheets with parchment paper.

Using a fork, mix together the sugar, brown sugar, and baking soda in a bowl.

With a hand mixer or stand mixer, beat in the peanut butter until cream.

Add the egg and vanilla and mix thoroughly.

Form balls using about 1 tablespoon of dough, place on the cookie sheet and flatten slightly with you hand.

Bake for 10-12 minutes, or until lightly browned and set.

Cool on the baking sheet for several minutes before transferring to a rack to cool completely.
For the Marshmallow Buttercream:
In a small saucepan over low heat, combine the milk and marshmallows and gently melt, stirring occasionally. Set aside to cool.

Using a hand mixer, cream the butter until light and fluffy.

With the mixer running, slowly pour in the marshmallow mixture and vanilla. At this point, it may start to look like it has separated a bit.

While continuing to whip the frosting, gradually add the powdered sugar and whip until light and creamy.

Use immediately.
For assembling the S'mores sandwiches:
Spread about 1/2-1 T Nutella on one of the peanut butter cookies, and about 1 T marshmallow buttercream or marshmallow fluff another cookie and sandwich together gently.

Store sandwich cookies in the refrigerator (or freeze until needed).
Nutrition Facts
Flourless Peanut Butter Nutella S'Mores Sandwich Cookies
Amount Per Serving
Calories 345
Calories from Fat 180
% Daily Value*
Fat 20g31%
Cholesterol 28mg9%
Sodium 166mg7%
Potassium 186mg5%
Carbohydrates 39g13%
Protein 5g10%
Vitamin A 213IU4%
Vitamin C 0.02mg0%
Calcium 44mg4%
Iron 1mg6%
* Percent Daily Values are based on a 2000 calorie diet.
Categories: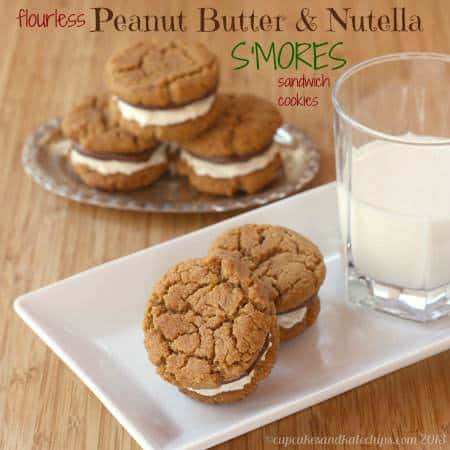 If you like the flourless peanut butter Nutella s'mores sandwich cookies, you can use the same basic cookie dough to make these cookies:
Plus, make sure you visit all the other Christmas Week Peeps for more Holiday Baking Goodness:
Visit all the other Christmas Week Peeps for more Holiday Baking Goodness: