This post may contain affiliate links. Read my disclosure policy.
This Christmas Sweets round up from That Skinny Chick Can Bake includes some of Liz's favorite holiday desserts and cookies that would be perfect for your Christmas, Hanukkah or New Year's menu.
The Twelve Guest Posts & Roundups of Christmas continues with this fabulous recipe from my friend Liz! Make sure you also head over to That Skinny Chick Can Bake to enter our amazing giveaway for a $200 Amazon Gift Card and your choice of cookbooks!
Favorite Christmas Sweets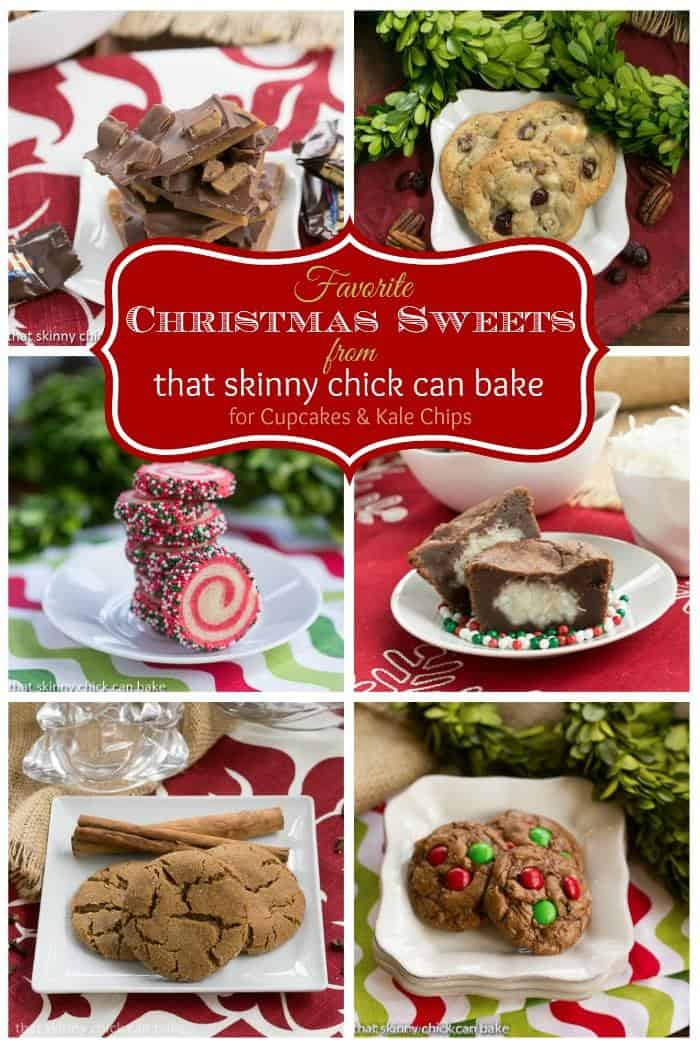 I am thrilled to be able to assist my friend, Brianne, with a guest post while she gets settled in her new home. I'm Liz from That Skinny Chick Can Bake, and from the name of my blog, you've probably surmised that I whip up a lot of desserts. You are right on the money. For Thanksgiving, I always make two pies…even if it's just the five of us. It would be blasphemy if I didn't. It's a tradition to have pumpkin and French silk. Then in mid-December, I start my holiday baking. For candy, the list includes fudge, English toffee, peppermint bark and caramels. Next come the cookies: gingersnaps, butterscotch cookies, coconut macadamia nut bars, cherry chocolate chunk cookies, star of Bethlehem cookies (AKA peanut blossoms) and Noel nut balls. My kids and husband all have their favorites and I don't dare veer from these standards. I have a little leeway when it comes to cookie exchanges and Christmas dessert, but the latter generally has to be chocolate. I've shared links to a selection of my favorite recipes below.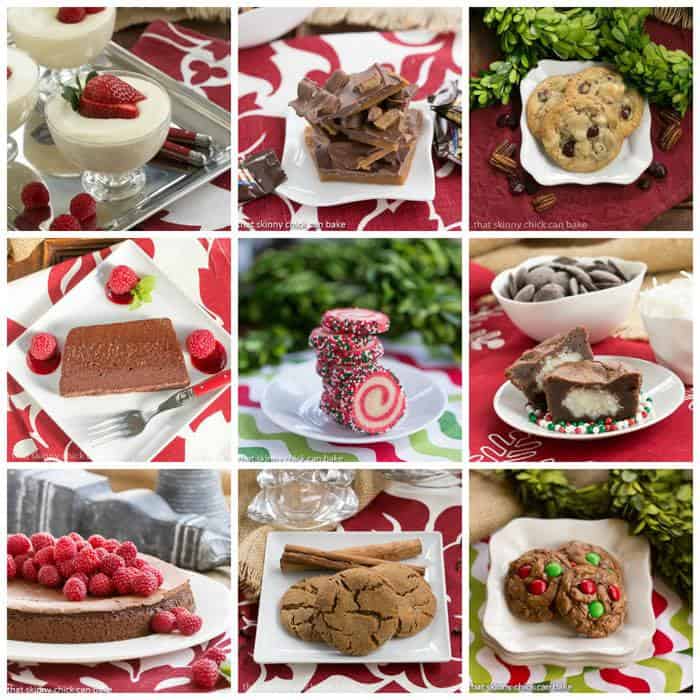 White Chocolate Frangelico Mousse: A nice alternative to the classic chocolate mousse. A slosh of Frangelico, a hazelnut liqueur, makes it even more special occasion worthy.
Double Dose Toffee : This candy starts with my standard English toffee recipe. I usually make 3 batches to give away to my friends and neighbors. Traditionally, I top with chopped pecans, but this recipe shakes it up and uses chopped Heath bars for a double dose!
Cranberry White Chocolate and Crystallized Ginger Cookies: One of my favorite new cookies. It's a rare case where I use both shortening and butter in a cookie, but the resulting texture is divine. Plus the hit from the crystallized ginger is extraordinary.
Chocolate Terrine with Raspberry Sauce: An elegant no-bake recipe. Perfect when your oven is busy with a turkey or roast beast.
Holiday Pinwheels: These are just so pretty and festive; they scream holiday!
Mounds Brownie Cupcakes: As a coconut lover, I just have to have something coconut in the mix. The surprise filling will please the coconut fans in your life.
Chocolate Mousse Torte: A terrific chocolate dessert. Cut it into slivers and top with sweetened whipped cream and berries for an elegant dessert.
Triple Ginger Cookies: An even more ginger laden cookie than my traditional recipe for chewy gingersnaps. The combination of ground ginger, crystallized ginger and fresh ginger will make you swoon.
Holiday Truffle Cookies: A festive fudgy cookie that you can shake up with any colored M & M's you'd like.
A couple tips if you do cookie baking marathons like I do. First, I make a couple doughs per day. I then roll the dough into balls, freeze on a baking sheet, then store in the freezer in a zip-top freezer bag. I'll pop the bags in the refrigerator the night before I plan to bake for a slow defrost. Then I can do all the baking over a couple days, so I can distribute freshly baked cookies to friends and neighbors. I like to pack my goodies in festive Chinese carry out containers. I package all the varieties separately and tuck them in the boxes with some tissue paper. I find these boxes at either World Market or The Container Store. Wishing you all happy holidays!
If you'd like to see my holiday cookie and candy recipes, please visit my blog and social media sites. Thanks Brianne for letting me share with your readers!
Blog – Google+ – Twitter – Facebook – Instagram – Pinterest