This post may contain affiliate links. Read my disclosure policy.
Easy beef tacos are the perfect weeknight dinner. Make a side dish of spaghetti squash with salsa queso fresco and you'll be serving the perfect taco Tuesday meal. They're a perfect gluten-free Cinco de Mayo food option, too!
Disclaimer: I was provided with a set of T-fal cookware to use and review, a set to give away, as well as the full version of the Cooking Planit iPad app to use and review. As always, all opinions are my own.
Do you want to go to one place to plan your dinner menu, generate a grocery list, get a list of all the equipment and utensils you'll need, and be guided through the cooking process for you to get all the components of your meal on the table at one time? Then go check out Cooking Planit, where you'll get all this, plus delicious recipes like Easy Beef Tacos and Spaghetti Squash with Salsa Queso Fresco.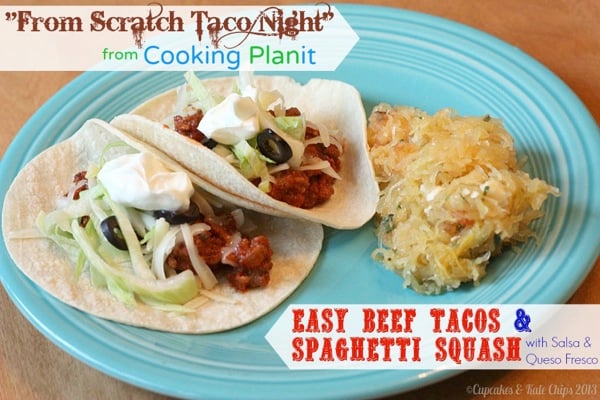 You've probably seen my T-fal cookware review and giveaway earlier this week, where I gave you a little teaser about Cooking Planit and some of the yummy recipes I've been making from their site. Well now I am going to tell you all about them. You see, when Cooking Planit reached out to me to review their website and mobile app, I was definitely curious. I had seen advertisements on Facebook for it, but wasn't really sure what it was. Perhaps you've seen them too, and want to know more.
Well, Cooking Planit is a technology solution to help you efficiently plan a menu and get your meals on the table in a timely way, with your main and sides all being ready at the same time. To give you a well-rounded review, I wanted to try out one of their more quick and easy menus, as well as putting together a menu of my own, consisting of a main dish and a side dish, and I also wanted to compare what I would consider a typical, easy, weeknight meal with one that might be considered a bit "fancier" and perhaps slightly more complex.
One quick note – my photos are not nearly as nice as what you'll see in my usual recipe posts. I really wanted to use this app as it was designed – to have dinner on the table for my family at our usual time. Not in advance to stage photos, or holding back some food to have a photo shoot the next day. I wanted to to see the utility and the food as it came out – quasi-real-time.
It was fun to scope out some of the different recipes and menus on the website and the mobile app. As I perused some of the already paired-up menus, what caught my eye as a very typical Monday through Friday type of meal was their "From Scratch Taco Night". So I added the menu to My Cookbook, and took a look at the list of all the ingredients needed for the beef tacos and the spaghetti squash side dish. Having this full list in one place, versus having to look at multiple recipes made it very easy as I got ready to do my shopping.
Since I have two kids sometimes making my head spin, when I do have a bit of downtime, I like to get out all of the pots, pans, and utensils I might need, so seeing that visual list is helpful as I am prepping my kitchen early in the day. You can also start the guided directions to get through the food prep, and then stop it until you are ready to resume cooking closer to dinner time. This was my approach.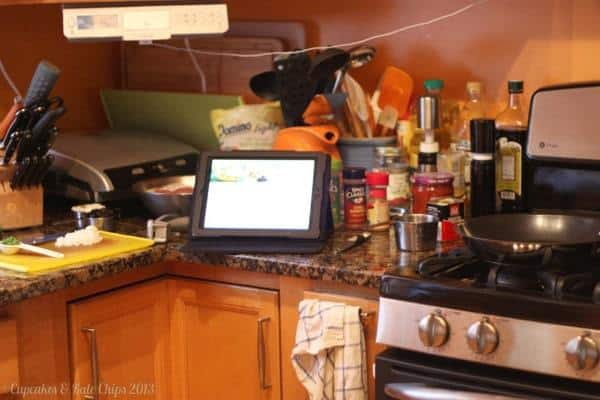 Then when I was ready to make the beef tacos, the app on my iPad guided me through, step by step.
It was actually pretty fun. But I do have to give you a hint – if you are using the voice commands, don't put it near the radio, and watch out if your kids are yelling in the background. You may end up a few steps ahead of where you should be, though you can easily move backwards. For me, I found it easier to just tap the button to move forward, because my house is entirely too noisy 🙂
There are even built in timers to remind you to check on how long something has been cooking or in the oven, and, if you are moving along quickly in your prep, it will advise you when you can slow down or take a break if you want to have everything ready at your target time.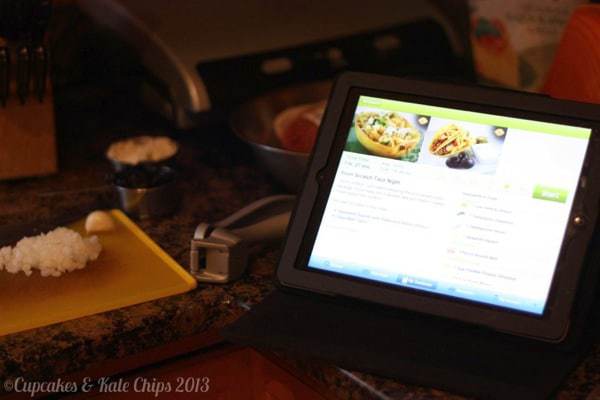 I can definitely see that Cooking Planit could have uses for everyone from the most novice cook to someone with more experience in the kitchen. Being someone who cooks a lot and has for many years, I kind of have my own rhythm in the kitchen. So for me, it is easier to have the recipe in front of me and be able to see a few steps ahead in case I want to do some prepping while something else is cooking.
The app has the activities very well planned out and timed for different components of your meal to all be complete at the same time, and I can see this being extremely helpful to someone who may not be as experienced in the kitchen, or who typically has a hard time planning out their activities. Also, if it is a recipe where you really want everything to be ready simultaneously, where it may not sit well and simmer on the stove while you are finishing up something else. But with all the activity in my house, sometimes I am better served to get some things done a little earlier, or cook in stages, since I do often have distractions, and pulling all the final pieces together at that last instant can get a bit hectic.
That being said, by following along with the app, this multi-component dinner did come together quite nicely.
Voila – Easy beef taco night!!
Based on how I work in the kitchen, I may not always want to use the guided instructions, but I do love how you can mix and match recipes to create menus, then easily create your shopping list. I love seeing what I need to get staged and ready so that when it is time to cook, I am all ready to go. And some of the recipes and menus definitely have me intrigued. I have already identified a few more I want to try.
So while it's awesome to have this website or app to help you out, the recipes have to be good, right? I mean, who cares how easy and convenient it is if the food isn't good. Well, if Cooking Planit's "From Scratch Taco Night" is any indication, then that is definitely not a concern.
This easy beef tacos recipe proved that you definitely don't need to get Taco Tuesday from a packet or a box.
I made a couple slight tweaks, solely based on what I had on hand – using tomato paste and thinning out the taco meat mixture with some water instead of the crushed tomatoes, and serving with soft corn tortillas instead of hard shells (actually, I just ate mine as a taco salad), but the whole family totally loved these tacos. It was super flavorful, and we ate nearly all of it, leaving just enough for a couple of small lunch quesadillas for The Bug, which he absolutely devoured.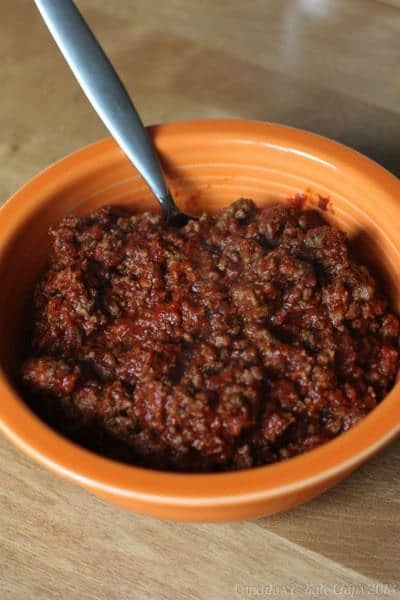 And the spaghetti squash – what a unique side dish that I totally never would have considered with a Mexican meal! Again, a slight modification, using feta cheese in place of the queso fresco, just because it was more inexpensive. And since we were leaving the day after I made this meal, I didn't want to purchase a pricier cheese just to use a little of the package. But I can definitely see this (or some variation of it) becoming part of our regular side dish rotation. Even The Bug, who normally won't touch spaghetti squash, was eating it.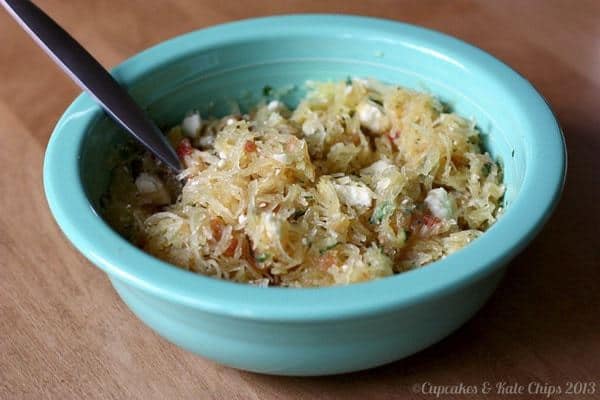 Enjoy!
Love Mexican food? Here are some of my Mexican-inspired dishes:
Mexican Black Bean Stuffed Sweet Potatoes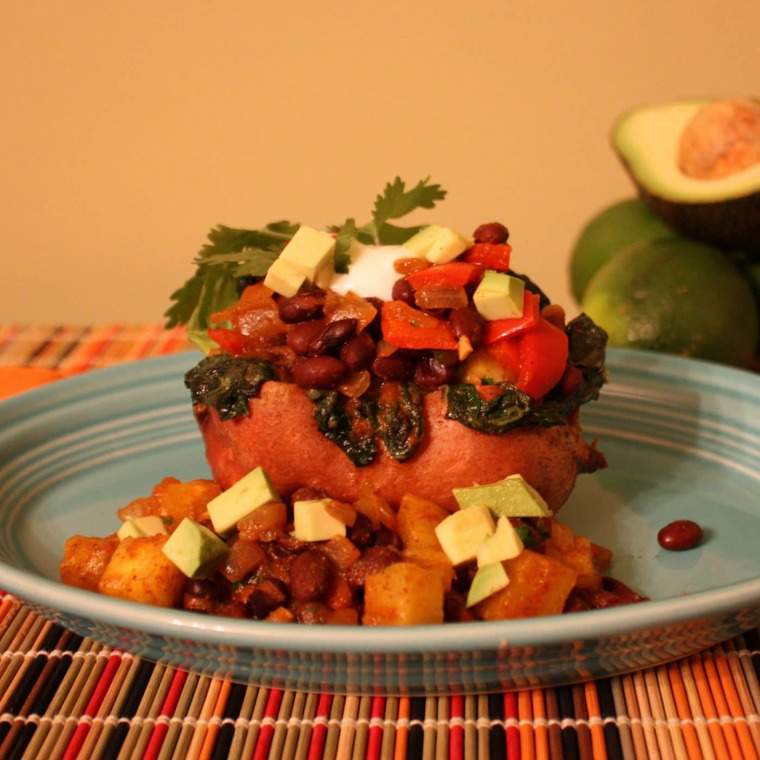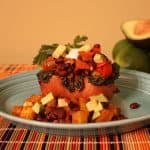 Mexican Black Bean & Quinoa Burgers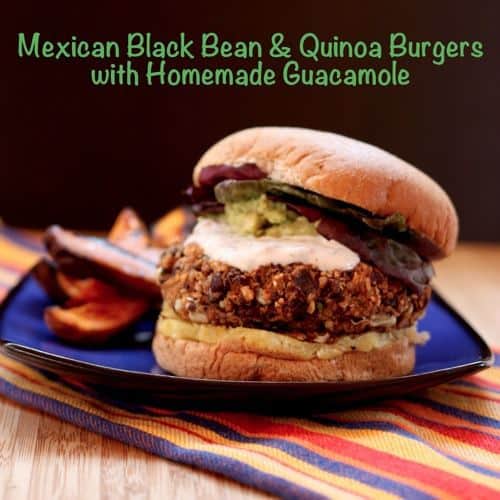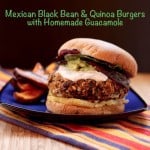 Tropical Shrimp Salad with Mango Avocado Salsa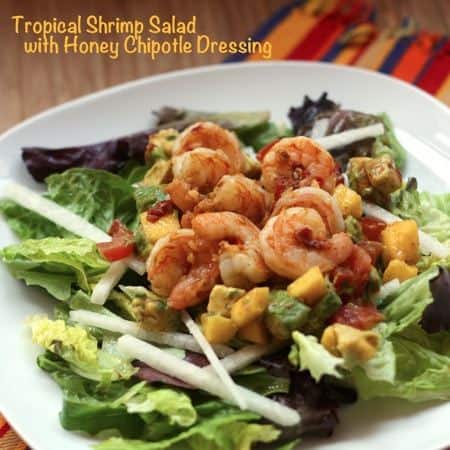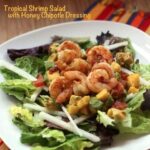 Plus a few from my friends: