Oscar Night Dinner for My Four Leading Men – Crockpot Beef Pot Roast with Mushrooms "Sorta-coto"
Disclosure: This post may contain affiliate links. Cupcakes & Kale Chips is a participant in the Amazon Services LLC Associates Program, an affiliate advertising program designed to provide a means for us to earn fees by linking to Amazon.com and affiliated sites.
It's the same thing every year. I always want to watch the Oscars to see all of the fabulous dresses and hairstyles, and the incredible jewelry, and my current celebrity crush (right now, I'll take the Ryans – Gosling and Reynolds) in a tux. In college, actually, for pretty much any awards show, we would always get all of our friends together, maybe make a big pot of spaghetti, and just ogle over or make fun of famous people all night. My friend and former college roomie, The Half-Baked Housewife, is a total awards show junkie. This year, she even live blogged during the Oscars (I paid more attention to that than the actual show).
But I was never really into watching the actual awards. I have always been more of a "movie" person than a "film" person, and, more often than not, it is the "films" that are nominated for the big awards. So I don't usually have much of a vested interest (except this year I did see and LOVE Moneyball, so was pulling for the movie, Brad Pitt and Jonah Hill to win). And the mediocre hosts and long speeches and boring tributes – not worth four hours of my time. I think the best thing to happen to the Oscars was E! starting to televise the red carpet. And even better, now I just have to watch Fashion Police, and I get the full recap of the only parts I am interested in.
So instead of a throwing an Oscar party, and making all of the fabulous dishes that I saw posted on a ton of other blogs, I thought it would be nice to make a good meal for the four leading men in my life: The Bug, The Hubby, Dad, and Grandpa.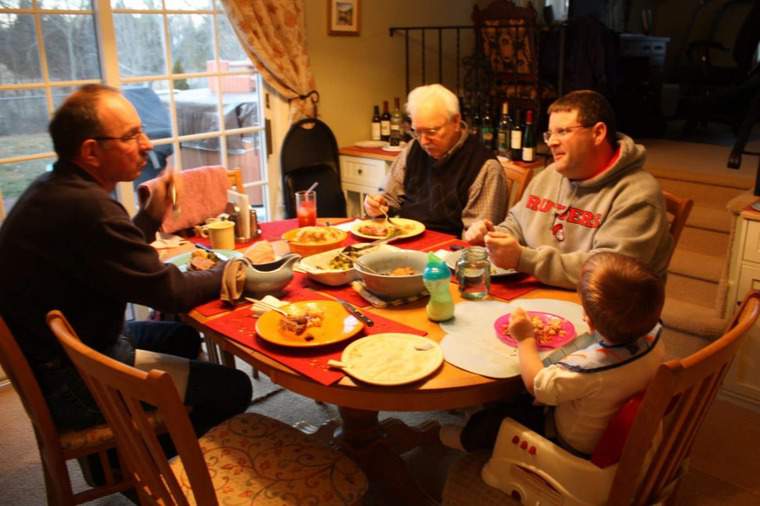 And when you are cooking for four generations of men, what better to make than good, old fashioned meat and potatoes.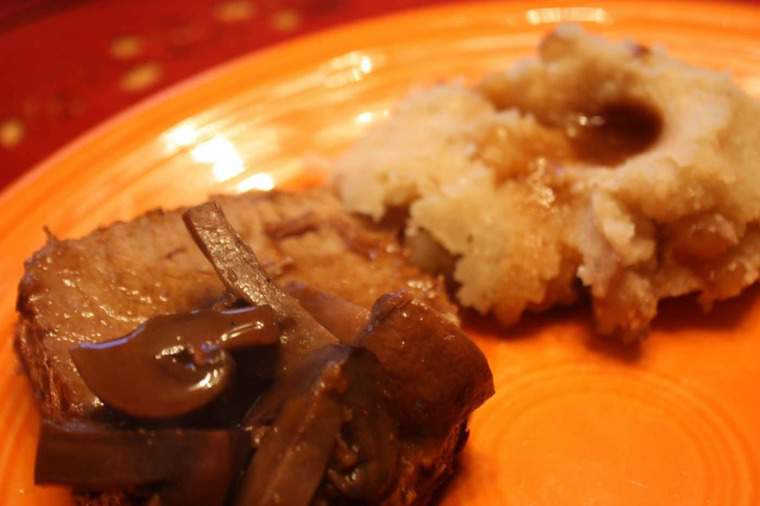 Let's just say they were all quite satisfied, including The Bug.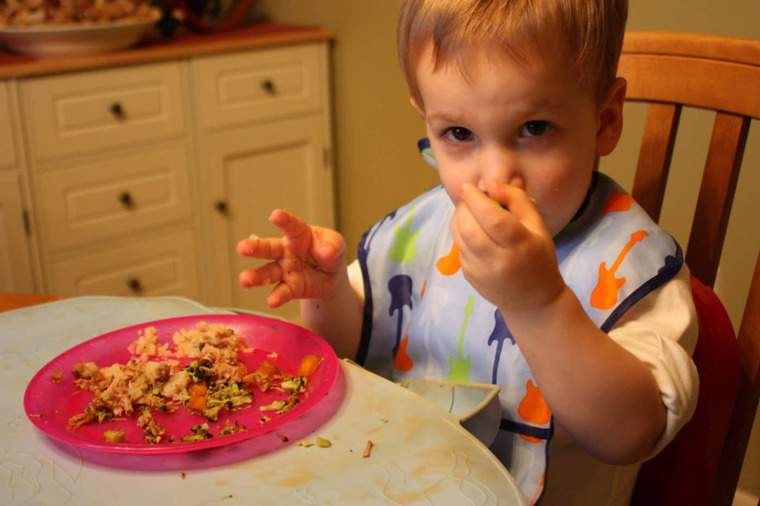 My inspiration came from Giada DeLaurentiis' cookbook "Giada's Family Dinners", and her recipe for Stracoto with Porcini Mushrooms. I have made this recipe several times, and it has always been a hit. But I wanted to change up a few things. Giada braises her roast, and I wanted to make it in the crock pot (I used my 5 quart one). She uses chuck roast, and I happened to have an eye round roast in the freezer (next time I would probably use a chuck or something else with a little more fat, to make it even more tender). Also, her gravy is made from pureeing everything that is left in the pot after removing the meat. I wanted chunks of mushrooms and a little thinner gravy. I also wanted to cook some carrots with the roast because there is nothing like carrots soaked with all of those wonderful beef juices, and they are one of The Bug's favorite veggies. I did sear the meat, like she did, because I love the flavor it gives. But I bet you could just chuck everything into your slow cooker, and it would be delicious. Alternatively, if you don't want to use the crock pot, you can follow Giada's braising instructions.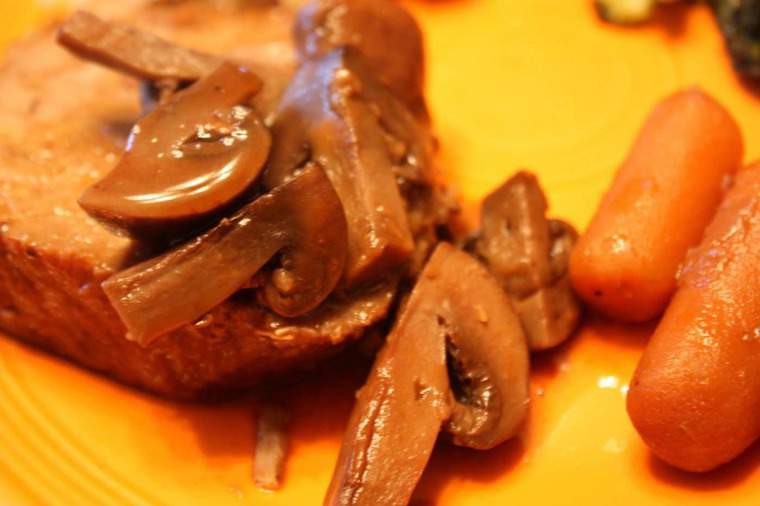 The flavors were perfect, but if I made it again, I would use a bigger piece of meat to have more leftovers (there was plenty of sauce, so no need to increase that). However, I did manage to re-purpose what was leftover for a few lunches. On Monday, The Bug had a repeat plate of what he had for dinner Sunday night, and devoured it just as happily. Then today for lunch, Bill stuffed some of the leftover meat and gravy with some cheese into a pita, and I had a salad topped with the leftover mushrooms (oh, how I love mushrooms), a fried egg, parmesan cheese, and balsamic vinegar. Yum!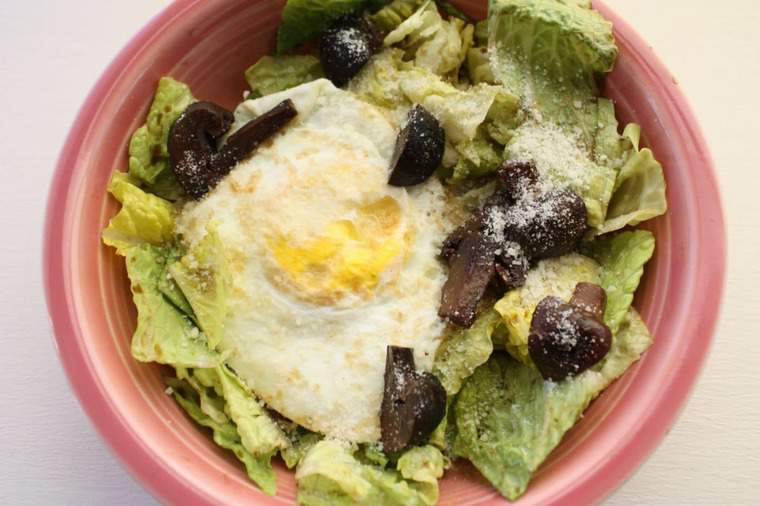 Did you have an Oscars party? What were some of your favorite dresses?
Crockpot Beef Pot Roast with Mushroom Sauce "Sorta-coto" (serves 4, but you can easily use a bigger piece of beef)

Ingredients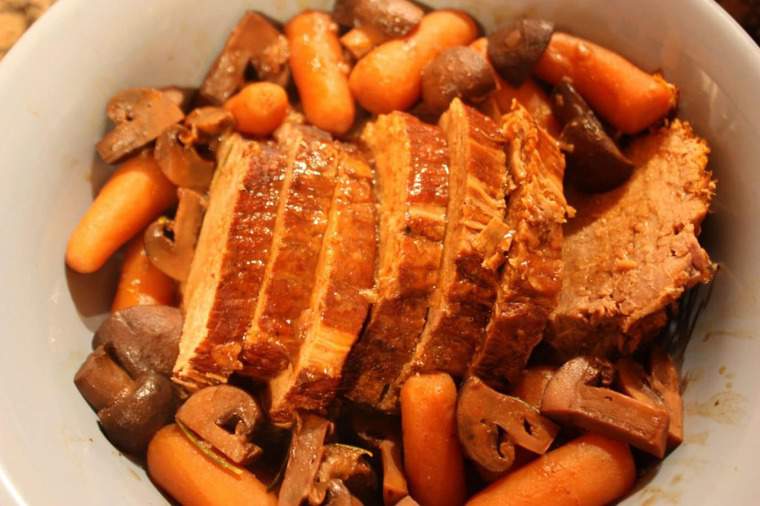 1 (2-pound or bigger) beef eye round roast (or another type of beef roast, such as chuck)
2 T. olive oil
1/4 cup cornstarch
1 t. salt
freshly ground black pepper
1 cup beef broth/stock
1/4 cup balsamic vinegar
2T. tomato paste
1 medium or 1/2 of a large onion, quartered
3 garlic cloves, smashed and peeled
1 cup dry red wine (I used a Merlot)
10 oz. cremini or white button mushrooms, quartered
1 cup baby carrots, or whole carrots, peeled and cut into "fingers"
1 large sprig of fresh rosemary
Directions
1. Heat the olive oil in a pan over medium-high heat.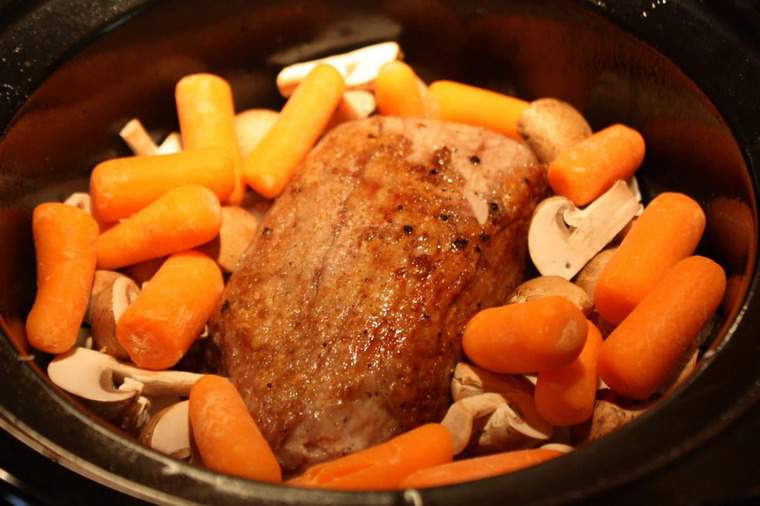 2. Combine the corn starch, salt, and pepper in a shallow dish.
3. Roll the meat around in the cornstarch mixture until it is coated on all sides. Set aside the remaining cornstarch mixture.
4. Sear the meat in the pan for 2-3 minutes on each side, until it is nice and browned.
5. While the meat is searing, add the reserved cornstarch mixture, broth, balsamic vinegar, and tomato paste to the slow cooker, and stir to dissolve.
6. Remove the meat from the pan, and put it in the slow cooker.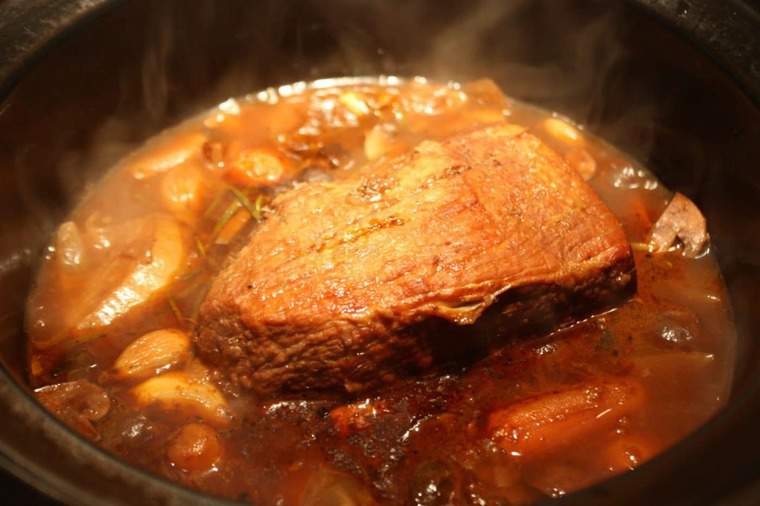 7. Reduce the heat to low and pour the wine into the pan. Scrape up any of the brown bits with a wooden spoon, and pour everything into the crockpot.
8. Arrange the onion, garlic, mushrooms, carrots, and rosemary around the roast.
9. Cook on low for 6-8 hours, or until the meat is cooked through.
10. Remove the meat, carrots, and mushrooms from the slow cooker. Ladle out or strain the liquid from the crockpot, and serve on the side as a gravy.
11. Enjoy!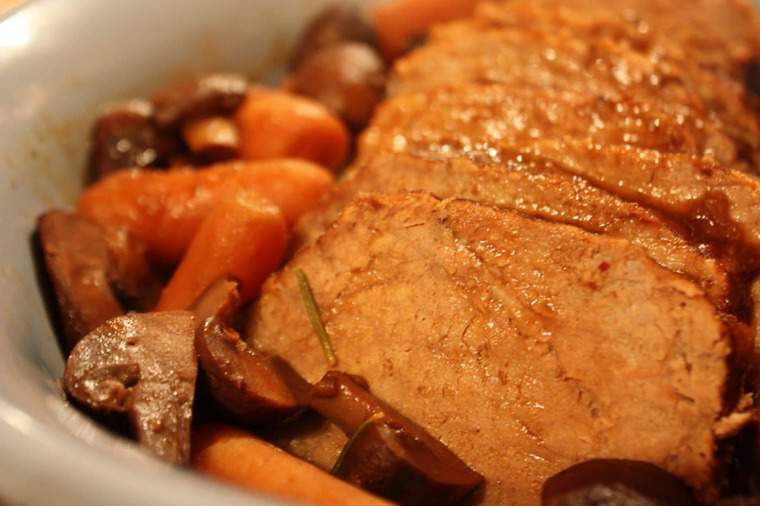 This recipe was shared with:
BSI (Blogger Secret Ingredient) – Beef at My Bizzy Kitchen.
Real Food Wednesday 2/29/12 at Kelly the Kitchen Kop.
Gooseberry Patch Recipe Roundup Share Your Slow-Cooker Recipes!