This post may contain affiliate links. Read my disclosure policy.
Cranberry balsamic ketchup is a homemade condiment that you will love! This homemade ketchup is healthier than bottled, and it tastes delicious, jazzed up with a kick of cranberry flavor.
Ugh! Mondays! Especially the first Monday after the end of a crazy holiday season.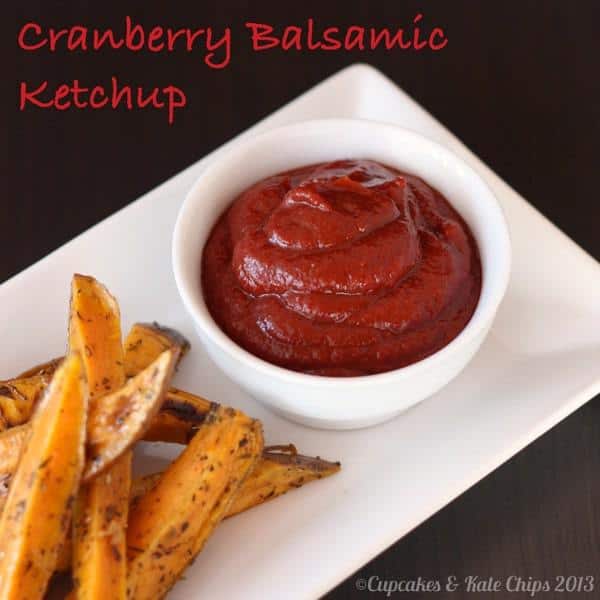 The Bug went to the doctor because I knew he had pinkeye, and come to find out he had a "whopper" (the pediatrician's technical term) of a double ear infection. Fabulous. Then shortly after we get home, I get the dreaded phone call from the OB's office. I failed my one hour glucose test.
But the worst part about it – I missed the cutoff by ONE POINT. 136, versus the threshold of 135. Seriously?! So that means I get to spend over three hours on Friday morning sitting in the doctor's office. I can't eat or drink after midnight. Um, hello, I am pregnant! Then I get to have blood drawn four times and drink what is basically the equivalent of flat, super concentrated orange soda on an empty stomach. Fun times!
The only saving grace is that they have WiFi, and I just got an iPad. So you'll probably be seeing a lot of activity on my Facebook page on Friday. And I am betting all of this will be a big ol' waste of time, because since I am just over the limit, and my test was just a few days after, well, after I made this cake, and after I had been nibbling on these cookies (not gonna mention the ice cream and chocolate chips), odds are I don't actually have gestational diabetes. I just need a post-Christmas detox. I know this happens to tons of women, but it doesn't make it any less annoying.
Yeah, so I know I've had a bit of an obsession with using leftover cranberry sauce. So I apologize, but you are getting another use for leftover cranberry sauce. But maybe you'll find this cranberry balsamic ketchup so interesting that you'll make up a new batch of cranberry sauce or crack open a can to make it. So, really I am not sorry. Because it is yummy.
And because I had such a positive response, both in my own household, and from all of you out there to my Balsamic Ketchup, today I am bringing you Cranberry Balsamic Ketchup.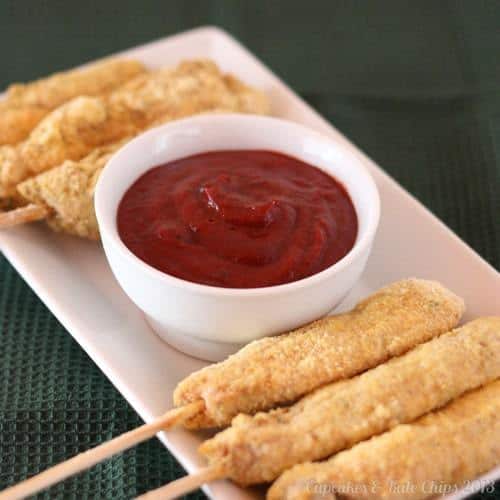 Sweet and sour, great for dipping chicken fingers and oven fries and oven sweet potato fries. Plus, since it is basically just doctored up tomato paste, as with the Balsamic Ketchup, totally counts as a veggie (and actually a touch of fruit, especially if you've made your own cranberry sauce). I also think I am going to try mixing into some burgers, maybe stuffed with some blue cheese or goat cheese. Stay tuned…
One last cranberry based dipping sauce is coming on Thursday. Gotta tell you, with the busyness of the holidays, I've just been cobbling together dinners, not developing recipes and recording them and photographing and everything else, so I am a bit behind. My creativity also went into the cookies, and not so much into everything else I was cooking over the past month or so. But I'll catch up, and you'll get more yummy stuff. And probably not as much sugar…  oops.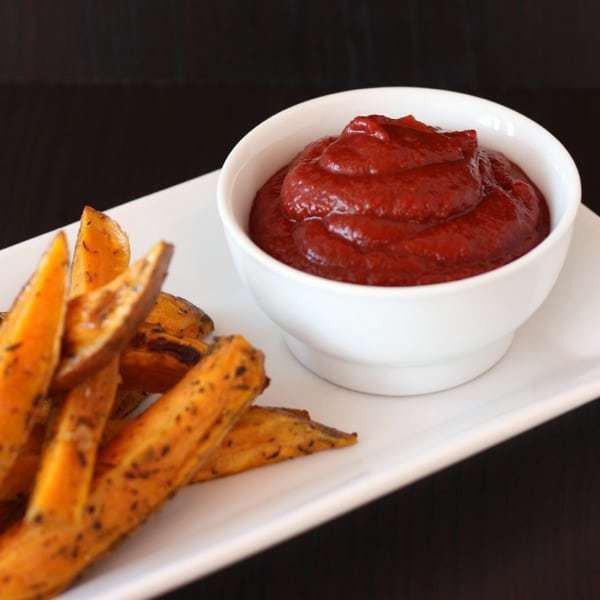 Oh, and if you are eyeing up the chicken tenders in these pics, the recipe will be here soon. The sweet potato fries are awesome, too.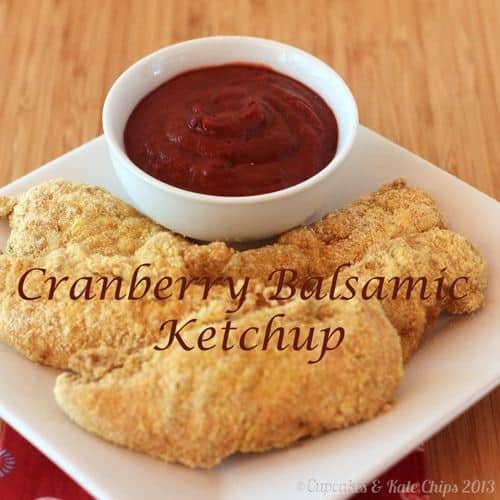 Any good iPad apps that you recommend?
Try this cranberry balsamic ketchup recipe and come back to let me know what you think of it!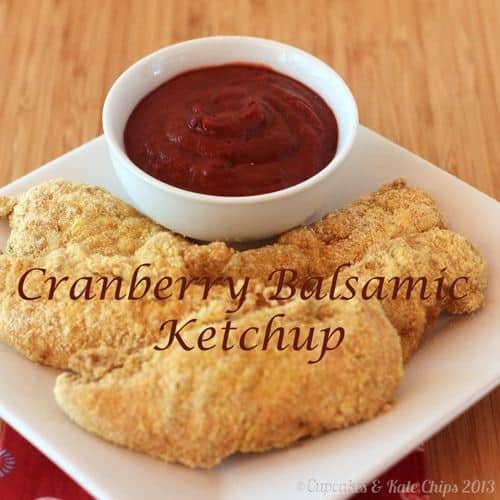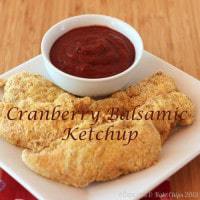 Cranberry Balsamic Ketchup
A sweet and sour homemade ketchup with tons of flavor from the addition of cranberry sauce and balsamic vinegar.
Ingredients
6

oz

can tomato paste

1/4

c

cranberry sauce

1/4

c

balsamic vinegar

1/4

t

kosher salt

1/8

t

freshly ground pepper

1/4

t

paprika
Instructions
Combine all of the ingredients in a bowl and stir until thoroughly mixed.
Nutrition Facts
Cranberry Balsamic Ketchup
Amount Per Serving (1 Tablespoon)
Calories 18
% Daily Value*
Sodium 122mg5%
Potassium 112mg3%
Carbohydrates 4g1%
Vitamin A 180IU4%
Vitamin C 2.4mg3%
Calcium 5mg1%
Iron 0.3mg2%
* Percent Daily Values are based on a 2000 calorie diet.
Categories:
Enjoy!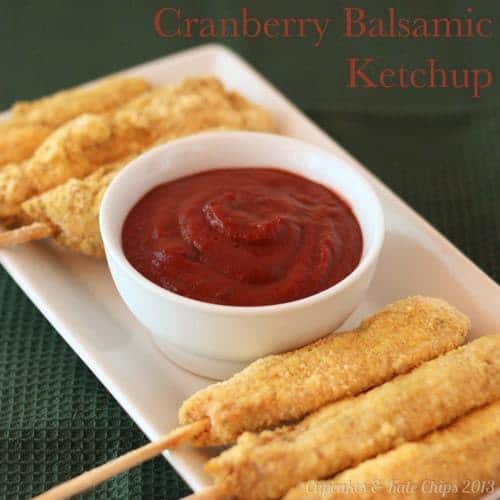 This recipe was shared with: Thursday's Treasures