This post may contain affiliate links. Read my disclosure policy.
The crackled sugary top of these Crackly Gingersnaps make them just a little more fun variation on the classic molasses and spice cookie.
Love a spice cookie? Try Orange Cardamom Cookies or Mexican Hot Chocolate Cookies. You can even make Gluten Free Gingersnaps!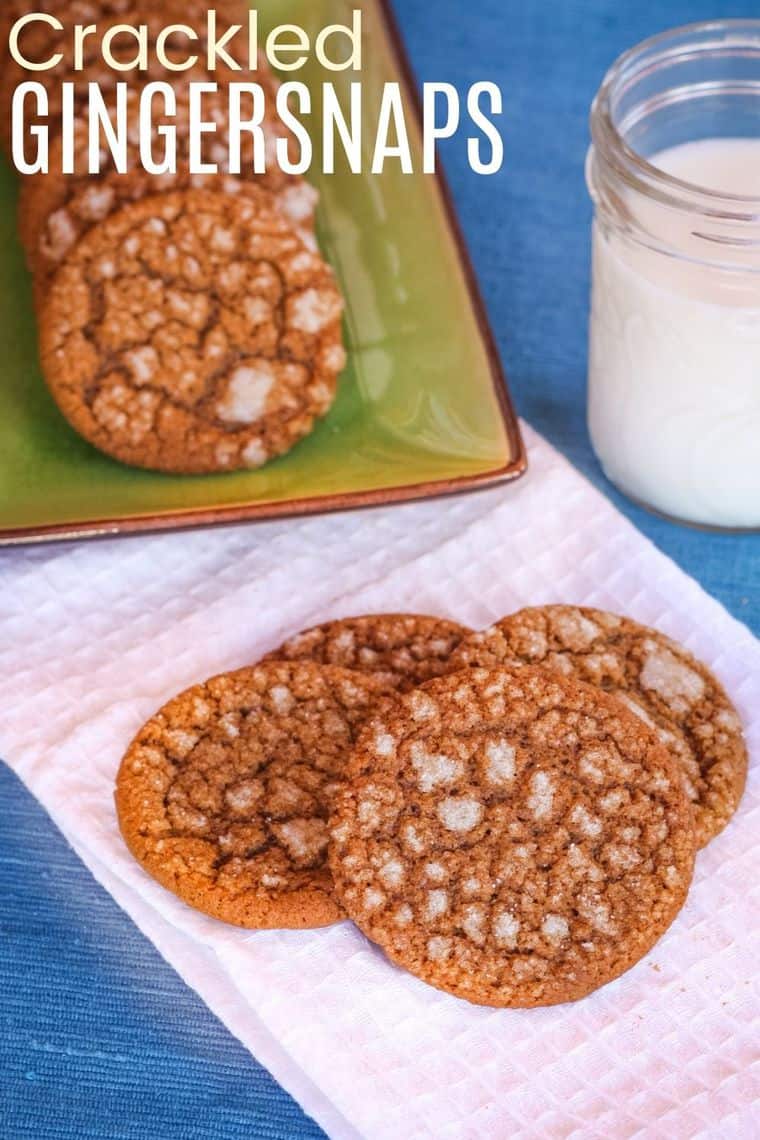 Every year I have a list of cookies I have to make for certain people. Since I love giving cookies to people, and for Christmas Eve cookies are our only dessert, I like to have a variety. So even before I started the blog, I used to pore over my cookbooks to find new recipes to try. Since last year, I've wanted to work on creating a few new recipes of my own. You know who gets shortchanged in this most years?
The Hubby.
You see, practically all of the cookies I make require dipping in chocolate, cooling in cinnamon sugar before baking, double rolling in powdered sugar after baking, filling with jam, decorating, frosting, sprinkling. And the cookie he wants – Gingersnaps – well, nobody but him really eats them, and they also ways have to stay segregated because if you stick them in a container with other cookies, then, well, all the cookies taste like Gingersnaps….
Which nobody likes…
Ain't nobody got time for that.
But this year I made time. In the midst of making 150 pierogies and another 12 dozen cookies and having a cranky baby crawling around my feet. Because The Hubby always makes time. For me. For the boys. For anyone who needs him. He deserves his dang cookie!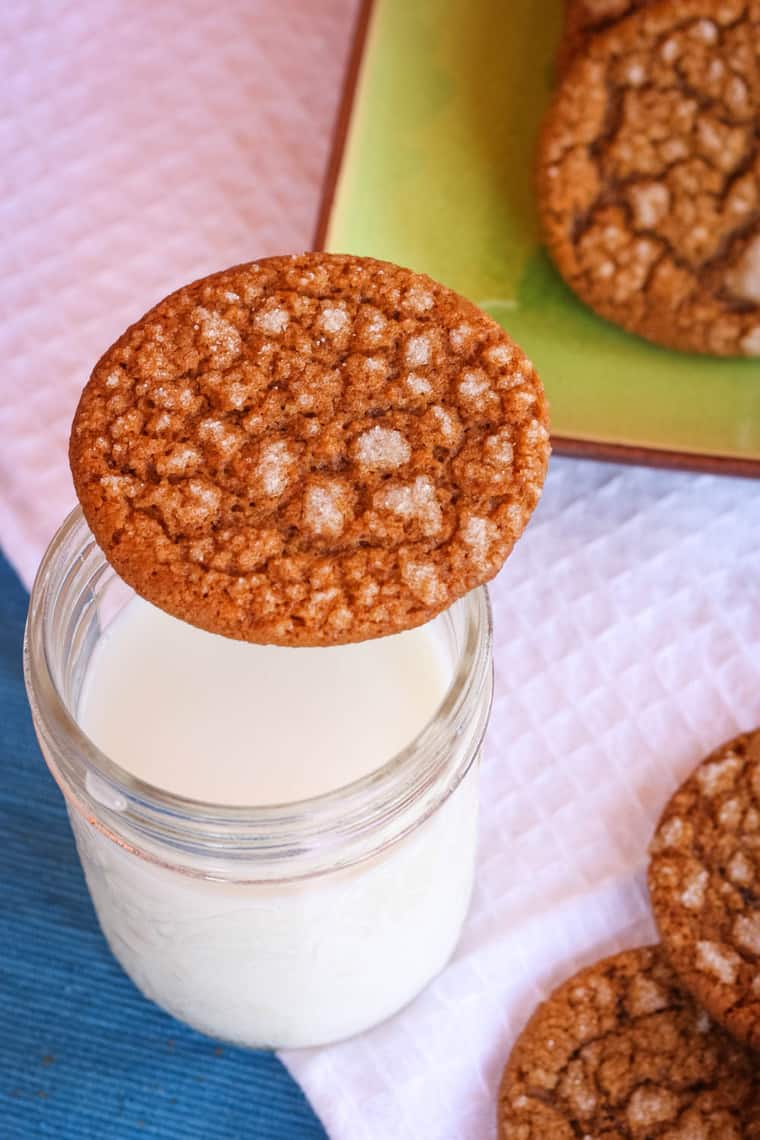 I found this recipe in an old church fundraiser cookbook that The Hubby's mom had lying around her house. When I stumbled across this recipe, I knew it would be perfect for him, and have made it a few times since then.
These Crackly Gingersnaps have all the classic molasses and spice flavor that you would expect. They have that "snap" without being too hard or crunchy, and are slightly yielding in the center (unless you bake them another minute or two – your call). But before you bake them, you roll the top in water and sugar so that as they bake, a crackly sugary topping forms. Almost like frosting without the work of frosting. Actually my local grocery store sells a generic "Iced Gingerbread Cookie", and it kind of reminds me of those, with their thin, sugary icing layer.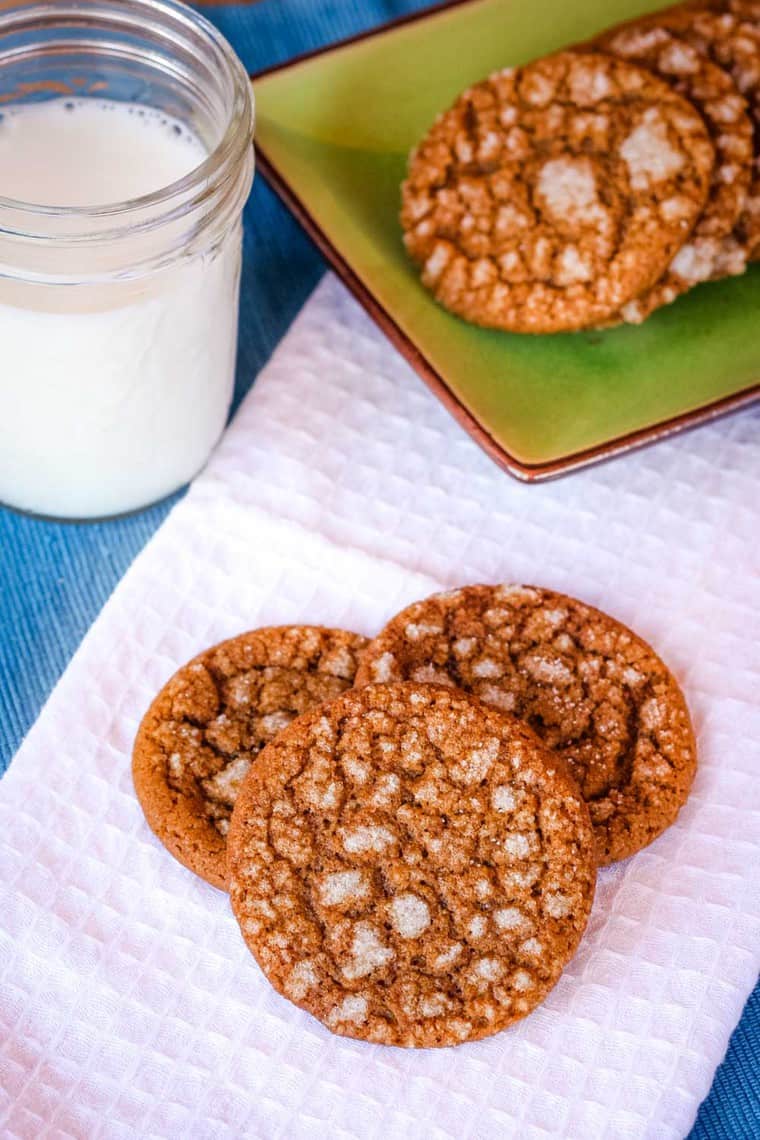 While The Hubby is trying to keep his snacking down during the week, I am sure once Christmas arrives, he will be enjoying these. And since nobody else eats them anyway, I'll keep a tin in the freezer for him to snack on as he wishes.
Do you think this will make up for the fact that he is only getting a couple of things in his stocking this year? 😉  Kidding – that's what we usually do for gifts anyway, so it won't be a shock.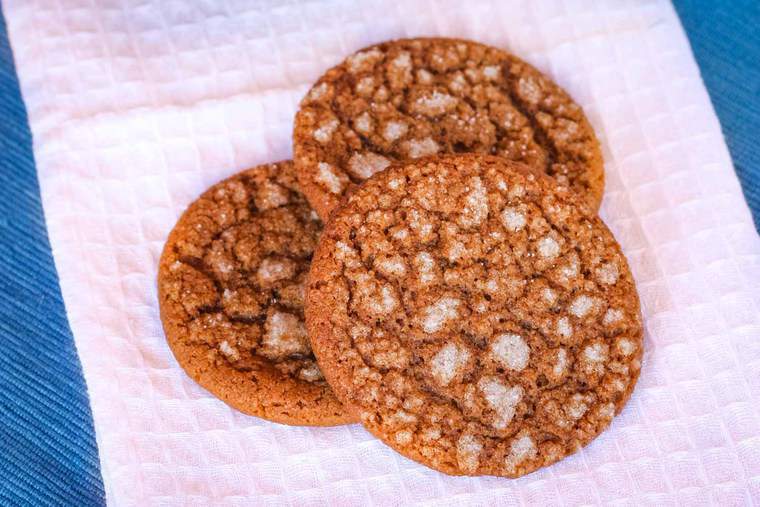 What else makes the cookie platter every year?
Plus a few twists on classics from my friends…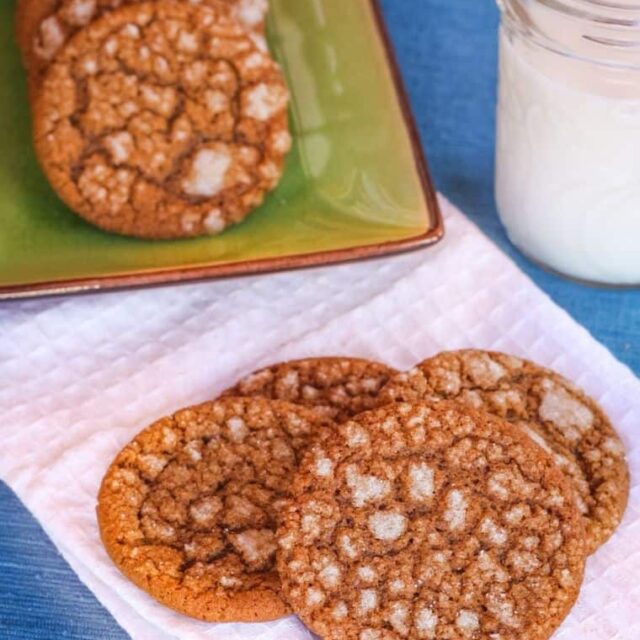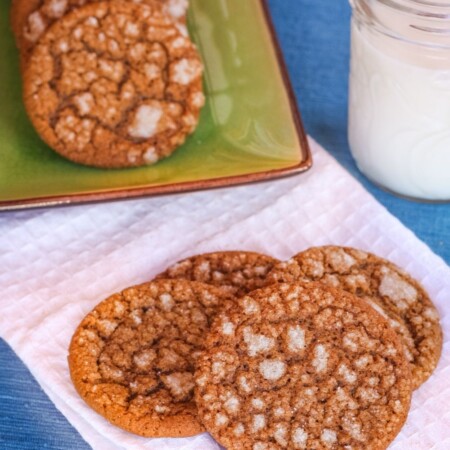 Crackly Gingersnaps
The crackled sugary top of these Crackly Gingersnaps make them just a little more fun variation on the classic molasses and spice cookie.
Servings:
48
cookies (4 dozen)
Ingredients
2 1/4

cups

all-purpose flour

1 1/2

teaspoons

baking soda

1

teaspoon

cinnamon

1

teaspoon

ground ginger

1

teaspoon

ground cloves

1/4

teaspoon

salt

3/4

cup

vegetable shortening

1

cup

brown sugar

1/4

c

dark molasses

1

egg

cold water

1/4

cup

granulated sugar

(approximately)
Instructions
Preheat your oven to 350°F. Line a baking sheet with parchment paper.

In a medium bowl, sift together the flour, baking soda, cinnamon, ginger, cloves, and salt. Set aside.

In a large bowl, using a hand mixer or stand mixer on medium high speed, cream together the shortening and brown sugar.

Add the molasses and egg, and beat thoroughly.

Reduce mixer speed to low, and gradually add the flour mixture until a dough forms.

Cover dough and chill in the refrigerator for about 30 minutes.

Using about 1 tablespoon of dough, roll into balls. Dip the top of each ball quickly in cold water, then in granulated sugar. Place sugar side up on a cookie sheet and tap slightly so that it doesn't roll over.

Bake for 10-12 minutes, or until set, then cool on the sheet for a few minutes before removing to a rack to cool completely.
Nutrition Facts
Crackly Gingersnaps
Amount Per Serving (1 cookie)
Calories 78
Calories from Fat 27
% Daily Value*
Fat 3g5%
Cholesterol 3mg1%
Sodium 50mg2%
Potassium 39mg1%
Carbohydrates 11g4%
Protein 1g2%
Vitamin A 5IU0%
Calcium 9mg1%
Iron 1mg6%
* Percent Daily Values are based on a 2000 calorie diet.
Enjoy!