This post may contain affiliate links. Read my disclosure policy.
This week, I am on vacation with my family in Vermont. I can't wait to tell you all about everything we do, and mainly about what we eat (I am predicting lots of Ben & Jerry's). If you want to keep up with my tasty travels in real time, keep an eye on Instagram and Facebook. But while I am away, I am leaving you in the hands of a few lovely ladies who all have different and delicious recipes to share with you.
Today's guest blogger is Lauren Kelly. What I love about Lauren is that, as a Certified Nutritionist, she is definitely focused on eating well and helping others to eat healthy, real food, and her recipes reflect that. And she lives an active lifestyle, and encourages her friends and fans to do the same. But she is also real, and realistic about the fact that it is nearly impossible to have a "perfect" diet and exercise routine. She'll tell you when she indulges in a cocktail or a glass of wine, eats a little too much, or needs a day off from working out, which makes you feel better when you fall off the wagon – or when life just happens – and helps get you back on track. Her water and workout challenge earlier this month on Facebook helped kick me out of a bit of a rut. Oh, and even better – she lives in New Jersey, like me!!
Besides checking out her blog, you can also find her on Facebook and Twitter. So stop by, and tell her I sent you. And enjoy this delicious and nutritious recipe. I am excited to try it after we get back, either with some brown rice couscous that I recently heard about, or with quinoa. Baby spinach is one dark, leafy green I can get The Hubby to eat, and all three of us love turkey sausage.
**********
Hi my name is Lauren Kelly. I am a Certified Nutritionist who has a passion for nutrition, health, food and wellness. I am a busy mother of 3 little boys and have been happily married for 10 years. I love teaching my family and friends healthy fun tips and how eating whole, unprocessed foods benefit your mind and body.
How about a healthy, easy one-dish meal? You came to the right place 🙂 All three of my kids ate this (well my two year old ate MOST of it). It is packed with flavor, vegetables, fiber and protein. Oh and it's super colorful and pretty too!
See I told you it was pretty!!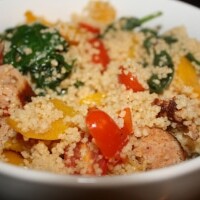 Couscous with Baby Spinach, Yellow Peppers, Cherry Tomatoes and Grilled Turkey Sausage - A Guest Post from Lauren Kelly, Certified Nutritionist
Ingredients
1/3

cup

couscous

I used whole wheat

1

package turkey sausage

2

cups

of organic baby spinach

1/2

pint

organic cherry tomatoes

sliced in half

1

organic yellow pepper

cut in 1 inch cubes

1/4

cup

vegetable broth

2

garlic cloves

chopped

1/4

tsp

grapeseed oil

1/2

tsp

sea salt

pepper to taste

1/2

tsp

oregano

fresh basil

torn (use as much depending on your taste)
Instructions
Cook couscous according to instructions. I always omit butter or oil if it calls for it and use just plain water.

Grill sausage in a grill pan or on the grill.

In a saucepan place oil and garlic and saute on medium heat for 1-2 minutes until garlic softens. Add spinach, peppers and tomatoes and cook for 3-4 minutes until vegetables are tender. Add vegetable broth salt, pepper, basil and oregano and move to low heat and let simmer for a few more minutes.

Once sausage and couscous are finished. combine all together. Top with shaved parmesan if desired.
Enjoy!