This post may contain affiliate links. Read my disclosure policy.
The sweet, warm aromas of butter and spices will have your kids jumping out of bed and running to the kitchen for breakfast, then after one bite they won't be able to resist these Cookie Butter French Toast Roll-Ups with Maple Greek Yogurt Dipping Sauce.
Cookie Butter French Toast Roll-Ups with Maple Greek Yogurt Dipping Sauce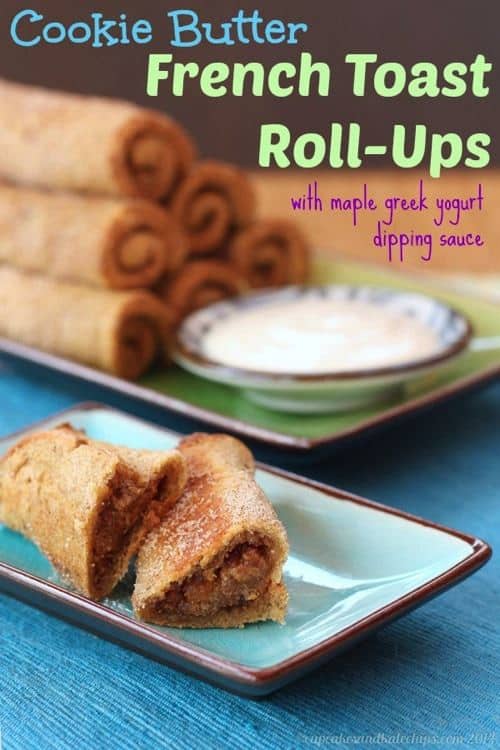 You know what seems to be my bread and butter – just squeaking out my blog posts the day before they are planned or due. This is not a good situation. I am not a procrastinator – I'm just busy, and as much as I always want to get ahead, I never seem to. Oh well, someday. You know, when my kids are, like, 18 and 21.
So here I sit, the night before the Improv Challenge, sick as a dog, waiting for my Ibuprofen to kick in, trying to find something to write about. Well guess what. I'm gonna write about feeling achy and feverish, and all I wanna do is whine whine whine about how I've gotta write this post before I go to bed. But I just can't miss an Improv Challenge, especially when I've have the recipe ready for weeks.
So here you go. My worst blog post ever.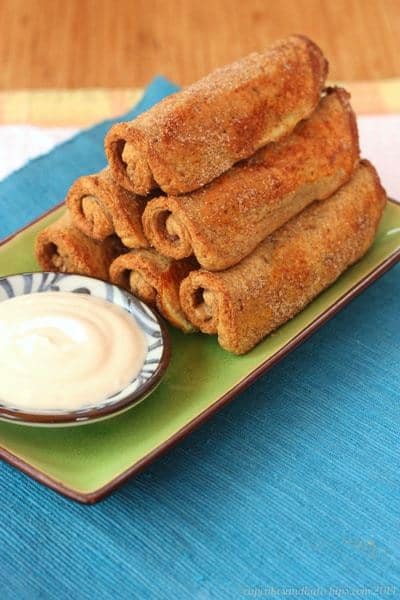 But definitely not my worst recipe ever, which is why it had to get done.
I'll be honest with you, I didn't try these (dang wheat allergy, because boy oh boy do I wish I could eat more Cookie Butter, Speculoos, Biscoff Spread, whatever you want to call it), but with the way The Bug devoured these Cookie Butter French Toast Roll-Ups, and how The Hubby raved, I knew that they had to be shared with you. I could barely get the little guy to stop eating them. Maybe it was because he helped me make them, but I think it is really just because they are delicious!
I thought of just letting them dip the roll-ups in maple syrup, but I decided to mix up a little Greek yogurt with the syrup. The Hubby said this was perfect because the Greek yogurt cut some of the sweetness of the maple syrup and gave it a nice creaminess, making it balance nicely against the crisp cookie butter filled french toast.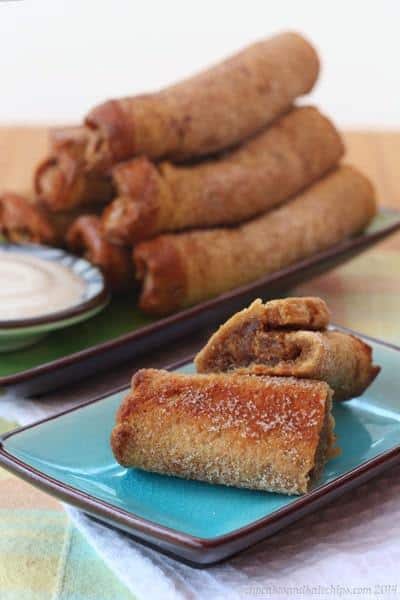 This recipe is based on these Apple Butter French Toast Roll Ups from Carla of Chocolate Moosey. I saw her recipe and knew I had that jar of cookie butter calling my name, and I knew the spices would just be perfect. She used 16 slices of bread. I used 8, but definitely go ahead and double this – they reheat well, and I think you could probably even freeze them successfully to have a quick and easy special breakfast.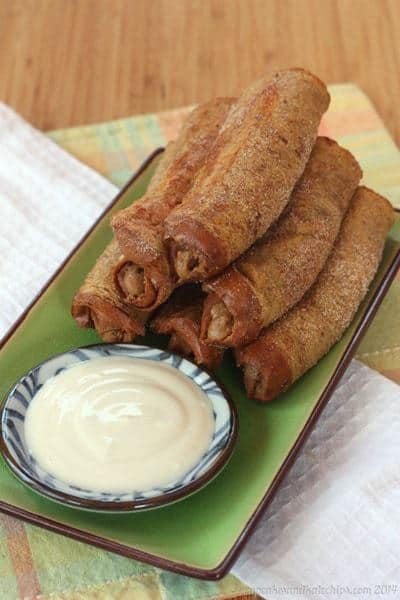 Are you a procrastinator?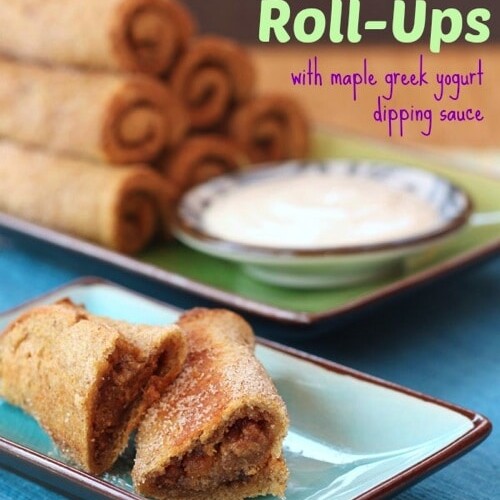 Cookie Butter French Toast Roll-Ups
Warm, buttery aromas will have your kids running to the breakfast table for Cookie Butter French Toast Roll-Ups with Maple Greek Yogurt Dipping Sauce.
Ingredients
For the French Toast Roll-Ups:
For the Maple Greek Yogurt Dipping Sauce
1/2

cup

plain Greek yogurt

2

tablespoons

real maple syrup
Instructions
For the French Toast Roll-Ups:
Preheat oven to 375°F and line a baking sheet with a silicone mat or parchment paper.

Using a rolling pin, flatten each slice of bread. Evenly spread about 1 Tbsp cookie butter on top of each slice of bread, and roll up tightly, setting seam side down.

In a shallow bowl, beat together the egg, milk, and 1/8 tsp cinnamon.

Dip each roll up into the egg mixture to coat completely, sake off the excess, and place seam side down on the prepared baking sheet.

Bake for 10 minutes, remove from the oven, and brush the top of each roll-up with melted butter. Flip the roll-ups and brush the other side with butter.

Return the pan to the oven and bake for another 10 minutes.

While the roll-ups finish baking, in a small bowl, combine the sugar and remaining 1/4 tsp cinnamon.

Immediately after taking the roll-ups out of the oven, roll each one in the cinnamon sugar mixture.

Serve with Maple Greek Yogurt Dipping Sauce or maple syrup.
For the Maple Greek Yogurt Dipping Sauce
Combine ingredients in a small bowl and stir to combine.
Nutrition Facts
Cookie Butter French Toast Roll-Ups
Amount Per Serving
Calories 419
Calories from Fat 162
% Daily Value*
Fat 18g28%
Cholesterol 51mg17%
Sodium 306mg13%
Potassium 190mg5%
Carbohydrates 50g17%
Protein 13g26%
Vitamin A 173IU3%
Vitamin C 0.02mg0%
Calcium 153mg15%
Iron 2mg11%
* Percent Daily Values are based on a 2000 calorie diet.
Categories:
Enjoy!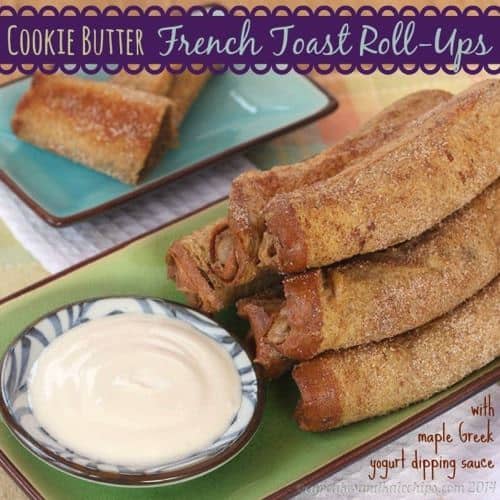 Need some more tasty breakfast ideas?
Chocolate Chip Pumpkin Cheesecake Pastries
Plus a few from my friends…