This post may contain affiliate links. Read my disclosure policy.
So my kid outed me and my secrets, telling you about these amazing cupcakes that I was sneaking during nap time. But what's wrong with two cupcakes a cupcake in the middle of the day?! Especially when it has no flour, and is made with super-healthy things like black beans and coconut oil.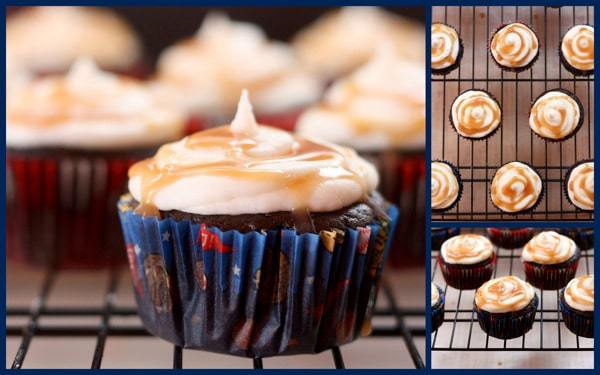 I knew I was making cupcakes for The Bug's birthday party, and I knew I wouldn't be able to eat them, since I am trying my hardest to stick with the gluten-free thing for awhile. So I wanted to make some cupcakes that I could eat, too. Bad idea, since I think I ate six of them over the course of several days. But I did share some at the mom's group at my church.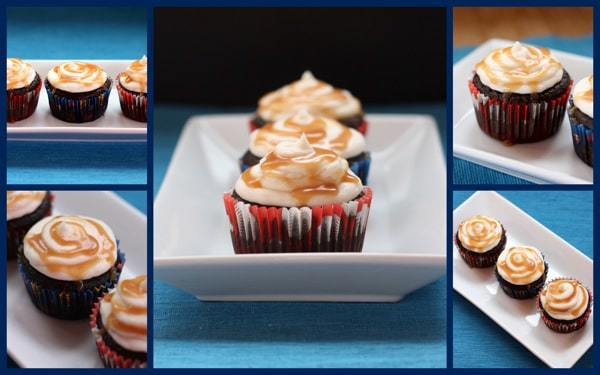 I made Coconut Creme Kisses Cupcakes a while back, based on these from Chocolate & Carrots, and they were so good that I had to come up with a new variation. I had just made a version of these Salted Caramel Chocolate Chip Cookie Bars from Pink Parsley (which I will post for you) and had some extra salted caramel, which I thought would be amazing with these chocolate cupcakes. I also upped the ratio of coconut oil to butter in the frosting to make them more coconutty. But I will give you a little tip. My cousin made the Coconut Creme Kisses Cupcakes and didn't want to make frosting from scratch, so she just added a little coconut extract to a container of store-bought vanilla frosting. So that would work great here, too. And you could also probably just add a little sea salt to some caramel topping from a jar, if you really want to make this even easier.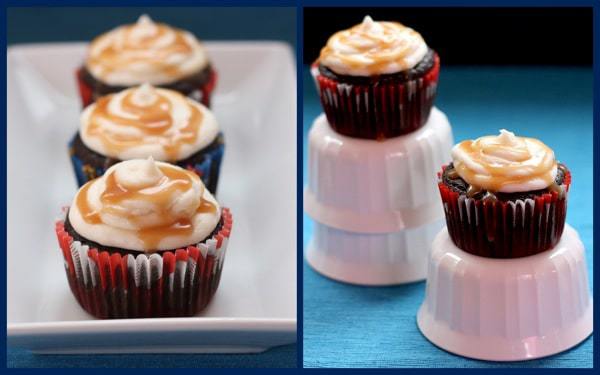 Oh my goodness! These were so good!!
I can't wait to keep experimenting with these black bean cupcakes (peanut butter anyone?), and I am also thinking of trying some other kids of beans to see how that goes. Hmm, kidney bean red velvet? Or white chocolate chickpea blondies? Oh, the possibilities!
Have you sneaked any treats lately? Do your kids ever blow your cover, and reveal things that you didn't want anyone to know?
Coconut Salted Caramel Chocolate Cupcakes
Ingredients
1

15.5 oz can of reduced sodium black beans, drained and rinsed

4

eggs

1

T

vanilla extract

5

T

coconut oil

or unsalted butter (softened)

3/4

c

brown sugar

5

T

cocoa powder

I used Hershey's

1

t

baking powder

1/2

t

baking soda

Salted Caramel

see link below

Vanilla Coconut Frosting

see note below
Instructions
Line muffin tins with cupcake liners, and preheat your oven to 350°F.

Combine the first five ingredients (through brown sugar) in your blender, and blend until smooth.

Add the cocoa powder, baking powder, and baking soda, and blend until combined.

Divide batter between the muffin cups.

Bake for 20-25 minutes, or until cake tester comes out clean.

Cool in pan for a few minutes, then remove and cool completely on a rack.

Cut a small hole into the top of the cupcake (I used the back of a decorating tip for piping frosting).

Pour 1-2 t of Salted Caramel into the hole on the top of each cupcake, letting it soak in as you fill it.

Frost with the Vanilla Coconut Frosting and drizzle with more Salted Caramel.
Notes
To make the Vanilla Coconut Frosting, using an electric mixer on medium to high speed, beat the 1/4 c (half a stick) butter and 1/2 c coconut oil until creamy (you can use more or all butter, if you like, but then you may want to add some coconut extract if you want that coconut flavor). Reduce the speed to low, add 2 c confectioners sugar that has been sifted, and beat until combined. Add 1 t vanilla, increase speed to high, and beat until creamy and fluffy.
You can get Pink Parsley's Salted Caramel recipe HERE.
Enjoy!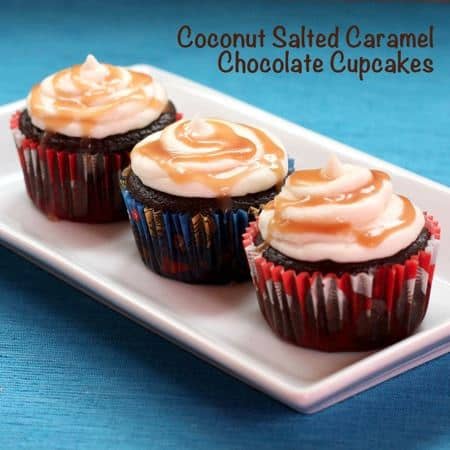 This recipe was shared with:

Family Fresh Meals Recipe of the Week: Anything Goes!!!!
Live Laugh Rowe live laugh {linky} #9
Countertop Confections' What's Cookin Thursday's
Recipes for My Boys' Thursday's Treasures
Amee's Savory Dish Fit and Fabulous Fridays #31
Katherine Martinelli's Bean Blog Hop