This post may contain affiliate links. Read my disclosure policy.
Black bean taco salads are a quick and easy gluten free dinner option any night of the week. The Mexican flavors makes it a great dish for taco Tuesday, or of course, a Mexican food holiday!
Happy Cinco de Mayo! Well, I was supposed to be posting a recipe today for the Holiday Recipe Club. But, I got a late start on the assignment, and the recipe I made, while pretty good, was not quite where I want it to be to share with you. But I still felt like I had to celebrate Cinco de Mayo with some yummy gluten free Cinco de Mayo food. So I remixed an old recipe. Hmm, maybe this counts for Holiday Recipe Club. It does have salsa, which is made from tomatoes!
I've mentioned before how much my family loves this Black Bean & Mango Taco recipe from my friend, Michelle, at Find Your Balance. I twist up Michelle's recipe a bunch of different ways, like in this Mexican Pineapple Black Bean Stuffed Sweet Potato. Wednesday night is usually salad night in our house, so I thought this Mexican Black Bean mixture would make an excellent and healthy taco salad.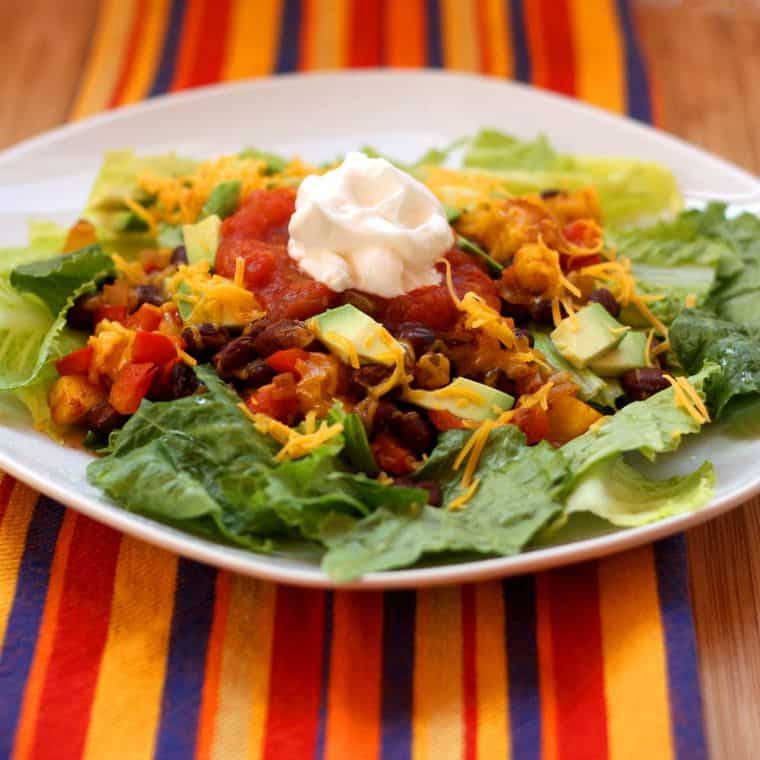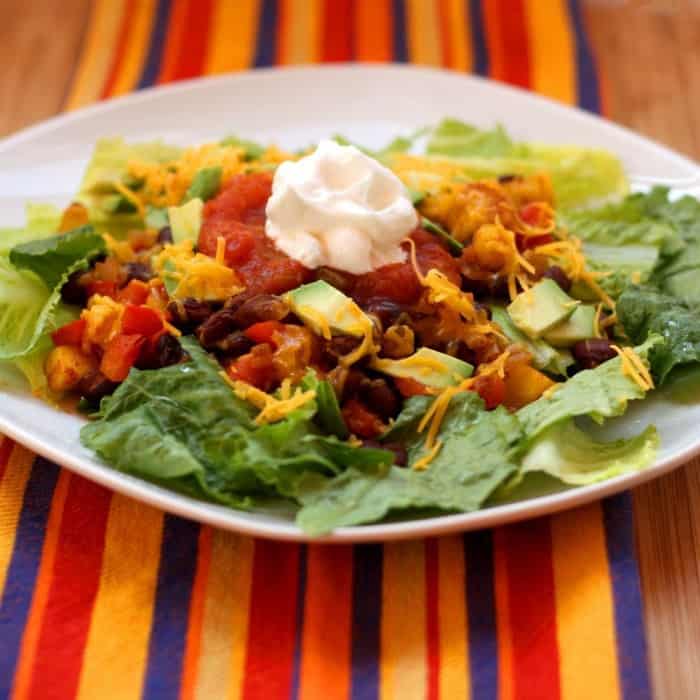 So I am not exactly giving you a new recipe, but making black bean taco salads is easy!
All you have to do is make up the black bean filling from this recipe. This time, I decided to add a little mango to the pineapple. I scooped it on to some chopped lettuce, squirted on a little lime juice and olive oil as a dressing, and topped with with chopped avocado, salsa, cheese, and my favorite sour cream substitute, Chobani Greek yogurt.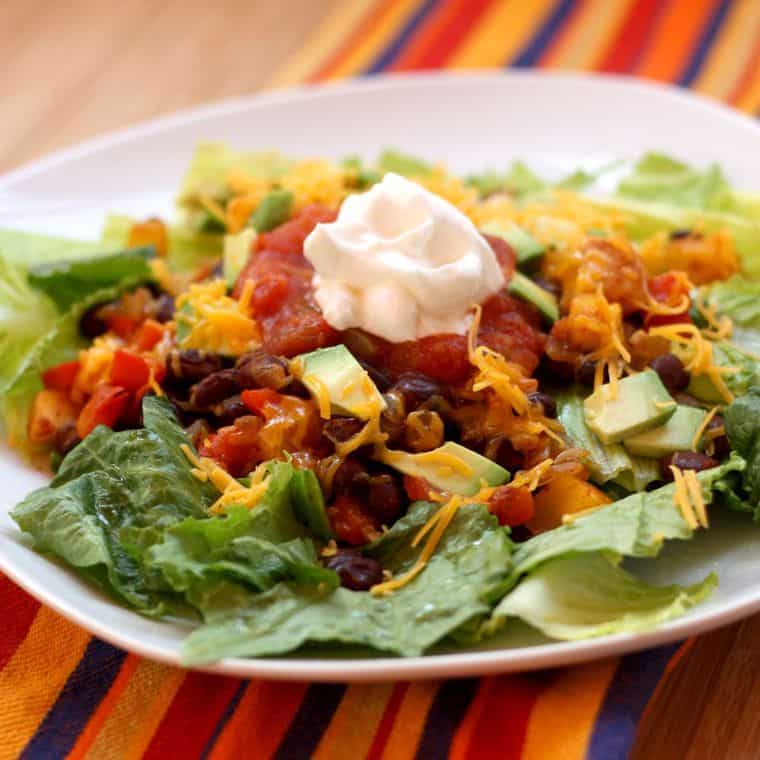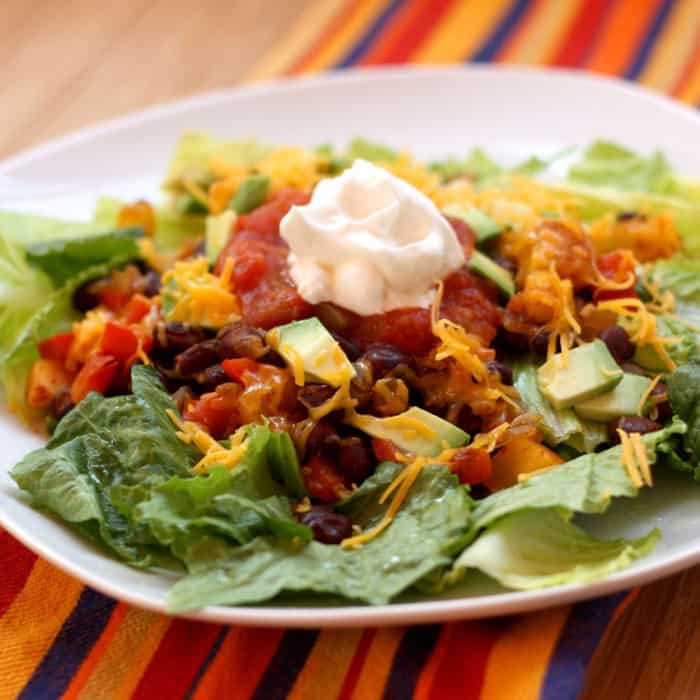 Ole!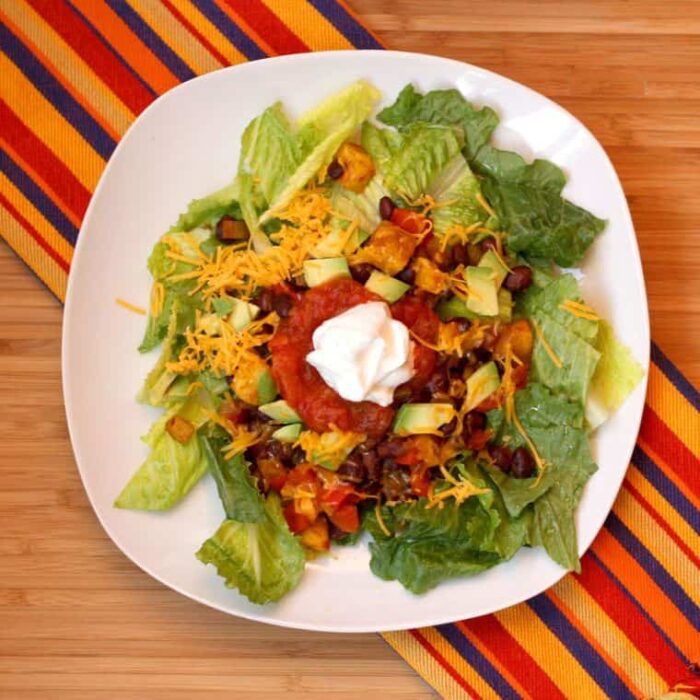 Now it is time to fiesta for The Bug's birthday!!
This black bean taco salads recipe was shared with:
Amee's Savory Dish Fit and Fabulous Fridays #31
Katherine Martinelli's Bean Blog Hop
Tastefully Julie's