This post may contain affiliate links. Read my disclosure policy.
Chocolate chip pumpkin cheesecake pastries have a pumpkin cheesecake filling, are sprinkled with mini chocolate chips, and drizzled with powdered sugar glaze. You know your mouth is watering for one of these Chocolate Chip Pumpkin Cheesecake Pastries. They're one of the best gluten-free pumpkin recipes for fall!
Thanks to Pillsbury, who provided me with a free sample of their prepared Gluten Free Pie & Pastry Dough, to use for recipe development purposes. No further compensation was received.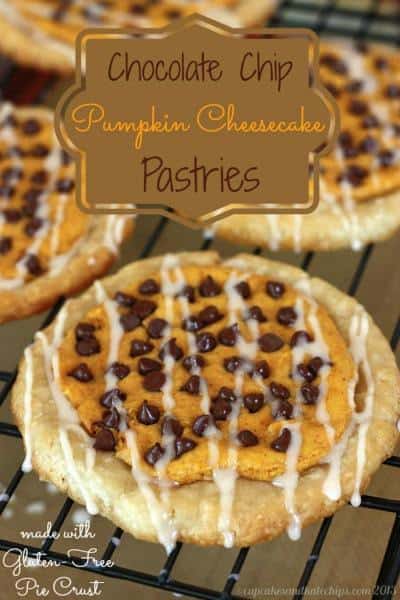 There are affiliate links in this post, meaning that the cost to you is the same, but if you click and make a purchase, I will receive a few pennies. I use the money to help maintain this website and to bring you new recipes!
The other day I gave you a lesson in little kid sleep math (and made some insanely delicious Chocolate Chip Cookie Cups with Browned Butter Pumpkin Spice Frosting…  oh yes. Yes, I did). Today I'm gonna tell you about their concept of time…  which is completely nonexistent.
The Bug talks about when we went to Grandma & Grandpa's to go to the beach…  yesterday.
"Mommy, can I have one of those pumpkin things you made yesterday?" They were gone three weeks ago.
"Mommy, I'm a big boy, I don't nap anymore." "That's fine, but you have to lay down on the couch and rest for 30 minutes." "OK, I'll count. 1, 2, 3, 4, 5, 6, 7, 8, 9, 10, 11, 12, 13, 14, 16, 18, 19…" (no, 15 and 17 don't exist in his world). Buddy, you are pretty smart and all, but I don't think you have learned to count to 1800 yet.
"It's bedtime." "OK, but I am only going to sleep for 10 minutes." Yeah, right, Mr. I Don't Nap Anymore.
Then he was telling me that Halloween and his birthday are coming up soon. Umm, dude, your birthday is in May. First we have to get through Halloween, Thanksgiving, Christmas, New Year's Valentine's Day, St. Patrick's Day, Baby Brudder's birthday…
Kids! It's really quite amusing though.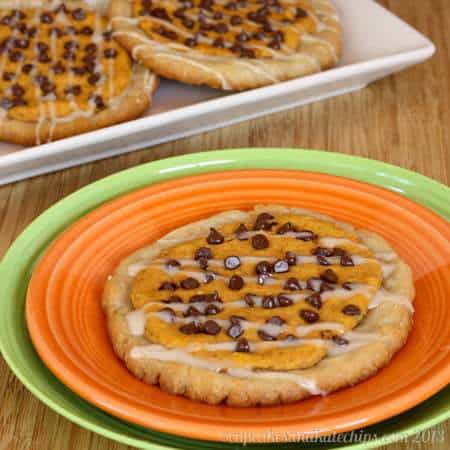 A correct concept of time doesn't exist in blogland either. All those holiday's I just mentioned – if you are really on-the-ball, which I am not, you are making your recipes for them two months in advance. I know some dessert bloggers who give out Valentine's Day candy for Christmas gifts. I am actually going to be baking Chirstmas cookies over the next couple of weeks. Luckily they freeze well.
Then for all of you who read food blogs, you see us post on Instagram or Facebook photos of things we are working on, and you are demanding the recipe right away. I am flattered, truly I am. But I am also slow. I've gotta photograph and edit and write…  and take care of those two kids who also don't get the concept of "Mommy is working on something and she will be there in five minutes." Three seconds later…  "Has it been five minutes, Mommy?" Yeah, my days of "just in time" blogging are over.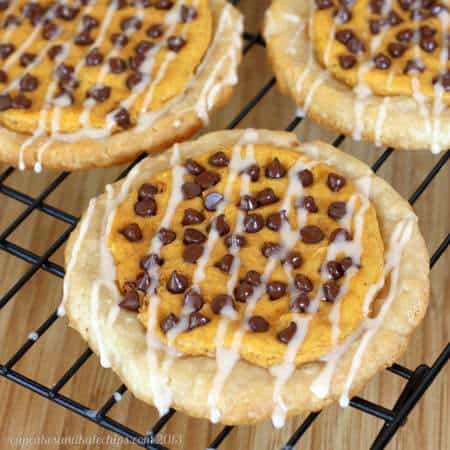 So, chocolate chip pumpkin cheesecake pastries is one of those recipes you've clamored for. And trust me, you want to make it NOW. First of all, I am crust-impaired. I just don't get it right ever. And I happen to love Pillsbury's pie crusts. But because of my ineptitude, I have been scared to death to even attempt gluten. Luckily Pillsbury came out with their Gluten-Free line to give me another crutch option. Let me tell you, this dough bakes up light and flaky. You'd never know it was gluten free. In fact, I have a recipe for a quiche that I'll be sharing, and The Hubby liked the gluten free one better!
But if you make awesome pie or pastry dough (gluten free or not), or you love the regular Pillsbury pie dough, like me, I don't see why you can't use the amount of dough for a single crust, divide it into four pieces, and then follow the rest of the recipe. So don't let the "gluten free" part of this freak you out. Just make the filling.
Seriously…  MAKE.THE.FILLING.
The simple pumpkin cheesecake filling is from the lovely Jocelyn at Inside Bru Crew Life, and her amazing Pumpkin Nutella Cheesecake Danish. Now I am sure the Nutella is amazing, and I was going to make an exact gluten free replica of those, but I was kind of feeling the chocolate chips that morning when I was whipping these up. Well, it's rare that I am ever NOT feeling chocolate chips, but I just thought they would look adorable…  and they totally do.
And they taste incredible! I love the little bursts of chocolate as you are sinking your teeth into the flaky pastry and creamy filling. I mentioned the other day how I am a fairly recent chocolate and pumpkin convert.
If you haven't been draw over to the dark side yet, try these chocolate chip pumpkin cheesecake pastries. You'll hate love me.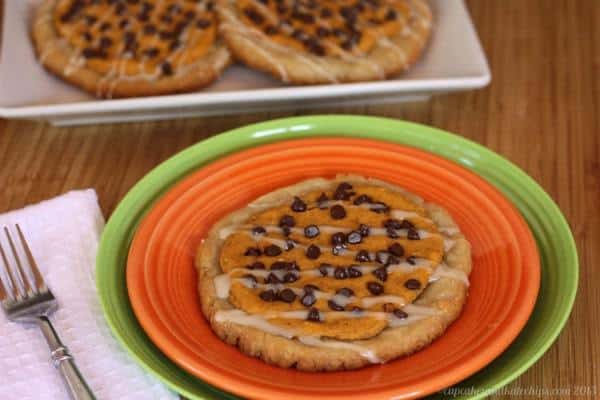 How far in advance do you start preparing for holidays?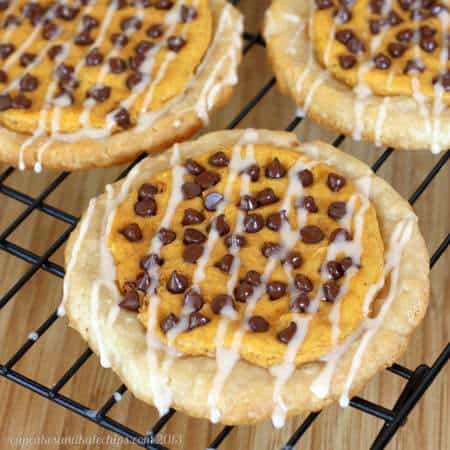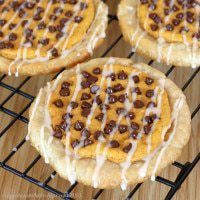 Chocolate Chip Pumpkin Cheesecake Pastries
Flaky pastries (made with gluten free dough, if you like), with pumpkin cheesecake filling, mini chocolate chips, and powdered sugar drizzle.
Ingredients
For the pastries:
Half of a container of Pillsbury Gluten Free Pie and Pastry Dough

or your favorite homemade or store-bought pie dough for a single crust

4

oz.

cream cheese

softened (can use light)

2

T

sugar

1/4

c

pumpkin puree

1/2

t

pumpkin pie spice

2

T

mini chocolate chips
For the Powdered Sugar Drizzle:
Instructions
Preheat oven to 425°F, and line a baking sheet with a Silpat or parchment paper.

Separate the pie or pastry dough into four equal pieces, and, on the prepared baking sheet, flatten into four circles, about 4-5 in. in diameter, about 1/4 in. thick, forming a small lip around the edge.

In a small bowl, blend together the cream cheese, sugar, pumpkin, and pumpkin pie spice until smooth and creamy.

Divide the cream cheese mixture between the four pastries, and spread to about 1/2 in. of the edges.

Sprinkle 1/2 T mini chocolate chips on each of the pastries.

Bake for 14-17 minutes, or until crust is lightly brown.

Remove to a wire cooling rack to cool.

Meanwhile, stir together the ingredients for the Powdered Sugar Drizzle, and drizzle over the pastries.

Store in the refrigerator.
Disclaimer:  Pillsbury provided me with a sample of Gluten Free Pie & Pastry Dough. As always, all opinions are my own.
Enjoy!
Still want more pumpkin for breakfast?
Pumpkin Maple Spice Granola Bars
And here are some from my friends…