This post may contain affiliate links. Read my disclosure policy.
#RecipeRedux almost didn't happen for me this month. Things have been busy, we have been in and out so much that we are eating out a little more often, and when I do cook at home, it has most often been something quick and easy, and old favorite, not a new recipe that I am going to take the time to style, photograph, and write up.
But then I realized that this is what July's theme is all about. We are beating the summer heat with "No cook meals." And while it is great to use fresh, local produce at its peak, and even better to not have to heat up your kitchen, summer eating is really about getting in and out of the kitchen fast so that you can enjoy the weather and fun activities with your family and friends that you may not get to do at other times of the year.
So while this is not super-creative, it is a prime example of something that I make for myself for lunch almost everyday, especially in the summer, and especially since The Bug was born. Some greens, some fruit, some cheese, a little balsamic vinegar and olive oil, and in a couple of minutes I have thrown together something light and refreshing, but still nutritious. And depending on how hungry I am and what is around, I can always throw on some chopped nuts, leftover chicken or steak, some beans or chickpeas, whatever. No cooking required, or, in the case of the meat, the cooking has already been done. And really, you can swap in any fruit or cheese or vinegar or oil you have on hand. So what I am giving you here is really an idea, a concept, and you can make of it what you wish.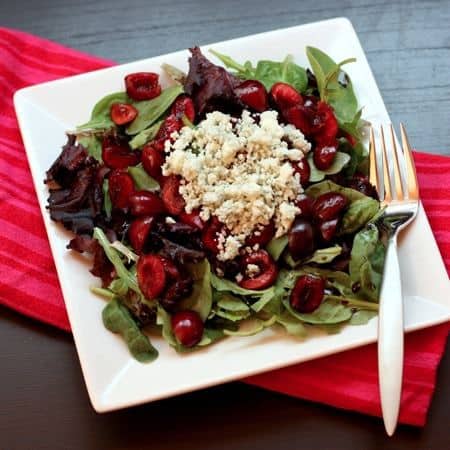 I love cherries, and think they taste amazingly good with cheese and balsamic. However, until I received this Cherry & Olive Pitter from the awesome folks at OXO, I was more likely to just eat a bowl of cherries and spit out the pits, since pitting and chopping them for a salad is a total pain. But now, cherries are showing up on my salad several times a week.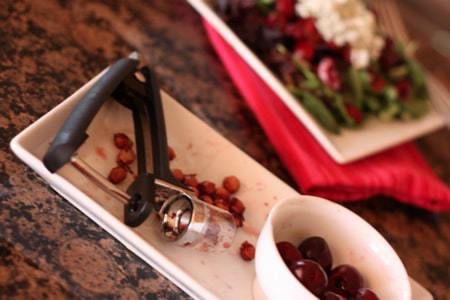 This amazing little gadget made quick work of that bowl of cherries. I totally love it – a game-changer, and now I want to keep making more and more recipes with fresh cherries. I want them to stay on sale for $1.99/lb forever! And just as a disclaimer, OXO provided the Cherry & Olive Pitter to me at no cost for evaluation and recipe development. All opinions are my own.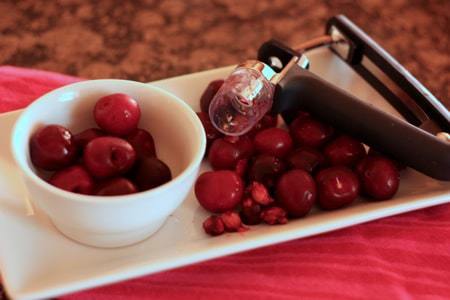 As a reminder, Just as a reminder, the Recipe Redux is a recipe challenge and blog hop started by registered dietitians, with a focus on DELICIOUS and nutritional foods. Yes, eating healthy can be tasty! And that is what all of the participants are here to show you. Each month there is a theme, and we all post our takes on the theme on the 21st of each month. Make sure you check out all of the other no-cook summer recipes at the bottom of this post to help you Beat the Heat and get out of the kitchen fast.
What is your go-to lunch in the summer?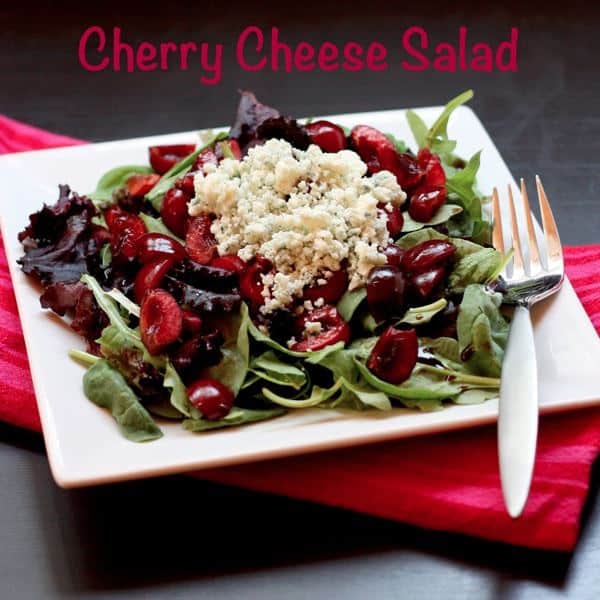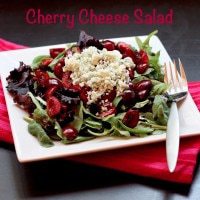 Cherry (or Berry or Peach or…) & Blue (or Feta or Goat or…) Cheese Salad
Check out this customizable Cherry and Blue Cheese Salad! Throw your favorite fruits, greens, veggies, nuts, and more, into this easy salad recipe!
Ingredients
Salad Greens

1

cup

Cherries

or berries, or peaches, or whatever fruit or fruits you have on hand

¼

cup

Crumbled Blue Cheese

or feta, or goat cheese, or whatever cheese you have on hand

Balsamic Vinegar

or whatever vinegar you have on hand
Instructions
Place the salad greens on a plate or in a bowl.

Pit and chop the cherries (eating about half of them in the process) or chop what ever fruit you are using, and place on top of the salad greens.

Top with cheese.

Drizzle with vinegar and oil.
Nutrition Facts
Cherry (or Berry or Peach or…) & Blue (or Feta or Goat or…) Cheese Salad
Amount Per Serving
Calories 206
Calories from Fat 90
% Daily Value*
Fat 10g15%
Cholesterol 25mg8%
Sodium 388mg16%
Potassium 393mg11%
Carbohydrates 23g8%
Protein 9g18%
Vitamin A 346IU7%
Vitamin C 10mg12%
Calcium 196mg20%
Iron 1mg6%
* Percent Daily Values are based on a 2000 calorie diet.
Categories:
Enjoy!