This post may contain affiliate links. Read my disclosure policy.
Cherry chocolate almond no-bake granola bars are the healthy no-bake snacks that kids love! The kids want to find chocolate bars in their lunch boxes and you want to pack healthy snacks. Meet in the middle with this wholesome sweet treat that will satisfy a sweet tooth, but still has tons of nutrition. You don't even have to turn on the stove or oven to make Cherry Chocolate Almond No-Bake Granola Bars.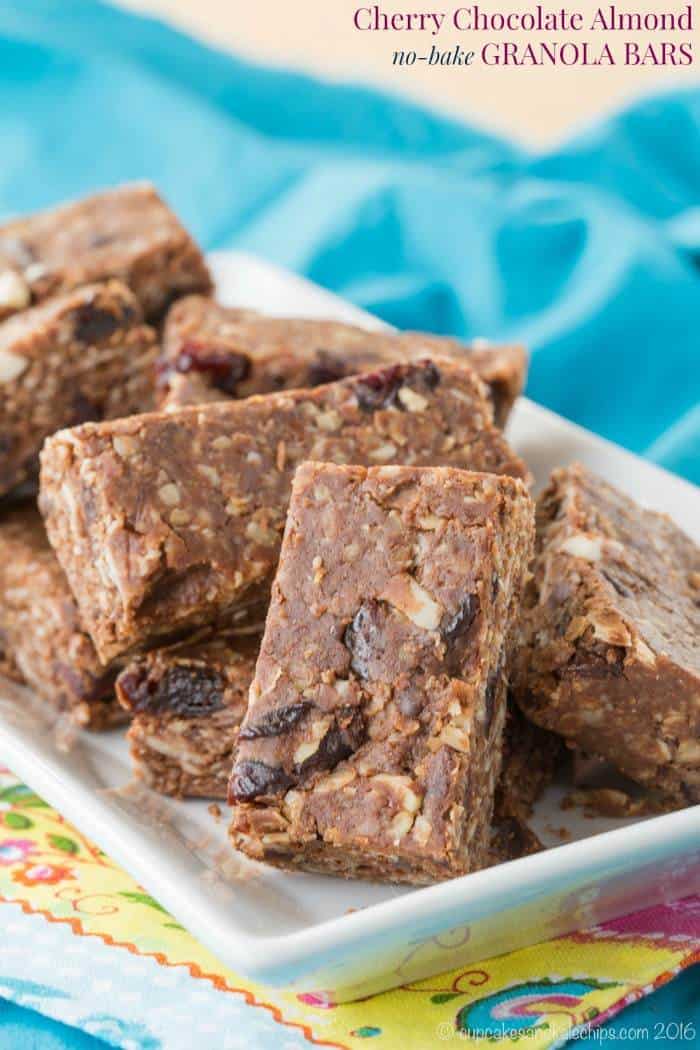 I cannot stand the sound of my voice. It's bad, people. When my sister was little she used to love to watch home movies, and I had to leave the room. Back in my Corporate America days, I loved taking vacations but hated that I had to leave an out-of-office message on my voicemail because I had to listen to it to make sure I didn't totally flub it up. I actually made my husband do the outgoing message on our answering machine because I am the one that works from home and if I had to hear my voice every time the phone rang (no, we do not ever pick up the house phone. Yes, we are those people who have a house phone but don't use it.) I might go out of my mind.
But there is something that I am passionate about – school lunches. I mean, you've seen #BugsLunchbox on Instagram, right? They're not fancy, but they are real and yummy and varied and usually at least fairly healthy. So when my friend Michelle from Find Your Balance asked me to come chat on her Food Rant podcast about packing lunches, I had to put on my big girl pants and get over it because I want every mom and dad to know that lunch boxes can be more interesting than a ham sandwich and a pudding cup, but don't require you to have a degree in fine arts to make the food look like Pokemon or a Monet painting.
OK, so maybe I'm still just taking my big girl pants out of the closet and haven't quite put them on yet because I haven't listened to the entire episode myself yet (cut me some slack – she only posted it last night and I've been busy today!). But I'm going to be brave and tell all of you to head on over and give it a listen. If lunchboxes aren't your thing, we also talk about blogging, evolving from career woman to stay-at-home mom to entrepreneur, and we reminisce about our days in Girl Scouts together. So whether those topics interest you or you are just curious what I sound like, give a listen and let me know your thoughts.
Speaking of lunch boxes, these Cherry Chocolate Almond No-Bake Granola Bars have already made an appearance in #BugsLunchbox, and most certainly will again…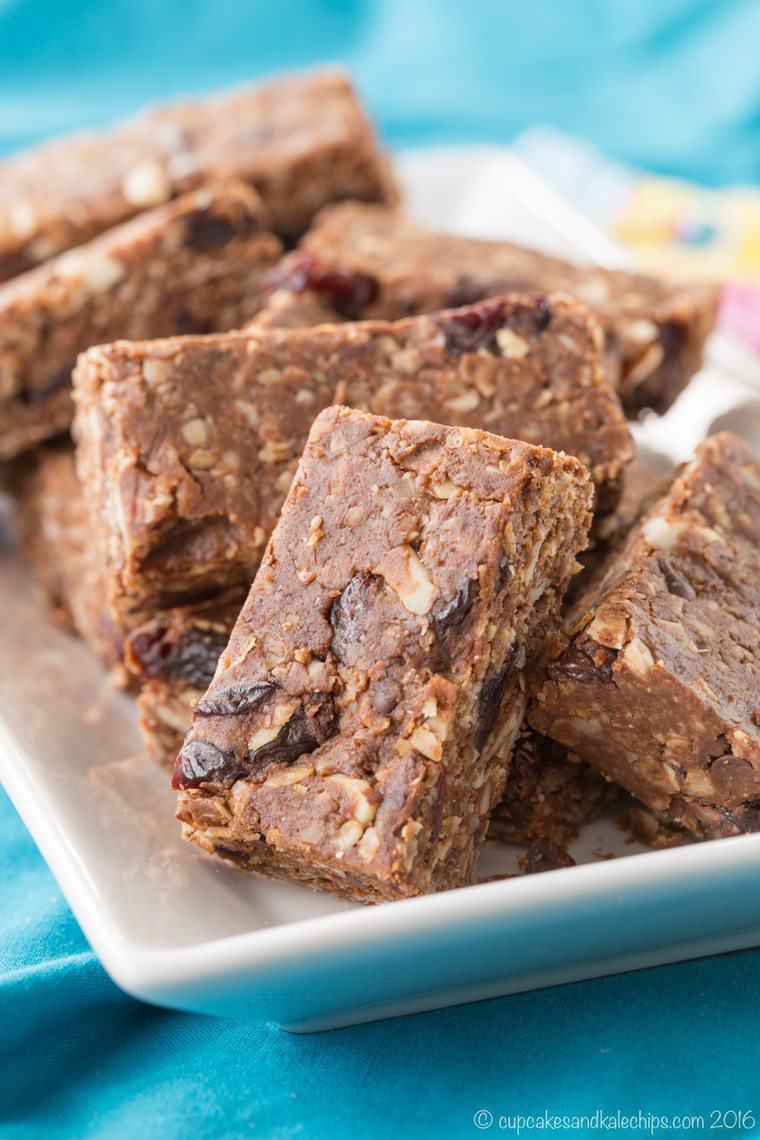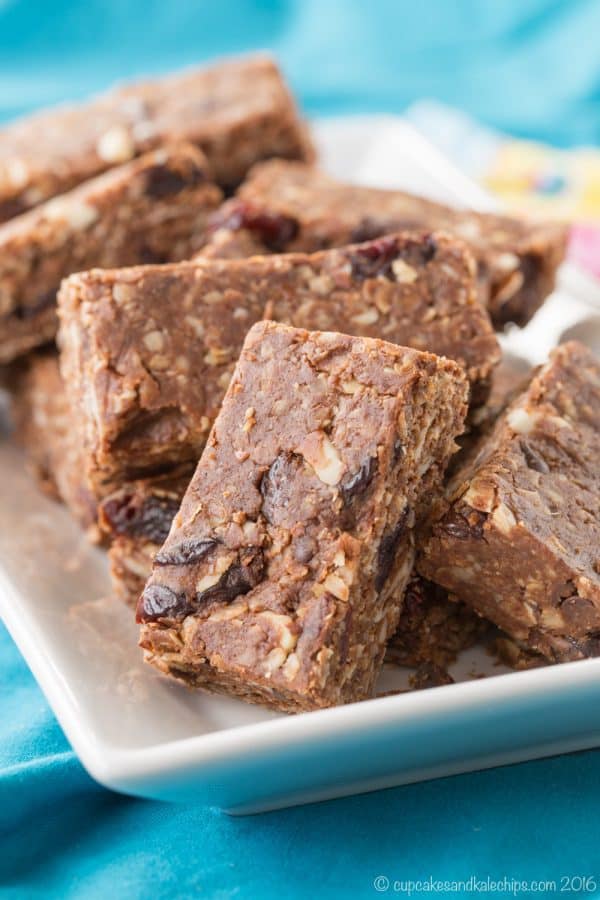 These Cherry Chocolate Almond No-Bake Granola Bars couldn't be easier to make. Mix up some dry ingredients, mix up some wet ingredients, stir them together, and press into a pan. Let them firm up overnight and you've got a simple lunchbox snack the kids will devour. And you'll be happy to let them snack away because all of the ingredients are wholesome and nutritious – oats, almond butter, flax, all kinds of good stuff.
OK, you caught me, there are some chocolate chips, but I always mention that with mini chips, a little go a long way. You can be Supermom for giving your kids a chocolaty treat, but since the chips are so small, they scatter around and pack a big punch. Or just leave them out and stick with just the cocoa powder for that chocolate flavor. It's all good. I won't tell. I have been known to sneak zucchini and cauliflower into my kids tummies!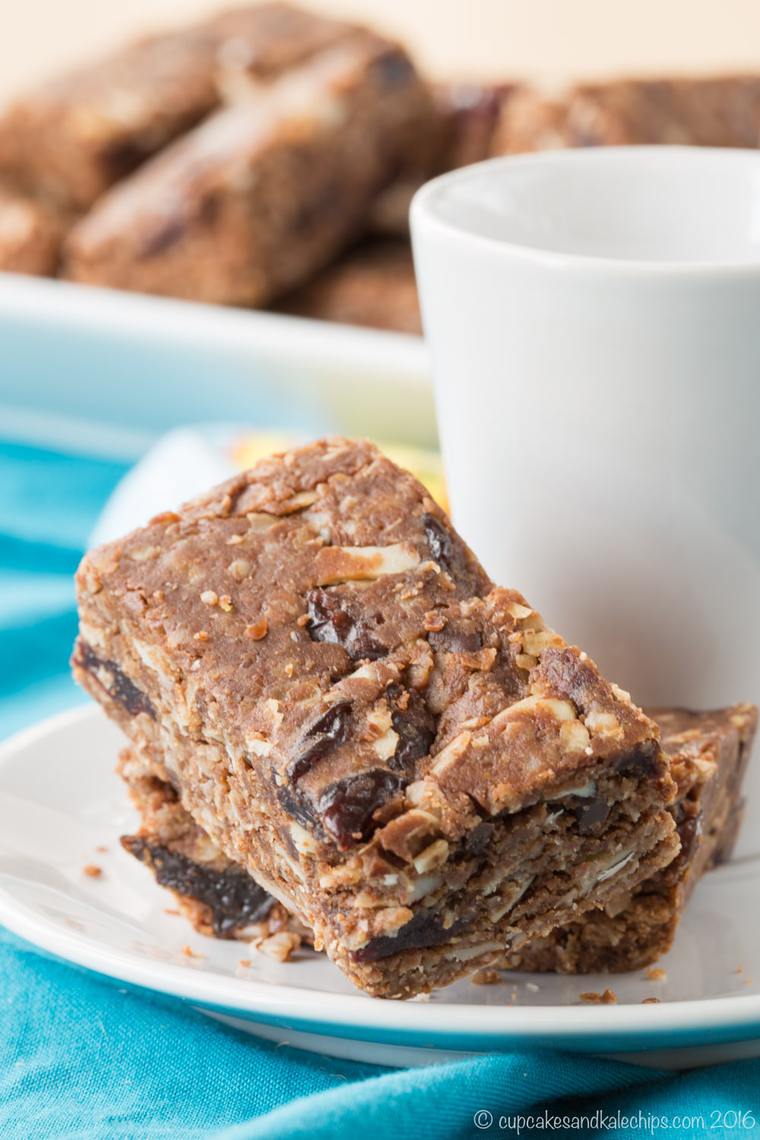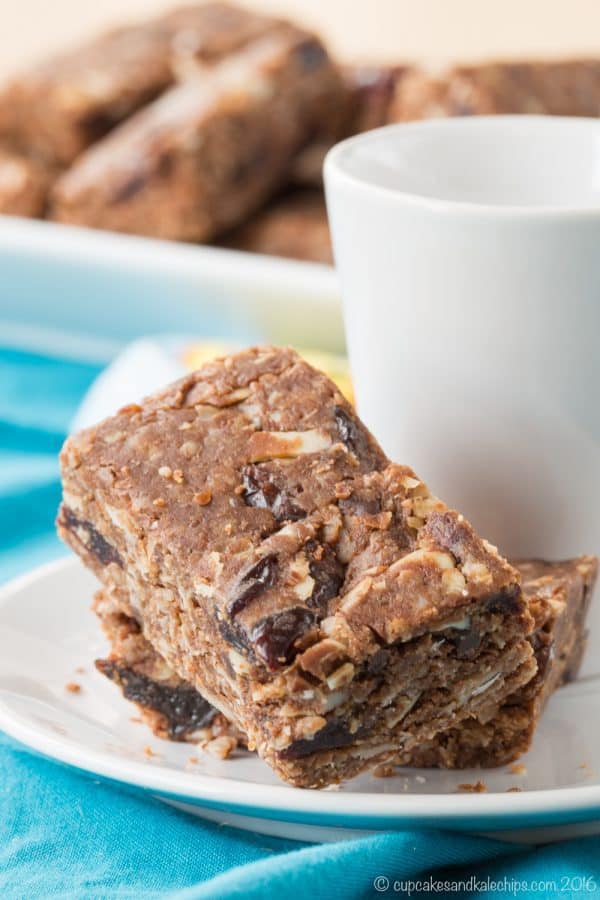 So make this Cherry Chocolate Almond No-Bake Granola Bars recipe, and grab one to snack on while you listen to all my thoughts on lunchboxes and food blogs.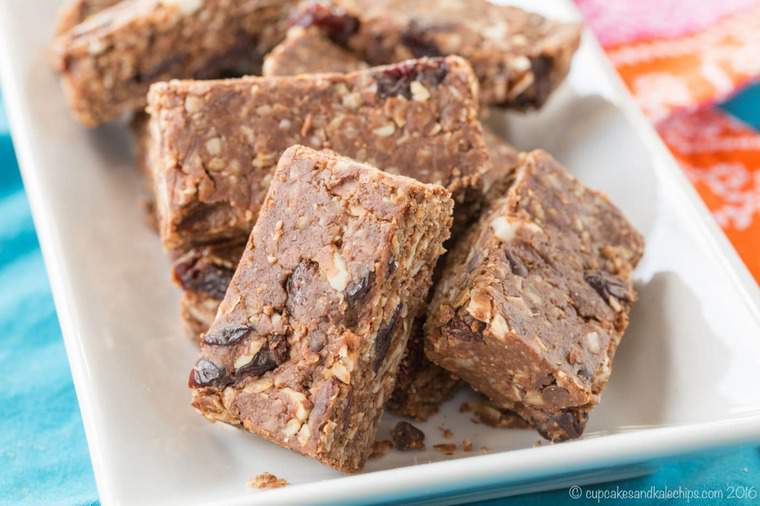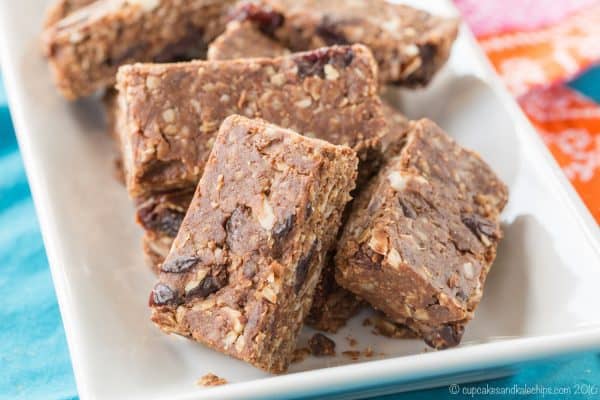 Do you hate the sound of your own voice?
For more yumminess from me and my foodie friends, keep up with me on…
Or sign up to have Cupcakes & Kale Chips delivered straight to your Inbox!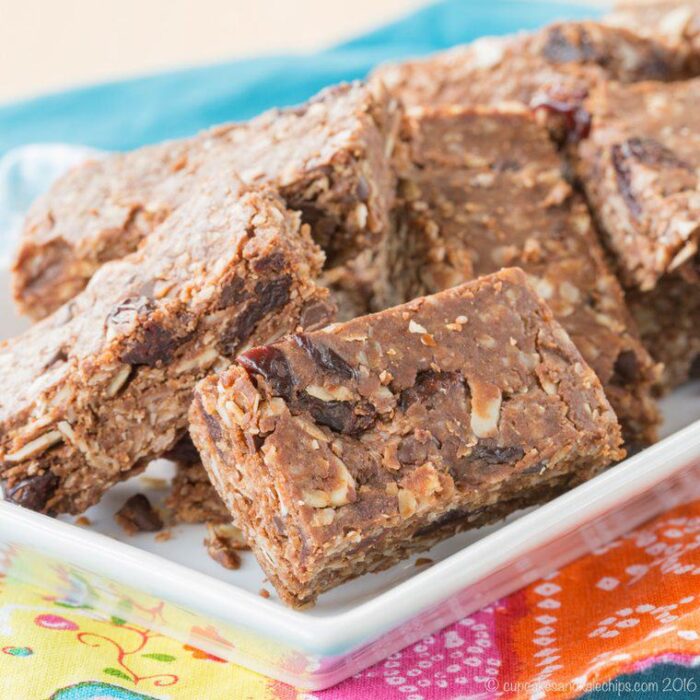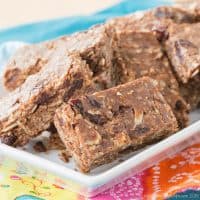 Cherry Chocolate Almond No-Bake Granola Bars
Cherry Chocolate Almond No-Bake Granola Bars are a healthy snack to pack in a lunchbox that will also satisfy a sweet tooth. These homemade granola bars are also gluten free and dairy free!
Ingredients
1 1/2

cups

quick cooking oats

1/4

cup

ground flax seeds

for flax seed meal

1/2

cup

sliced almonds

1/2

cup

dried cherries

1/4

cup

mini chocolate chips

1

cup

almond butter

1/4

cup

honey

1/4

teaspoon

salt

1

teaspoon

vanilla extract

2

tablespoons

cocoa powder
Instructions
Line an 8×8 inch square pan with parchment paper, allowing the paper to hang over the edges.

In a large bowl, toss together the oats, flax, almonds, dried cherries, and chocolate chips.

In another small bowl, stir together the almond butter, honey, salt, vanilla extract, and cocoa powder until smooth.

Pour the almond butter mixture over the oat mixture and stir until well combined. Add additional honey if the mixture looks dry.

Press the mixture firmly into the prepared pan. Cover the pan with plastic wrap and store in the refrigerator for several hours or overnight until completely firm.

Using the parchment paper, lift the entire thing out of the pan. Cut into bars and store in an airtight container. Can be kept at room temperature once cut, but they will stay more firm if kept in the refrigerator.
Nutrition Facts
Cherry Chocolate Almond No-Bake Granola Bars
Amount Per Serving (1 bar)
Calories 401
Calories from Fat 225
% Daily Value*
Fat 25g38%
Sodium 82mg3%
Potassium 400mg11%
Carbohydrates 37g12%
Protein 12g24%
Vitamin A 280IU6%
Calcium 161mg16%
Iron 2.7mg15%
* Percent Daily Values are based on a 2000 calorie diet.
Enjoy this Cherry Chocolate Almond No-Bake Granola Bars recipe!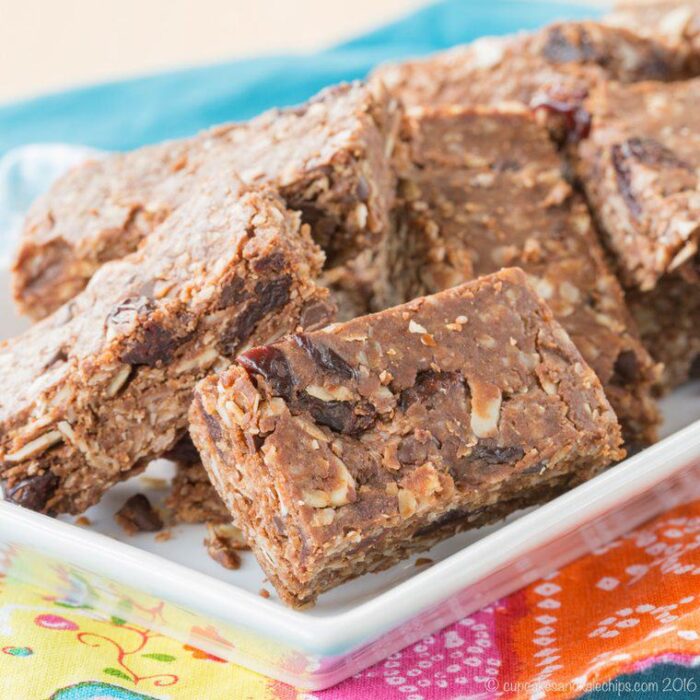 Want some more snack bars?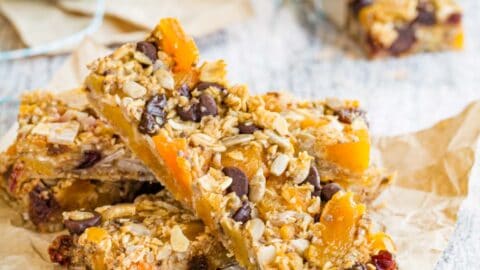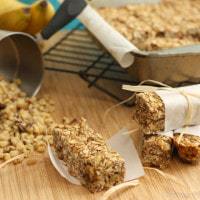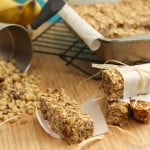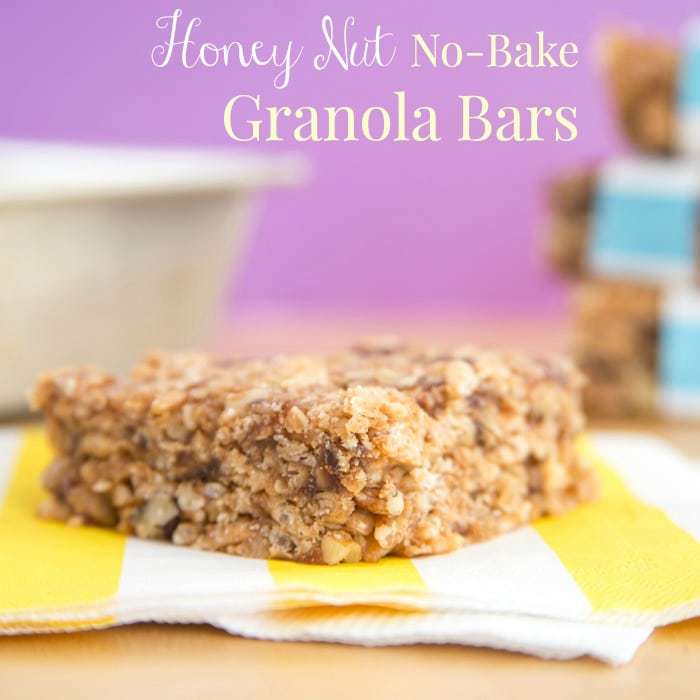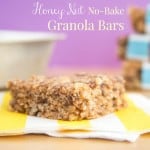 And here are some from my friends…