This post may contain affiliate links. Read my disclosure policy.
I love #SundaySupper every week, but this week, it's especially Soup-er…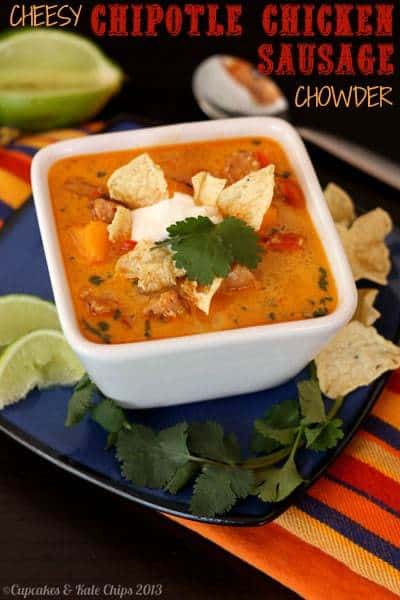 And I love soup, but this Cheesy Chipotle Chicken Sausage Chowder is also especially soup-er. You know why? Once again, Mr. I Don't Like Soup, also known as Mr. Soup is Not Dinner, loved this soup. He loved it so much that he was excited when I made it for the second time in two weeks, because I needed to tweak it a bit to deem it "blog-worthy". The raves it got the first time convinced me to try it again to make sure it was just right to share with you. Believe it or not, this soup started with a recipe for Potato Kielbasa Chowder with Gouda and Dill that I found at The Runaway Spoon, and somehow morphed into a soup with some Southwestern flair.
I have to be honest – even now, I still am not sure the technique for this soup is perfected. But The Hubby insisted that I HAVE to share this recipe. The flavor is amazing, but the cheese needs a little time to melt down and incorporate, and yet, despite my adjustments, still tends to coat the sausage a bit. Then when the Greek yogurt is added, that too doesn't incorporate as evenly as I would like, and I see some little bits on the sausage. But the creamy cheesiness, the kick of heat, the meaty bites, and the little bit of sweet from the sweet potatoes make this a must-keep-trying recipe. So if you have any suggestions for me on how to make it absolutely perfect, I'd love to hear them. In the meantime, it may not be pretty, and you may get a little glob of cheese here or there, but is that really a bad thing? Seriously, you must try this soup!! If it is Hubby-approved, you know it's a winner.
For dinner, I try to focus on "real" foods and stay away from the convenience, packaged stuff. But one thing I do rely on when I am short on time, or just want a quick, easy hit of protein and flavor is pre-cooked, flavored chicken and turkey sausages. The Hubby has tummy troubles with too much pork, and I prefer to keep it a little on the healthier side, which is why I stick with the poultry-based varieties. And there are so many brands with so many different flavors that you can make so many different types of meals. In this recipe, I used Johnsonville Chipotle Monterey Jack Cheese Chicken Sausage, but I am sure there are other brands that offer a similar flavor variety if you can't find these.
Another tip – I like to use light cheeses (Cabot makes some that work really well in most recipes), but for this recipe, DON'T. It just never seems to fully incorporate.
And you wanna hear something cool to do with the leftovers of this Cheesy Chipotle Chicken Sausage Chowder? Spoon out some of the sausage and potatoes, and stuff it into a quesadilla. The Bug liked the soup, but he was totally digging those!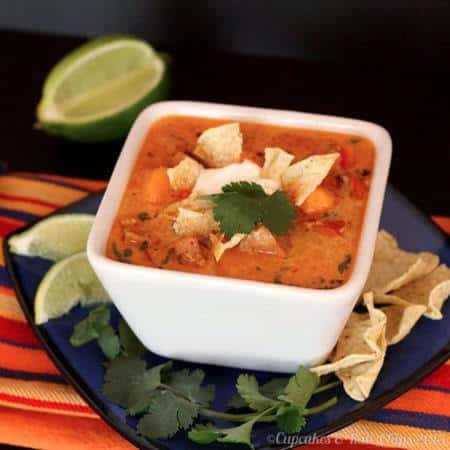 If you need something warm and comforting, you won't want to miss our #SundaySupper conversation on twitter. We tweet throughout the day and share recipes from all over the world. This week we will be sharing out special soup recipes. Our weekly chat starts at 7:00 pm ET and you do not want to miss out on the fun. Follow the #SundaySupper hash tag and remember to include it in your tweets to join in the chat. Don't forget to check out our #SundaySupper Pinterest board for more fabulous recipes and food photos.
Join us Around the Family Table this Sunday at 7pm Eastern Time and share your favorite soup, stew, chowder or bisque recipes with us! Don't forget top check out the other awesome soup recipes linked at the bottom of this post! And grab a spoon…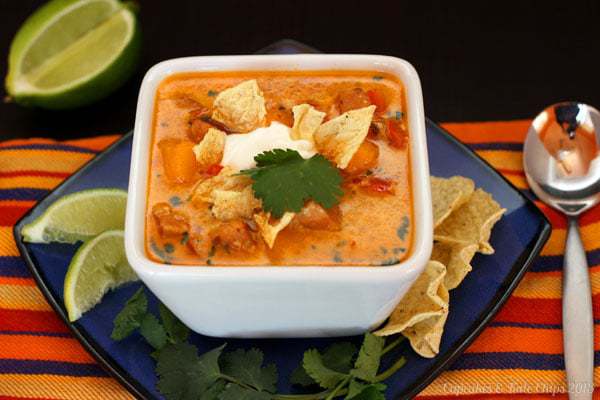 How do you like your soup – creamy, brothy, cheesy, meaty, veggie?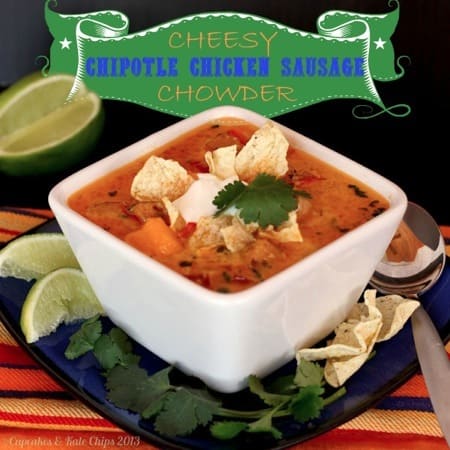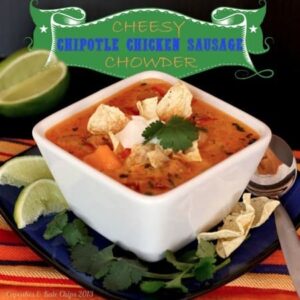 Cheesy Chipotle Chicken Sausage Chowder
Cheesy Chipotle Chicken Sausage Chowder is a creamy soup filled with juicy chicken sausage, chunks of sweet potato, and the kick of pepper jack cheese and chipotles. Perfect for cold weather!
Ingredients
3-4

cups

chicken broth

1

pound

sweet potatoes

cut into 1/2 in. cubes

1

teaspoon

olive oil

1

medium or 1/2 of a large yellow or sweet onion

salt & pepper

1

red pepper

diced

2

cloves

garlic

minced

1

chipotles in adobo

minced, plus 1 t of the adobo sauce

12

ounces

Johnsonville Chipotle Monterey Jack Chicken Sausage

or a similar variety from another brand, quartered lengthwise, and cut into approx. 1/2 in. chunks

2

cups

shredded pepper jack cheese

(about 8 ounces, light or reduced fat NOT recommended)

1/2

cups

plain Greek yogurt

or sour cream

1

tablespoon

chopped cilantro

Optional garnish: Greek yogurt or sour cream

cilantro, crushed tortilla chips, chopped tomatoes, chopped avocado, juice of a lime
Instructions
In a large pot, bring the broth to a boil, add the sweet potatoes, and reduce to a simmer. Cook for 10-15 minutes, or until potatoes are soft.

While the potatoes are cooking, heat the olive oil in a medium saute pan over medium heat.

Add the onions and a pinch of salt and pepper, and saute until the onions are soft, 3-5 minutes.

Add the red pepper, and cook for another 2-3 minutes.

Add the garlic, chipotle, and adobo sauce, and cook for another minute or two.

Add the sausage, and cook until starting to brown, another 3-5 minutes. Set aside.

Once the potatoes are tender, add the cheese in small handfuls, stirring gently to avoid causing the potatoes to disintegrate, adding more as it melts. Allow to simmer for several minutes, or until the cheese has fully melted, stirring frequently.

Stir in the sausage and vegetable mixture from the pan.

Stir in the Greek yogurt and cilantro. It may start to look slightly curdled, but continue to stir and heat gently until fully incorporated.

Serve with any of the optional garnishes, as desired.
Nutrition Facts
Cheesy Chipotle Chicken Sausage Chowder
Amount Per Serving
Calories 354
Calories from Fat 189
% Daily Value*
Fat 21g32%
Cholesterol 77mg26%
Sodium 1324mg55%
Potassium 353mg10%
Carbohydrates 21g7%
Protein 22g44%
Vitamin A 11979IU240%
Vitamin C 28mg34%
Calcium 334mg33%
Iron 1mg6%
* Percent Daily Values are based on a 2000 calorie diet.
Categories:
Enjoy!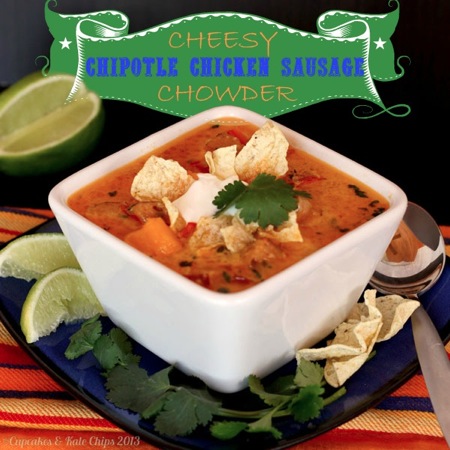 The #SundaySupper family will be digging out their stock pots and slow cookers to serve up these amazing soups:
Do The Chicken Dance (chicken {or other poultry} soups)
Where's The Beef (Beef Soups)
Pass The Pork. Please (Pork or Sausage Soups)
Under The Sea (Seafood Soups)
Eat Your Veggies (Chock Full o' Vegetables Soups)
Some Don't Like It Hot (Chilled Soups)
This recipe was shared with: Thursday's Treasures