Apple Cider and Cheddar Cheese Butternut Squash Soup
Disclosure: This post may contain affiliate links. Cupcakes & Kale Chips is a participant in the Amazon Services LLC Associates Program, an affiliate advertising program designed to provide a means for us to earn fees by linking to Amazon.com and affiliated sites.
Velvety smooth with a hint of sweetness and lots of creamy, cheesy goodness (but no cream!), warm yourself from the inside out with a steamy bowl of Apple Cider & Cheddar Cheese Butternut Squash Soup.
Apple Cider & Cheddar Cheese Butternut Squash Soup

Disclaimer: As a member of the Cabot Creamery Cooperative Cheese Board, samples of cheese were provided to me at no cost. I was under no obligation to write this post, and no additional compensation was provided. As always, all opinions are my own.
I don't understand people. I really don't. And the process of selling my house just further cemented this lack of understanding in my mind. We are very blessed that our house sold within a week. But let me tell you, it was a doozy of a week – multiple appointments in one day, having to drag the kids in and out of the house, grabbing dinner at all kinds of random places, giving the kids baths at all kinds of random times, coming home and seeing that the people weren't done walking around, a relator who lost his access card in order to get our key from the lockbox, two kids who are screaming bloody murder because they are just wicked overtired.
We were nearly ready to call it quits – we had one offer and a few more were in the works – when we allowed one last appointment. I tried to cut off all appointments by 7pm, but this guy said he couldn't get there until 7 because of his job. Fine fine fine, come at 7, but be done by 7:30. I mean, my house isn't that big. And obviously from looking at the photos it's clear I have small children (the photo of the bedroom with a crib should be a dead giveaway, right?!). Small children who need some sleep.
So after dinner and ice cream, the boys and I pull up to the hour at 7:30. And who pulls up right behind us? These people. Awesome.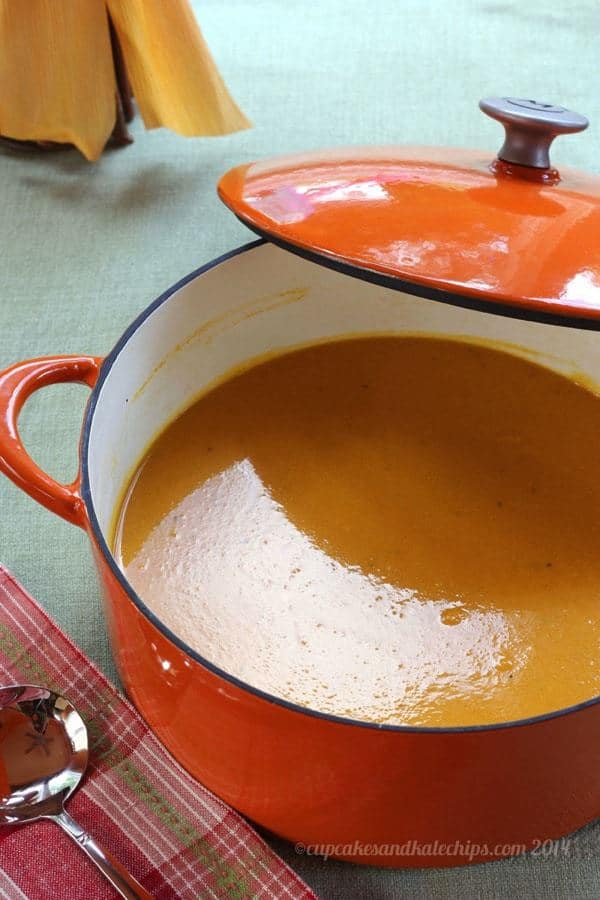 Yes, sure, take fifteen minutes to check out the house. Go for it. But you get to listen to my crying children who just want to relax and go to bed. I hear the chit-chatting as they walk around, hear the guy exclaim, "This place is so homely!" HOMEY people not HOMELY. Homey = good. Homely = bad. Simple concept. Sorry. I'd just had it up to here by that point. Nitpicking grammar was all I could do do hold myself together.
What then happened to nearly make it all fall apart? The guy walked into my family room and was holding a DOG!! You guys!!! I am soooo not a dog person. Or really any animals. Don't hate on me, okay. I had some bad experiences as a kid and this lack of love has carried into my adult life. I'm sorry. Again, don't hate. I'm not mean to animals. Perhaps a little standoffish, but not mean. I don't wish any harm to come to them.
Now their brainless owners – well that's another story. Again – crib in photos. Clearly small children. What if one of them had a severe allergy? What if one of them was intensely afraid of dogs and totally wigged out causing your little puppy-wuppy to take off, run around my house barking like a maniac and pee all over my freshly cleaned carpets? What in the world would possess you to bring your hairy little creature into some random stranger's house?!?!?! Get out get out get out get out, and don't let the door hit you. On second thought…
Let me tell you, by the weekend, I needed comfort food…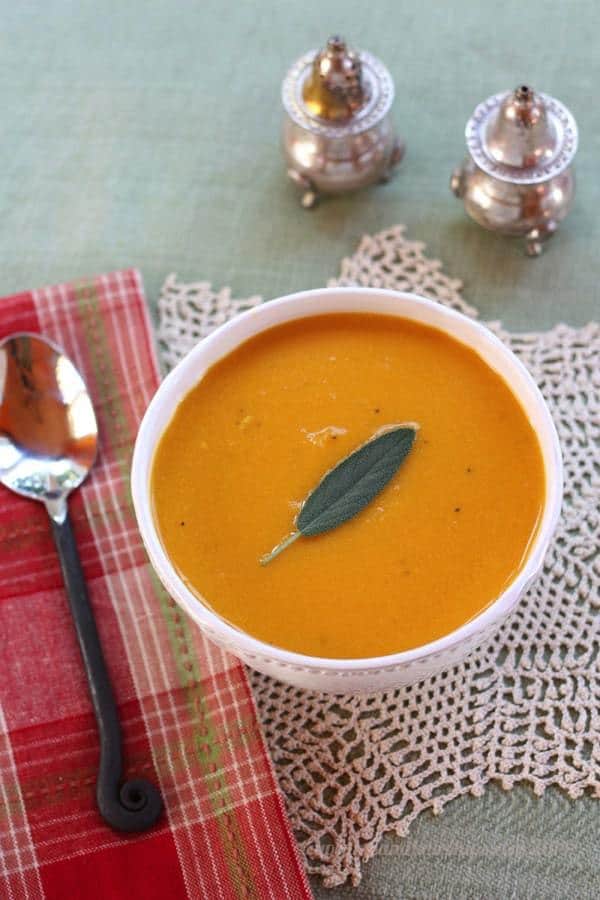 And when you need comfort food, a bowl of cheesy goodness is never a bad idea. Especially when there's butternut squash involved. And hard apple cider. Awwww yeahhhh….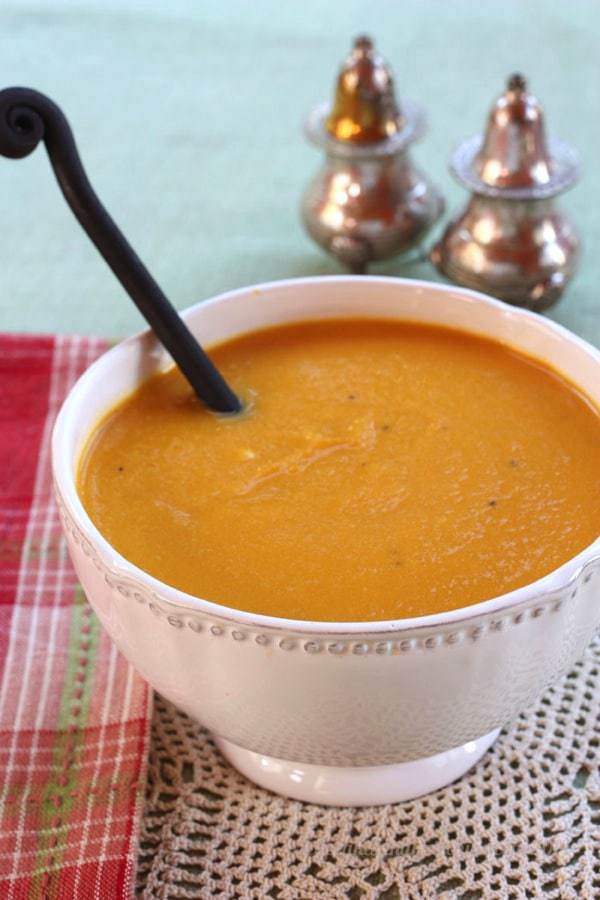 Apple Cider & Cheddar Cheese Butternut Squash Soup is based on my favorite Butternut Squash Soup recipe, but I added cheese, so clearly that makes it infinitely better. And not just any cheese. While you could use any good sharp cheddar, I went with the Cabot Farmer's Legacy Collection, in particular the Farmhouse Reserve. The cheddar cheese along with the hard apple cider added a nice, sharp bite contrasted by the smooth creaminess and earthy, subtle sweetness of the butternut squash. If you don't have or prefer not to use hard cider, you could probably use regular apple cider or apple juice, though that may make it a bit sweeter, or just use all chicken or vegetable stock.
And the texture? Velvety smooth, enveloping your tongue in warm, richness, without actually being super rich because there's no cream.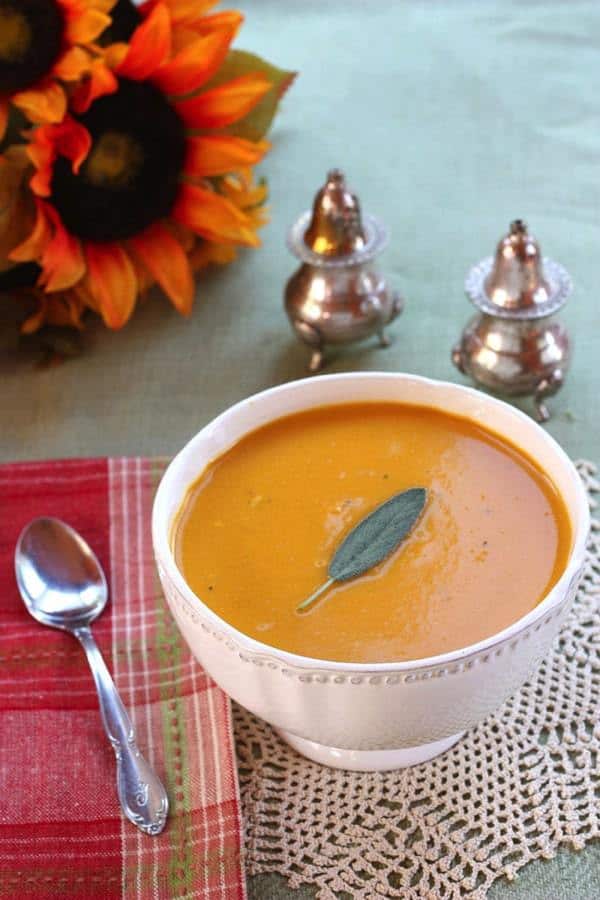 This was a crowd-pleaser. All four of us slurped down our bowls, and the little guys and I finished off the leftovers a couple nights later. Mr. I Don't Like Soup once again gave me his usual, "Well, you know I don' really like soup, but this is really good." And Little Mr. I Don't Like Cheese was a huge fan. In fact, I think the Legacy Collection may be converting him to a cheese-lover. I knew he'd come around.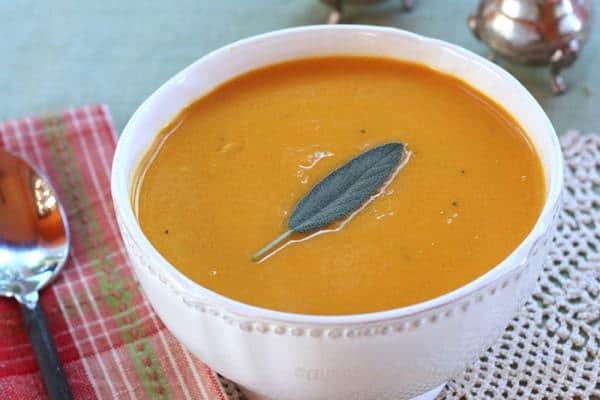 Want to chat with fellow foodies? Join my No-Fuss Food and Fun group on Facebook. Everyday we have fun topics, share recipes and ideas, ask and answer questions, and see all of my new Cupcakes & Kale Chips creations! If you'd like to check it out, you can request to join HERE.
For more yumminess from me and my foodie friends, keep up with me on…
Or sign up to have Cupcakes & Kale Chips delivered straight to your Inbox!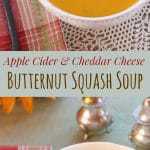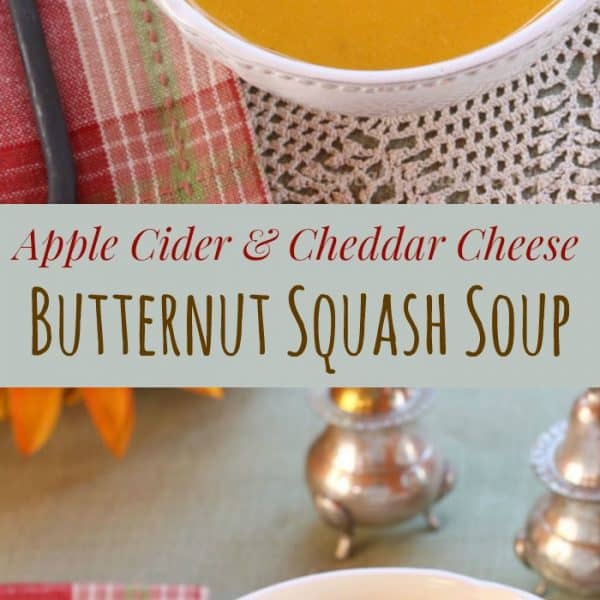 Print Recipe
Apple Cider & Cheddar Cheese Butternut Squash Soup
Velvety smooth with a hint of sweetness and lots of creamy, cheesy goodness (but no cream!).
Ingredients
1

Tablespoon

olive oil

1

large butternut squash

peeled, seeded and cut into chunks

1

medium onion

chopped

1

cup

chicken or vegetable broth or stock

additional if needed to adjust texture

12

oz

hard cider or regular apple cider or juice or an additional 1 ½ cups broth or stock

1

teaspoon

dry mustard

1 ½

cups

6 oz. shredded sharp cheddar cheese (I used Cabot Farmer's Legacy Collection Farmhouse Reserve)

salt & pepper

Optional garnishes: Crispy prosciutto or bacon

pepitas (pumpkin seeds), chopped apple
Instructions
In a large saucepan, heat the oil over medium heat.

Add the squash, onion, and a pinch of salt and pepper.

Cook for about 5 minutes, or until the onion and squash are starting to get tender.

Add the cider and stock or broth, cover, and bring to a boil. Simmer for 20-25 minutes, or until squash is tender.

Puree with an immersion blender, or in batches in a blender or food processor.

Return soup to the pot, and bring to a simmer, but not a full boil.

Add the cheese a little at a time, stirring in completely after each addition to ensure that it remains smooth.

Serve in bowls, garnished as desired.
Enjoy this Apple Cider and Cheddar Cheese Butternut Squash Soup recipe!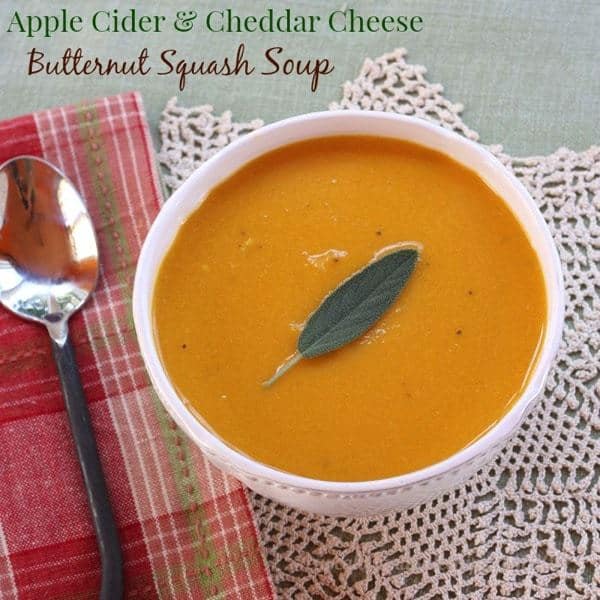 Need more soup?
And here are some soup recipes from my friends…
Plus an entire Pinterest board!
Follow Brianne @ Cupcakes & Kale Chips's board Soup & Stew Inspiration on Pinterest.