This post may contain affiliate links. Read my disclosure policy.
Every Wednesday, I show you what's in The Bug's lunchbox, and today #SundaySupper is doing the same. If you've see some of my What's In The Lunchbox Wednesday posts, you've seen variations on these, so now here's the recipe for Carrot Cake and Zucchini Bread Sandwich Sushi.
Carrot Cake and Zucchini Bread Sandwich Sushi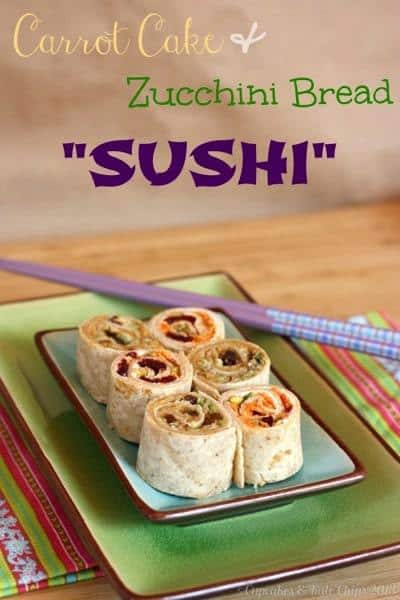 You all know that The Bug is a pretty good eater as far as the variety of foods he eats, but table manners? He is borderline barbaric. I try. Really, I do – insisting on utensil use, encouraging one bite at a time, chewing with our mouths closed, demonstrating proper napkin use. But what happens? Every food is finger food. And usually he is not just using his fingers. Entire handfuls of food get shoved in the mouth, then the hands are wiped all over the shirt and pants. Food ends up on the floor, and he usually seems on the verge of choking.
And what does he like to do as much as eat? Talk. Usually with the mouth full of food. Lovely.
This makes my mom a nervous wreck, get The Hubby all riled up, and leaves me with a absolute mess. I mean, I know he loves food, but seriously, you would think we starved the kid, and he was consuming the first meal he has had in days, and then didn't know where his next meal was coming from. Except that three minutes later he will be requesting a snack. Ugh!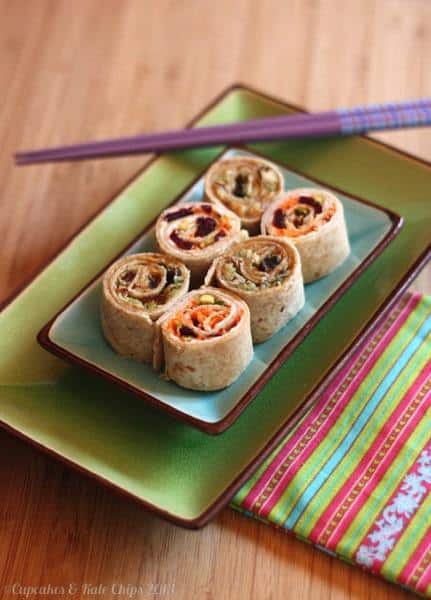 These adorable little rollups, though – definitely acceptable to eat with your hands. His approach of shoving three in his mouth at once, probably not advisable, but popping one at a time is totally OK. And a super fun little fakeout takeout meal for the kiddos. Plus there are a million ways to make 'em, and you can probably even sneak in some fruits and veggies that your little one may not dig in its original form. I mean, The Bug claims to hate zucchini (well, unless it looks like tater tots or is smothered in cheese). Here I am showing you cream cheese & carrots and peanut butter & zucchini, but think about bananas & sunflower seed butter, avocado & those little Laughing Cow cheese wedges, apples & almond butter… the possibilities are endless.
So, as adorable as the little Asian-inspired plates and lavender chopsticks are, that is totally food blogger styling. This is what The Bug's lunch really looks like.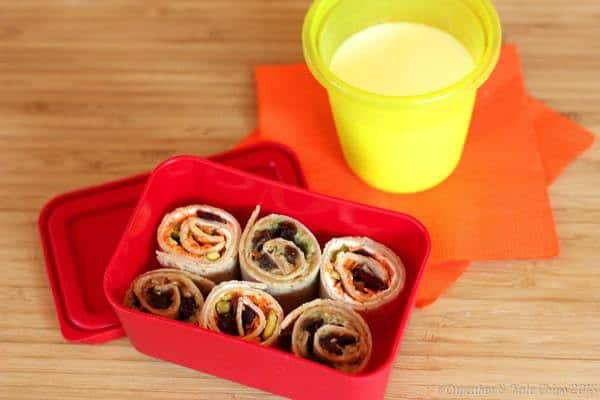 OK, I am lying – at this point, he still cannot be trusted with open containers, unless they have water. And I am prepared to change his clothes immediately after consumption. I told you – barbaric!
And remember that we have a #SundaySupper chat at 7 PM each on Sunday evening. We tweet throughout the day using the hashtag #SundaySupper, then we all gather to share ideas, recipes and answer questions from 7-8 PM ET. Check out our #SundaySupper Pinterest Board for more fabulous recipes and food photos. You'll find all the other recipes that the #SundaySupper crew is brown bagging at the bottom of this post.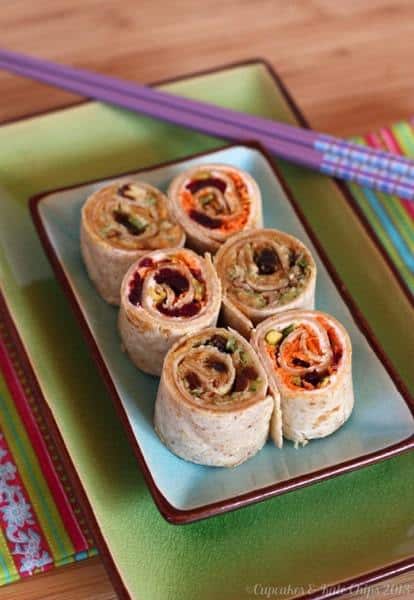 What do you like to pack for your kids or yourself for lunch?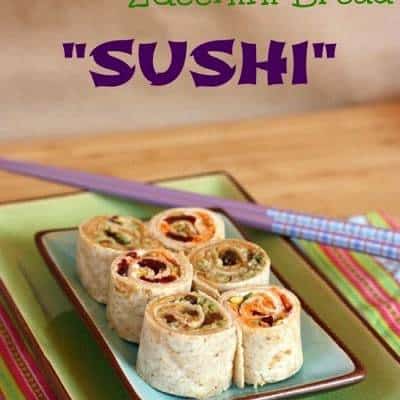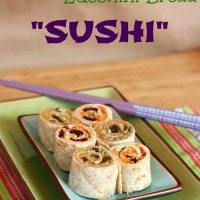 Carrot Cake & Zucchini Bread "Sushi"
Carrot Cake and Zucchini Bread Sushi are healthy cream cheese/peanut butter roll up options for lunchtime! A fun takeout fakeout for your kid's lunchbox with endless options for getting in extra veggies or fruit.
Ingredients
For the Carrot Cake "Sushi"
1

large tortilla

I use whole wheat, but you can use regular, gluten free, etc.

2

tablespoons

cream cheese

I used light

2

tablespoons

finely shredded carrots

1

tablespoon

dried cranberries

or other dried fruit

1

tablespoon

pistachios

or other nuts, or omit if you have an allergy
For the Zucchini Bread "Sushi:
1

large tortilla

I use whole wheat, but you can use regular, gluten free, etc.

2

tablespoons

peanut butter

or other nut or sunflower seed butter

2

tablespoons

finely shredded zucchini

1

tablespoon

raisins

or other dried fruit

1

tablespoon

pecans

or other nuts, or omit if you have an allergy
Instructions
For either version:
Spread the cream cheese or peanut butter on the tortilla to the ends.

Evenly distribute the shredded veggies, leaving about 1 inch on one of the end uncovered with fillings (so that the spread make it "stick" and stay closed when you roll it up).

Sprinkle the dried fruit and nuts evenly on top of the veggie filling.

Roll up tightly and cut into about 1 inch pieces.
Notes
I give the recipes for the two varieties I made, but you can easily switch up or leave out any of the spreads and fillings based on your kids' likes, allergies, etc.
Nutrition Facts
Carrot Cake & Zucchini Bread "Sushi"
Amount Per Serving
Calories 695
Calories from Fat 378
% Daily Value*
Fat 42g65%
Cholesterol 29mg10%
Sodium 698mg29%
Potassium 716mg20%
Carbohydrates 70g23%
Protein 17g34%
Vitamin A 5497IU110%
Vitamin C 8mg10%
Calcium 166mg17%
Iron 4mg22%
* Percent Daily Values are based on a 2000 calorie diet.
Categories:
Enjoy!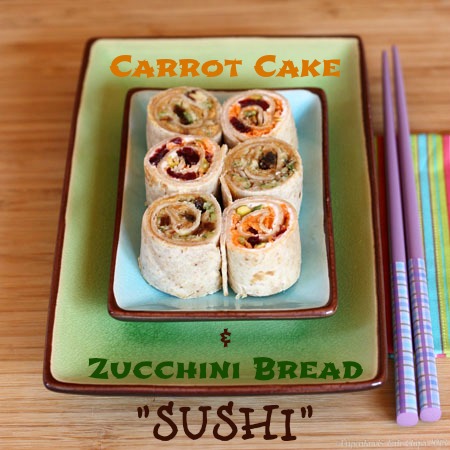 And check out what is in the #SundaySupper lunchboxes!
Sandwiches, Wraps and Entrees:
Munchies, Salads and Sides:
Sweet Treats: