This post may contain affiliate links. Read my disclosure policy.
Are you a blogger looking to reach a new audience? Do you make fabulous food of any type and take amazing photos? Then I'd love to have you as a 2015 Recipe Contributor to Cupcakes & Kale Chips.
Call for 2015 Recipe Contributors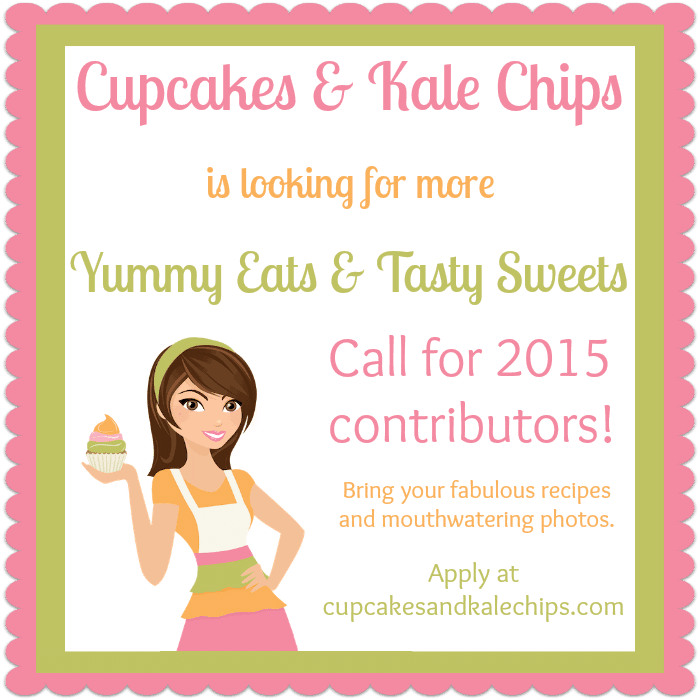 What I'm looking for?
Cupcakes & Kale Chips is all about balance and variety, but I am looking to expand that variety. So tell me your specialty – paleo recipes, vegan recipes, gluten free baking, comfort food, holiday desserts, seasonal, heck, even cupcakes or kale chips.
Starting in February, I'll be looking for a new recipe post from you about every 4-8 weeks (ideally 6), depending on the number of contributors. This means an SEO friendly intro, text (making sure to link some of your own recipes), photos (one vertical "pinnable" image, one square for Facebook and Instagram sharing, and maybe even a couple more you want to throw in), and the recipe.
Contributor posts will be published every Wednesday.
What I can do for you?
This is not a paid position.
I'll promote your post (which will include your bio at the bottom), as I do my own recipe posts, on all social media.

Facebook – >90,000 followers
Pinterest – >18,000 followers
Twitter – >5400 followers
Bloglovin' – >800 followers
Email subscription – >2700 subscribers
AND GROWING!

You can either post a teaser on your site and add the recipe >6 weeks later, or repost on your own site >6 weeks later.
With your post, send me five links to pin, and I'll pick at least one of those to share on Facebook.
We will reevaluate how things are going after about half the year, and if we stick together till December, I'll include you in a large group giveaway at no cost.
Let me know if you have any questions.
Interested? Apply HERE, and I'll get back to you during the month of December.
Thanks!