This post may contain affiliate links. Read my disclosure policy.
If you've been following along on Twitter or Instagram, you know that I've spent a good chunk of this year training for a race, so now I'm finally telling you all about it. My First 10K – My Weekend with #CabotFit and Beach To Beacon 10K Recap.
My First 10K – My Weekend with #CabotFit and Beach To Beacon 10K Recap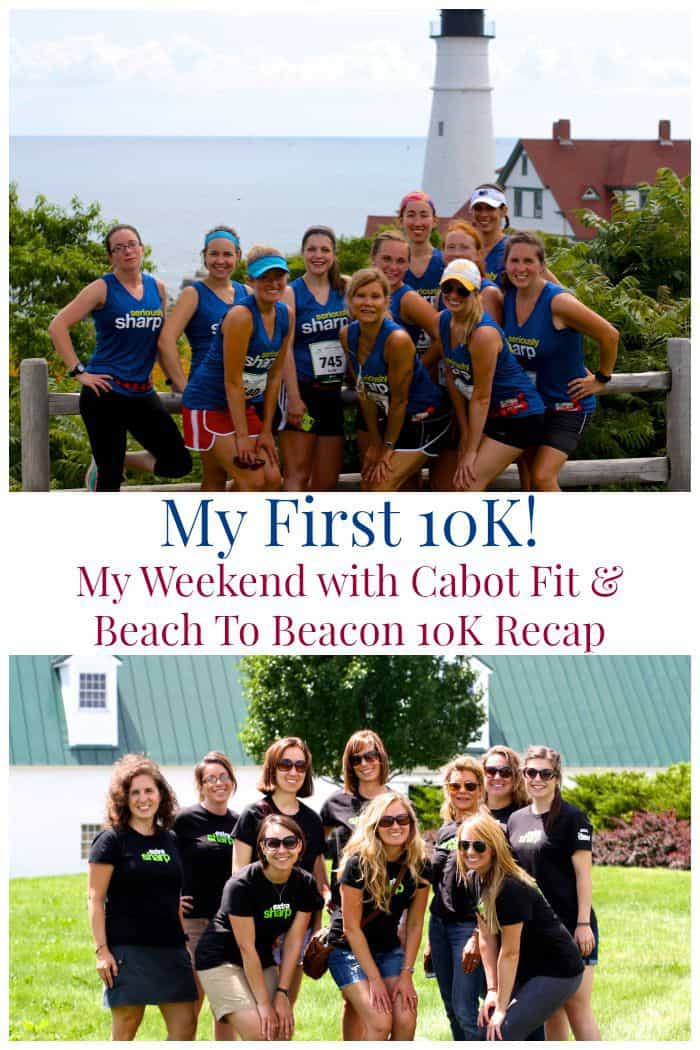 Disclosure: Cabot Creamery Cooperative sponsored the Cabot Fit Team and paid for all travel and accommodations. No other compensation was received, and, as always, all opinions are me own.
I'm going to be honest with you, given the events of the days leading up to my trip to Maine to join the ladies of the Cabot Fit Team for the Beach to Beacon 10K Road Race, I was getting really nervous. Just over a week prior, I came down with a stomach virus, so I had to take a few days off of my training, and I never reached the 8 mile mark that I was hoping to hit a couple of weeks before I started tapering my miles before race day. I had to drive the boys to my mom's the day before my flight, and between the training, the packing, the preparing, and everything else, I could tell that I was starting to feel a bit off. So naturally a flight delay and being trapped on an airplane with all of that lovely high quality air being recirculated did wonders for my already stuffed up head, and upon a much later than expected arrival at the Higgins Beach Inn, I couldn't breathe or hear, and just wanted to crawl into bed. Through all of this, my teammates and even former Cabot Fit members gave me words of encouragement and advice, and I swear that's the only thing that kept me going through this.
Friday morning I decided to forego the optional team walk on the beach in favor of a little extra sleep, and I awoke with a slightly more clear head, and was excited about the day's events. We had a wonderful visit to Pineland Farms in New Gloucester, Maine. Should you ever vacation in the Portland area, I encourage you to take a little side trip to visit the farm. Jenni Tilton-Flood led us on an informative tour, and her passion for farming shines through everything she says and does.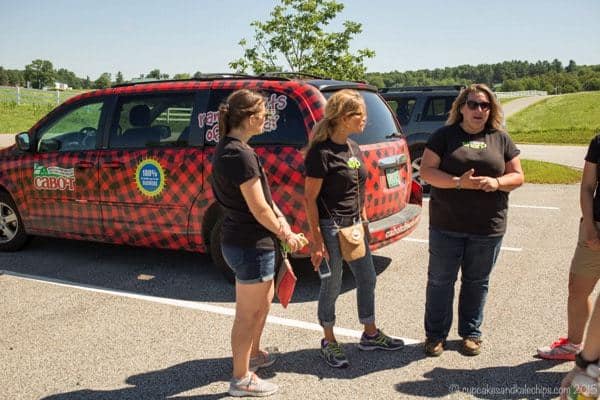 First we visited the creamery where they make a variety of award-winning cheeses. We learned about pasteurization and cultures and how the same mil can get turned into cheddar and Monterey Jack snd feta, and all of the cheeses that you know and love. The dairy has a great set-up with windows and benches so that visitors (even local schools) can see everything that is going on without all of the noise that is typical of an operating creamery.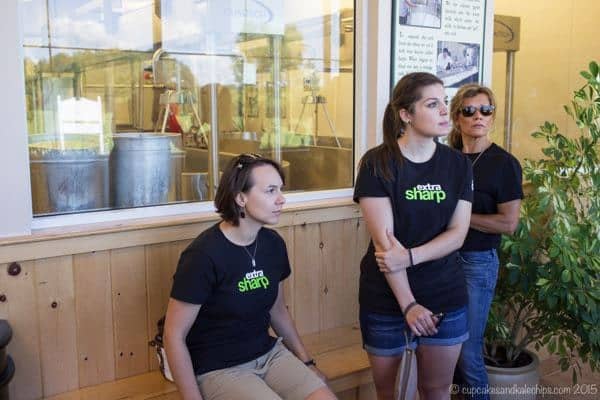 Then we visited the cow palace. No joke. You guys, I'm not really a farm-type-gal, but this place was so clean (well as clean as a barn full of cows can be), that even a girl from suburbia like me felt comfortable hanging out with these fine ladies. Yes, and the Cabot Fit Team ladies, too 😉 One thing that struck me most was that they said that only a very small percentage of time is spent milking the cows. Most of the time is spent making the cows happy.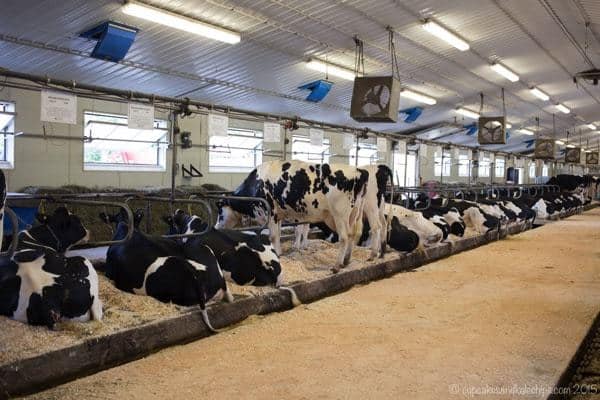 And when you have happy cows, you also have top-quality cows, like this 95-point, World Class Holstein, Hemi. Isn't she pretty?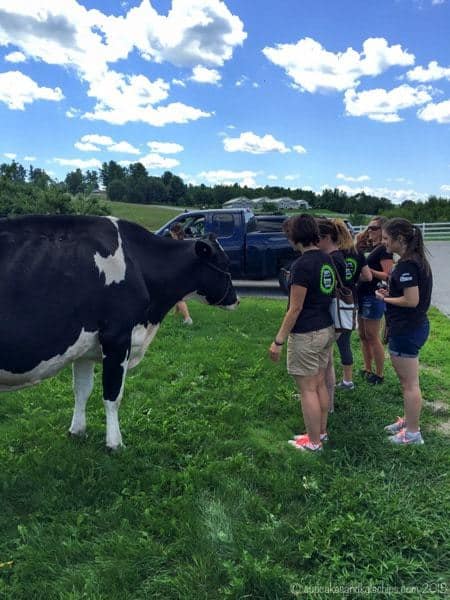 After our visit, the afternoon and evening was about lobster rolls, wandering Portland, relaxing, and, of course, a little cheese tasting at the Cabot Annex. I mean, we had to fuel up for our race the next morning.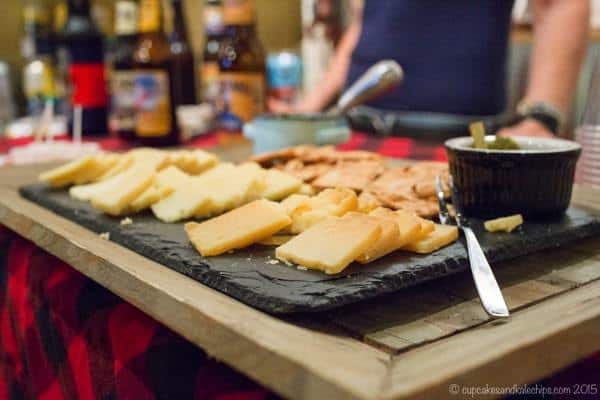 That night I laid out my flat runner, and tried to stay calm and get some rest. I still kind of couldn't believe I was actually doing this. I told you before, I never thought I'd be a runner.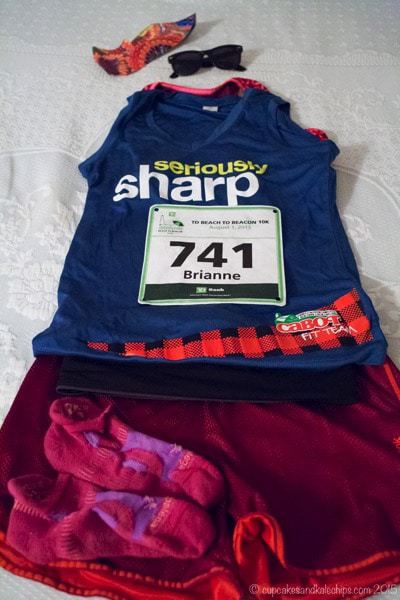 Before I knew it, morning came, and it was time to have a little oatmeal, banana, and peanut butter and head over to the start line in Cape Elizabeth. Magically I was feeling much better than I had been, and a little confidence came back. It was amazing to be part of the crowd of runners just milling around waiting in anticipation for them to tell us that it was time to line up. Small people, big people, young people, old people, elite athletes, regular joes, dark, light, tall, short. It really felt like a microcosm of humanity all united with different goals but all the same finish line.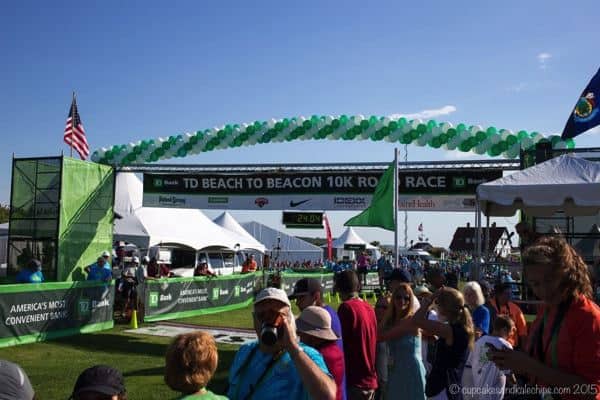 Soon it was time to make our way to our respective pacemarkers and it was go time. I was ready!
But you guys, it was hot. Actually I'm told afterwards it was the hottest Beach to Beacon ever, and the medical tents were busier than they ever have been in the past. But I kept telling myself the same thing I had been telling myself since I started training in March – I can do anything for an hour. It wasn't easy, but while I don't have any other races to compare it to, the sense of community is a huge part of what kept propelling me towards the finish line. It's like the every resident of Cape Elizabeth came out to cheer us on. They set up lawn chairs, played music, sprayed water, made signs, some for their friends or family, but some that just said "Go Runners!". I only grabbed water twice, but when I did, everyone at the water stations cheered me on by my first name after they took a glance at my bib. The local firefighters sat on top of their truck and cheered as all 6000-plus runners went by. And for a little extra inspiration, this American flag stretched across the road.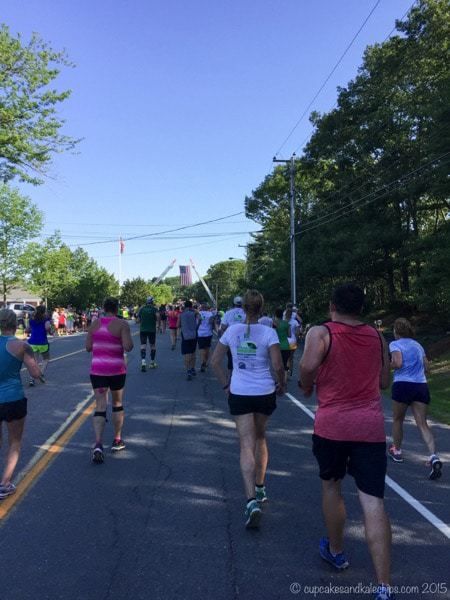 The last mile or so was pretty tough because it was mostly uphill, but I think I had paced myself pretty well because I was still feeling like I had some gas in the tank. I dropped into low gear, made my way up the hill, and when I was getting close to the finish line I felt a burst of speed and energy. Unfortunately I was in a pretty large crowd at that point, so couldn't zip forward as much as I wanted to. Suddenly I wanted to try to beat my training record, despite the fact that these were the hottest and sunniest conditions under which I had ever run. But I reminded myself of my goals – hopefully finish in around an hour, and, most importantly, finish strong! With this being my first race, I didn't really want to leave it all out there on the course. I wanted to feel good at the end so that I would be inspired to do it again.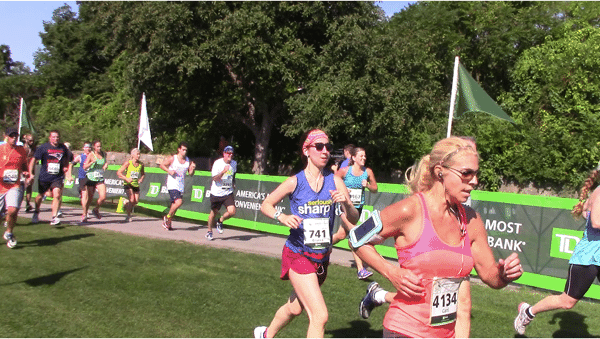 I accomplished both of those things! My official time was 59:57, which I am pretty darn proud of, and, other than the fact that I realllly needed a port-a-potty and several bottles of water, I felt awesome – strong, excited, energized. Well, and a little flushed…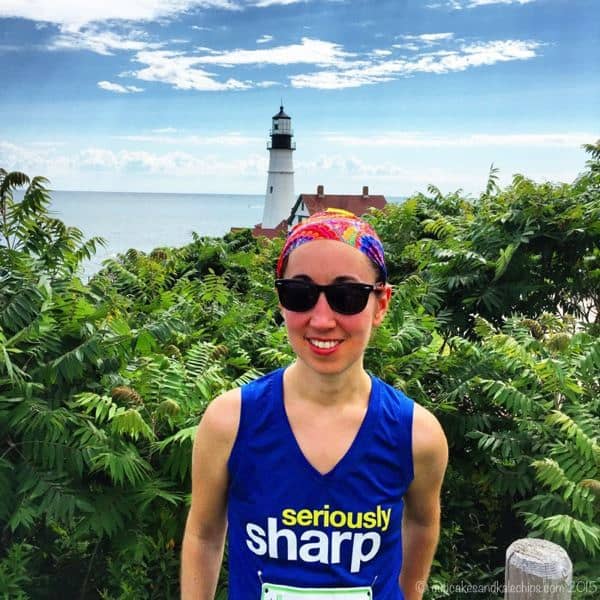 And these ladies rocked it, too! A couple of PRs, a broken toe, a Top 10 in an age group, and a bunch of strong, proud runners! You ladies are Seriously Sharp!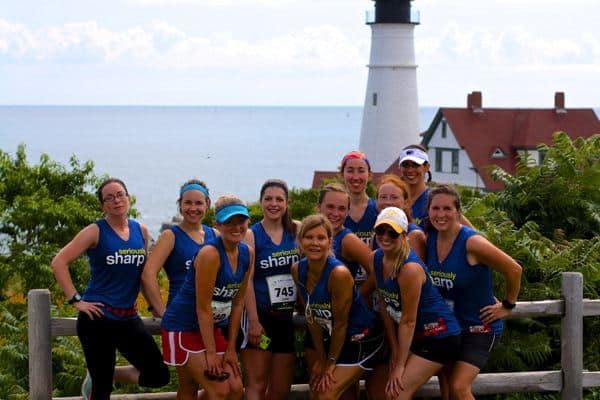 Besides my team, I also want to thank my travel companion, personal cheerleader, early morning kid-wrangler during training, bag man, and all around awesome Hubby. I was so sad that I couldn't find him at the finish line, because all I wanted to do was give him one big, sweaty hug. But I made it to the bathroom, got some water, and some post-race snacks (fruit, yogurt, and the like) before I actually saw him. It was unfortunately a bit anticlimactic by that point, but I still appreciate everything he has done and been along every step of this journey, and am so happy that he joined me in Maine.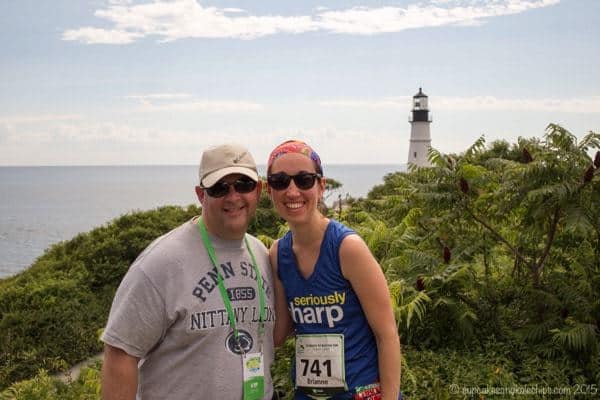 After racing and resting, it was time to celebrate! I think we all clean up pretty nice when we aren't hanging out on farms or just finishing a 6.2 mile run in ninety degree weather.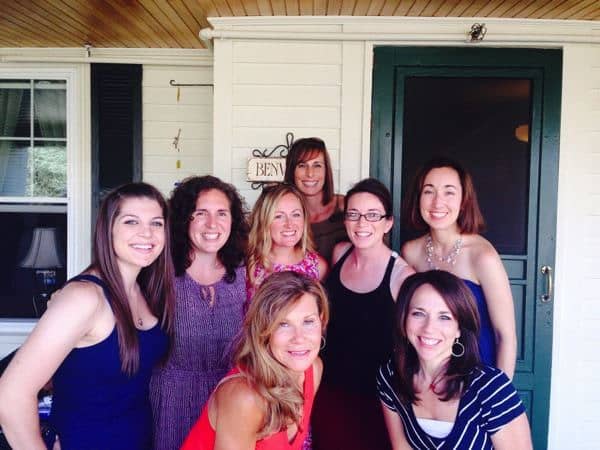 Many thanks to Cabot for selecting me and sponsoring the team, Newton Running for the the fabulous shoes, Full Circle for those awesome water bottles, and Fit Kit for making sure I can stay active on the go. And the incomparable Regan, our chauffeur, photographer, and social media maven! If you want to learn more about Cabot Fit and integrating dairy into a healthy and balanced lifestyle, and are interested in all the goings-on or applying to be part of Cabot Fit Team yourself, you can get all of the details here.
And congrats to the 2015 Cabot Fit Team! Cheers and thanks to all of you!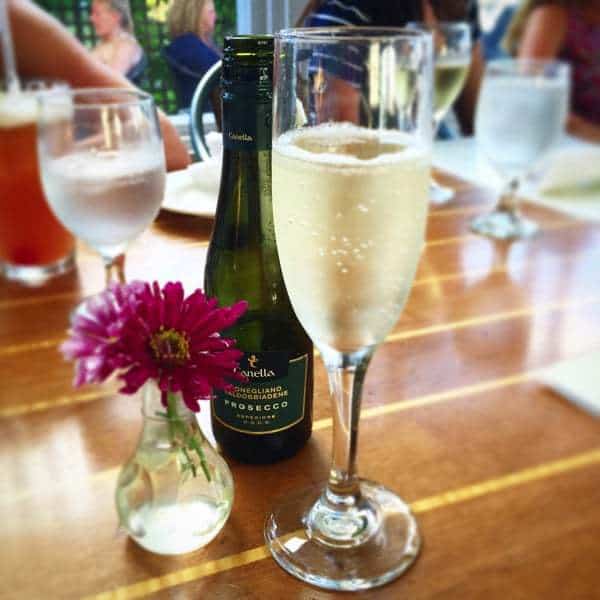 So where am I now with running? Well the week after the race I was doing awesome, including one 7.1 mile run which included my fastest 10K time ever at 58:10.9. Then I got sick, had to get the family ready for a trip to Disney, spent that week in an oppressively hot Disney, pushing double strollers and crying toddlers, and this week I've been pretty exhausted. But writing this makes me want to get back out there, so keep an eye on my Instagram account to find out how it's going.