This post may contain affiliate links. Read my disclosure policy.
For a simple, clean, and healthy meal that's perfect for ushering in the early days of fall, your next Meatless Monday will be complete if your menu includes Butternut Squash Noodles with Lentils.
Butternut Squash Noodles with Lentils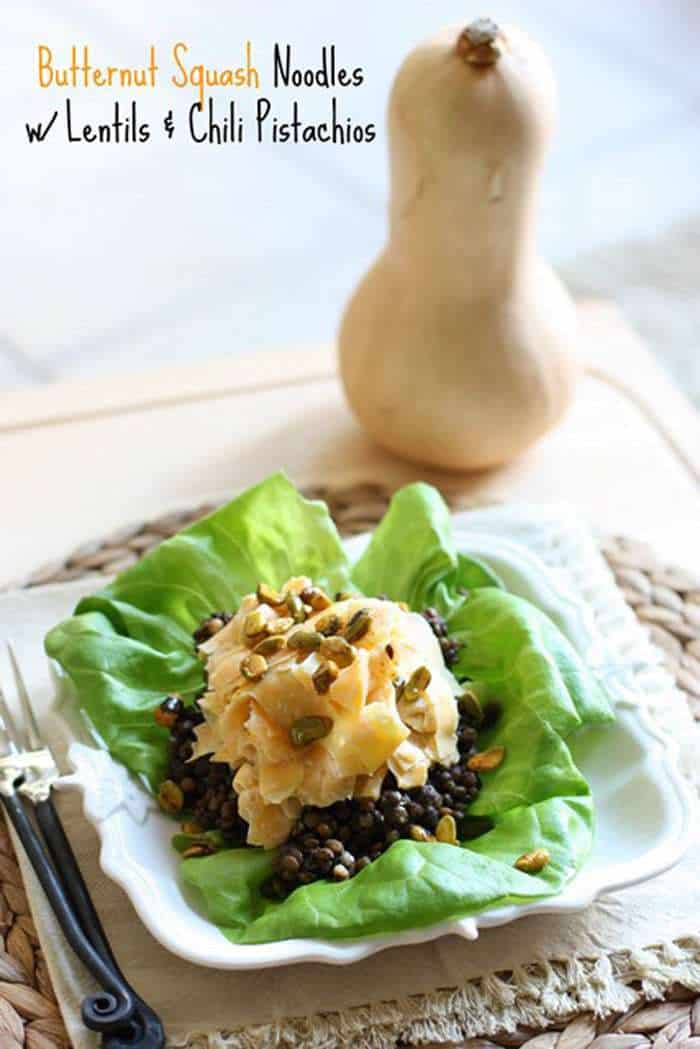 If receive my email newsletter, you got an email over the weekend giving you the opportunity to download a clean and healthy 3-day meal plan based on my recipes (check your Inbox and spam folder if you didn't see it!). If you don't already get my newsletter, sign up and you can get this meal plan too. What's so special about it? Well, it isn't just little ol' me randomly pulling together some of my old recipes. It was actually put together by my friend Danielle Omar, a registered dietitian and blogger at Food Confidence who has a practical, real-life approach to healthy eating. She's here today to share one of her fabulous clean eating recipes and tell you about her fabulous clean eating program that I know I can certainly use after an ice cream-filled summer. So I'm going to turn it over to her…
What stops you from eating clean? Many people say time. Some say it's too expensive. And others just don't like cooking.
I'm Danielle Omar, integrative dietitian and creator of Nourish: 21 Days of Clean Eating. I'm going to share with you a few ways that I am able to eat healthy, at the lowest cost, and in the least amount of time each day!
A common complaint I hear about eating clean is that the fresh produce you buy ends up rotting in your fridge! This happens mostly because you made an "impulse produce purchase" without a plan to use it (or maybe you're not sure how to use it). Outside of my salad greens and veggies, I usually only buy 1-2 more side-dish vegetables per week, and I know exactly what meal I'm going to use them with. So, that's my first tip…never buy something fresh that you don't have a plan for. The best way to make sure that doesn't happen is tip number two…
Plan your meals! I know, meal planning is not sexy. But it's your number one way to save money (and time) in the grocery store and in your kitchen. There's no magic way to meal plan, either. You can get super fancy with excel charts or keep it simple with sticky notes. It doesn't matter how you do it, you just need to do it! Make sure you have a plan for each meal you'll eat before you leave the house each day.
My final tip is to think of the grocery store as your partner in eating healthy. Become an informed shopper. Eat seasonal, local, and shop the sales. If buying organic is not in your budget, local produce likely is. Shop the sales and build your weekly menu around what's available. If broccoli is on sale, then broccoli should be on your plate!
In my program, Nourish: 21 Days of Clean Eating, I will introduce you to new pantry staples like hemp seed, chia, black bean noodles. The Nourish lifestyle goes beyond just avoiding processed foods. At the core of the program is learning if your current pantry staples are making you feel full and energized or making you sick.
But even more than that, you will also:
cultivate a reverence for healthy, nourishing foods
develop a new appreciation for vegetables and greens, how they are prepared, and how often you eat them
make whole foods a vital partner in your journey for living a healthy lifestyle
ignite a passion for cooking and preparing new and interesting foods
gain an appreciation for the power of self-care and how important this daily practice is for replenishing you from the inside out
This Butternut Squash "Noodles" with Lentils recipe is the perfect way to bring in the fall without turning on the oven! If you've never had your butternut squash this way, you're in for a treat. It's a super easy dish and uses my favorite clean-eating pantry staple ingredients.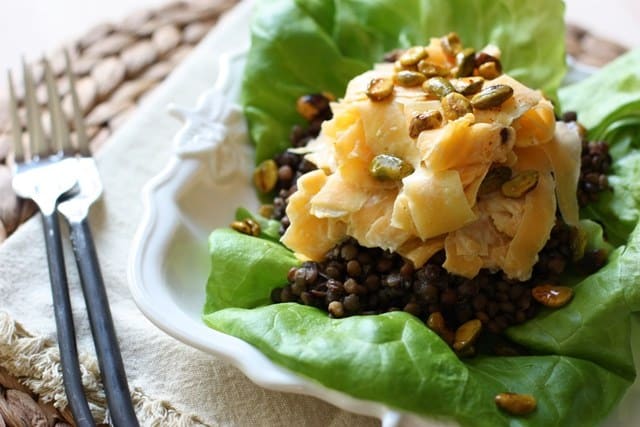 I hope you'll join us for Nourish this fall. You can learn more about the program here. The fall session starts September 14th. Registration ends Sept.12th!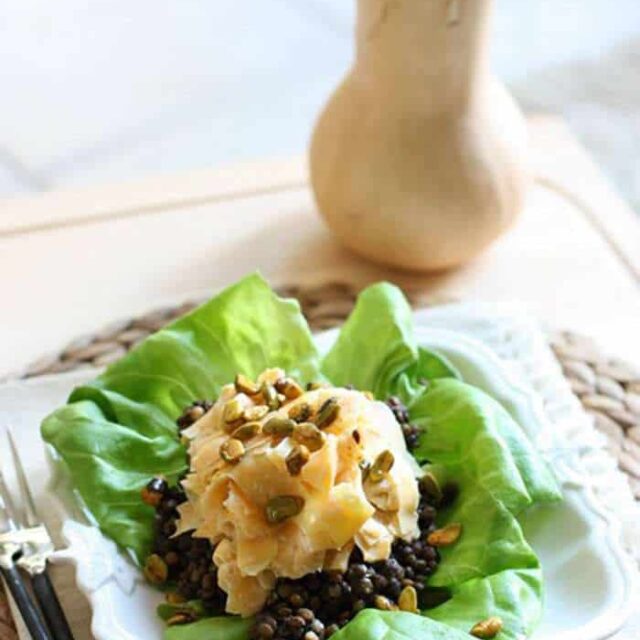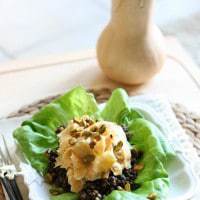 Butternut Squash Noodles with Lentils
An easy meatless meal that is the perfect way to bring in the fall without turning on the oven!
Ingredients
1 1/2

cups

butternut squash

peeled

1

cup

cooked lentils

I use Trader Joe's steamed lentils

2

Tbsp

shelled pistachios

1

tsp

chili powder

1

Tbsp

extra virgin olive oil

or truffle oil

2

leaves

Boston Bibb lettuce
For the Cashew Cream
½

cup

raw cashews

soaked for 20 minutes or overnight

¼

cup

hemp seeds

¼

cup

water

1

clove

garlic

minced

1

Tbsp

mild miso paste

2

Tbsp

fresh lemon juice

sea salt

to taste

3

fresh sage leaves

chopped

few drops liquid stevia

optional
Instructions
Blend cashew cream sauce ingredients in a blender until well combined and set aside.

Place pistachios, chili powder, and olive oil in a small bowl, mix well and set aside.

Using a vegetable peeler, peel butternut squash into noodles. To heat noodles, warm in a pan with a little olive oil. Remove from heat and toss with a tablespoon or so of cashew cream (you can also toss noodles raw with the warm cashew cream from the blender).

Heat lentils and place on top of a few leaves of Bibb lettuce. Top lentils with squash noodles and sprinkle on pistachios.
Nutrition Facts
Butternut Squash Noodles with Lentils
Amount Per Serving (1 g)
Calories 309
Calories from Fat 162
% Daily Value*
Fat 18g28%
Sodium 176mg7%
Potassium 552mg16%
Carbohydrates 25g8%
Protein 14g28%
Vitamin A 6110IU122%
Vitamin C 15.4mg19%
Calcium 65mg7%
Iron 5.3mg29%
* Percent Daily Values are based on a 2000 calorie diet.
Categories: